25 Amazing And Sexy Eye Makeup Pictures To Inspire You
These stunning pictures help you learn ways to make your eyes brighter.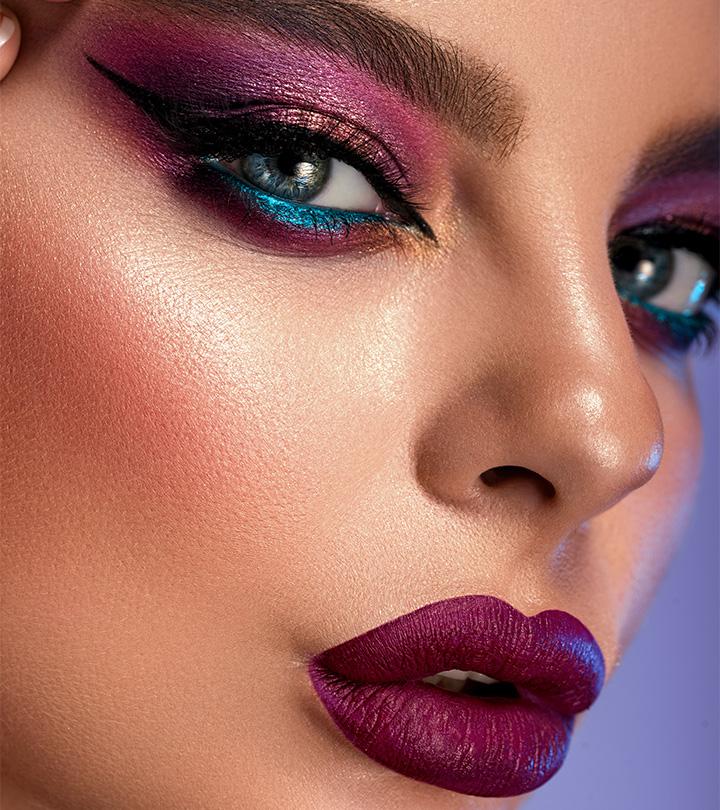 Your eyes look more attractive when you do eye makeup. So, you should try various trends and styles to level up your eye makeup game. Here, we have compiled some of the prettiest eye makeup pictures to help you choose a style you think suits your personality. Choose the look and be photography ready at the party. Scroll down to check them all out!

Keep In Mind
Colors According To Eye Color: Colors According To Eye Color Brown eyes opt for golden, deep purples, green, and coppery orange shades; blue eyes opt for peach, champagne, baby pink and lavender shades; hazel eyes pick purples, greens, and burgundy; green eyes pick warm oranges, reds, plum, and gray; gray eyes pick warm browns, golds, and oranges.
Colors According To Skin Tone: Colors According To Eye Color Light tones pick gold, taupe, champagne, and rose; medium tones pick burgundy, pink shimmer, lavender, and gray; olive tones pick deep blue, purple, and emerald green; dark tones pick purple, bright blue, burgundy, and warm metallic gold.
Eyeshadow Base: Colors According To Eye Color Apply eye primer, concealer, and a creamy eyeshadow base before applying eyeshadow.
Top 25 Sexy Eye Makeup Looks
Check out some of the best eye makeup pictures that look amazing and inspiring.
1. Pink Gold Eye Makeup
A hot pink gold eye makeup look which is great to accompany with traditional wear.

2. Hot Pink Smokey Eyes
It's a hot pink smokey eye makeup with a hint of gold and lots of liner. Really a great way to add drama to the eyes.
3. Arabic Eye Makeup
Arabic styled eyes Makeup with lots of color and drama. Great way to dramatize your eyes.

Quick Tip

If you want to achieve an Arabic eye makeup look, pick at least two shades of eye pigment to create some fusion.

4. Yellow And Green Eye Makeup
A great eye makeup looks with yellow and green and a small hint of blue.
5. Peacock Eye Makeup
Peacock eye makeup tutorial for those who love color and are not afraid to go with bold makeup colors.
6. Leopard Eye Look
Love animal prints? Then this one is surely a great way to express your love for animal prints. Check out this leopard eye look tutorial.
7. Electric Green Eye Makeup
8. Rocker Eye Makeup
Rocker eyes makeup tutorial using bright shades. This look is great for a night out or a traditional wear.
9. Dark Green And Purple Eyes
A colorful eye makeup looks again with lots of eye liner and bright shades. Use a brow pencil for a fuller bold look. This look uses dark green, purple pink and silver shades for this particular look.
10. Bright Pink Eye Makeup
This is a bright pink look with a thin line of liner and long, false lashes. The look is appropriate for a romantic date or a traditional event.
11. Gold Rose And Brown Eye Makeup
This look comprises a dash of glamour with the gold rose and brown shades and is very subtle. You may wear this on a day event too.
12. Black And Bronze Eye Makeup
This is a very easy to do eye makeup look using only black and bronze shades. This can also be worn with many types of apparel. Also great for traditional wear.
13. Neutral Smokey  Eyes
An easy to do neutral Smokey eyes with just black and a neutral shade. It's great for office as well as for a casual event .

Did You Know?

Kim Kardashian is a great fan of smokey-eye makeup. She loves to wear soft, neutral shades for her eyes.

14. Black Eye Makeup
Another Smokey eye tutorial. This one is super easy and can be worn for special outdoor occasions.

15. Gradient Eye Shadow
A gradient style eye shadow look for those with blue eyes or those planning to wear those blue lenses.
16. Glitter Eyes
This is an elaborate dramatic makeup look for those who prefer to spice it up. Add some sparkly shimmer and glitter for an added effect.
17. Summer Eye Makeup
Bright summer eye makeup tutorial.
18. Taylor Swift Eye Makeup
This is Taylor swift inspired easy eye makeup tutorial. The look is very easy and will look great for a casual event.

19. Winged Eyeliner
An easy to do neutral eye makeup with a winged liner. This look is easy to recreate and looks great as everyday eye makeup.
20.  Ombre Smokey Eyes
This is an Ombre styled Smokey eye. Again this look is great for wearing on any day and any event.
21. Flamingo Eye Makeup
Play around with bright pink and white shades to create a look resembling the coloring of a gorgeous flamingo. It is perfect for an outdoor or poolside party.
22. Bat-Winged Liner Eye Makeup
Add dramatic bat wings at the outer corners of your eyes for a grunge look. The wings can vary in thickness and length and be paired with an intriguing smokey eyeshadow look.
23. Red Glitter Eye Makeup
Use a red glitter liner to add some festive magic to your eyes. Add in copper and brown glitter or shimmer eyeshadow to complete the look.
24. Sunset Eye Makeup
Play with yellow, orange, peach, and gold eyeshadows to create your own breathtaking sunset look. The brown eyeliner adds a balancing touch to the look.
25. Smokey Neon Green Eye Makeup
Give smokey eye makeup a sprightly neon green makeover with this look. Use white eyeshadow for that highlight-ombre effect and dazzle at a music festival.
Image source:  1 , 2 ,  11 ,  12 ,  15
Infographic: Eye Makeup Tips
Weren't these eye makeup pictures mesmerizing? We can understand if you are unable to resist trying them! But, before you get started, let us go through a few eye makeup tips to keep in mind. Check out the infographic below to learn more.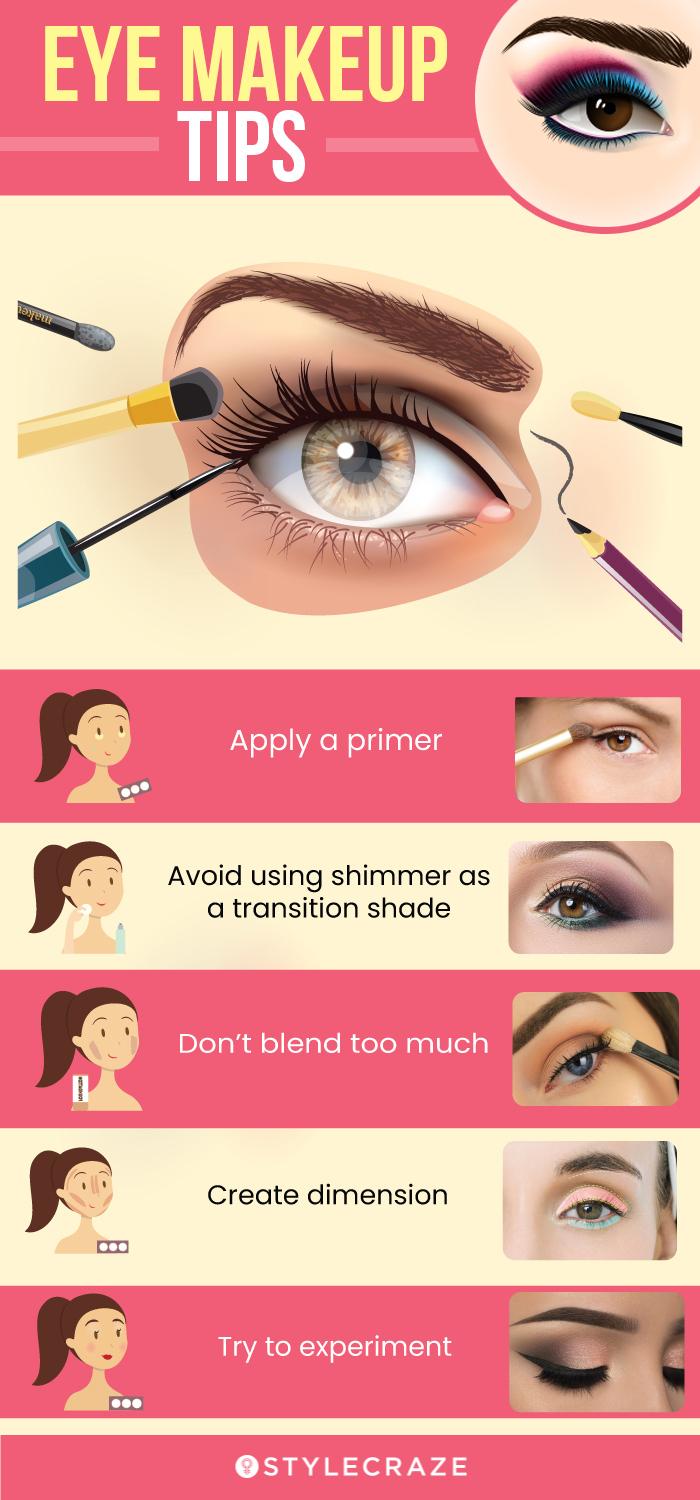 The pictures have had us scrambling all over the place for our eye makeup kits. And trust us, some of these styles are not as easy to achieve as they look. However, we are going to be practicing these beauty and fashion makeup tips over the weekend. Do they not inspire you to grab your makeup kits and try them out? These eye makeup looks would accentuate our eyes for a party night out or a casual daytime event. If you are not feeling inspired, you need to look at these gorgeous eye makeup pictures again and give them a try with the right cosmetics. Try these out and fall in love with them! Do not forget to share these with your friends.
Frequently Asked Questions
What is the most popular eye makeup?
Graphic, bejeweled, neon, smokey, and metallic eye makeup are some of the most popular eye makeup trends you can follow to amp up your eye game.
What is cat-eye makeup?
Cat eye makeup is one of the most popular and fun styles of eye makeup. It involves heavily using eyeliner to design the outer corner of the eyes in a pointed manner, similar to a cat's.
How can I do my daily eye makeup naturally?
You can start by applying eye primer to ready your eyes for makeup application. Next, apply a neutral shade of eyeshadow from your lash line to the crease. To keep the look minimal, use nude makeup. Apply brown eyeliner on your upper eyeliner for a natural makeup look. Lastly, use mascara to finish your natural dewy look.
The following two tabs change content below.