3 Ultimate Makeup Hacks For Protruding Eyes
Use these easy tips to get the perfect look that will make everyone fall in love with your eyes. If you are looking for makeup hacks for protruding eyes, you have landed on the right page. Whether you are a fan of dramatic eyes or want a simple look for a casual day – a swipe of eyeliners, mascaras, and other eye makeup can naturally accentuate your protruding eyes. In this article, we will discuss a few quick and simple hacks to help you create three different looks in no time.
Swipe up for a step-by-step tutorial.
Makeup Hacks For Protruding Eyes:
1. For The Day:
Ladies, if you are searching for a casual eye makeup that makes a statement without screaming, then you need to recreate this Katy Perry's simple look.
Begin by concealing your eyes with MAC's faithful Pro Longwear Concealer, and follow this by applying liquid eyeliner from the inner corners of your eyes all the way to the outside. Next, dust a pale peachy pink eyeshadow and highlight your bottom eyelashes and the inner corners of your eye – here, Katy took Urban Decay Naked 3 Palette.
Now, apply a thick color shadow in black along the crease of your eye. Make sure you don't go overboard with it. You can pick brown or any other darker shade – not only will this go along with your round eyes, but will also bring forth intensity in your eyes. Blend the color in the middle of the eye in order to give more shape to your protruding eyes. Finally, apply black volumizing mascara for those super dramatic lashes, and you're all set!
For your face, skip foundation if you don't need much coverage and stick to a concealer and loose powder.
2. At Office:
Kim Kardashian's slightly contoured cheeks and defined eyes paired with flawless skin and a glossy pink lip – all worked together to create a truly perfect office look.
If you have large, deep-set eyes like Kim Kardashian, start with dabbing Bobbi Brown's Tinted Eye Brightener to combat dark circles. Once done, use waterproof black kohl eyeliner – we suggest Extra-Intense Liquid Pencil Eyeliner in Black – and line your top and bottom lash lines. Make sure you don't go overboard with the liner; instead, you can line from one corner of the eye to the other for that whimsical effect. Then, wiggle Mascara Voluminous Butterfly to achieve super dramatic lashes.
For your face, go contour! Just apply a bit of La Couleur Infallible Bronze Divine into the hollows of your cheeks and your forehead to blend throughout. Top your cheekbones with light rosy blush for a gentle hint of color – we recommend True Match Barely Blushing W3-5.
3. Night Out:
Nicole Richie never fails to make a statement on the red carpet. At The Art Of Elysium Gala, the fashion designer complemented her fabulous ensemble with her pair of Christian Louboutin shoes, her own jewelry, and a vintage clutch. Although the look was relatively sultry and vintage, Nicole Richie heightened the drama with her makeup – we're pretty speechless.
Black and grey have become the classic high glamour team for any red carpet event, and Nicole proves just that. Using both rich and warm tones, the actress applied a shimmery grey shadow (Sephora IT Palette Smokey) all over her lids and the inner crease line, and NYX Eyeshadow Base – Black on the outer. Once you too are done with the same, take Maybelline New York Line Stiletto Ultimate Precision Liquid Eyeliner and line your eyes with a flick. Finish off your eye makeup by boosting your lashes with double coats of Clinique Lash Power Feathering Mascara.
Create a natural yet defined look by smoothing a lightweight liquid powder formula (like Infallible Magic Nude Liquid Powder Foundation) all over your skin with a foundation brush.
Undoubtedly, bikini waxing is undeniably a painful procedure. Your bikini line area is very sensitive, and hence having hair pulled out from there will be a pain. But you are reading this article because you have come to believe that you must do it; therefore, we have shared everything you need to know about the procedure in this article. We have tried to arm you with this information to make the bikini wax less dreadful for you. So, give yourself ample time for mental preparation to deal with the pain. Also, ask your beautician to recommend good soothing lotions. Good luck!
Frequently Asked Questions
How do I know if I have protruding eyes?
Protruding eyes are characterized as being more prominent and expressive than other eye shapes. They appear bigger and seem to project outwards from the socket.
Why do I have protruding eyes?
Protruding eyes are most often caused due to genetic factors. However, eyes that appear to be prominent suddenly may be due to thyroid issues.
The following two tabs change content below.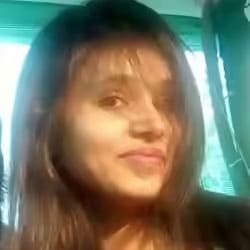 Jyotsana Rao is an engineering graduate from NIT, Nagpur, who discovered her love for writing during her undergraduate days. She...
more