42 Best Incredible Undercut Designs To Style Your Hair
Invoke the glamorous diva in you with these edgy, creative haircuts. Edgy, modern, and creative – we are talking undercuts today!
People have a common misconception about the undercut that it is just part of your hair being shaved off. But you can play around and create incredible undercut designs for your hair. Do not believe us? Keep reading this article to check out some truly brilliant works of hair art that you can get inspired from for your next undercut.
Scroll down and pick your favorite intricate undercut hair design right now.

Before You Get Started
To maintain an undercut hairstyles, you will need to get a trim once every 2 weeks.
You might want to meet your hairstylist in advance to discuss the design and hair dyes you want for your undercut.
Since an undercut shows off your scalp clearly, follow a hair care routine that focuses on scalp care to keep it healthy.
What Is The Undercut?
An undercut is a haircut where the sides and back of the head are shaved off. It started out in the lower income group among people who couldn't afford to go to the barber regularly. But over time, it has become a hair fashion trend. Now, people get patterns shaved into their hair and add hair colors.
Portia Legge, a hair enthusiast, shares her experience of doing an undercut by herself. She admits to being an impulsive person who loves to try new styles and hair colors. Initially, she did the undercut using scissors, and later went on to finish the look with a shaver. She added, "Your hair dries a lot quicker as you have less hair. This makes it a lot more time-saving (i)."

Did You Know?
The undercut dates back close to 793-1033 AD, when the Vikings shaved the back of their heads but kept their bangs long. This was done to keep their necks cool and shade their eyes from the sun.
Wondering how you can achieve this cool new hair look? Read the next section to find out!
How To Achieve The Faux Undercut
If you think you need to shave your head for an undercut look, think again! Here are three methods you can use to achieve the undercut look without shaving off your tresses.
Gelling a section of hair (preferably the sides and back) can give you the undercut look. The key is to comb your hair down with the gel.
Sweep your hair to one side and secure it with hair pins. You can play around with the hair pins to create crazy designs.
A French/Dutch braid your hair close to your scalp to create a faux undercut look.


Fun Fact
While the undercut was common in the 20s and 30s, its popularity died out between the '40s to the '70s. After a short revival in the '80s, it made a successful comeback in 2010 and has been a popular hair trend since then.
Now, let's get to the part I love! Read on to check out the top 42 masterpiece undercut designs that will send you scrambling to try them out on all types of hair texture and hair lengths, starting from short hair to long hair. What are you waiting for? Scroll down!
42 Masterpiece Undercut Designs
1. Pompadour Front With An Undercut Back
This alternative hairstyle is timeless yet modern in its appeal. The classic pompadour helps add volume at the front, while the neat undercutting helps balance out the look in a stunning way. Further, pink and blue colors give this hairstyle a youthful feel.
2. Short Bob With An Undercut
This short bob hairdo stands out for its contrasting features such as layers with an undercut and blonde hair with dark roots. Well, what's not to love here? It looks soft yet edgy at the same time.
3. Undercut With Mohawk
This simple pattern accentuates her brilliant blonde hair color. Just goes to show that less is more when it's done right. I also like how the mohawk has a clean look, with light blonde hair color. It looks spectacular.
4. Minimalistic Undercut
This haircut is minimalistic but in no way shabby. An undercut can really jazz up a short hairstyle like a bob or pixie cut. If you want to go for a slightly bolder look, this angular undercut can be your pick.
5. X Undercut
X marks the spot! This pattern made me think of a treasure map. The undercut can be personalized to your choice. If you want to shave the back even more, go for it.
Curly hair expert and owner of Royal Locks Curl Care Casey Simmons says, "An undercut is a perfect way to get more volume in short wavy hair. For those with curly or wavy hair, finger curling short waves with a cream and/or gel will give you a modern salon look in minutes. It would also help make those tight thick curly haired folks cooler in summer months."
6. Line Undercut
A line symbolizes a journey, limits, and progress (or the lack of it). So, if you've been dreaming about lines, now you know what it means. But, sometimes, lines just make for great designs, like this minimal undercut 'do.
7. Animal Driven Undercuts
Are you an animal person? Do cute furry creatures make you happy? Well, this undercut is a great way to showcase your affection for your pet. In case you were wondering, that's a fox design.
8. Fashioned Undercut
The undercut started out as a haircut invented for people who couldn't afford a barber. Now, it's become one of the most fashionable (in every sense of the word) haircuts. Just look at this vibrant flower pattern! Its colors make it even more beautiful.
9. Buzz Cut Undercut
A buzz cut with an undercut design looks very chic. This pattern is stunning! Triangles and diamonds form a lovely design that has an Aztec feel to it.
10. Elegant Patterns
Lovely elegant designs can also be incorporated in the undercut. If you love edgy looks but also want to look classy at the same time, this is it!
11. Dreadlocked Undercuts
What do you get when you merge two edgy hairstyles? One bomb hairdo! Dreadlocks have been around since forever. If you're looking to change it up a bit, try them out with an undercut design.
12. Night Undercut
If this is your second time getting an undercut, you might want to go for something simple, but a bit more than a basic line. Try this night sky-themed undercut that features a moon and a star. You can get more than one as well. Baby steps!
13. Name Undercut
"What's in a name? that which we call a rose
By any other name would smell as sweet."
Some people believe that their name defines them. Some just love their name. Well, if you're either, you can get your initial shaved onto your head.
14. Long Classic Undercut
Going for a classic undercut is perfect. If you want to make it a little fuller, leave your hair a little longer.
15. Wavy Patterns
Waves are so calming. The swooshing, the feel of water under your feet – it's so peaceful and serene. That's what this undercut is reminding me of.
16. Cheetah Undercut
Cheetahs are fast and fierce. You wouldn't want one chasing you! If the cheetah is your spirit animal, celebrate it with this vibrant display. The red adds a lovely feminine touch to this hairdo.
17. Landscape Undercut
How stunning is this landscape design? The mountains, starry night sky, and elephant silhouette take this undercut to a whole new level! I like how edgy and well-defined the hairline is in this hairstyle. If you're big on out-of-the-box hairdos, you need to try this one out.
18. The messy pixie undercut
A messy pixie and a little side and back shave is all you need to get your game on. Add in some highlights and a messy parting to make it the best messy hairdo ever. Oh, and let's not forget that diagonal hairline at the back! It just goes to show how little things can totally change a hairstyle.
19. Unicorn Blend Undercut
Unicorns are happy and energetic creatures. Channel that energy through your hair with this unicorn blend undercut. I like how instead of going over the top and overdoing the undercut, the hairstyle is chic, and the undercuts are simple. It's a perfect balance!
20. Movie Undercuts
I feel like this is a scene from a movie. The black roots are reminiscent of sand, the blue highlights signifies the sea, and the spider web and roses are symbolic of our friendly neighborhood superhero.
21. Colored Undercut
The best thing about undercuts is how playful and creative you can get with them. I mean, just look at this one. Her undercut has been colored to add some pizzazz to a normal look. Brilliant!
22. Pastel Layered Undercut
This is a level up from the previous hairdo. I love the pastel colors used here. This would be an amazing winter hair color blend. Besides, colored and layered undercuts look so amazing.
23. Top Knot With Triangles
Simplicity can go a long way. An inverted triangle has been shaved at the back of her head to create this bold hair look. Imagine a messy top knot with this undercut. It would look killer!
24. Criss-Cross Undercut
Less is more! Can you see the slight crisscrosses at the back? They go really well with her braids and the faux mohawk. A truly gorgeous look!
25. Close Shaved Pattern
This undercut done on dark brown hair imitates an edgy, nonchalant look. Surely, a bold way to start your day!
Close shaved undercut patterns make for a great hairstyle. This undercut done on ginger brown hair imitates the sun's rays. Great way to start your day!
26. Artistic Undercut
If you're an artist, you can get deep with your undercuts. I mean look at this undercut. The hairstylist has used her hair like an artist uses a canvas. It clearly shows how dedicated hairstylists are.
27. Modern Undercut
I get that not everyone wants to go all out and get a crazy pattern shaved in their head. So, this is an edgy alternative. Keep the center hair long and shave off the sides and back. Comb your hair to the other end of the side shave to complete your stunning look!
28. Colored Undercut
Life should be colorful! Imagine if life and TV were in monochrome. I mean, I love black and white films, but I can't imagine watching regular television in black and white. This geometric red, pink, orange, and yellow undercut is what dreams are made of.
29. Colors And Designs
Hair colors and intricate designs can go a long way in creating a killer look. I love the orange-red mohawk hair and the undercut on the side. If you tend to scribble small designs, try this with one of them.
30. Triangle Undercut
Did you know that patterned undercuts are also called hair tattoos? Pretty cool, right? It's incredible how a few strategically-placed undercut triangles placed can transform your hair look.
31. Entwined Undercut
Talk about over the top! If you love crazy hairdos, you'll be drawn to this undercut like a moth to light. The pink adds a nice feminine energy, and the pattern is as entwined as her hair itself.
32. The Cause Cut
Do you have social causes you want to shed light on? This is one way to get the conversation started. It's pretty life-changing.
33. The Hopeless Romantic
Hearts are oh-so-cute! If you're a hopeless romantic, spread the love with this lovely (pun intended) undercut. Choose love, not war!
34. French Braid Undercut
I cannot stress enough on how undercuts can accentuate any hairstyle. This French braided bun looks so much edgier with the undercut.
35. Black Undercut
We know that protective punk hairstyles can be used to showcase many hair design patterns. Adding an undercut to one dials it all the way to a hundred. The colorful hair extensions are an added bonus.
36. Faux Undercut
Many women don't want to shave their hair, but want to try this hairstyle. Besides, if you want to try an undercut just for a day, it makes no sense to shave your head. Try this! French braid small sections of hair close to your head to create this faux undercut.
37. Halloween Special
Halloween has inspired many spooky undercut patterns. You can try this creepy vampire mouth pattern with your Count Dracula costume!
38. Tri-Lined Undercut
Lines clearly seem to be an undercut favorite. They brilliantly showcase how creative hairstylists can get. This particular undercut has been shaved very neatly.
39. Faux Feed-In Undercut
Feed-in braids are a big thing right now, just like the undercut. This faux undercut is a win-win for women who want to try both. Fabulous!
40. Dark Rooted Undercut
If you colored your hair recently, you might be worried about your natural color roots showing. Why not use it to your benefit? Get this undercut that creates a beautiful contrast.
41. Twisted Faux Undercut
"Twist and shout!" sang The Beatles and it became a phenomenon! Of course, since our hair is twistable, I added this faux undercut to the list. It looks uber chic!
42. Gelled Faux Undercut
Gel your hair and comb it down to achieve this faux undercut. This faux undercut accentuates your hair's volume and thickness. If you have thin hair, try this to give it a voluminous look.
Infographic: The Undercut: Some Facts
The best part about undercut hairstyles is that they allow you to be creative. You can even dedicate them to your favorite football team's logo or your favorite music band's symbol and whatnot! Make sure to give detailed instructions to the hairstylist before you go for it. But while you are at it, we want you to be amazed by some undercut facts. Check out the infographic below and take a fun ride.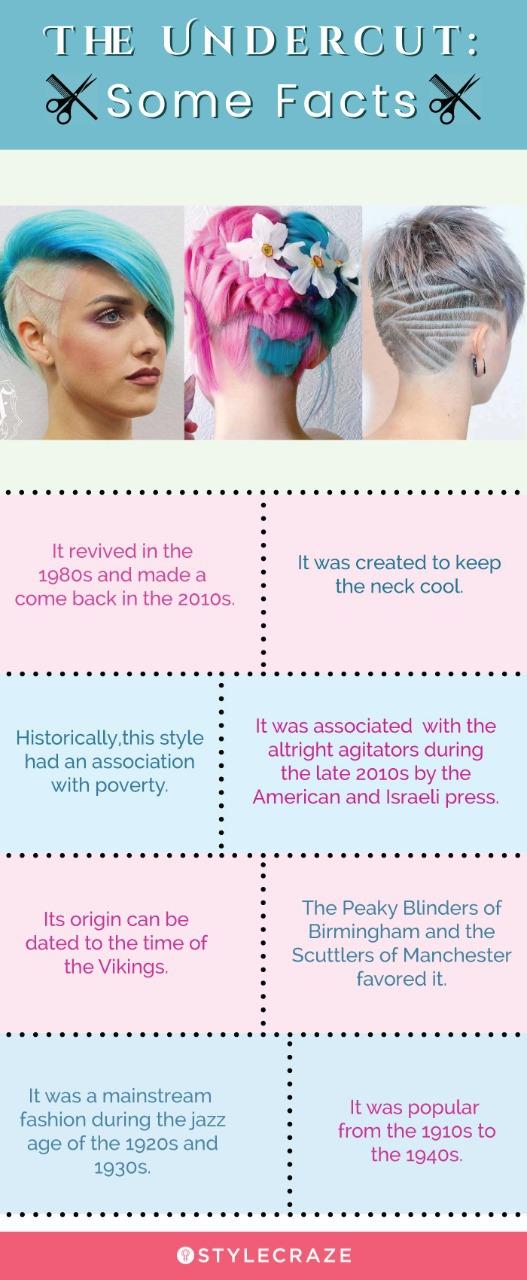 There is no denying that undercuts are cool and give an edge to your whole look. While you may feel hesitant to get them at first as it is a bold move, you will know it was worth it once you give your hair some amazing undercut designs. They have the power to transform your look completely. So, without any further ado, go ahead and choose from the attractive options that we have mentioned above and try them on. Trust us; you are going to enjoy it.
Frequently Asked Questions
What to consider before getting an undercut?
Undercut can add a dramatic edge to your look. So, you must be mentally prepared for the look transition. You must know that only the sides and back of your hair will be buzzed away, but you can still use the hair on the top to cover the undercut. Also, consider your facial features and always cut in intervals to decide whether you want to shave entirely or want to keep it choppy.
Does an undercut make hair thinner?
No. Undercuts do not make your hair thinner, but since a considerable amount of hair is being buzzed off, your hair may appear thinner.
Are undercuts hard to maintain?
Yes. You need regular trims – at least bi-weekly, for undercut hair maintenance. And when you wish to grow it out, there will be a considerable period when the undercut looks unkempt and out of place.
Is an undercut unprofessional for females?
No. An undercut is popular in the professional world. A well-kempt and subtle undercut look stylish and professional. However, it is best to avoid dramatic undercuts like the undercut fade with bold details.
Find the perfect undercut for you and enchant everyone! Check out this video to learn about the different types of undercut hairstyles for women.
Personal Experience: Source
i. My Undercut | Pros & Cons | Portia Legge
https://www.youtube.com/watch?v=-zE9kRWtv74
The following two tabs change content below.