52 Most Gorgeous And Easy Hairstyles For Long Hair
Trendy and stylish hairstyle ideas to give a glam makeover to your luscious long locks.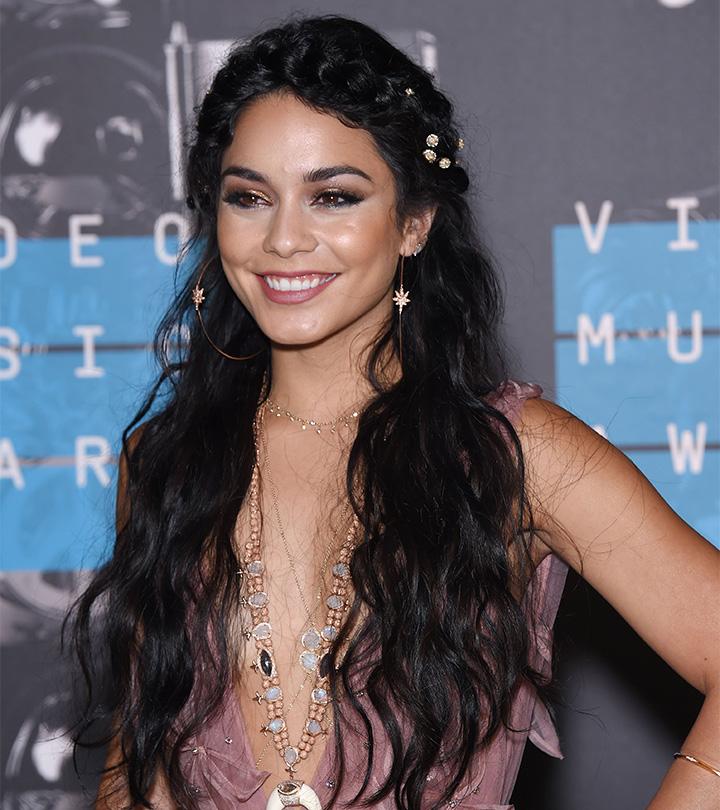 If you are running out of ideas for hairstyles for long hair, we have the perfect list for you. The best part is that you do not need to walk into expensive salons to achieve these trendy hairdos, but you can easily work it up at home.
Of course, you need the right tools and products to make it happen. Find out how you can make that happen right here. Scroll down for more information.

Before You Get Started
Long hair is prone to frequent entanglement so ensure you braid your hair before bedtime.
Opt for a wide-tooth comb and thick brush to prevent any friction and hair loss.
Intricate hairstyles like fishtail or double Dutch braids are easier to style on long than short hair.
Trim your hair every 6 to 8 weeks and indulge in nourishing treatments to keep your long locks healthy.
1. Sleek High Ponytail
A timeless hairdo to don and fall back on any time – the sleek high ponytail exudes elegance and charisma, making it an ideal hairstyle for any occasion. Emulate this easy hairstyle by straightening your hair and tying it in a high ponytail. Secure it with an elastic band. Lastly, create the sleek look using hair gel.
2. Cornrow Ponytail
This is an edgy hairstyle that amps up any regular outfit to make you look ultra cool. Just braid the top half of your hair in cornrows and secure them with hair elastics before tying up all your tresses in a low ponytail. Fluff up the ponytail to finish off the look.
3. The Straight And Simple
Take your straightener and iron out your long strands for that straight look. You have the option of having a side part or a middle part. Or you can simply pull back the ironed tresses and
4. Side Ponytails
A headband and a side pony rock the getup. Or just keep it simple and relaxed like Taylor swift!


Did You Know?
The side ponytail was a pretty hairstyle that was popular in the late 1960s and again in the mid-1980s.
5. Banged And Straight
The style is fresh, sleek and straight. Young girls can carry this style. Go for the prom or even for a college fest wearing this style. It's easy to wear, no-fuss, and is low-maintenance. This one is unique prom hairstyles for long hair to go with.
6. Waterfall Waves
You would need the large Velcro rollers to make the rolls in the long hair. Curls on long hair would appear elegant and attractive. The curls would shine if you possess silky and smooth hair. So make sure that the hair is detangled, soft, and shiny before the styling is done.
7. Inward Chopped Bangs
Bangs are famous. Get the cuts and brush them inward with either a side parting or a middle parting. If the hair is naturally straight then the bangs would not be prominent. Don't forget to apply a good styling product to keep the bangs in place.
8. Pretty Ponytail Rapunzel Style
Tie your long hair the Rapunzel style. This style is a clear signal that all of us can be stylish like the beautiful Disney princesses. Brush the hair properly and then tie the hair in small sections. The sections should be a little puffed to give volume to the pony!
9. Polished Side Part
Selena Gomes sports this style very elegantly. This polished side part is easy to achieve. Brush the hair and tuck it behind the ears.
10. Sexy Bed Head Curls
This look is messy, effortless, and perfect at the same time. Curl the hair into tiny ringlets, make use of a texturizing product and finger comb it to get the messy feel.
Licensed hair stylist, Megan Senner says, "You can control the level of messy depending on the pillowcase you use. For example, if you want it messy but still put together to wear to work, use a silk pillowcase, and if you want an extra messy just-left-the-beach look, then you should sleep on a cotton or fabric pillowcase."
11. Waves Behind The Ear
After curling the hair, soften them by brushing them with a boar bristle brush to get these waves and tuck it behind the ear. Wear flashy earrings to compliment this super sexy coif.
Senner adds, "To keep your hair tucked securely behind your ear, use a bobby pin to hold it in place. Consider buying bobby pins that match your hair color, so it blends in and looks invisible."
12. Ombre Elegant Spiral Curls
Curl your hair and gather it on one side. The bouncy effect is bound to entice away the glare of so many onlookers!
13. Pin Back
Tease it out and pin back those natural curls. Notice the unusual zigzag part this style has, which gives more volume in the front. The bangs are brushed away in a slant manner contouring the forehead.
14. Big And Voluminous Curls
Section your hair in a middle part and make some natural-looking curls to copy this Sofia Vergara style for your next party! Curls on long hair are always gorgeous. Decorate the hair with a big flower. You are bound to look like a beach babe!
15. Braid A Messy Bun
One of the simplest and unique updos for long hair is to make a bun. A bun is a classic and timeless hairstyle. Braid the front section of your hair and gather the remaining hair into a bun. A bun demonstrates power, authority and experience. Among all this is one such evergreen and unique braided hairstyles for long hair  with a modern twist. You can make it messy , carefree, and a little more chic by adding a 'French braid' on one side.
16. Sassy Side Part
Get that sultry volume; backcomb the roots of your hair and viola! You are ready for a date night! The sexy curl of the bangs near the forehead makes the ultimate cut in the style statement.
17. French Braid Into A Bun
Braid from the base of your neck, yes you might need help! Use a good styling product for the style to remain smooth and fresh. Since the style itself is so detailed, the need for accessorizing is reduced. Go simple and let the style flash! To sum it all up just tie everything, the braid, the rest of the hair into a slightly higher than medium knot bun.
18. Messy Side Braid
Tease your hair from the roots and plait it on one side. Check out the wavy bangs, the mildly wavy bangs add to the flowy flair. The unique hairstyle for long hair is very simple but classic; you can wear it with anything you want. Be it a dress or just denims.


Quick Tip
A messy side braid is perfect for a casual evening or when stepping out with your girl gang.
19. Slick On The Sides
Get your hair super straight and use a gel to slick it back. This is an ultra sexy stylish coif. Wear this style to a high end part and you are bound to get applauds!
20. Beachy Mermaid Waves
Wrap the hair around a wand iron and spray some hair product and loosen the curls with fingers. The gentle soft waves are subtle yet noticeable.
21. Long Fishtail Pony
Make a high pony, braid it in the fish style, and you have the coif for a wild theme. The fishy mane will not only attract attention but also decrease the need to use any accessory. The style is in itself enough to amplify your looks.
Senner gives a pro tip on this hairstyle, "If you have short hair, you can achieve this look by putting your hair into a high ponytail and attaching a ponytail extension clip. You can get these ponytail clips in either synthetic or natural human hair. Synthetic hair is typically cheaper, but human hair looks more natural."
22. Badass Side Braid
Give a faux mohawk effect by braiding the one side of the hair. The mini braids enhance both the thick highlighted waves and the wavy bangs.
23. Bed-Head Hair
Roll out the wave and spray the hair styling product on them. It just looks like you have rolled out of bed and got the curls. No effort required.
24. Fishtail
Sport a fish braid and you do not have to fish for compliments. It could be a neat or a messy one, choose whatever suits you and flaunt it with all the confidence you have got. The fishy style is never going to let you down.
25. Side Sweep Strands
Spray salt water on the strands and scrunch from ends to root. Gather all the hair on one side and you are good to go. The texture is tousled but exudes a sexy appeal. The style would be chic with deep kohl rimmed eyes.
26. Cut Blunt Bangs
Those long locks can get a fresh update with this fringe cut. Wear this style with bright lip color. It complements the style and blends in rather well.
27. Faux Bob
Tie and pin up random strands from your hair to give the bob like effect.
28. Middle-Parted Ponytail
Middle part your hair and tie it up in a low or a high pony.
29. Flattened Tresses
Bring out your flat iron and put on this sleek look.
30. Slicked Back Strands
Flat iron your hair and put some gel on it. Spread it across the strands. Push back the hair backwards and spray aerosol so that the hair does not fall upward.
31. Braids
Braid your hair from the front like a tiara or a headband. The style will look wonderful on long locks. If you choose to open the hair, curl it.
32. Colored Curls
Keep them straight or curl them, caramel highlights always exude sexiness.
33. Strands & Bangs
You can tie up the straight strands or leave it open.
34. Glamorous Curls
Leave your curly locks open and flowing. Apply glow serum to ramp up the style.
35. Shoulder Length Style
Fake shorter strands by curling up the hair. Curling shortens hair by two inches.
36. Sling Bun To One Side
Gather a cute chignon to one side of the head. Part the hair, put in one loose chignon, and leave some strands in the front to give it a tender feel.
37. Easy Updo
Wrap your long tresses into a top bun. Keep it loose or tight. Either way it's sexy!
38. Flirty Ponytail
Get this simple, uncomplicated, and affordable style in a few minutes. A middle parting, leave some strands in the front and puff up from the crown to give that volume.
39. Subtle Brunette Waves
Damp your hair with some spray and make some soft, interesting waves. Style the hair with a side part or just backcomb.
40. Surfer-Girl Waves
Easily recreate the dry look by spraying salt spray all over the hair. Remember to go with light makeup and yes, a dark red lipstick to steal the show.
41. Boho Flair
Go bohemian! Take two sections of hair from near your hairline, twist and secure with pins at the back of your head. Curl the rest of the hair using jumbo curlers.
42. Sexy Layers
Go for the different layers to amp your style. Chopping longer locks in layers always gives a unique effect.
43. Loose And Tousled
This coif is tousled and not kept too tight. Keep this style loose to get the extra edge. The chignon here accentuates the sultriness.
44. Elegant & Simple Bun
Putting a bold accessory on some part of your head or style can enhance the whole effect. Go for whatever suits you, a simple flower or tiny beads can just accentuate the style.
45. Crown Bump
Tease the crown, create a bump and tie up the tail near the nape of your neck. Play with the style by keeping it loose and leaving some strands open.
46. Tisdale Sleek
Add some shine serum to those straight tresses and get the neat feel.
47. Flirty Pony
Take a teasing comb and tease the hair around the crown to give a puff and the tie up a high pony.
48. Big Hair
Big hair is fun and sexy. Leave the style open or braid the tresses.
49. Buns
Nothing looks sexier with long hair other than a high tie up hair.
50. Simple Braids With A Twist
Weave a simple braid, twist the strand from near the hairline and merge it with the braid. Simple and sexy!
51. Fish Braid
Braids are always sexy on long hair. Try fish braid for an experimental look.
52. The Tucked Up Bun
You would need a hairstylist for this unique long hairstyle. But a good change from the regular bun. The form of these buns appears like a sunflower! But the style is indeed unique. Wear it if you think you can carry it. The long tresses would be tied into various mini buns to get this big bun!
Infographic: Top 7 Hairstyles For Long Hair
Have long, messy hair? Well, that should not be a problem when you have so many hairdo options lined up! Whether you prefer a sleek and sophisticated look or embrace the bohemian vibes of messy hairdos, there is something ideal for you. In the infographic below, we have curated a list of the most trendy hairstyles for long hair so that you know which ones to try first. Scroll down and discover a world of stunning hairstyles!


When you have long hair, you want it to look stylish but do not want to spend too much time styling your locks. This is where these easy and stunning 52 hairstyles for long hair come in! You can try out different hair textures and types to give yourself a mini-makeover over the weekend. Play around with hair colors like highlights. Experiment with different bangs and layer styles to keep your long hair looking fresh and chic. Change up your partitions, and try new hairstyles, from ponytails and braids to updos and waves. And if you ever find yourself at a loss of inspiration, come back to this article.
Frequently Asked Questions
Is it unprofessional to have long hair?
No, long hair by itself is not unprofessional. However, styling it neatly in hairstyles that are suitable for a professional environment is a must. Untied, unkempt, and unmanageable long hair is unprofessional.
What do you do with long hair after a shower?
Post wash, pat your hair with a microfiber towel to remove excess water. Use a conditioning serum while your hair is still damp. Detangle your hair when it is dry or damp (70% dry). Let them air dry. If you are in a hurry, use a blow dryer at the lowest setting.
Is long hair good for a chubby face?
Yes. There is more scope to layer and style longer hair lengths in a way that frames the face, making it look less round.

Looking for quick and unique hairstyles that will make your long hair stand out? Dive into the tutorial video below and discover creative styles that are sure to turn heads!

The following two tabs change content below.