25 Unique Rangoli Designs With Themes For Competitions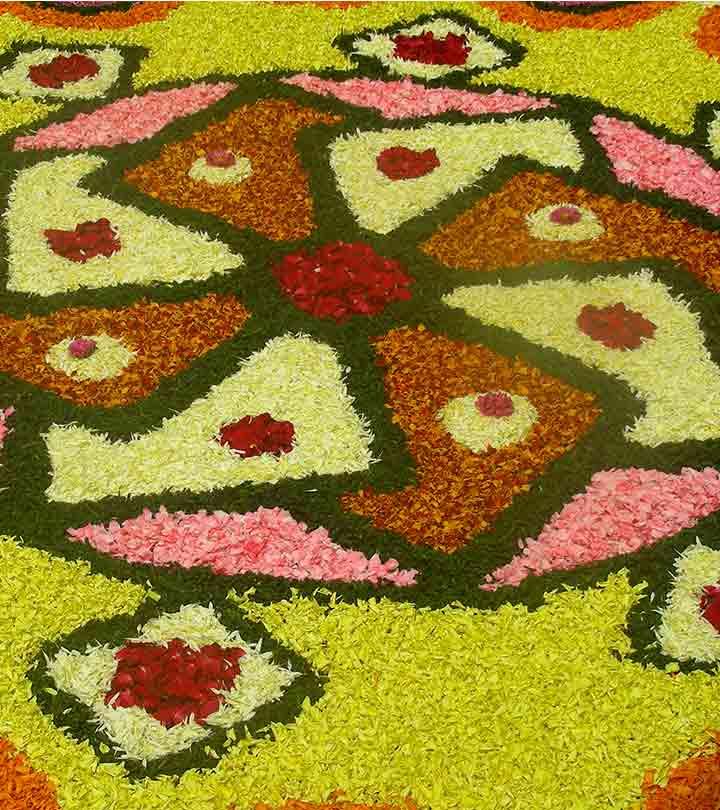 Rangolis are something each of us can easily relate to as they signify two important things – Colours, which we Indians love and Festivities, which we Indians enjoy with our families. Be it any occasion, a family function or a festival, a Rangoli can lift the mood of everyone and can fetch you some quick compliments. It's a great way to add colour to the otherwise gloomy monochrome life by adding some glamour to your houses. During festivals it is considered a tradition to make Rangoli throughout India. But just as we Indians are so different in our ways, the styles and techniques of doing Rangoli are different in various cultures.
Rangoli is an art, and it takes time and practice to become an expert in any art. And if you want to participate in Rangoli competitions, we have some unique Rangoli designs for you to choose from. Designs for Rangolis vary with festive type and occasion and you can choose for your competition accordingly.
Traditionally we have seen Rangolis being made with special Rangoli colours but these days we are also seeing flower petals as the ingredients for Rangolis too. Also in designs, there has been a vast change with people becoming more aware of this beautiful traditional art, indulging and creating various types of designs which people thought were not possible before.
Here we are presenting some current ideas and latest Rangoli designs for competitions. All of these designs are theme based, i.e they are meant for certain occasions and we believe you will find these very useful to prepare yourself for the competition. These are unique, bold and will definitely attract much appreciation and will surely get you 1st prize in the competition.
25 Rangoli Designs For Competitions:
1. The festivals based on Lord Ganesh have been really popular in India as we Indians believe he brings prosperity and good luck. So we start with this lovely Rangoli of lord Ganesh in the center surrounded by a flurry of colours. The colours used are vibrant, making this a great choice for your home or for any occasion regarding festivity. And yes, this one is quiet a prefect choice of all the rangoli designs for competitions with themes to earn that 1st prize too.
2. Our national Bird 'Peacock' finds a special place in our lives. The diverse colours present in the Peacock feathers have been a source of inspiration as well as joy for many. In this Rangoli, we see the same beauty of the peacock being presented through this beautiful art. The vibrant colours are also a great reason for its uniqueness. This is another design that will win you the spot light in that rangoli competition.
[ Read: Pongal Rangoli Designs ]
3. This one is simple and will be helpful for those with less expertise in this art. There are only three colours used for this design – purple, green and white. The diyas used here make this quite homely and simple. You may adjust the size of this design as per your preference. We love how the design is super easy to do but still looks unique and homely.
4. Here's a new style of doing Rangoli. Here we see the use of colours as well as flowers. Peacock is done using colours and the flowers used here are real flower petals. This quite a new and unique approach to the art of Rangoli. The use of flowers like Marigold and daisies are also seen here.
5. Uniqueness is what all of us want in everything we do. So why not try a different type of Rangoli this time with this simple and small rangoli design. The main feature of this Rangoli is the beads and stones used to highlight the design. The golden beads used to outline the designs also deserve a special mention.
6. Now here is a flower Rangoli. We all love flowers and what better way to decorate your home than doing this flower Rangoli. Just collect the flower petals on different shades and leaves and start making this awesome Rangoli. We love how Diyas are placed on the outline of the design and a special mention should be made for the single rose used to highlight the center.
7.Our fascination with the colourful bird, Peacock is not new. We love the colours of Peacock and here's another proof of our intense love for this beautiful creation of nature. The vibrant colours used in this design make this a very beautiful Rangoli design for competitions.
8. A very beautiful Flower Rangoli for Holi competitions. This design features an Indian women dancer doing her Dancing 'Mudras' . The theme is quite innovative and the Rangoli is sure to fetch you loads of compliments. The design presents a lot of fine details, so this is not for beginners.
9. Here is a very simple Rangoli design featuring the use of paints to draw the colourful Rangoli on the ground. There are different shades and a gradient effect is used in the design. This one is easy for everyone to do. You will just need a bit of practice and before long you can easily achieve results like this.
10. As we said earlier, we Indians have a fascination for the Beautiful Bird Peacock and this also is an example how it has become a very important part of our culture. This Rangoli design features two Peacocks and the main attraction is the diverse colours used and the use of small mirror like stones in different shapes to further add beauty to this already beautiful design. We also love the trail of glitter used to highlight the Rangoli.
11. A flower Rangoli for Holi. The festival of colours will also visit your homes with this beautiful Rangoli made out of flower petals. The unique points? The small earthen pots in the middle and the colours of Holi being placed in the design to resemble Holi. The word 'Holi' in Hindi in the middle also needs a special mention. This is sure too fetch you 1st prize in your Rangoli design competition.
12. Another design with peacock as the main theme. This one is a vibrant Rangoli with loads of blue and green shades used. The use of small candles and diyas also add up to the prettiness. The use of bright shades makes this unique.
13. Again a beautiful Peacock themed design. Here we see various shades of blue and green being used. There is intense shading and this design really requires expertise in Rangoli Making Art to get results like these.
14. A flower Rangoli for any occasion. This easy flower Rangoli uses very few colours and does not have many complex designs, so it is good for those with less experience. We love how the design is kept as simple as possible and common flower petals like marigold and roses are used but this looks so beautiful.
15. Here's another one with Peacock as the central theme. The design is relatively simpler than the other ones we have shown you but the main attraction here are the Diyas used to give this design a unique touch.
16. This one is a unique Rangoli design than the rest and will suit any festive occasion nicely. The colours used are also minimal with no fuss. We love how simple this rangoli design with dots for competitions look.
17. Now before you start feeling repetitive, we want to treat you to this beautiful flower Rangoli. The main attraction is the Peacock design but here the colours used are more sober and are not bright at all. The purple shade is used to make the Peacock design. The rest of it is decorated with flower petals in white, yellow, orange and green leaves. A definite Top 3 prize winner.
18. Here's a beautiful Rangoli design featuring an Indian woman. We love how the artist has used very fine details to make this design a lively one. There is the use of shading and different shades are used to give this Rangoli a unique look. If your looking for a free hand rangoli design for competition that will you first place, then this is definitely it!
19. Are you all tired of common Rangoli designs for Diwali. You think everyone is drawing the same designs. Then how about this design which features a woman holding a diya – which is perfect for Diwali theme. There are intensely minute details and the artist's expert skills are not to be ignored. There is a use of shading within similar shades. The folds of the dress, the face and the other areas of the design show various types of shading. All in all this design is obe of the best rangoli designs for competiton. If you can make this yours, this is a sure shot to win you 1st prize in the rangoli competition.
20. This Rangoli is an example of a perfectly done Rangoli for any occasion. There is a use of different geometric shapes and lots of different colours. To achieve such perfection, one needs great skills in Rangoli making so this is not really suitable for beginners.
21. This is a simple and homely version of Rangoli. There are many shades used but the effects are not perfect. This one will be great for those who do not have great skills in making Rangoli. The use of flowers to decorate also makes this more pretty and attractive.
22. A welcome change from the loads of colourful Rangoli we saw till now. This one comprises of just two colours Pink and White. The Rangoli uses traditional patterns like floral patterns and traditional motifs to create this effect. We love its simplicity and uniqueness.
23. The last Peacock themed Rangoli for this post. We present a pair of Peacocks and their collective effect leaves us speechless. The intense green shade along with the other shading and small details make this a wonderful Rangoli creation. There is a lot of detail and shading in the Rangoli so it needs good skills to recreate such a design.
24. Holi is incomplete without 'Krishna' and 'Radha'. This beautiful design shows the theme of Holi with Radha and Krishna as the center of attraction. We love its humongous size and the diverse use of colours. The designs looks fit for a Holi themed Rangoli competition.
25. This one is for Diwali Rangoli competitions. The goddess Laxmi is the central figure in this Rangoli, holding a diya which is also a symbol of the festival of Diwali. There are other Diyas presented in the design too. This is quite different from the common Diwali Rangoli we are used to see in competitions. This will make your design stand out from the rest and fetch you the top prize.
Armed with all these designs, we are sure you will be able to beat the competition very easily. Do let us know which is your favourite design among these?
Images: Google
Recommended Articles:
The following two tabs change content below.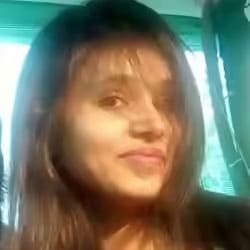 Jyotsana Rao is an engineering graduate from NIT, Nagpur, who discovered her love for writing during her undergraduate days. She is passionate about writing about everything related to beauty - makeup, fashion, hairstyles, skin care, or hair care. When this social media junkie isn't stalking the world of fashion and glamour, she loves spending her time traveling.