20 Fantastic Updos For Natural Hair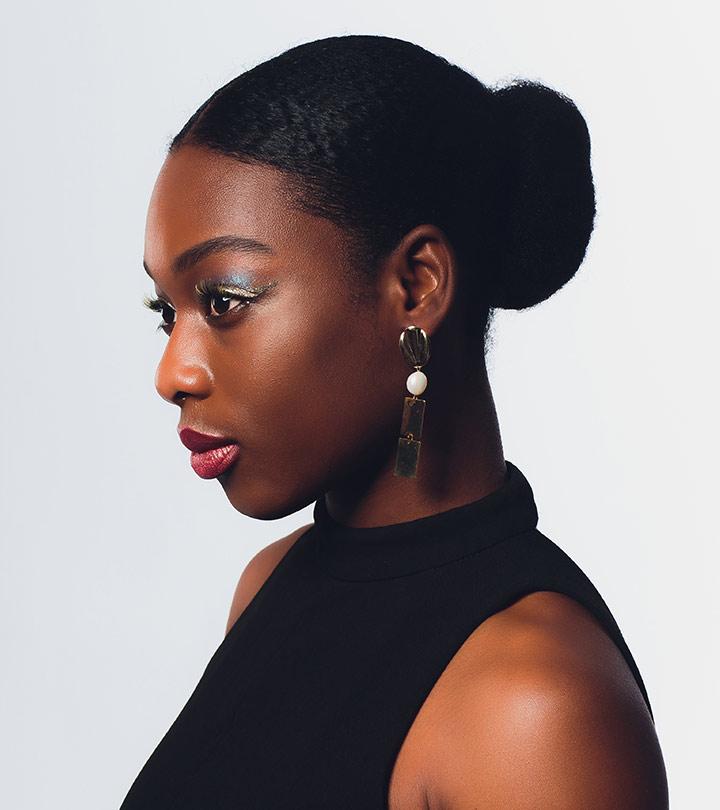 If you're "nappy" and you know it, clap your hands!
'Nappy' is a portmanteau of the words 'natural' and 'happy,' and it is all about naturally textured hair. The natural hair movement started in the early 2000s to encourage black women to accept and flaunt their naturally kinky locks, instead of relaxing them to fit into Euro-centric standards of beauty. If you want to embrace your God-given natural locks and style them in trendy updos, check out our top picks below!
20 Best Updos for Natural Hair
1. Mohawked Updo
Mohawk is every bit a traditional black hairstyle as braids and twists. Nowadays, almost all natural updos incorporate a mohawk into them in some way. You can either tease your hair and pin it in a mohawked bun or braid it before doing so.
2. The Big Bun
African hair is all about volume. To achieve this gorgeous look, simply gather all your hair at the top of your head. Pass an elastic band once over your hair and twist it. Pass the elastic band over again, but this time, leave the ends of your hair out. Tuck the ends within the bun with some bobby pins. Pancake the bun to make it bigger. If you want your bun to have even more volume, just tease your hair after you tie it in a ponytail. Then, use another elastic band to make the bun.
3. Sleek Braided Bun
Apply gel to your hair and comb it back. This will pull it back and give you that slicked back look. Gather all your hair at the crown and tie it in a high ponytail. Weave the ponytail in a braid and secure it with another elastic band. Wrap the braid around to form the top knot.
4. Boho Braided Bun
Most black women love flaunting their hair in traditional African braided hairstyles like cornrows and feed-in braids. These are protective hairstyles that can be kept for as long as two months. Add some style to these braids by tying them in a loose bun.
5. Pineapple Bun
The pineapple bun is a quick and easy natural hairstyle. Flip your hair down and gather all of it at the crown. Tie your hair with an elastic band. Wrap this hairstyle in a silk scarf at night to keep frizz at bay.
6. Full Head Wrap
The full head wrap has been around for ages, and it is gaining even more prominence now with celebs like Alicia Keys sporting this look. It is an amazing way to look great while protecting your natural locks.
7. Crown Braided Updo
This hairstyle is perfect for formal events like weddings and proms. Part your hair the way you normally do at the front. Divide your hair vertically into two sections. Weave both sections in individual French twists. Pin up the braids on opposite sides to create the crown.
8. Bantu Knots
Bantu knots are best described as traditional African mini buns. They can be two or more in number. They're easy to achieve, though a bit time consuming, and very stylish. Bantu knots are also a protective hairstyle.
9. Sleek Low Bun
Part your hair down the middle. Comb your hair down with mousse to flatten it. Gather all your hair and wrap it around in a low bun. You can also try a low side bun. This is a great hairstyle for days when you don't wash your hair and are running late.
10. Crochet Braids Bun
Crochets braids are taking the world by storm right now. After all, they look extremely cool. However, they can feel a bit bothersome on hot summer days. On such days, simply wrap your braids in a bun at the top of your head. Easy and quick!
11. Simple Head Wrap Updo
This hairdo is very versatile. It is great for those laid-back days when you want to keep your feet up. But, you can also sport it with some hair accessories and a gown to a formal event!
12. Low Bun For Short Hair
If you have short hair, tying it in a bun is the easiest way that you can style it. Don't forget to let your bangs hang loose in the front. This is probably the best natural hair updo out there for working women.
13. The Fancy Head Wrap
One way to add your personality to this look is to pick a scarf that really speaks to you. If you want to add an ethnic look, opt for a traditional African print scarf. Go for solid colors or stripes in neutral tones for a more understated and formal look.
14. The Curled Pineapple
Apply curl defining cream to your washed hair. Scrunch it up and tie it in a pineapple bun. Wrap it in a thin cotton shirt and sleep over it. The next day, remove the scarf and pick out your curls to add some gorgeous volume to them.
15. Queen Bun
Now, this is a hairstyle that looks like it could be reserved for royalty. It is the perfect updo for anyone whose hair is done up in protective braids. Just wrap them in a big bun at the top of your head and get ready to sweep everyone off their feet.
16. Intricate Updo
African women love using hair extensions because they protect their natural hair. Also, they give them volume and length, two things you need for intricate updos like these. These hairstyles are perfect for red carpet events or for when you simply want to feel royal.
17. Classic Top Bun
Though this bun is pretty simple, it looks extremely stylish and is perfect for everyday work. All you need to do is wrap your hair in a bun and secure it with a hair tie. You can add some simple beads to jazz up this look.
18. Low Bun
If you have short hair, this hairstyle is for you. Gather all your hair at the back and wrap it in a low, loose bun. With your fingers, gently pull up the hair at the top of your head to create a pouf effect. It is simple, yet elegant!
19. Marley Twists Bun
Marley twists, undoubtedly, look gorgeous. But, I'm sure you have those days when you don't want them falling all over your face. The solution? Pull them back and tie them in a chic bun.
20. Braided Top Knot
The top knot has taken the world by storm! Add your own twist to it with traditional braids. You can either opt for a simple top knot or go for something a bit more intricate by accessorizing your braids with beads and thread before tying them up.
As you can see, there are some gorgeous ways that you can style your natural hair in an updo.
Which one of these are you ready to try out? Comment below and let me know!
The following two tabs change content below.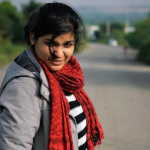 Latest posts by Anjali Sayee (see all)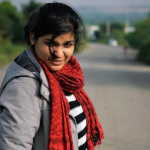 Anjali Sayee
Anjali Sayee is a writer and an introvert. From studying Aeronautical Engineering and wanting to design her own airplane to writing articles on hairstyles, she has been on quite a journey. She believes that hair is one of the key factors that define a woman's personality. To quote her, "What's the first thing they do in the movies to show a personality change? Change the hair – because it has a life of its own." She's here to help you find the hairstyle you need. This bookworm is a self-professed Wholocker, a talented drummer, and an amateur photographer.