30 Best Valentine's Gifts Ideas For Friends – Stylecraze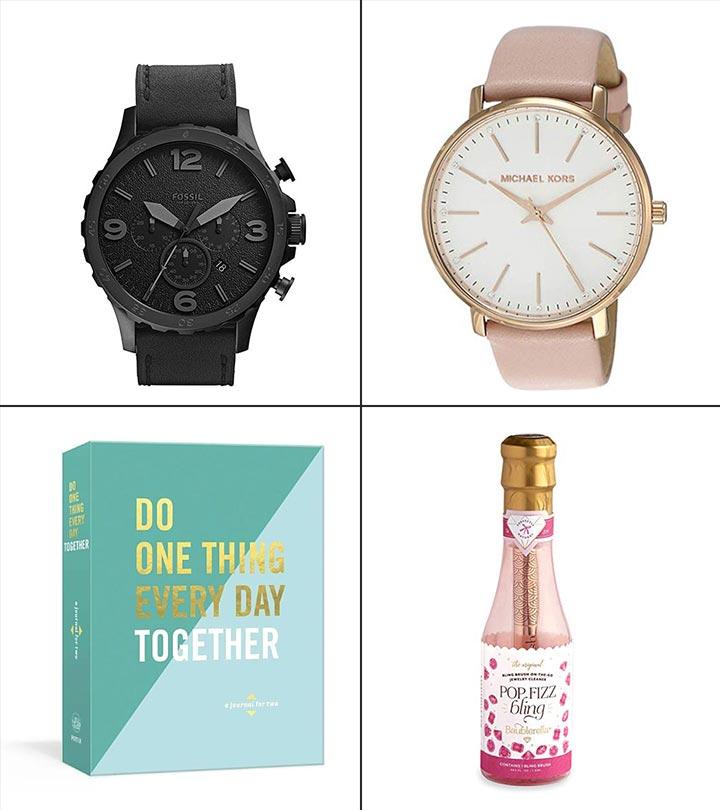 Lovers may come and lovers may go, but best friends are forever. That's why you should not forget to get a Valentine's Day gift for your friend, the one with whom you can share all the secrets of your heart. As Valentine's Day is all about expressing love, what better day than this to demonstrate how much you care about your buddies? We have come up with a few fun and considerate gifts for all the different types of friends you may have, whether it is for the adventure seeker or the wise mentor, your favorite workmate or the party pal. Your eccentric buddies will love these presents. Scroll down to check them out!
30 Valentine's Gifts For Best Friends
Show how much your friend means to you by gifting her this awesome and compact jewelry organizer. If your friend is a frequent traveler and often goes on business trips, this amazing organizer is perfect for her. It will easily fit in her bag and also provide her with all the essential makeup tools while she is away from her dressing room. It is made using premium vegan leather and has accessible pockets for makeup and jewelry items, a mirror, and a ring/earring pillow.
Key Features
Made using premium-grade vegan leather.
Luxurious and classy design with soft suede bottom lining.
Available in 7 vibrant and rich shades.
Smart and space-savvy travel organizer.
If you are looking for an extremely thoughtful and heartwarming gift for your bestie, here is something you can gift her this Valentine's Day and strengthen your bond of friendship even more. This journal has questions that you can answer individually and later check how your answers match or contrast.
Key Features
A great journal to learn about your relationship with your bestie.
A fun activity to do for when you are with your friend.
Makes you unwind and spend some meaningful time with your loved friend.
What's better than a miracle bath bomb set for your bestie who loves the spa? Help your friend unwind and relax with these scented and aromatic bath bombs. They contain organic and natural ingredients. Each eco-friendly bath bomb is made using organic sea salt and helps replenish the skin.
Key Features
Consists of lavender, sandalwood, honey, almond basil, mango, and other exotic fragrances.
Gently cleanses the skin and removes all impurities.
Offers a complete spa session and relief from fatigue and stress.
Safe and vegan-friendly.
Help your bestie get rid of eye bags and dark circles with this 24k Gold anti-aging mask. These are high-quality pads that work miraculously well for puffy eyes and bags. These deep moisturizing pads will help her relax and rejuvenate and make her skin look flawless. So what are you waiting for? Surprise your friend with this energizing and hydrating mask.
Key Features
Fades away dark under-eye circles and baggy eyes.
Conditions and hydrates your eyes.
Loaded with hyaluronic acid for youthful skin.
Fights fine lines, crow's feet, and puffy eyes.
If your bestie loves accessories, spoil her with this limited-edition bling brush jewelry cleaner that cleans gemstones and fashion jewelry effortlessly. The cleaner uses an ammonia-free formula and lasts for up to 100 uses.
Key Features
Portable, compact, and lightweight jewelry cleaner.
Consists of 1 bling brush natural cleaner.
Doesn't tarnish metals and uses an exclusive ammonia-free formula.
Lasts for up to 100 uses.
If your friend is crazy about essential oils, here is a thoughtful gift for her. This Valentine's Day, gift this set of aromatherapy oils. This set consists of peppermint, lavender, lemongrass, rosemary, and many wonderful essential oils.
Key Features
100% organic and premium grade essential oils for aromatherapy.
No added fragrance, no alcohol, not diluted, and does not contain chemicals or additives.
Offers a rejuvenating aromatherapy experience.
Can be used for beauty treatments, spa, sleeping, etc.
If your bestie is a crazy romantic, this amazing candle will make a great gift for her. This candle has amazing notes of pink prosecco and rose petals and offers a burning time of up to 50 hours.
Key Features
Consists of a natural blend of coconut wax and 100% natural wicks.
12 ounces of rejuvenating and pleasing wax.
Doesn't smudge and smells fantastic.
This 17-ounce XL bag filled with chocolates is the ultimate Valentine treat for your chocoholic buddy. These delicious and mouth-watering chocolates will make your Valentine's eve super special. Also, who doesn't love the friend who gifts huge bags of chocolates?
Key Features
Tastes amazing and delicious.
17 ounces of mouth-watering chocolate bag.
Valentine's Day special extra-large chocolate assortment.
This beautiful gold-plated heart-shaped pendant and necklace is a treasure for a valentine's gift. The heart pendant has a silver-plated honeycomb with a golden honeybee hanging over it. It ensembles love, attachment, and belonging. It will make a precious and memorable gift for your best friend as they will always keep it close to themselves.
Key Features
Heart-shaped pendant symbolizes love and attachment.
Honeybee attached to honeycomb symbolizes belonging.
It adds to your style.
If your friend is a coffee lover, this coffee travel mug will become her ultimate travel companion. This long tumbler coffee mug with a rose gold lid and a punny quote will make her sip more coffee. Also, if she loves taking Instagram photos, take her photo holding this classy and Insta worthy coffee mug. This is a cute and functional gift for your work pal who often keeps dozing off at work.
Key Features
16 ounces designer tumbler coffee mug.
Glitzy rose gold foil screw lid to protect the coffee from spilling.
Comes with a hand-lettered design.
Free of toxins and sulfate.
Choosing a gift that reminds you of each other is a great idea! This Valentine's Day, surprise your bestie with this charm bracelet. The bracelet comes in a set of 2, so keep one with you and gift the other to your friend. This positive and cheery bracelet has pretty charms and is great for celebrating your strong bond of friendship, especially if you are far away from your bestie.
Key Features
A cute and appealing set of 2 charm bracelets.
Comes in a set of 2 for you and your friend.
Comes in a cute little box.
Gift a cute and cool assorted collection of live succulent plants to your bestie this Valentine's – because no one will ever get enough of those tiny plants. This collection of 20 succulents will enhance her living room or balcony and remind her of you. The succulents arrive in adorable 2" square pots.
Key Features
Collection of 20 succulents.
Comes in 2" cute square pots.
A perfect addition to the interior or exterior of any home.
Hearty Valentine's Day gift for loved ones.
If your best friend has a crazy sweet tooth, this Valentine's Day sweet treat will make her happier than ever. These delicious and amazing chocolate-covered Oreos are a perfect gift for her. This set has an assorted real dark, white, and milk chocolate dipped Oreos. These are hand-dipped and creatively designed for Valentine's Day!
Key Features
Yummy white, dark, and milk chocolate dipped Oreos.
12 mouth-watering Oreos for your friend.
Creatively designed Oreos arrives in a signature packaging.
Want to spoil your bestie with a branded accessory? This glittering and gorgeous rose gold watch by Michael Kors will make a perfect gift for her. She can wear this to work, for gatherings, and throughout the year. This is a stainless steel watch with a leather calfskin strap and comes in a pretty pink color.
Key Features
Pretty pink Michael Kors luxury watch.
18 mm band with 7 mm thickness.
Water-resistant to 50 m.
Quartz movement and 42 mm case diameter.
If your best friend is obsessed with her AirPods, gift this cute and unique Podskinz AirPods case. This will prevent her from losing her AirPods. This is a compact and durable case for protecting the AirPods even while you are traveling. The hardcover protects them from bumps and scratches, while the ultra-premium elastomers will offer a dust-resistant finish.
Key Features
Super cute and tiny AirPod case.
Available in beautiful pastel shades.
Durable and heavy-duty cases that protect the AirPods from breakage.
Dust-resistant and smooth finish.
If your friend always sleeps with her makeup on, nothing can be a better gift than this makeup eraser for her. This cleanser is made of high-quality fibers that can remove makeup effortlessly from the skin. Apart from makeup, this cleanser will also remove excess oil, dirt, and dust from your face.
Key Features
Premium plush skin cleanser.
Removes makeup effortlessly from your skin.
Also used for cleansing pores, dust, dirt, and oil from the skin.
Dermatologist-approved product.
Pamper your bestie with these super comfy and cozy body slippers. These are super smooth and plush microwaveable slippers that will keep you warm and cozy throughout the day. The slippers are filled with millet grains and dried lavender flowers. They are also super easy to clean.
Key Features
Elegantly designed and pretty body slippers.
Filled with millet and dried lavender.
Microwaveable and cozy slippers for your bestie.
This modern and advanced temperature control smart mug will keep coffee hot and intact for up to 1.5 hours. It only needs a single charge, and the newly designed coaster will keep the coffee fresh and warm. This is the perfect gift for your workaholic friend.
Key Features
Offers hot coffee for up to 1.5 hours on a single charge.
Comes with an auto-sleep functionality.
Ember app-controlled device. You can charge the cup using your smartphone.
Ceramic coated long-lasting and customized mug.
Nothing is more relaxing and peaceful than a smart Wi-Fi essential oil diffuser. This is a very thoughtful gift you can gift to your best friend on Valentine's Day. This app-controlled diffuser is compatible with Alexa and works as a humidifier. It can be used in the bedroom, yoga studio, or even a private space where your bestie likes to relax and rejuvenate.
Key Features
Works throughout the night.
Toxic-free and organic essential oil diffuser cum humidifier.
Compatible with Alexa and TuyaSmart app.
Who doesn't need smart and super quick hair styling equipment? If your friend takes too long dressing up and styling her hair, help her by gifting this cool one step dryer and styler. This high precision dryer prevents frizz and styles hair quickly. It comes with tangle-free bristles, so you can use this functional styler to reduce frizz and promote smooth and silky hair.
Key Features
1100 watts of drying power.
Prevents frizz and offers glossy, shinier, and smoother hair.
2 speed settings for styling and hair drying.
For 120 Volt outlets.
If your friend is a Reese Witherspoon fan and loves positive and inspirational books, this will become her favorite read. This book gives an insight into Reese's life after becoming a mother.
Key Features
Informational and inspirational book.
Makes for a great Valentine's Day gift for book lovers.
Teaches how to create a perfect balance in life.
What can be a better gift than this hearty and creatively designed charm bracelet? This best friend's bracelet, with some interesting heart charms, diamond charms, and a cute infinity charm is worth giving to your sister from another mother! This "A Good Friend Knows All Your Best Stories, A Best Friend Has Lived Them With You" bracelet is the ultimate gift for your ultimate partner in crime.
Key Features
Adjustable bracelet that fits almost all sizes.
Impressive charms on the bracelet.
An elegant and feminine piece of jewelry.
If your best friend is a fitness enthusiast, this pair of Nike Lunar Fingertrap Shoes will make a great gift for him. These cross trainers are comfortable and available in four different and sporty colors. They are made using textile and synthetic and are perfectly comfy and durable.
Key Features
Non-slippery rubber soles.
Better arch support.
Dynamic and comfy fit offers a glove-like feel.
Rubber outsole for perfect traction and grip.
Lightweight and breathable mesh inside.
Here's a hooded sweatshirt that'll protect your friend from cold and rain! It is available in amazing colors and offers a jersey fit. The sweatshirt is made of a cotton and polyester blend and is highly water-resistant. You also get an attached 3-piece jersey line hood. It offers a perfect fit with a drawstring cord and front pockets for warming the hands.
Key Features
Water-repellent finish and sturdy design.
Spandex cuffs and waistband.
3-piece jersey to prevent cold and rain.
Gift these stylish and casual chukka leather shoes to your bestie and let him show these off! These leather and fabric sneakers are extremely comfortable to wear and are creatively designed for casual and semi-casual occasions. The shoes have synthetic soles and feature cushiony beds for added comfort. These lace-up sneakers are great for a casual meeting or for a weekend getaway!
Key Features
High-quality leather and fabric shoes.
Come with extra padding for support.
Synthetic sole and lace-up pattern.
If your friend is obsessed with branded watches, add this one to his collection. This stainless steel leather casual watch by Fossil is a perfect way to remind your friend that he always comes first. The black plated stainless steel watch doesn't tarnish, doesn't rust, and looks picture perfect for years. It also has an interchangeable band.
Key Features
Black dial has a date window and Arabic numerals.
Comes with a stopwatch functionality.
Water-resistant for up to 165 feet.
3 hand analog display.
Get your best friend this amazing RFID blocking minimalistic wallet. If he carries a lot of cards and cash with him, this slim and sleek bi-fold wallet will help him organize his identity card, bank cards, and cash easily. This wallet is made using genuine quality leather and blocks RFID and prevents data stealing. The wallet has a primary quick access window for ID card and smooth slots to fit almost 6-8 cards.
Key Features
Minimalistic leather wallet.
Doesn't look bulky or broad in the pockets.
Easily slides in and out of the pocket.
Crossbody bags are just so convenient and easy to carry. If your best friend finds it irritating to carry those handbags, this is a great gift for her. The bag has a rugged and classy design and is made using high-quality leather. The zip and flap closure makes it unique and appealing.
Key Features
Made using high-quality leather.
2 exterior zipper compartments, 1 interior zipper compartment, and fully lined bill compartment.
Crossbody bag that's easy to carry and lightweight.
Timeless and durable leather bag for ladies who like their hands free while traveling.
Here is a customized and charming little gift for your loved one. This guitar pick comes with a quote — "I Couldn't Pick a Better Man"— so you can get it customized for your loved friend. This custom tag is made using stainless steel and is 1.18" long. The pick won't rust, won't fade, and doesn't get deformed too. Your friend will definitely treasure this gift forever!
Key Features
Tiny guitar pick with a customized heart note.
Lasts for years.
If your bestie is of the cheesy kind, make them feel loved with this super romantic heart puzzle pendant necklace. These puzzle pendants are designed for people in love and are made using high-grade stainless steel. These pendants won't fade, rust, or corrode. The black and white two-toned pendants create a heart puzzle that shows a message that two people are incomplete without each other.
Key Features
A lovely set of two black and silver-toned pendants.
Heart-shaped puzzle pendants.
Made using stainless steel to prevent corrosion and rust.
You can't really go wrong with these wonderful and creative gifts. Have fun picking the right gift for them, and make sure that your bestie gets the coolest gift from their friend this Valentine's Day!
Why Trust StyleCraze?
The author, Pratyasha Ray, is passionate about home care and loves writing comprehensive articles to help her readers choose nothing but the best for their homes. She browsed various trusted online forums to gather user feedback and read hundreds of reviews to provide the best picks. She curated this list of best valentine's day gifts for friends that include a pendant, wallet, purse, watch, shoes, bracelets, and much more.
Recommended Articles