29 Best Valentine's Day Gift Ideas For Mom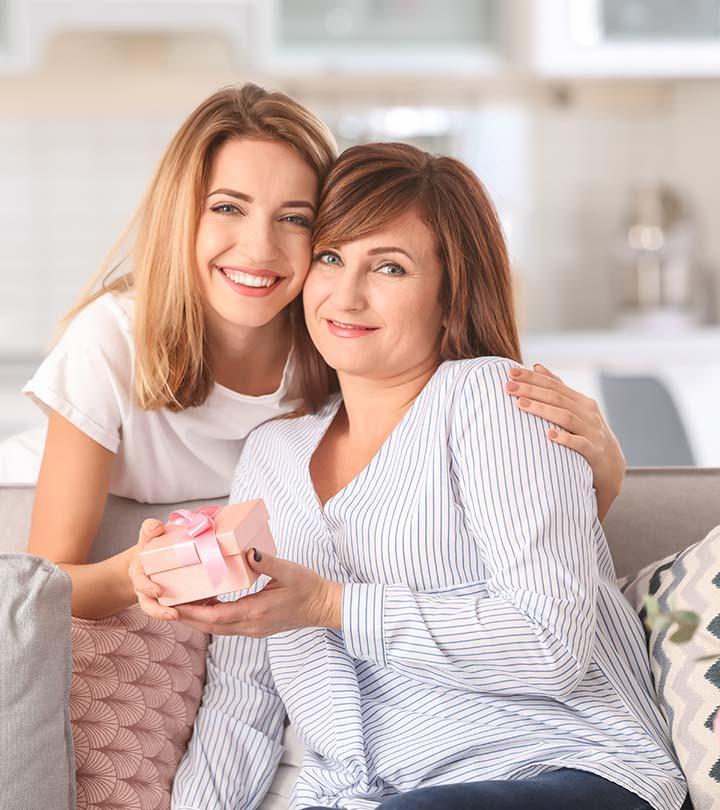 Valentine's Day is the day of love, and who can love us more than our mothers? This Valentine's Day, you may choose to spoil your mom with a few luxurious and sentimental gifts. We have compiled a list of the top 29 Valentine's Day gifts to remind your mom how loved she is.
29 Best Valentine's Day Gifts For Moms
If your mom has a sweet tooth and loves chocolate treats, you may gift her these amazing gourmet assorted chocolate covered cookies. This bestselling gift set has 20 varieties of sandwich cookies. The cookies are packed in a beautiful box with 20 compartments. The cookies are enriched with the taste of mouthwatering toppings like raisins, drizzled chocolate, dark chocolate chips, shredded coconut, and rainbow nonpareils.
Key Features
20 incredibly tasty chocolate dipped cookies.
Topped with caramel chocolate chips, sunflower seeds, candy crunch, coconut, etc.
Comes in a delightful, novel packaging.
Express your love for your mom with this incredibly elegant and expandable rose gold bracelet. It might look simple, but it has two beautiful charms – one with the tree of life, and the other with a "Remember, I Love You Mom" quote. This pretty rose gold bracelet is also adjustable.
Key Features
Made from stainless steel and is rust-free.
Expandable bracelet.
Elegant rose gold color and pretty charms.
This stylish diamond-studded bracelet with a sterling silver base and a flame pattern has a 1-carat cubic zirconia stone set in the center with the word "Mom" is spelled on the side. The necklace pendant is 925 sterling silver and 14k gold plated.
Key Features
Artistically crafted flame patterned pendant necklace.
925 sterling silver and 14k gold plated pendant.
16" + 2" Rolo chain and 1.2" x 0.5" pendant.
Cubic zirconia stone set in the center, with "Mom" written on the side.
Make your mom's mornings more beautiful and happier with this amazing coffee/tea mug. This personalized mug has a "Best Mom Ever" quote. It has a fashionable print on the outer surface.
Key Features
Durable, high-quality ceramic coffee mug.
Dishwasher-safe, microwave-safe, and FDA-approved.
33" long novelty mug for mothers.
Colorful and graphical.
This is an elegant LED light with a classy heart shape and a gorgeous base of red roses. The touching quote, "You're the MOM everyone wishes they had," will make your mom feel loved. The gift can also be personalized. You can add a custom text and change the color of the rose décor. The figurine could also be a good option for cake-top decoration.
Key Features
LED that offers eye protection and prevents dazzling.
Letters are beautifully carved on the acrylic mirror heart.
12 x 5.5 x 15cm long figurine.
Offers 72 hours of light time.
Help your mother rejuvenate after a long and tiring day with this beautiful and stylish wine glass. This wine glass displays an adorable definition of a mom that'll make her chuckle – "A person who does the work of twenty for free and deserves a wine now." These glasses are packaged by individuals with special needs. They are dishwasher-safe.
Key Features
Sturdy glass with a wide base, general bowl size, and a thick stem.
Perfect and glamorous wine glass for red and white wine.
Comes in a secure and bubble wrap safe packaging.
Keep your mom warm with these beautiful furry and cozy slippers. These fully microwaveable and cozy slippers are available in four different colors and prints. These plush slippers are filled with specially treated tiny millet grains and pieces of dried lavender flower. The slippers are made using high-quality fabric and can be easily cleaned with a damp cloth.
Key Features
Soft, cozy, and comfy plush slippers.
Furry and breathable fabric to offer utmost warmth to the feet.
Filled with dried lavender and millet grains.
Can be used as a cold pack for feet soreness or injuries.
A mother's heart is always with her children and family, so what can be a better gift than this beautiful family tree pendant? This personalized birthstone necklace can be the perfect Valentine's Day gift for your mother. It can feature her loved ones' initials. The leaves can be stamped with those initials, and it can remind your mom of her loved family members.
Key Features
Family tree necklace.
Pendant features birthstones and initials of family members.
This bracelet is made of surgical stainless steel and will not tarnish. Its inside is engraved with a touching quote. The gift set comes with two bracelets: one with the quote "Everything I am, you helped me to be," and the other "Mothers & daughters are never truly apart; maybe in distance, but never in heart."
Key Features
Adjustable open wrist cuff bracelet.
High-grade stainless steel cuff bracelet.
Hypoallergenic, lead-free, and nickel-free.
Expandable bracelet.
This Valentine's Day, express your warmest and heartiest feelings for your mom with this awesome fill-in-the-blank journal. This small and impressive book consists of 112 pages packed with blanks where you can show your love for her. You simply need to fill the blanks and gift it to her straight away. This book is designed for lazy kids who need a semi-filled journal to show their feelings.
Key Features
5 x 3.25 inches journal.
Partially filled book in which you need to fill the blanks.
If your mother loves reading magazines, here's something you can offer to her as a Valentine's Day gift. The Good Housekeeping magazine's subscription will surely make her happy. This magazine offers wonderful content and comes with inspirational stories, festive season ideas, and every topic that concerns a woman's life.
Key Features
Focuses on articles related to housekeeping, festivals, life management, interior design, shopping, holiday planning, etc.
A great gift to help your mother live an enriching and fulfilling life.
Make her night routine relaxing and spa-worthy with these promising anti-wrinkle eye masks. These night masks are ideal for removing dark under-eye circles, depuffing the eyes, and preventing fine lines, wrinkles, etc. These masks are made using organic and natural ingredients. Within a few applications, you'll witness reduced fine lines, wrinkles, and puffed eyes.
Key Features
Cruelty-free, paraben-free, and natural.
Made using rose oil, vitamin c, plant-based collagen, and hyaluronic acid.
Hydrates the eyes and prevents eyes from looking fatigued.
Moisturizing and skin-enriching gel.
Mothers work all day and do not appreciate themselves enough. This updated book lists 14,000 things and reasons to be happy about, and your mom will surely love it. The book has a quirky list of things, places, celebrations, and people that make us happy.
Key Features
Consists of 125 illustrations of things that make us happy.
Great gift for your mother if she is an unhappy state currently or needs something motivational.
Will make your mother feel lighter and full of life.
This is one of the bestselling products online, and for a good reason. This oversized hoodie will keep your mom warm while lounging, camping, or attending an outdoor event. It is an extra-large hoodie that will fit her well. This blanket is an original invention by two brothers who pitched their concept to ABC's Shark Tank.
Key Features
One-size-fits-all wearable blanket.
Available in chunky colors and patterns.
Made using soft and cozy material to keep your mom warm.
Huge hood and deep pockets offer additional comfort.
If your mother loves the refreshing and beautiful scent of roses, gift this aromatic Yankee tumbler candle to her. This is a refreshing bouquet of heirloom roses that delivers a clear and breathtaking fragrance. The 22 oz candle is perfect for a candlelight dinner, spa therapy, a salt bath, or to alleviate the mood on a rough day.
Key Features
Made from pure and natural ingredients from all around the world.
The wicks are made from 100% natural fibers.
High-quality mineral wax is blended with fragrance oils for a perfect aroma.
Has the scent of freshly picked roses.
75 to 110 hours of burn time.
The Michael Kors stainless steel quartz watch has an elegant pastel pink band and a rose gold framed dial that will steal any woman's heart. It is great for work, casual events, and special occasions. The calfskin leather strap is highly durable and will perfectly fit around her wrist. The watch is suitable for short periods of recreational swimming, but not for snorkeling or diving.
Key Features
Available in different colors and patterns.
18mm band width, 42mm case diameter.
Water-resistant up to 50m.
Quartz movement and pretty pastel-rose gold pattern.
This at-home bath spa treatment will help your mother unwind and relax during the weekends. The set consists of seven must-have bath spa products and has the most popular lily of the valley scent that is sure to steal her heart. The set comes with a shower gel, a body scrub, a body lotion, a bubble bath, bath salt, a wire basket, and a bath sponge.
Key Features
Free of parabens, alcohol, and other toxic chemicals.
Vegan and eco-friendly.
Want to surprise your mother with some chunky accessories? This Valentine's Day, gift your mom these sparkling new heart-shaped hinged hoop earrings. These are anti-allergic, lightweight, and gold-plated and come packed in an elegant fashion jewelry velvet bag. The hinged pattern and firm clasps make it easy to wear and remove these earrings effortlessly.
Key Features
Stainless steel hinged heart-shaped hoop earrings.
Hypoallergenic, nickel-free, and lightweight.
Comes in a beautiful velvet jewelry bag.
You can insert your mother's favorite picture in this heart-shaped pretty keychain and gift it to her on Valentine's Day. This adorable keychain has a photo insert. Cut the picture in the shape of the template and insert it. The key chain is available in different patterns and shapes.
Key Features
Personalized and unique keychain with photo inserts.
Available in different shapes and patterns.
Mothers often forget to take care of themselves. Hence, gifting her this glass water bottle this Valentine's Day can remind her to stay hydrated. If she attends yoga classes, plays a sport, or goes for a walk regularly, this classy and protective water bottle could be of great help to her. The bottle is available in various colors and comes with a bamboo lid. It is leakproof, stylish, and travel-friendly.
Key Features
Made using 100% high borosilicate glass that can bear extremely hot and cold temperatures.
BPA-free.
Toxin-free.
Phthalate-free.
Cadmium-free.
Leakproof and sturdy bamboo lid.
Does your mother love making sweet treats for your family? Here is a worthy and functional gift for her. This glitter cupcake décor kit includes 12 glitter cupcake picks, 150 Valentine's Day cupcake liners, a love potion sprinkle mix, 24 glitter cupcake wraps, piping tips, a fill tip, and a decorating kit with a disposable bag.
Key Features
Assorted 6-set cupcake decorating kit.
Comes with all the essential tools needed to prepare delicious looking cupcake décor.
Roostery tea towels make a perfect gift for your mother if she has been planning to replace the old tea towels for a long time. These heart-shaped, geometrically long tea towels are made using the best fabrics and top stitching threads. The designs are colorful and vibrant, and the towels have a subtle hang tab on the back for comfort.
Key Features
Made using cotton blend fabric.
Vibrant heart-shaped geometric prints.
Set of two 16 inch x 12 inch linen-cotton towels.
Has a white hang tab on the bag.
This organic 100% pure rosehip seed oil is great for fighting stretch marks, fine lines, wrinkles, and other skin issues. The oil can also be used for improving the health of nails, hair, and reducing scars.
Key Features
Nourishing and conditioning natural oil for skin, hair, and nails.
Contains vitamins A and C and omega-6 fatty acids.
Reduces the visibility of stretch marks and scars.
Prevents signs of skin aging and nourishes the skin naturally.
Here is a beautiful and luxurious gift for your mother who loves to travel. This minimalistic and edgy case is made using genuine leather and has a quilted leather exterior, a glass mirror, a pretty tassel, and gold shiny finish hardware. This jewel case is extremely appealing and will hold all your mother's accessories. The accessories will not get tarnished even under typical storage conditions.
Key Features
Prevents tarnishing up to 35 years.
Consists of 7 pin rolls, 3 necklace hooks with pockets, and 4 compartments.
Handcrafted using leather.
If your mother is a tea lover, she will love this assorted tea set. The Vahdam tea set consists of award-winning teas and is presented in a rich luxury box. The set consists of a rich and captivating trio of sweet Himalayan detox green tea, Saffron masala chai, and Earl Grey masala chai. The tea is made using 100% natural and organic ingredients and tastes amazing.
Key Features
Assorted tea set with 3 aromatic and tasty teas.
Comes in a rich and exclusive packaging.
Consists of Saffron masala chai, Himalayan detox green tea, and Earl Grey masala chai.
If your mother is an absolute entertainment lover, this Roku premiere streaming media player will become her favorite streaming device. It offers great picture quality and sharp resolution. Apple TV and Disney + are also streaming on all Roku devices, and you can also watch Netflix, Prime Video, and several other channels. The device comes with a simple and easy-to-use remote control.
Key Features
Premium picture quality.
Comes with an easy-to-use remote control.
Up-to-date software and new features.
Nothing is more exciting and fun than instant cameras. Ditch those selfie cams and gift your mother this adorable Fujifilm instant camera this Valentine's Day and let her make memories. This camera also has a new selfie mirror and a 5-minute auto power-off timer. It also has a firing flash that will help her take clear and precise pictures, even when it is dark around.
Key Features
Available in various pretty colors.
Comes with a selfie mirror, bright flash, and auto shut-off feature.
Offers automatic exposure management.
Comes with a new macro lens adapter for better close-ups.
Need a pretty and functional gift for your mother? This beautiful wallet is made using cowhide leather and has a thick fabric lining, a magnetic closure, a gold-toned chain, and studs. This gorgeous crossbody bag is worth purchasing if your mother loves elegant and compact wallets for everyday use.
Key Features
Comes with a magnetic closure and a heavy clip for better closure.
Pink wallet with gold-toned chain and studded pattern.
Chunky and elegant crossbody wallet for daily use.
Made using cowhide leather.
This amazing glam collection signature shoulder bag is an adorable gift for your mom. The vibrant red bag is made of 100% nylon. This bag can also be converted into a diaper bag, while the accessories can be bought separately. It has a large main compartment and additional outer and inner compartments for maximum storage.
Key Features
Red shoulder tote bag.
It comes with a large compartment and other inner and outer compartments.
It can be converted into a diaper bag.
Has an integrated keyring.
From the stylish signature bags to the spa set, these are the most thoughtful and novelty gift items you can consider gifting your mom this Valentine's Day. Choose the best one for her and show her how much you love her with these amazing gifts.
Recommended Articles
The following two tabs change content below.

Latest posts by Harini Natarajan (see all)

Harini Natarajan
As Chief Editor, Harini sets the tone and editorial direction for StyleCraze to deliver engaging, interesting, and authentic content revolving around women's health, wellness, and beauty. She has over 14 years of experience in content writing and editing for online media. She specializes in the areas of Beauty, Lifestyle, and Health & Wellness and is proficient in Medical Sciences (Biology, Human Anatomy and Physiology, and Biochemistry). Her background in Biomedical Engineering helps her decode and interpret the finer nuances of scientific research for her team. Harini is a certified bibliophile and a closet poet. She also loves dancing and traveling to offbeat destinations.