15 Best Ideas To Surprise Your Husband On Valentine's Day
These amazing tips will make the day more exciting & fun and enhance your relationship.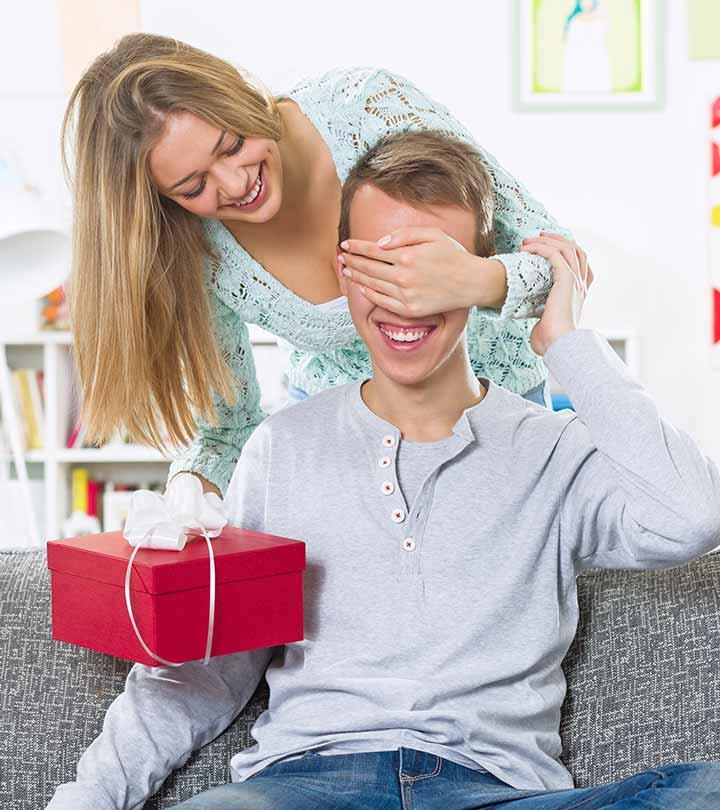 Valentine's Day is just around the corner, and if you have no clue how to surprise your husband, cheers! You are not alone. Finding the right Valentine's Day ideas for your husband is quite tough and time-consuming. So, if you are not sure of finding one, leave it to us. In this article, we have listed the 15 best ways to shower your love on your husband on this special day. Take a look!
15 Best Surprise Valentine's Day Ideas For Your Husband
1. Send A Surprise Gift
No matter how much they pretend that it is not the case, guys adore surprise gestures and gifts. Sending chocolates and flowers to your hubby's workplace would be the ideal way to surprise him. If you feel that chocolates and flowers will not go that well with your guy, send him a gift that you know he will love, like a coffee mug, home-baked cookies, or personalized gifts (T-shirt).
2. Plan A Once-In-A-Lifetime Experience
Plan something extraordinary this year that will promise you both a once-in-a-lifetime experience. You can take him base jumping, skydiving, to a renowned amusement park, in a hot air balloon, or race-car driving. Whatever you plan to do, make sure it is be something he has expressed interest in at some point in time. If you sign up for skydiving, but he is afraid of heights, it won't be a pleasant surprise for him. Instead, go for something you know he will surely enjoy.
3. Plan A Getaway Trip
Your hubby will surely love some alone time with you, so plan a fabulous weekend getaway for you and him. If money is not a problem, book a vacation to someplace you both have always dreamed of going to. If money is tight, book a room in an affordable hotel. You can also search for discounts. It doesn't really matter if the hotel doesn't offer five-star accommodations. Your husband will love to spend quality time with you, no matter where you go.
StyleCraze Says
Bali, New Orleans, Cape Town, Bora Bora, and Havana are gorgeous locations for a getaway trip to surprise your husband on Valentine's Day.
4. Breakfast In Bed
Cook up some heart-shaped pancakes, eggs, hash browns, freshly squeezed orange juice, and bacon — a delicious traditional breakfast that you can serve him in bed. If you are not a decent cook or would like to enjoy the morning cuddling in bed with your hubby instead of cooking, the order in breakfast.
5. Write Love Notes And Leave Them Around
An extremely cute but meaningful surprise would be writing notes to him, talking about things you adore about him. Put them inside his cereal box, in his wallet next to his credit cards, in his briefcase, inside his shoes, on the windshield of his car, within his sandwich, and anywhere else he may have access to during the day. Collect the notes and put them all in a scrapbook to look at later.
6. Do Something He Loves
Every man has a hobby – something he likes doing that his wife doesn't enjoy doing. For a special surprise for Valentine's Day, give your hubby some alone time to do that. Whether it is playing poker with the guys, watching the game on TV, or playing golf at the local green, giving him some time for himself may be a great surprise. Even better, join him and watch him smile with glee.
7. Spruce Up His Car
Make him get an Uber to work so that you can take his car to a garage for some sprucing up. Get it washed, cleaned, and waxed so that it looks like it is very best when hubby gets home. Do something extra to make it look even nicer, such as adding paint protection, tinting the windows, or getting windshield protection.
8. Candlelit Dinner
Tell your hubby you are going to make Valentine's Day reservations at a diner, but instead of doing that, set up a candlelit dinner at home. Line the way from your door to the dining table with flower petals, preferably rose petals. Light tall, red candlesticks on the table and dim the lights. Arrange for some bubbly with dinner. If you don't feel like cooking, there's no shame in ordering a nice dinner. You can still spend some quality time with him and make it special.
9. Set Up A Romantic Treasure Hunt
When your hubman gets home from the office, surprise him and hand him a clue to a treasure hunt you have set up. You may take him to various important points in your relationship, such as your first kiss, the first date, the proposal, etc. The final treasure can be whatever you want it to be, though we do recommend sexy lingerie – with you in it.
10. Make Coupons For Things He Loves
Create a coupon book for your hubby filled with things he adores. This is an awesome gift because you can personalize it especially for him. If he loves getting massages, make and give him a coupon for that. If he loves his car, give him a coupon for a service on his car. He will adore the coupons made for him specifically – they are personal and cute.
11. Give Him What He Has Always Wanted
Your hubby has probably hinted sometime about something he really wants. Something he has been pining for – it could be a fitness booster, a tech gadget, a car service — whatever it may be, it will mean a great deal to him if you get that thing for him on Valentine's Day.
12. Buy Tickets To A Show
Does your better half love the movies or have a fascination for sports or a passion for music? Whatever it is, we can guarantee that he will absolutely love to receive tickets for an upcoming event on Valentine's Day. Take his personality into account as you browse through upcoming events.
13. Recreate Your First Date
You and your hubby probably look back on the first time you went on a date with fond memories, as it was this day that led to this life-long relationship. Recreate your first date with your husband and show off your romantic side to him this Valentine's Day. This will keep the spark alive in your relationship, and you will realize how far you guys have come since that first date.
14. Treat Him Like A King For A Day
Spend the entire Valentine's Day anticipating what he wants. It will blow his mind completely! Make his favorite breakfast. Think about it – what would he like to see when he comes back home? If he would write down how his perfect day would be, what would he put on the list? Think about it carefully and then try to do as many things on that list as you possibly can.
15. Dedicate A Song To Him On The Radio
A classic, but something he would never expect! However, it will require some careful planning and possibly calling your local radio station over and over, but think about how much it will mean to him when he hears his name mentioned on the FM. Make sure he is listening to the radio precisely when your song comes on.
StyleCraze Says
You can dedicate songs like "Thinking out Loud" by Ed Sheeran, "You're Still The One" by Shania Twain, "Endless Love" by Lionel Richie and Diana Ross, and "Just the Way You Are" by Bruno Mars to your husband on Valentine's day.
Make the most of the unique occasion of Valentine's Day by telling your partner how much they mean to you. Your better half has been there for you through thick and thin, and you will never be able to thank them enough. However, these Valentine's Day ideas for your husband will convey your love and warmth on your behalf. Of course, you will have to tailor the surprises to your husband's preferences. It might be his finest Valentine's Day yet, with the right food, entertainment, surprise, and you!
Key Takeaways
Surprising your husband on Valentine's Day is a great way to reignite the spark in your relationship.
From arranging a candlelight dinner to writing love notes, there are many great ways to surprise your significant other.
A personalized surprise will make him feel more loved and special.
The following two tabs change content below.