5 Benefits Of Valerian Root, How It Works, And Side Effects
The most popular use of this herb is as a mild sedative, but that's not all it can do.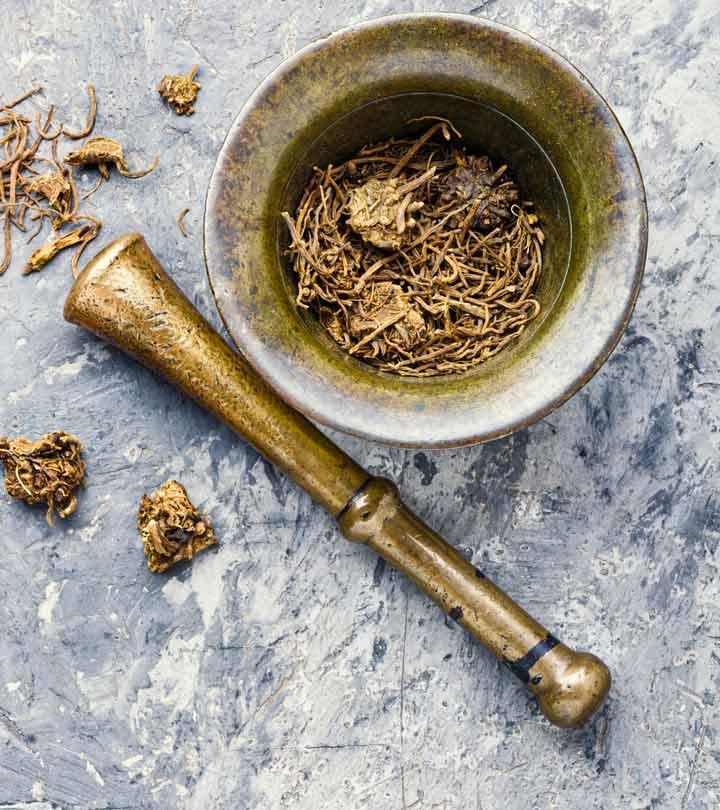 Valerian roots have played a key role in ancient medicine for thousands of years. Valerian root benefits your health in several ways. It promotes sleep quality and may act as a sedative. The roots are available as pills, powders, and other processed forms. However, they may have a few side effects even when taken according to the recommended dosage. Hence, you must be cautious.
What happens when you consume valerian root for a long time? Can it lead to addiction? This article outlines the benefits of valerian root, potential risks, and how to use it. Read on.

Know Your Ingredient: Valerian Root
What Is It?
The root of the Valerian plant with a strong, earthy odor.
What Are Its Benefits?
It acts as a sedative, promotes good sleep and calmness, relieves menstrual pain, reduces symptoms of premenstrual syndrome, and may help treat Parkinson's disease.
Who Can Use It?
Anyone except children, pregnant women, lactating mother,. those who have liver disease, diabetes, or high blood pressure, and people on other sedative medications or who consume alcohol.
How Often?
You can consume valerian root alone or as a diet supplement at regular intervals at a dose no higher than 1060 mg.
Caution
Valerian root may aggravate headaches and cause dizziness, mood swings, and digestive disorders in some individuals due to long-term and excess intake. Consult your doctor if you experience adverse effects.
What Is Valerian Root?
Valerian (Valeriana officinalis) is a perennial plant native to Europe and Asia, and also grows in North America. Its roots are sold as a dietary supplement in the US (1). It has a strong earthy odor while its flowers have a mild scent. Valerian root extracts are also used in personal care products, cosmetics, aromatherapy, and veterinary practices. It was also used in perfumes in the 16th century. However, it is majorly used to minimize insomnia (sleeplessness) (2).


Trivia
The origin of the scientific name of Valerian root, Valeriana officinalis, is unknown. Some say it's named after the German botanist and physicist Valerius Cordus. Others believe it comes from the Latin word "valere," meaning "to be healthy."
Let us understand how valerian root works. Keep scrolling.
How Does Valerian Root Work?
Valerian root works similar to Xanax (alprazolam), where it inhibits the breakdown of GABAi  XA key neurotransmitter in the brain that blocks specific signals and offers a calming effect in humans. (gamma-Aminobutyric acid) in the brain. This promotes calmness and sleep. Active constituents in valerian root — valeric acid and valerian extract — exert this action. A study suggests that valeric acid and valerian extract act by binding to the GABA-A receptors (receptors that respond when GABA is released). Both the agents enhance the response to GABA and show a significant sedative action (3),(4).
The benefits of valerian root are not just limited to promoting sleep quality. Keep scrolling to learn about all of its benefits.
Major Benefits Of Valerian Root
1. May Help With Better Sleep
Sleep plays a major role in many bodily functions (5). Hence, chronic insomnia can impact one's overall health and well-being. Studies show that herbal medicines like valerian root may be effective in promoting sleep and preventing related disorders (6).


Trivia
Valerian root has been used since ancient times for its medicinal benefits. Greek physicians Dioscorides and Hippocrates mention it as a sleep aid. Roman Emperor Marcus Aurelius also recommended it for insomnia.
2. May Help Treat PMS
Premenstrual syndrome is associated with a few other health complications. Valerian root extract may reduce the emotional, physical, and behavioral symptoms of premenstrual syndrome. The regimen can be beneficial if started on the 21st day of the menstrual cycle and continued for seven days (7).
3. May Help Alleviate Menstrual Problems
Research suggests that the antispasmodic effects (ability to suppress muscle contractions) of valerian may help reduce menstrual pain. It may also reduce the need for other pain relievers if taken three times a day for two cycles (8).
4. May Help In The Treatment Of Parkinson's Disease
Parkinson's disease (PD) is the second most common neurodegenerative disorder. Its major contributor seems to be oxidative stress. Studies suggest that valerian shows promise in the treatment of Parkinson's disease by decreasing oxidative stress (9).
5. May Help Treat Anxiety Disorder
Valerian is found to help reduce anxiety. Its extract contains valerenic acid that is known to exert its anxiolytic (anxiety-relieving) action on GABA-A receptors. GABA is the primary inhibitory neurotransmitter in the central nervous system, whose deficit leads to anxiety (9).


Trivia
During World War II, the soldiers used valerian root for stress relief during air raids and to help manage post-traumatic stress disorder.
Though valerian root offers important benefits, it also may pose certain potential risks. Keep scrolling to know more.
Possible Risks And Side Effects Of Valerian Root
The side effects of valerian root or its extracts are based on anecdotal evidence. These include:
Valerian roots are used for relieving headaches. On the contrary, consuming valerian root is reported to aggravate headaches in sensitive individuals. These headaches were observed to be severe in the morning. This effect is mostly associated with the herb's long-term intake.
Imprudent use of valerian root may make one sleepy or drowsy. Sleepiness, mood swings, and increased drowsiness may occur with the intake of high doses of valerian root.
Excess intake of valerian root is also associated with stomach pain. The pain may also be accompanied by mild digestive problems like constipation or diarrhea. Diarrhea or stomach upset occurs mainly due to the laxative effect (emptying of bowels) of the valerian root.
Note: All these side effects are usually mild and subside gradually after one discontinues the use of valerian. Consult a doctor if you experience severe side effects.
You should follow certain special precautions while consuming valerian root. These may help reduce the risk of side effects.
Special Precautions And Warnings
Make sure you are not allergic to the active constituents in valerian root like valeric acid and valerian.
Do not consume if you are taking other sedative medications.
Do not consume alcohol if you are using valerian roots or supplements.
Valerian's safety in pregnant women and lactating mothers is not established yet. Better to avoid its consumption.
Do not administer valerian to children.
Consult a doctor before consuming valerian root if you have liver disease, diabetes, or high blood pressure.
Do not consume valerian for extended periods as it can be addictive.
Do not operate machinery or drive after valerian intake.
The valerian root, if used properly, can offer lasting results. The following tips can help you maximize its benefits.
How To Take Valerian Root To Maximize Benefits?
 Do not consume valerian root in large amounts. Moderate consumption is the key to maximum benefits.
 Fresh valerian root may have enhanced benefits.
 Valerian root comes in various forms. Always go through the packaging of the product and follow the guidelines specified.
 You can consume valerian root as a supplement with your regular medicines. However, speak to your doctor before doing so.
 Use valerian only as necessary. Stop taking it once you see the desired result as it may be addictive.
 Stop its use if you see no improvement even after 2 weeks. Consult your doctor.
To Conclude
Valerian root is a popular dietary supplement renowned for its calming properties. It is replete with bioactive compounds that offer a strong earthy aroma and a host of benefits. The benefits of valerian root include better sleep and reduced menstrual cramps. It may also help relieve anxiety. You can reap the benefits of valerian root by consuming its fresh roots, pills, or powders. However, be wary of the side effects it may cause if taken in excess. If you experience any adverse effects, limit its use and seek medical advice.
Frequently Asked Questions
Which is better, melatonin or valerian root?
Melatonin is considered a better option over valerian root because it exists within the body and acts as a natural remedy and offers rest in a more natural way. In addition, there is less chance of adverse effects.
Can valerian root stop panic attacks?
From one small study, the intake of valerian capsules that contain 530 mg of dried valerian root one hour before bedtime for one month helps in relaxation and prevents anxiety or panic attacks (10).
Does valerian root slow your heart rate?
Many anecdotal evidence suggests that valerian root is effective in maintaining blood pressure and heart rate in people after the surgery. However, limited data is available to prove these claims.
Can you withdraw from valerian root?
Valerian root doesn't cause any withdrawal symptoms. However, it may cause a few, when it is used for long periods.
Is 1000 mg valerian root too much?
No. Doses higher than 1060 mg are generally considered too much valerian root.
Does valerian root affect hormones?
Valerian root is a phytoestrogenici  XPlant-based compounds, similar to estrogen in the human body, that rebalance women's hormones during menopause. herb that contains many volatile oils and phytoestrogens are estrogen-like complexes with estrogenic and anti-estrogenic properties (11). In addition, this can be effective in the treatment of hot flashes in menopausal women.
Is valerian root a benzodiazepinei  XA class of drugs that treats anxiety and insomnia and other conditions related to the central nervous system. ?
Valerian root has a mechanism of action similar to that of benzodiazepine.
Is valerian root good for adrenal fatigue?
Many anecdotal studies suggest that the intake of valerian root helps improve adrenal fatigue conditions. However, limited data is available to prove this claim.
Does valerian root increase dopamine?
Valerian root is believed to increase dopamine levels but there is no data available to prove this claim.
Key Takeaways
Valerian root is a herbal sedative with active constituents that promote calmness and sleep.
It may promote better sleep, alleviate menstrual problems, and help treat anxiety disorders.
Possible side effects of valerian root include headache, dizziness, and stomach pain.
Discover the amazing benefits of valerian root! Learn what this herb is used for and how it can help improve your health. Get the facts in this informative video.
Sources
Articles on StyleCraze are backed by verified information from peer-reviewed and academic research papers, reputed organizations, research institutions, and medical associations to ensure accuracy and relevance. Read our editorial policy to learn more.
The following two tabs change content below.