VEDIX Customized Ayurvedic Hair Care Regimen – REVIEW
Here's some sound advice from someone who has spent her whole life dealing with thick, curly hair – get ready to deal with hair fall. Lots and lots of hair fall. Yes, at first glance, my hair does look healthy owing to its volume. But, curly hair gets tangled very easily, leading to hair fall and breakage. I've spent my whole life picking big clumps of hair out of my hair brush (that's one kind of horror that you never get used to). Needless to say, I have spent an outrageous amount of time and money trying out hair oils and shampoos that did nothing more than make my hair smell nice. So when I came across VEDIX – touted as India's only customized hair care regimen for hair fall and dandruff – you best believe I clicked on it.
What Is VEDIX?
VEDIX is dubbed as "India's Only Customized Ayurvedic Hair Care Regimen." It is based on the Tridosha Theory of Ayurveda which states that we are all born with a set of characteristics (Prakruti) that consists of 3 doshas – Vata (Air and Ether energies), Pita (Fire energy), and Kapha (Water and Earth energies). These doshas direct all the functions in your body. Aging and exposure to environmental changes can cause an elevation/suppression of certain doshas which can then lead to not only hair problems but also disturbance in all your bodily functions.
Since VEDIX is a customized regimen, it asks you to take the VEDIX Dosha Questionnaire to analyze your doshas before recommending you products. Depending on your primary concern – hair fall or dandruff you can take the questionnaire accordingly for that.
Packaging
Your customized VEDIX products come in a gorgeous olive color box that has a pretty floral pattern on it. The bottles also feature the same floral pattern. The gold caps of the bottles add a royal touch to them.
My Experience
My questionnaire results said that I have elevated Kapha and Vata. Since I opted for the anti-hair fall regimen Khoob Anti-Hairfall Oil (specifically formulated for Kapha-Vata Prakruti), Khoob Anti Hairfall Oil, and Khoob Hair Regrowth Serum were recommended to me.
Khoob Anti-Hairfall Oil (Kapha-Vata): Since Khoob Anti-Hairfall Oil is made with dosha specific herbs, the Kapha-Vata oil that I got contained Ashwagandha, Vata, Tulasi, Grapeseed Essential Oil, and Carrot Seed Essential Oil. It has a sweet herbal fragrance that is a bit overpowering like most other Ayurvedic hair oils that I've tried. I love its light gold color and the fact that it's extremely lightweight. It spreads very easily and a little bit of it goes a long way in covering your whole scalp. I applied it to my scalp every alternate night and left it on overnight. I think that out of all the all anti-hairfall oils that I've tried till now, this oil was the most effective.
Khoob Anti-Hair Fall Shampoo: This shampoo was made of Aloe vera, Yasthimadhu, Gunja, Bhringraj, and Quinoa Protein. It has a fresh, mildly herbal fragrance. My favorite thing about this shampoo is that it is free of silicon, parabens, and sulfates! But is this the sulfate-free shampoo of my dreams? Hmmmm. I'm not gonna lie, initially it did dry out my hair. But, I admit that I used too much of it at first to wash out all the oil. I'm still trying to figure out how much of it I should be using, but I'm happy to report that there was a significant decrease in the number of hair strands I saw floating towards the drain.
Khoob Hair Regrowth Serum: This leave-on serum contains Kumari, Grape Seed Essential Oil, Cedar Essential Oil, Bakuchi, Bhringraj, Japa, and Gunja. Now, this is the product I was (and still am) a bit skeptical about. It has a watery consistency and an extremely strong floral scent. I applied a few drops of it after washing my hair, as instructed. It claims that the herbal extracts penetrate your scalp and open up your hair follicles during the anagen (growth) phase of the hair growth cycle. This triggers the growth of new and thicker hair. I've been using it for a month now and I'm not sure if I see a major difference, granted that may not be enough time to see a significant difference in the length of my hair. It did moisturize my hair a bit though and added some volume at the roots, so that's a plus.
Pricing
A 1 month subscription of VEDIX costs ₹1,699, 3 months costs ₹4,497, and 6 months costs ₹5,994. I opted for the 3 months subscription plan because I noticed a difference post first month and wanted to see if continuous usage would further reduce my hair fall. Also, three months is a good enough time to see if the product is working well for you. After all, we can't expect miracles within 10 days – and I would steer clear of any company that claimed something like that.
Will I Recommend This Product?
Yes, definitely. I saw a noticeable reduction in my hair fall within the first 2-3 uses. I no longer dread combing or washing my hair as I don't have to worry about how much hair I'll be losing in the process. Do give VEDIX a try if you are on the hunt for a hair fall solution, because it is a customized hair care regimen designed specifically for you and your hair concern. To top that off, it is all-natural and a great value for money.
Rating
4.8/5

The following two tabs change content below.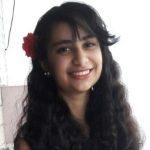 Latest posts by Arshiya Syeda (see all)