13 Best Vegan Hair Mousse Brands In 2023
Now you can add volume and texture to your hair with absolutely zero guilt.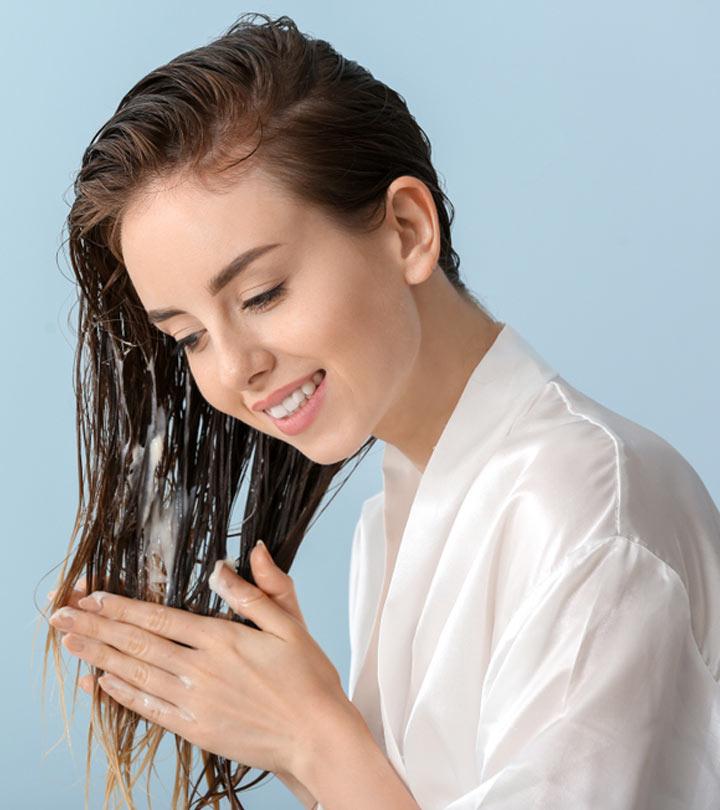 Mousse is an essential hair product when styling frizzy and unruly hair as they can be quite frustrating to tame otherwise. The best vegan hair mousse brands help add volume and enhance the texture of your hair. It will also help define your curls if applied correctly. What's more? You can use hair mousse on all hair types, and the application process is also very easy. Wash your hair, blow-dry, apply your favorite hair mousse and then style your hair accordingly. However, finding the right hair product that works best for your unique texture can be challenging, and trying to find vegan formulas is a whole different story. But, fret not. We are here to help you find great options from different vegan hair brands that have gained popularity recently. With advanced and new formulas, their mousse keeps the shine of your hair intact and does not leave any sticky residue.
Vegan hair mousses are also available in various forms — while some are creamy, others are foamy. They add definition and help to manage messy hair. The best part about these products is that they are plant-based and free from animal-derived ingredients. Check out our round-up of some of the best vegan hair mousse brands that will make you fall in love with your hair. Scroll down!
Top Picks
Top 13 Best Vegan Hair Mousse In The 2023 Market
Pros
Simple-to-use
No paraben
No mineral oils
Suits all hair types
Cons
Price at the time of publication: $27.58
Pros
Long-stay product
Non-sticky formula
Tames frizzy hair
Non-drying formula
Cons
Price at the time of publication: $15.99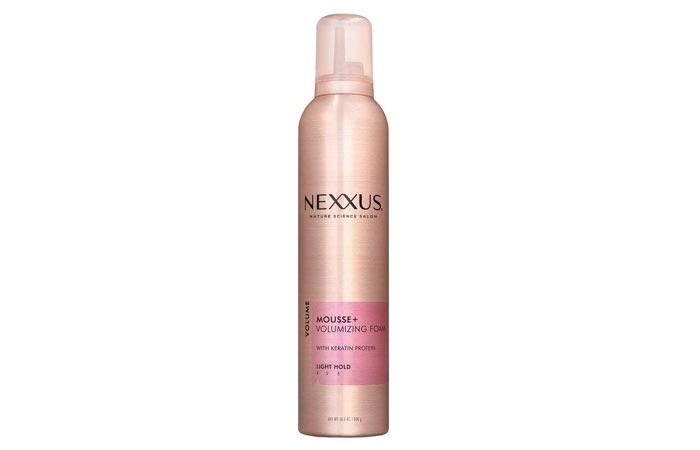 When you want salon-quality voluminous curls, opt for this hairstyling mousse. It is enriched with keratin and ceramides and makes your hairstyle last long. This alcohol-free mousse comes in an easy to pour friendly packaging. You need to shake the product well prior to using it. Dispense a good quantity of the mousse on your palm and then apply it all over your hair. The product can be easily used on both dry and damp hair. It also adds volume to hair without drying them out. If you are still unsure about purchasing, you can check out a review of this product on YouTube.
Pros
Aerated mousse
Silicon-free
Lasts long
No buildup caused
Cons
Might not hold hair for long
Price at the time of publication: $11.99
Pros
No sulfates
No paraben
Easy-to-use
Versatile product
Cons
Price at the time of publication: $14.94
Pros
Amazing mint fragrance
Boosts shine
Multifaceted product
Adds fullness to hair
Cons
Price at the time of publication: $9.96
Pros
Good for frizzy hair
Gives UV protection
Nourishing formula
Good quality
Cons
Price at the time of publication: $18.96
This miracle styling mousse by "It's a 10" is simply worth investing in for people who wish to nourish their hair along with styling. This airy foam moisturizes hair, improves hair texture, holds hair firm and is perfect for vegan hair care. The formula also protects from overheating caused during styling and keeps dryness and brittleness away. It surely is a hair miracle and suitable for both long and short hair. It keeps the hairstyle firm without making it look crunchy.
Pros
Alcohol-free mousse
Heat protectant
Nutrient-rich formula
Adds texture
Cons
Price at the time of publication: $15.99
Pros
Adds bounce
Makes hair soft
Simple to use
Light-weight
Cons
Price at the time of publication: $18.0
Pros
Natural ingredients
Color safe formula
Vegan and cruelty-free
Sulfate-free
Cons
Makes hair look oily when overused
Price at the time of publication: $12.28
Pros
Protects from heat
Adds shine to hair
Makes styling easy
Great fragrance
Cons
Doesn't hold hair for long
Price at the time of publication: $16.57
Pros
Alcohol-free
Hypoallergenic
Paraben-free
Soy-free
Cons
Price at the time of publication: $26.0
Pros
Provides all day volume
Thick consistency
Vegan formula
Aromatic fragrance
Cons
Price at the time of publication: $29.0
Pros
Natural ingredients
Cruelty-free
Creamy texture
Zero crunch
Cons
Price at the time of publication: $8.99
Hairdresser, Alexandro Vasquez, says, "Nowadays inside the best salons around the world the search for vegan products, plant-based, fruit, and natural oils has increased abruptly and the salons that don't have this type of products to offer to their customers will end up losing good opportunities. I always try to recommend these products for customers because I really believe in their benefits and results. Give it a try!"
Why Choose Vegan Hair Products For Your Hair Care?
Vegan formula is induced with only plant extracts. There are no animal extracts present in the product. Vegan hair products are extremely healthy for hair. These products have no trace of harmful chemicals which make them ideal for use by all. People with allergies or irritation from chemicals can actually use vegan hair products without any problem. Choosing vegan hair products is altogether a healthier choice.
How To Choose Vegan Hair Mousse?
Choosing vegan hair mousse is simple.
Look for the ingredients on the label.
Check for any animal-derived ingredient like animal hair, lanolin, etc. If any of it exists, then it is not vegan.
Vegan hair mousses are free from preservatives, additives, chemicals, and synthetics. So keep a track of the same.
Check the logo for a simple breakdown of cruelty-free traits.
What Ingredients Might Be In Non-vegan Hair Mousse?
The ingredients present in non-vegan hair mousse can be keratin, albumin, amino acids, bee pollen and honey, carmine, casein, cysteine, etc.
Why Trust StyleCraze?
The author, Vaishnavi Kothuri, is a haircare enthusiast. She loves experimenting with the latest products that keep your hair smooth and healthy. She understands the woes of finding the right hair mousse that keeps your unruly hair in check. She reviewed a wide range of hair mousses, checked reviews and feedback on onine furms and curated this list of the leading vegan hair mousse brands on the market. These brands formulate hair mousses that are made of plant-based ingredients, are cruelty-free, and give you shinier and healthier hair.
Frequently Asked Questions
Is it okay to use vegan hair mousse every day?
No, skip using a vegan hair mousse every day, as it can leave your hair dry. Also, frequent use of the mousse causes product buildup.
Do you put mousse in wet or dry hair?
Apply hair mousse on damp hair to hold the hairstyle better and give it the right lift. Using a mousse on dry hair can make it dull.
Does mousse thicken the hair?
Yes, mousse plumps up the flat tresses and makes them appear thicker. It adds volume to your locks and enhances the look of your hair.
Can you brush your hair with mousse in it?
Yes, you can brush your hair with mousse to achieve a defined texture.
What is the difference between hair foam and mousse?
Hair foams have a lightweight texture, whereas a mousse has a thicker texture similar to whipped cream. Apart from this, both the products serve the similar purpose of controlling and defining unruly hair.
Can I use hair gel instead of hair mousse?
No. A hair mousse adds shine and volume to your hair apart from setting the hair, whereas a hair gel can only set and maintain your hairstyle. So, skip using hair gel instead of hair mousse if you want voluminous, shiny tresses.