13 Best Vegan Hair Mousse Brands In 2023
Now you can add volume and texture to your hair with absolutely zero guilt.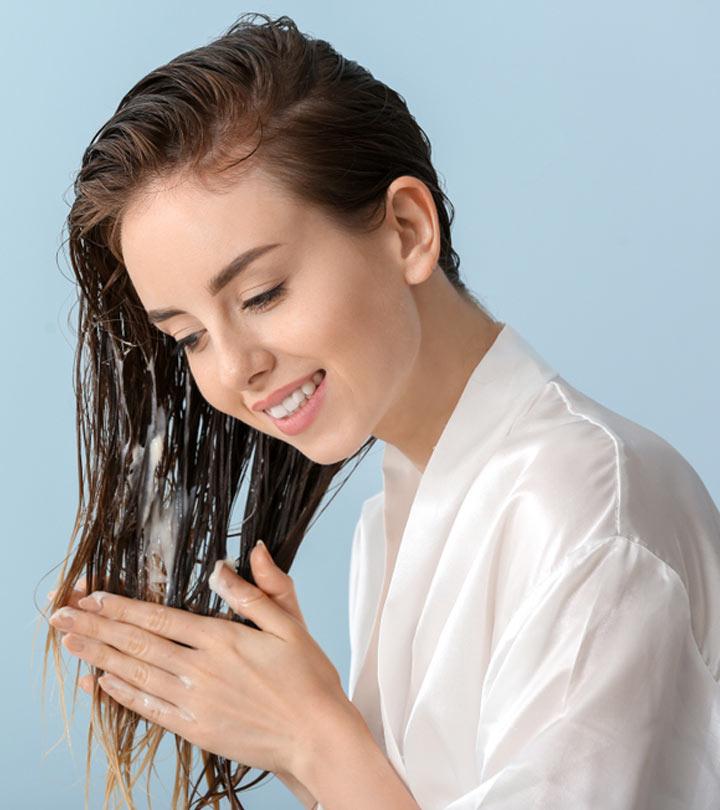 Mousse is an essential hair product when styling frizzy and unruly hair as they can be quite frustrating to tame otherwise. The best vegan hair mousse brands help add volume and enhance the texture of your hair. It will also help define your curls if applied correctly. What's more? You can use hair mousse on all hair types, and the application process is also very easy. Wash your hair, blow-dry, apply your favorite hair mousse and then style your hair accordingly. However, finding the right hair product that works best for your unique texture can be challenging, and trying to find vegan formulas is a whole different story. But, fret not. We are here to help you find great options from different vegan hair brands that have gained popularity recently. With advanced and new formulas, their mousse keeps the shine of your hair intact and does not leave any sticky residue.
Vegan hair mousses are also available in various forms — while some are creamy, others are foamy. They add definition and help to manage messy hair. The best part about these products is that they are plant-based and free from animal-derived ingredients. Check out our round-up of some of the best vegan hair mousse brands that will make you fall in love with your hair. Scroll down!
Top 13 Best Vegan Hair Mousse In The 2023 Market
This vegan hair mousse by Design Essentials is undoubtedly useful for taming your curls. The formula is enriched with the moisturizing goodness of avocado and almonds which are considered great for hair care. The product helps you get rid of frizzy hair by smoothening hair and separating curls from each other. This mousse has no harsh chemicals and can be used by all, thus gaining the position for all-time organic mousse for curly hair. The key qualities of this product are quick drying nature, no flaking, and intense hydration. You can check this YouTube video for more information about the product.
Pros
Simple-to-use
No paraben
No mineral oils
Suits all hair types
Cons
Price at the time of publication: $27.58
Kenra volume mousse has that ideal consistency to hold your hair firm and still make you feel light. Those who have a keen eye for vegan hair care products, this surely is the right choice. In fact, it is one of the best alcohol free mousses for curly hair. It assists you with styling and ensures that your hair does not become stiff. The intense thermal protection, high humidity resistance, and non-drying formula contribute towards making it a reliable haircare product. Using this mousse on natural hair is really simple. Shake the product well and then shampoo your hair and apply Kenra Volume Mousse in your damp hair from the length to the ends. Then style as per your choice!
Pros
Long-stay product
Non-sticky formula
Tames frizzy hair
Non-drying formula
Cons
Price at the time of publication: $15.99
When you want salon-quality voluminous curls, opt for this hairstyling mousse. It is enriched with keratin and ceramides and makes your hairstyle last long. This alcohol-free mousse comes in an easy to pour friendly packaging. You need to shake the product well prior to using it. Dispense a good quantity of the mousse on your palm and then apply it all over your hair. The product can be easily used on both dry and damp hair. It also adds volume to hair without drying them out. If you are still unsure about purchasing, you can check out a review of this product on YouTube.
Pros
Aerated mousse
Silicon-free
Lasts long
No buildup caused
Cons
Might not hold hair for long
Price at the time of publication: $11.99
African Pride mousse is loaded with natural ingredients. In fact, it has some of the most nourishing ingredients like rose water and argan oil in natural form. These ingredients are not only safe to use but also immensely beneficial for hair. Argan oil adds shine to your hair while rose water hydrates and softens hair for better hair growth. Together, these ingredients tame frizzy hair and make your curls last long. Work it up from length to ends and spread evenly. Air dry your hair or you can even use a hooded dryer for great styling. The amazing price of this product makes it even more suitable. The product is surely one of the best hair mousse for curly hair.
Pros
No sulfates
No paraben
Easy-to-use
Versatile product
Cons
Price at the time of publication: $14.94
OGX's volumizing, foaming mousse is the one-stop solution for managing your hair all day long. It has the power boost of argan oil that helps your hair shine and get beautiful locks. You can expect this volumizing mousse to add bounce to your hair and give you the perfect hairstyle. This exclusive argan oil enriched hair mousse keeps your hair healthy and suits all hair types. Another ingredient of this mousse is Propylene Glycol which is great for scalp hydration and hair softness.
Pros
Amazing mint fragrance
Boosts shine
Multifaceted product
Adds fullness to hair
Cons
Price at the time of publication: $9.96
Sebastian Professional Mousse is the ultimate hair-styling mousse that defines and protects curls. This professional styling product provides great firm hold and adds volume to curly hair, leaving the hair all soft. Formulated with an anti-frizz effect, this hair mousse helps keep your hair-style for longer durations while protecting the hair against heat damage. It is suggested to apply this mousse to damp hair for better results. Now styling your hair is all the more simple with this mousse. It is specially for curly or wavy hair and does a great job in taming these hairs. People with thin hair love this product as it helps gain them volume.
Pros
Good for frizzy hair
Gives UV protection
Nourishing formula
Good quality
Cons
Price at the time of publication: $18.96
This miracle styling mousse by "It's a 10" is simply worth investing in for people who wish to nourish their hair along with styling. This airy foam moisturizes hair, improves hair texture, holds hair firm and is perfect for vegan hair care. The formula also protects from overheating caused during styling and keeps dryness and brittleness away. It surely is a hair miracle and suitable for both long and short hair. It keeps the hairstyle firm without making it look crunchy.
Pros
Alcohol-free mousse
Heat protectant
Nutrient-rich formula
Adds texture
Cons
Price at the time of publication: $15.99
Biolage styling whipped volume mousse provides shine and bounce to hair along with natural softness. The product is inspired by the expansive properties of the cotton flower, which adds volume. It is the apt choice for thin and straight hair. You can use it with the help of a comb and apply it on dry hair from roots to tips. The product has the texture of whipped cream and thus is known as whipped volume mousse.
Pros
Adds bounce
Makes hair soft
Simple to use
Light-weight
Cons
Price at the time of publication: $18.0
Giovanni Mousse air-turbo charged hair-styling foam is a great choice to have a firm hold on volume and texture. This styling foam strengthens hair and has amazing stay-power. You can take your styling game ahead with Giovanni mousse air-turbo charged hair-styling foam. This gluten-free hair mousse has the goodness of vitamin E, aloe vera, and lavender, which keeps your hair healthy and lets your hair color last long.
Pros
Natural ingredients
Color safe formula
Vegan and cruelty-free
Sulfate-free
Cons
Makes hair look oily when overused
Price at the time of publication: $12.28
Agadir volumizing mousse is induced with argan oil which is unbelievably good for hair. The product suits all types of dry, oily and curly hair. It is loved for its signature aromatherapy fragrance. This hair mousse helps manage dry and damaged hair without leading to any build up. In case you use it on colored hair, it doesn't fade easily. There is no use of sulfates, paraben, or salts in this product which makes it absolutely safe for use.
Pros
Protects from heat
Adds shine to hair
Makes styling easy
Great fragrance
Cons
Doesn't hold hair for long
Price at the time of publication: $16.57
As the name suggests, "No nothing" products contain limited ingredients, with no fragrance at all. This fragrance-free hair mousse from "no nothing" is especially formulated for sensitive people. It has no chemicals which makes it safe for all. The mousse is thick in consistency and mixes well with hair. It is non-irritating for the scalp and an apt choice when looking for healthy hair mousse. This is one of the best vegan hair mousses which is great for styling.
Pros
Alcohol-free
Hypoallergenic
Paraben-free
Soy-free
Cons
Price at the time of publication: $26.0
This is the medium control mousse from Pureology for that extra shine and root lift to your hair. It conditions hair just like a hair mask and is completely weightless. Loaded with tuberose, almond milk and cedarwood, this mousse adds bounce to your hair in the most nourishing way possible. The product is suitable for styling and protection of hair without being targeted by harmful chemicals, thus an ideal choice for people with sensitive skin.
Pros
Provides all day volume
Thick consistency
Vegan formula
Aromatic fragrance
Cons
Price at the time of publication: $29.0
This vegan mousse from Cake Beauty is the ultimate mousse for curly hair. Not only does it volumize the hair but also makes styling easy and natural. The product is safe for use as it lacks harmful chemicals. You can make your curls feel soft with this mousse and let them firm for a longer duration. The product looks like whipped cream and is super restorative in nature. It is generally loved by people with dry hair due to its intense nourishment formula. You can tame your frizzy hair and protect them from humidity with this vegan hair mousse. You can even use this anti-frizz hair mousse if you have healthy hair and you wish to maintain the same. People with allergies can also give this vegan hair mousse a try.
Pros
Natural ingredients
Cruelty-free
Creamy texture
Zero crunch
Cons
Price at the time of publication: $8.99
Why Choose Vegan Hair Products For Your Hair Care?
Vegan formula is induced with only plant extracts. There are no animal extracts present in the product. Vegan hair products are extremely healthy for hair. These products have no trace of harmful chemicals which make them ideal for use by all. People with allergies or irritation from chemicals can actually use vegan hair products without any problem. Choosing vegan hair products is altogether a healthier choice.
How To Choose Vegan Hair Mousse?
Choosing vegan hair mousse is simple.
Look for the ingredients on the label.
Check for any animal-derived ingredient like animal hair, lanolin, etc. If any of it exists, then it is not vegan.
Vegan hair mousses are free from preservatives, additives, chemicals, and synthetics. So keep a track of the same.
Check the logo for a simple breakdown of cruelty-free traits.
What Ingredients Might Be In Non-vegan Hair Mousse?
The ingredients present in non-vegan hair mousse can be keratin, albumin, amino acids, bee pollen and honey, carmine, casein, cysteine, etc.
Why Trust StyleCraze?
The author, Vaishnavi Kothuri, is a haircare enthusiast. She loves experimenting with the latest products that keep your hair smooth and healthy. She understands the woes of finding the right hair mousse that keeps your unruly hair in check. She reviewed a wide range of hair mousses, checked reviews and feedback on onine furms and curated this list of the leading vegan hair mousse brands on the market. These brands formulate hair mousses that are made of plant-based ingredients, are cruelty-free, and give you shinier and healthier hair.
Frequently Asked Questions
Is it okay to use vegan hair mousse every day?
No, skip using a vegan hair mousse every day, as it can leave your hair dry. Also, frequent use of the mousse causes product buildup.
Do you put mousse in wet or dry hair?
Apply hair mousse on damp hair to hold the hairstyle better and give it the right lift. Using a mousse on dry hair can make it dull.
Does mousse thicken the hair?
Yes, mousse plumps up the flat tresses and makes them appear thicker. It adds volume to your locks and enhances the look of your hair.
Can you brush your hair with mousse in it?
Yes, you can brush your hair with mousse to achieve a defined texture.
What is the difference between hair foam and mousse?
Hair foams have a lightweight texture, whereas a mousse has a thicker texture similar to whipped cream. Apart from this, both the products serve the similar purpose of controlling and defining unruly hair.
Can I use hair gel instead of hair mousse?
No. A hair mousse adds shine and volume to your hair apart from setting the hair, whereas a hair gel can only set and maintain your hairstyle. So, skip using hair gel instead of hair mousse if you want voluminous, shiny tresses.
Recommended Articles