8 Virtual Worlds For Teenagers To Enjoy With Their Friends
The quality of graphic visuals and worldbuilding in these online games is unparalleled.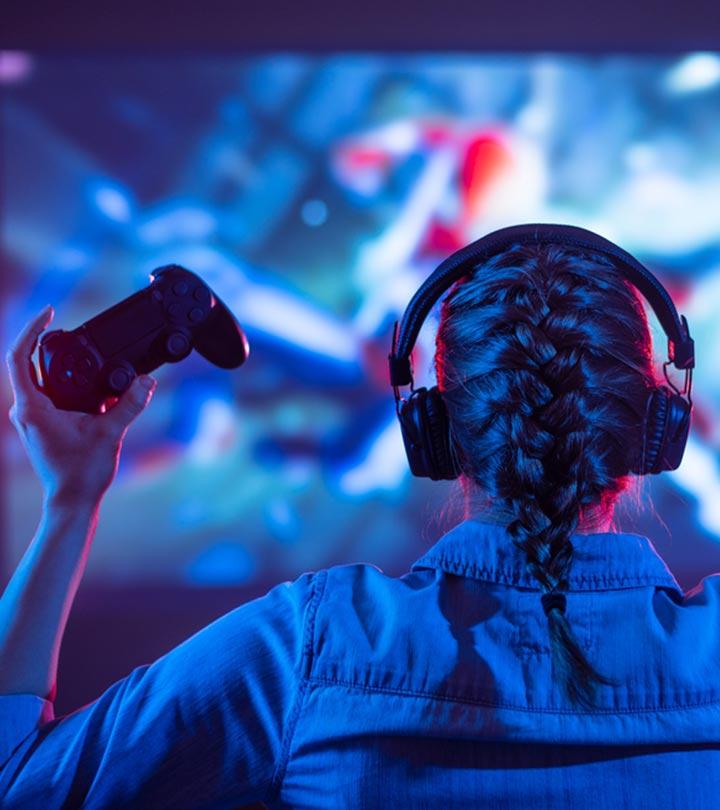 In this age of artificial intelligence and virtual reality, playing games virtually is one of the best ways to connect with your squad. Virtual world games let you create an online avatar that lives in a computer-based reality and participates in challenges with other online avatars. There are several virtual world games for teenagers that cater to different audiences. You can communicate with other players via sounds, gestures, voice commands, text, and graphics. This article looks at different virtual games developed for teens that they can enjoy with their friends. Keep reading to check out the list.


Quick Tip
Virtual worlds for young children are controlled but for teens it is less supervised and allows social interaction and more freedom of expression to wander, explore in avatars and play in the digital landscape.
Best Virtual Worlds For Teenagers
1. Disney Superbia
Superbia by Disney is an online virtual world and social simulation game that involves the fantasy-based city of Superbia. It is populated with several other players and features various Disney-inspired places from shows like Hannah Montana, Wizards of Waverly Place, and Jessie. It is a great platform to experiment with self-expression and let your energy out to create something unique.
Being citizens of the city, players have the liberty to choose their customized avatars by donning different hairstyles, choosing their eye colors, and designing their outfits. Players can renovate their virtual homes using different decorative pieces and items and visit the virtual homes of their favorite Disney characters.
You can interact with other players, make new friends, navigate through the city, and hang out with others, making it a great place for a new social experience. This is one of the best virtual worlds for teenagers in which players can create desserts for the ice cream parlors from scratch and undergo a fun series of other such cool challenges to earn coins and unlock a variety of decorative items, fashionable outfits, and new furniture. They can also visit new rooms in the society. It is available for both Mac and Windows users.
2. Thrillville
Thrillville, developed by Frontier Developments, is a life simulation, strategy, and virtual world game that involves building and creating a theme park for tourists and other players. There are five theme parks in total, namely Thrillville, Thrillville Timewarp, Thrillville Paradise, Thrillville Adventures, and Treasures of Thrillville. Each theme park is divided into three parts functioning on separate themes, such as Battleville, Winterville, Spaceville, and Aeroville that tie into an overall similar concept.
Your character acts as the manager of these theme parks, which are owned by Uncle Mortimer. Since these parks are extremely popular, there are frequent attempts to take them down by your rivals, especially Vernon Garrison, who operates another chain of theme parks that go by the name Globo-Joy.
Your main goal is to ensure that your guests stay happy by keeping them entertained throughout their visit. There are 34 different mini-missions and games that you can choose from, which include upkeep wherein you operate the staff and keep the park up to date; games, where you have to entertain, play, and win games across the parks; build, wherein you need to build and upgrade the top park attractions and facilities; business, that involves managing ad campaigns and finances for the park; and lastly, guests, wherein you can interact, joke, and play with the park's guests and even make them your friends.
You also have the option to create death-defying coasters outside of the main game that include hotrod stunt, pedulizer, and escape drop. There is an option to customize all your rides and coasters using different animatronics, flowers, and flaming hoops to make the experience truly your own.
3. Social Life
Social Life is an online multiplayer life simulation, massively multiple online game (MMO), and social networking game, available on Facebook. This is one of the best online games for teens that involves a unique virtual world with excellent graphics, social events, happening parties, adventurous mini-games, and regular updates. You can customize and create your online avatar for the game.
The best part is its social networking element that gives you the option to meet other players, make new friends, and participate in fun activities with them. Some of these include building and renovating your virtual home, buying items from the in-game store, decorating your house using new objects, and even inviting your friends into your beautiful abode. Overall, if you are looking to have an all-engaging gaming experience with a new social clan, Social Life is the one to try out today!
4. IMVU
IMVU is probably one of the most immersive 3D gaming experiences out there that has become quite popular among teens online, with over 10 million registered users. It is a browser-based, social life, virtual world simulation, and MMO that allows customized challenges for users based on their age, making it ideal for teens and adults alike.
It extends the option of designing your personal avatars in the game, meeting new people, hanging out with others to make new friends, creating new stuff from scratch, and exploring the virtual game world with your cool new squad. This game takes the term "squad goals" to a whole new level.
You can build a virtual life with people you meet on the endless chat rooms like Ethereal Jewel Box, The Furry Forest, Max's Party Island, Paradise Island, and Wedding Under the Stars, etc. And, hey, if all works out well, you can even explore your romantic side with IMVU's adult chat rooms and have an experience of a lifetime.


Quick Tip
IMVU has more than 30 million items available and can be called as world's largest catalog of virtual goods
5. Avakin Life
Experience the perks of a happening virtual life with the Avakin Life video game and seek a world full of endless fantasies, social networking, and role-playing. It includes customizing your online character using about 1000 different items like hats, shoes, glasses, outfits, etc., before entering the game world.
This game involves a thousand other online players and operates on Android and iOS. You can interact, chat, go on adventures, and play mini-games with other players. These can involve renovating your apartment with unique items and accessories according to your preference, inviting friends into your crib, role-playing, exploring different locations, and partying on the beach with them.
Not only that, you may even find love and go on dates! There are various occupation options for you to choose from, including engineers, models, doctors, firefighters, and so on, with the option of earning and spending your money as well. Another cherry on the cake is the special Christmas content, which you can unlock after completing a few challenges and collecting a specific amount of coins.
6. SuperSecret
SuperSecret is one of the best online games for teenage girls out there. It helps you build your own virtual social life where you can be as expressive as you want even if you are shy in the real world. It is a fun online MMO and social gaming platform built especially for girls who are 10 to 16 years old. However, others are welcome to play too!
It involves buying new accessories, trying on outfits, and changing your hairstyles using the style bucks you earn. This game is a great way to explore your inner self while enjoying a world full of entertainment. Whether you want to indulge in a dance-off, a fashion show, or a rodeo racing, SuperSecret has everything for you!
7. Habbo
Habbo is a community-based, 3D, MMO virtual simulation game designed for teens and adults alike. It has remained one of the most exciting virtual worlds for teenagers even after being around for over 15 years. It has players worldwide and is known to be the largest virtual social hangout available online.
Users are supposed to build a virtual avatar for getting into the game zone where they can indulge in role-playing, chat with other players, design hotel rooms, take part in different quests, play games, solve puzzles, and even take care of each other's pets. You can also earn your own money and spend it on gadgets, updates, and various decorative items for decorating the room.
8. WoozWorld
If you are into fashion and want a world where you can customize your avatars using different looks, along with experimenting with a community-based game, WoozWorld is the game for you. It is an online virtual world where one can enjoy role-playing, social simulation, and massively multiplayer online games designed for tweens and teens.
With an increasing player base, WoozWorld allows you to indulge in different life-like activities – like building your own house from scratch, hosting parties, starting your own business using in-game currency, selling clothes, and trading your items by chatting with other players around.
That was our list of the best online virtual world games. Each of these games come with their own set of quirks and qualities, be it with a team or even solo. They are sure to help you and your friends kill time in a fun, engaging, and entertaining way.
Key Takeaways
Virtual world games allow you to create an online avatar that lives in a computer-based realm and competes against other online avatars in challenges.
It's one of the greatest ways to communicate with your group because you may use sounds, gestures, voice commands, text, and visuals to interact.
Disney Superbia, Thrillville, Social Life, IMVU, Avakin Life, SuperSecret, Habbo, and WoozWorld are some of the best virtual world games for teenagers.
Infographic: Psychological Pros And Cons Of Virtual World Games
While virtual world games are a fun way to spend time and bond with your friends, indulging in them too much can be bad. In the infographic below, we highlight the pros and cons of playing virtual games to help you manage the time you invest in them.


The virtual world is much more engaging and fulfilling for teenagers nowadays than the real world. They can engage in multiple exciting games, universes, activities, and many more while sitting in front of a screen or a virtual reality simulator. Truly, the market is overflowing with endless enticing options. However, Disney Superbia, IMVU, Woozworld, and others mentioned in the list above are the most loved virtual gaming worlds for teenagers. You can play solo, make your team, or compete with other online players in the game, making it so much more exciting.
Frequently Asked Questions
Is Minecraft a virtual world?
Yes, Minecraft is a video game which is based in a virtual world of unit-sized blocks.
Is Roblox a virtual world?
Yes, Roblox is a multiplayer online gaming platform that allows players to build virtual worlds.
What are the most popular online virtual world games?
IMVU, Minecraft, and world of warcraft are considered some of the most popular online virtual world games.
Are virtual worlds and virtual reality the same thing?
No, there is a fundamental difference between the two. Virtual worlds are online environments that allow many people to interact with each other. Virtual reality is a computer-generated simulation where a single or multiple users are in an environment different from reality.
Why do people use virtual worlds?
Virtual worlds are used by people to destress from the stress of daily life and to socialize with other people.
Is social media a virtual world?
Yes, social media is considered a virtual world where people create certain personas and interact with other people on social media platforms.
The following two tabs change content below.