10 Best Vitamin C Face Creams In India That Brighten The Skin
Make the most of the goodness of vitamin C with these nourishing formulas!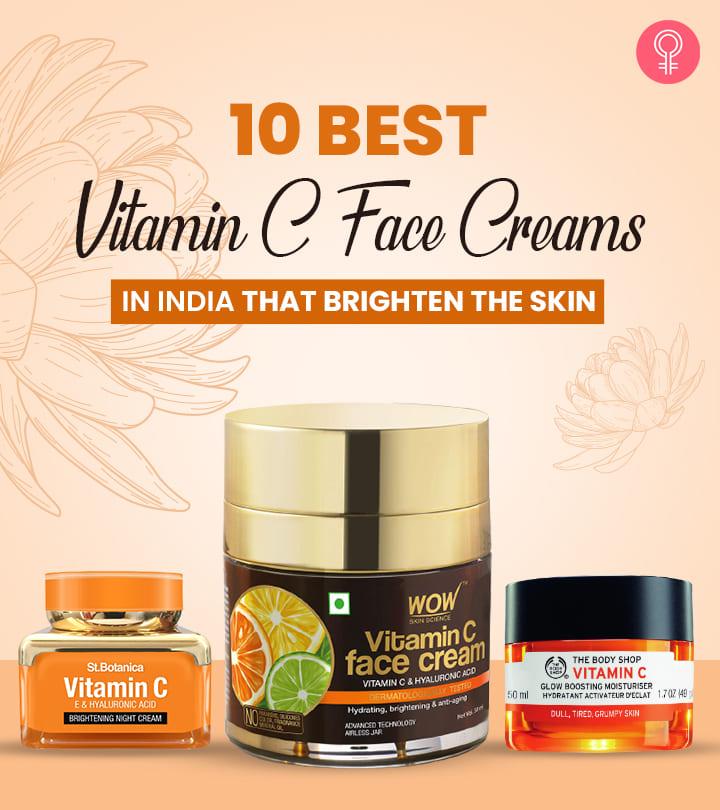 The market is buzzing with ingredient-specific skin care products that address distinct skin concerns. However, among these products, the vitamin C-based skin care range is making its presence felt. If you are looking for an ingredient to boost radiance and fight the signs of premature skin aging, vitamin C is your go to. It revamps your skin, making it look younger and brighter with every use.
A vitamin C face cream protects your skin from UVA and UVB damage, reduces hyperpigmentation, and lightens acne scars and blemishes. This article lists the 10 best vitamin C face creams in India that are worth exploring. Scroll down and check them out!
Best Vitamin C Creams Available In India
The combination of refreshing Japanese Yuzu lemon and 3x vitamin C serum in this cream lightens dark spots and helps you achieve a brighter skin tone. This vitamin C-based cream comes with UVA and UVB sun protection filters to block sun damage.
The product is enriched with ascorbyl glucoside – a stable form of vitamin C – that makes this serum-in-cream formula efficient and effective in addressing multiple skin concerns. The lightweight cream gets absorbed into your skin instantly for a spotless finish and a radiant glow. This is the best vitamin C cream in India that tackles dark spots, pimple scars, UV spots, and discoloration.
Skin Type: Oily and Combination
Pros
Lightweight
Absorbed quickly
Ideal for everyday use
Infused with UVA/UVB filters
Non-comedogenic
Tested by dermatologists
Mild citrusy fragrance
Cons
The WOW Skin Science Vitamin C Face Cream works efficiently to restore the skin's lipid barrier and retain its natural moisture. Apart from vitamin C, this cream is infused with actives like provitamin B5, hyaluronic acid, and vitamin E. This potent blend helps revive dull and damaged skin and boost radiance. It improves the overall skin texture and makes it supple and soft.
The face cream contains vitamin C in the form of magnesium ascorbic phosphate. It neutralizes skin-damaging free radicals and block excess melanin production to even out the skin tone. The vitamin C face cream also contains shea butter, rich in omega 3 fatty acid and phytonutrients, to soothe irritation and help the skin heal faster and cocoa butter to lock in moisture. The blend of argan, almond, and jojoba oils hydrates the skin, improves its texture, and boosts radiance.
Skin Type: Dry, Normal, Oily, Combination, Sensitive, and Dull and Damaged
Pros
Absorbed quickly
Paraben-free
Silicone-free
Mineral oil-free
Artificial fragrance-free
Dye-free
Cons
The Mamaearth Vitamin C Face Cream brightens your face while protecting it from the harsh UVA and UVB rays of the sun with SPF 20. It is enriched with vitamin C, common purslane, and niacinamide, which work in tandem to heal, protect, and nourish your skin. They prevent premature skin aging, fade pigmentation and dark spots, reduce dullness, and promote collagen production.
Vitamin C neutralizes the oxidative damage caused by environmental aggressors, pollution, UVA, and UVB rays. It fights against free radicals to speed up the skin's natural regeneration process and makes it radiant and younger-looking. Common purslane is rich in antioxidants that heal the skin cells from free radical damage, while niacinamide reduces enlarged pores, evens out the skin tone, and diminishes the appearance of acne marks or scars. The lightweight formula is absorbed quickly without clogging the pores or leaving any greasy residue.
Skin Type: Dry, Normal, Oily, Combination, and Sensitive
Pros
Absorbed quickly
Lightweight
Has SPF 20
Non-comedogenic
Dermatologist-tested
Paraben-free
Sulfate-free
Petroleum-free
Colors/dye-free
Cons
This lightweight, non-greasy vitamin C day cream from Blossom Kochhar is loaded with skin-loving ingredients like pomegranate juice, shea butter, and avocado oil. It has broad-spectrum SPF 15, which helps protect your skin from UVA and UVB rays. Shea butter deeply moisturizes the skin, while pomegranate juice protects and strengthens the skin's upper layer. Ingredients like cucumber seed oil, avocado oil, and orange extract lighten, hydrate, and soften your skin. With consistent use, this vitamin C cream claims to fade away scars and give you well-replenished and radiant skin.
Skin Type: Dry, Normal, Oily, and Combination
Pros
Lightweight
Non-greasy
Has SPF 15
Paraben-free
Sulfate-free
Paraffin-free
Silicone-free
Alcohol-free
Allergen-free
Petrochemical-free
Cons
May cause itching and redness
This overnight cream from St Botanica brings together the benefits of vitamin C, vitamin E, and hyaluronic acid to brighten your skin and fade the visible signs of aging. It eliminates dry skin and boosts skin elasticity to make sure you wake up with supple, soft, and thoroughly hydrated skin the following morning.
The cream is infused with 3-0 ethyl ascorbic acid, a highly stable form of vitamin C, that brightens the skin and boosts collagen production. Hyaluronic acid hydrates and plumps the skin to maintain moisture balance. The blend of green tea, Moroccan argan oil, and aloe vera in the formula makes the cream an effective anti-aging treatment. This lightweight vitamin C face cream works effectively for all skin types and is highly recommended for sensitive skin.
Skin Type: Dry, Oily, Combination, Normal, and Sensitive
Pros
Lightweight
Paraben-free
Sulfate-free
Silicone-free
Oil-free
Cruelty-free
Cons
The Himalayan Organics Vitamin C Night Cream rejuvenates your skin while you sleep to make it appear radiant and even toned. The vitamin C in the formula protects your skin from exposure to UVA and UVB rays. It also limits melanin production in the skin, which helps lighten brown spots and hyperpigmentation.
The formula is also enriched with organic shea butter and moringa oil to nourish and moisturize your skin. The organic shea butter contains fatty acids and vitamins that condition, tone, smoothen, and soften the skin. Moringa oil boosts collagen production to help reduce fine lines, wrinkles, and sagging skin. The night cream also contains tamarind that helps unclog the pores and reduces blemishes and ashwagandha that prevents acne, redness, and premature aging. The gentle formula targets age spots and is suitable for sensitive skin.
Skin Type: Dry, Oily, Combination, Normal, and Sensitive
Pros
Non-greasy
Nice fragrance
Paraben-free
Sulfate-free
Mineral oil-free
Lanolin-free
Gluten-free
GMO-free
Cruelty-free
Vegan
Cons
Leaves a white cast
Feels heavy
The Blue Nectar Shubhr Brightening & Radiance Vitamin C Cream harnesses the power of Ayurveda to nourish the skin and make it look radiant. It contains a blend of aloe vera, green apple, plum, sandalwood, and other potent herbal ingredients like mulethi, methi, and manjistha that combats the visible signs of skin aging, reduces blemishes and dark spots, and boosts radiance.
This vitamin C face cream detoxifies, purifies, and nourishes the skin to reduce pigmentation, dark circles, and puffiness. It also contains curcumin that helps clear your skin and fights free radicals to make your skin firmer and healthier. The cream is lightweight and ideal for everyday use.
Skin Type: Dry, Oily, Combination, Normal, and Sensitive
Pros
Lightweight
Ideal for everyday use
Paraben-free
Sulfate-free
Mineral oil-free
Alcohol-free
Cruelty-free
Cons
Greasy
May cause breakouts
The Vitamin C Glow Boosting Moisturiser from The Body Shop has a refreshing and lightweight gel-based formula that leaves your skin healthy and radiant. It is enriched with vitamin C, Amazonian camu camu berries, and aloe vera that instantly refresh dull and tired looking skin.
These skin revitalizing ingredients energize your skin and boost hydration to prevent moisture loss. This face cream smoothens the texture, enhances the skin tone, and leaves your skin feeling plump and supple with no signs of fatigue or tiredness.
Skin Type: Normal, Dry, Dull, and Damaged
Pros
Absorbed easily
Lightweight
Soothing fragrance
100% vegetarian
Cruelty-free
Cons
The Goodbye Blemishes Vitamin C Face Cream enhances your skin tone and leaves it well-nourished and supple. It combats five major skin concerns – blemishes, pimples or acne, dark spots, acne scars, and uneven skin tone. The ultra-lightweight and highly effective formula is enriched with vitamin C, mulberry extract, brassica seed oil, and gotu kola leaf water to soothe and nourish the skin.
The Kakadu plum and mulberry and berberis extracts in the formula are excellent sources of vitamin C. They not only protect the skin from environmental stressors but also reduce the appearance of fine lines and wrinkles by stimulating collagen production. This cream can help fight multiple skin concerns, including photoaging, acne, and blackheads. It evens out the skin tone, calms irritation, reduces the size of blemishes, and controls sebum production to prevent acne breakouts.
Skin Type: Dry, Oily, Combination, and Normal
Pros
Absorbed quickly
Lightweight
Non-greasy
Gentle
Paraben-free
Sulfate-free
Cons
May cause redness and itching
The Organic Harvest Vitamin-C Organic Day Cream has an intensely hydrating and nourishing formula that locks moisture in your skin all through the day. It is loaded with antioxidants to prevent free radical damage to the skin and boost collagen production. It helps reduce the appearance of pigmentation, scars, blemishes, fine lines, and wrinkles.
The cream is formulated with vitamin C, acai berry, and daisy flower, which promote lightening and brightening by curbing the production of melanin to reduce hyperpigmentation. The vitamin C-infused formula exfoliates dead skin cells and promotes cell regeneration. While the daisy flower extract brightens the skin, acai berry reduces fine lines and wrinkles to delay the visible signs of aging. This vitamin C face cream is ideal for everyday use and suits all skin types.
Skin Type: Dry, Oily, Combination, Normal, and Sensitive
Pros
Pleasant fragrance
Non-sticky
Paraben-free
Sulfate-free
Gentle
Vegan
Cruelty-free
Cons
Vitamin C enhances your skin tone, brightens your face, and fades acne scars. Here are some other benefits of this ingredient.
Benefits Of Using A Vitamin C-Enriched Cream
Many dermatologists and beauty experts recommend including vitamin C-based products in your everyday skin care routine. Here are some of the benefits that your skin can gain from the best vitamin C cream for the face:
Prevents visible signs of aging.
Boosts collagen production to smoothen and enhance the skin's texture.
Protects the skin from sun damage and environmental aggressors.
Provides the skin with intense hydration and nourishment by retaining moisture.
Helps reduce acne scars, blemishes, dark spots, hyperpigmentation, and skin discoloration.
Reduces inflammation and redness caused by acne breakouts or allergies.
Brightens the skin and promotes natural radiance and glow.
While buying the best vitamin C cream for the face in India, there are a few things you must consider. Scroll down to know what they are
Things To Consider When Buying A Vitamin C-Enriched Cream
Skin Type
Your skin type plays a key role in picking the best vitamin C cream for the face. If you have dry or sensitive skin, go for products infused with magnesium ascorbyl phosphate, a water-soluble form of vitamin C that causes lesser irritation. If you have normal to oily skin, look for face creams with l-ascorbic acid, which is a potent form of vitamin C.
Complementing Ingredients
Go for creams enriched with vitamin A, hyaluronic acid, natural plant-based ingredients, aloe vera, and shea butter. These ingredients are not harsh on the skin and make sure it gets optimum nourishment and hydration, along with the benefits of vitamin C.
Budget
The price range varies from brand to brand. Remember that there is no rule that the higher the price, the better the cream. Look for the high-quality ingredients and the brand's reputation rather than the price tag. Try and test out a few products or check the customer reviews before you finalize a product.
Vitamin C is considered a powerhouse ingredient that boosts collagen production, brightens the skin, and makes it tighter and firmer. It also helps lighten age spots and dark circles and imparts a naturally radiant glow to the skin. Adding a vitamin C face cream to your everyday skin care regimen is the best thing you can do for your skin. So, go ahead and take your pick from the above list!
Frequently Asked Questions
How often should I use a Vitamin C face cream?
You may use vitamin C face cream twice a day on clean skin in the morning and at night.
Can Vitamin C face creams be used in combination with other skincare products?
You may use vitamin C moisturizer after using a toner, serum, and eye cream. Follow it up with sunscreen as vitamin C leaves your skin sensitive to the sun.
Are there any specific considerations for storing and preserving Vitamin C face creams in India?
Store the face cream in a light-blocking container and in a dark, cool place away from direct light. This is because light might break down vitamin C and temperature and humidity may damage the formula. It is better to store your cream in the refrigerator.
Recommended Articles