11 Best Water-Based Moisturizers For Oily Skin in India 2021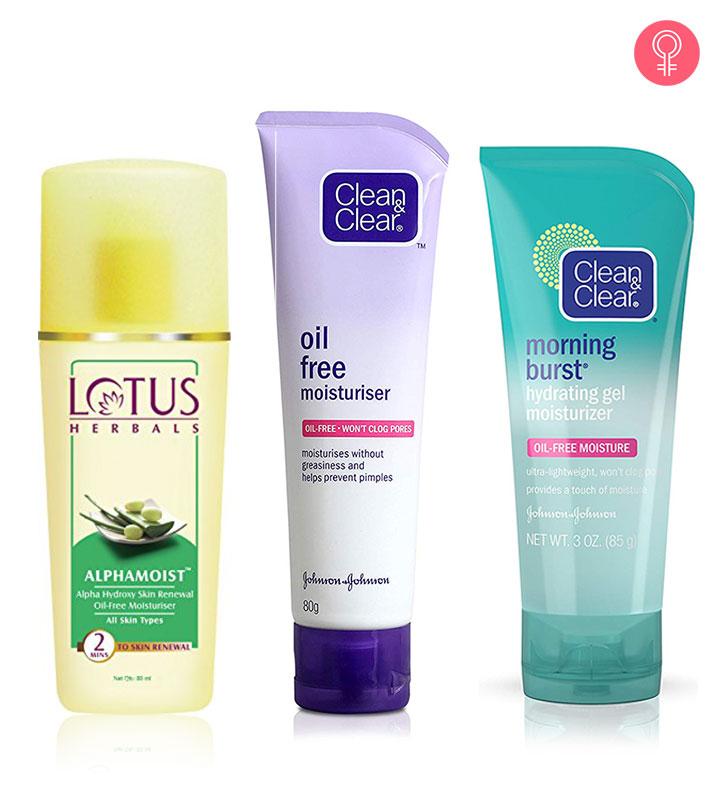 Why does oily skin need extra moisturization? Doesn't it produce enough oil already? It might sound counter-intuitive, but even oily skin needs hydration and the protective cushion that moisturizers provide. This is where water-based moisturizers can help you. They are lightweight, watery, and as effective as their dense counterparts. Here's a list of best water-based moisturizers for oily skin.
11 Best Water-based Moisturizers For Oily Skin
Product Claims
This is a water-based gel moisturizer that seals the moisture in your skin without increasing its moisture levels. It keeps your skin non-greasy. This lightweight moisturizer is quickly absorbed. It contains glycerin and olive oil that nourish the skin and protect it.
Pros
Dermatologist-tested
No alcohol
Oil-free
Non-comedogenic
Contains hyaluronic acid
Provides 48-hour hydration
Can be used under makeup
Cons
None
Similar Products

Product Claims
This ultra-light formula contains cydonian green apple extract that improves your skin texture, tightens the pores, and reduces oiliness. It is a quick-absorbing formula that deeply hydrates your skin and gives it a matte look.
Pros
No sulfates
No parabens
No mineral oil
Non-comedogenic
Dermatologist-tested
Clinically proven formula
Cons
None
[ Read: 10 Must Have Products For People With Oily Skin ]
Product Claims
It is a nourishing and lightweight moisturizer. It contains refining humectants that keep your skin hydrated without making it oily and greasy. It contains aloe vera, green tea, cucumber, and gotu kola extracts that work as antioxidants for your skin.
Pros
Hypoallergenic
Oil-free
pH-balanced
Easily absorbed
Free of sulfates, phthalates, and parabens
No synthetic fragrance
100% vegetarian
Cruelty-free
No artificial colors
Cons
None
Similar Products

Product Claims
This lightweight moisturizer is easy to apply and gets absorbed quickly. It has a moisture lock formula that keeps your skin hydrated for 24 hours. It can be used throughout the year and is enriched with vitamin E. This cream can be used not only on your face but also on your hands and body.
Pros
80% water-based
Suitable for all skin types (especially oily skin)
Contains glutamic acid (a form of amino acid)
24-hour hydration
Contains vitamins B3 and C
Non-sticky
Travel-friendly packaging
Can be used as a makeup base
Cons
Tub packaging can get a bit messy.
Similar Products

[ Read – Ponds Light Moisturizer Review ]
Product Claims
This lightweight, non-oily moisturizer is perfect for hydrating acne-prone and sensitive skin. It controls shine and imparts a matte finish. Its fast-absorbing formula also offers sun protection and has anti-aging properties. The bioactive constituents of this moisturizer – such as aloe vera, green tea, and cucumber extracts – penetrate the skin to deliver nutrition and hydration.
Pros
 Non-greasy
SPF 30
Lightweight
Controls shine
Hydrates the skin
Anti-aging formula
Suitable for oily and combination skin
Suitable for acne-prone and sensitive skin
Cons
None
Product Claims
This water-based moisturizer gives you a shine-free, matte look. It is specially designed for oily skinned people and has multiple benefits. It claims to give your skin controlled hydration so that it looks and feels fresh for hours. It contains green tea extracts that are rich in antioxidants and prevent the growth of acne-causing bacteria. It nourishes and rejuvenates your skin from within.
Pros
No SLS
No phthalates
No parabens
PETA-certified (cruelty-free)
100% vegan
Contains glycolic acid
Fights acne
Cons
Similar Products

Product Claims
This is an oil-free moisturizer that contains milk enzymes that rejuvenate the skin, keep it hydrated, and nourish it. It contains aloe vera extracts that not only heal your skin but also moisturize it. The plant-derived AHA extracts soothe your skin, get absorbed quickly, and improve your skin texture.
Pros
Natural extracts
Contains Vitamin E
Doesn't irritate the skin
Suitable for oily skin
Cons
Contains parabens
Contains alcohol
[ Read: 10 Best Oils For Oily Skin 2019 ]
Product Claims
The oil-free formula moisturizes your face without any greasiness. It doesn't clog your skin pores. The best part is, it contains salicylic acid that prevents breakouts and pimples and keeps your skin clean. It contains water but has a cream base. It also claims to cure any dry patches on your skin.
Pros
Suitable for all skin types
Oil-free
Non-comedogenic
Lightweight
Mild fragrance
Travel-friendly
Cons
Contains parabens
Contains alcohol
Product Claims
This lightweight facial moisturizer not only keeps your skin hydrated but also improves the texture of your skin and keeps it smooth. This moisturizer contains lactic acid. It exfoliates your skin gently, removes all dead skin cells, and rejuvenates your skin. It improves the skin's radiance and makes it glow with health.
Pros
Contains beta-glucan
Contains antioxidants
Lightweight
Quick-absorb formula
Cons
Expensive
Contains parabens
Might irritate sensitive skin
Product Claims
This gel moisturizer is ultra-lightweight. It is non-greasy and keeps your skin replenished throughout the day. It contains a unique blend of green mango and cucumber extracts. It is suitable for both oily and dry skin types.
Pros
Non-comedogenic
Lightweight
Natural extracts
Cons
[ Read: 10 Best Fairness Creams For Oily Skin ]
Product Claims
This product has a refreshing gel-like texture and is easy to apply. It hydrates and moisturizes your skin instantly. It contains aloe water and hyaluronic acid and is specially formulated for oily skin. Regular usage will give you a soft, supple, and radiant skin.
Pros
Contains hyaluronic acid
Dual moisturizing effect
Easily absorbed
Can be used under makeup
Cons
Contains parabens
Contains alcohol
Now that you know all about the best water-based moisturizers for oily skin currently available, let's look at some vital points to consider when buying any of them.
Things To Consider When Buying A Water-Based Moisturizer
The best-suited formula for oily skin is non-comedogenic. Therefore, look for moisturizers that are lightweight and do not clog pores.
The most suitable ingredients for oily skin are aloe vera and hyaluronic acid as they get absorbed into the skin without making it feel greasy. Stay away from additives like shea butter and essential oils as they make oily skin even more oily. If you are looking for light exfoliation, opt for a moisturizer that contains salicylic acid. Ingredients like alpha hydroxy acid, lactic acid, and oatmeal renew the skin by stripping away the dirt and impurities from the skin.
Look for a moisturizer that contains sunscreen. Broad spectrum SPF 30 or above is ideal for protecting the skin from harmful sun rays.
If your skin is oily and sensitive, opt for a hypoallergenic moisturizer that is free of dyes and fragrances. Dermatologically-approved products are better as they are mild. If you have itchy skin, avoid products with steroids as they can aggravate the irritation.
Oily skin needs proper care and moisturization. However, you have to be careful about what you are putting on your skin. Every skin type has special needs. Understand them and buy products that suit those needs. Otherwise, your skin will end up throwing tantrums.
These were my top picks for the perfect water-based moisturizers for oily skin.
Recommended Articles:
The following two tabs change content below.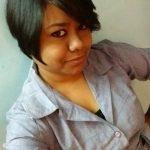 Ramona is a journalist-turned-content writer. She holds a Master's degree in English Literature and has been writing for the digital world for over five years. She specializes in writing for Skin Care. She has done a certificate course titled 'Dermatology: Trip To The Skin', offered by Novosibirsk State University. She believes that beauty begins with a good skin care regimen and is on a mission to eliminate all toxins from her routine. She helps and guides readers in selecting products and ingredients specific to their skin type/issue. When Ramona is not working, her books and passion for music, good food, and traveling keep her busy.