Best Ways To Style Your White Button Up And Down Shirt – Women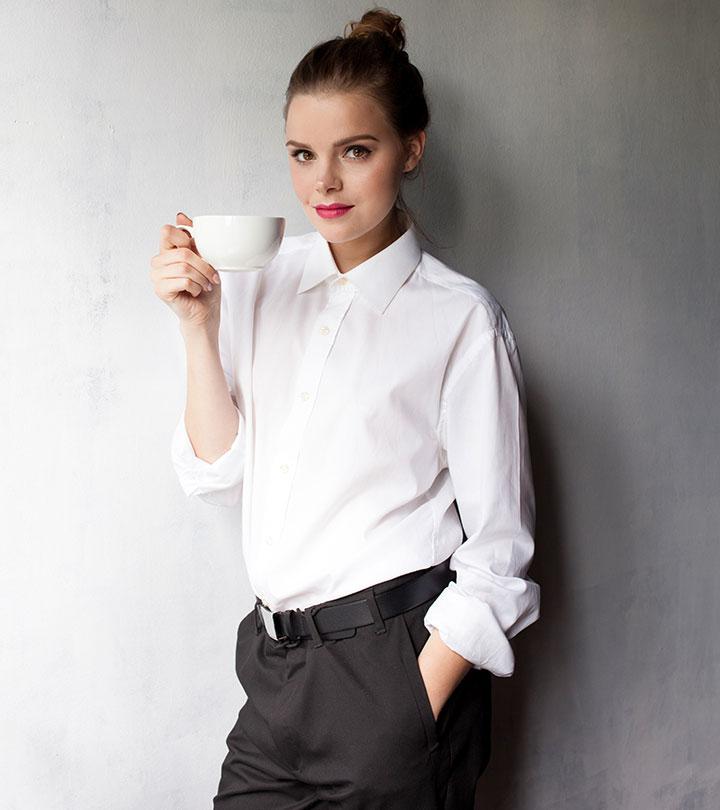 A classic white shirt can take you from your desk to a date and still make you look gorgeous. While a white shirt (paired with blue jeans) is a dating staple for men and a bigger deal for them than for women, it is still a big part of women's closet. But not all of us are aware that white shirts are divided into two major categories – button up and button down. Though they are not very different, you might as well know about them if you want to ace the whites.
First, let's look at the difference between the button up and button down shirts.
What Is The Difference Between Button Up And Button Down Shirts?
What's with the jazz about button up and button down shirts, anyway? These are things we hear a lot about but never pay attention to. It's quite straightforward. The difference between button up and button down shirts lies in their collars. Button down shirts have tiny buttons at the end of their collar flaps that fasten them to the shirt. Button up shirts don't have these buttons on the collar. Button downs are technically button ups too, but the reverse is not always true.
Now that you know the difference between button ups and button downs, here are some of the most stylish yet straightforward ways of styling your classic white shirt.
Best Ways To Style White Button Up And Button down Shirts – Women
1. High Waisted Distressed Shorts With A Button Up Shirt
Button up shirts are meant for times you want to look formal but don't feel formal. Show off those calves (and your style) with a pair of distressed denim shorts and a crisp white shirt. Complete the look with nude wedges, style your hair in waves, and you are sorted.
2. Button Down Shirt With Maxi Skirt
When we say formal, we usually think of a pencil skirt paired with a crisp white shirt and finished off with a blazer. But, some meetings allow you to be informal and give you the freedom to be fashionable. Since your maxi skirts can swing both ways, you can style one with a white button down shirt. You can choose to add a belt or leave it as is. Style this look with pumps.
3. Silk Button Up Shirt With Skinny Jeans
Do a floppy front tuck with your white button up silk blouse into a pair of skinny denims. Put your hair up in a messy bun, and throw on white Converse shoes if you want to look casual. You can also flip this look around with beachy waves, a tote bag, and ankle strap heels.
4. Classic Button Down Shirt With Pencil Trousers
Go for brands like Ann Taylor, J.Crew, and Nine West that are known for their fit and finesse. After all, that is what white shirts need. Also, since your top will give a precise definition to your figure, you can go with flared pants to add layers or pencil trousers if you love the sleek look.
5. White Button Up Shirt Dress
Dress shirts took over a while ago, but white dress shirts are pretty new to the game. It just looks exceptionally dapper to slip into a simple shirt dress. It's casual chic at its beautiful best, isn't it? You can choose to go with the casual flow and pick sneakers or Converse shoes. Or, you can select wedges or pumps if you are headed to someplace special.
6. Crop Style White Button Up Shirt
We all love crop tops, don't we? You can either buy an actual button up crop top or convert an existing button up shirt into one. Just leave the last few buttons unfastened and tie the flaps of your shirt together into a knot. Sport this with denim shorts, a maxi skirt, culottes or anything else that is stylish but balances out the edginess.
7. Long Button Down Shirt With Jeggings
Style your button down shirt dress differently and create an entirely new outfit just by adding a few pieces. Sport it with leggings or jeggings, ankle strap sandals, and a statement accessory that marries the vibe of the outfit. Before you know it, you've worked out a beautiful ensemble with pieces you had lying at home.
8. Linen White Button Up Shirt With Denim Skirt
Bring together an airy linen shirt and a robust denim skirt to look like a real game changer without changing too many rules. Since blue and white is a classic combination anyway, play around with patterns and fabrics. Count on your accessories and makeup game to ace this look. Closed footwear like pumps or stilettos look great, but you can also sport gladiators if you are fishing for a bohemian vibe.
9. White Button Down Shirt And Trousers
A crisp white shirt and black trousers are staples in a formal dressing closet. But can you beat their monotony and look like you are walking in Champs Elysees or French Riviera? Of course, you can. Pair your slim ruffle trousers with a well-fitted white button down shirt. Let your footwear will be the showstopper here. Add a beret or a fedora if you are in the mood and slay it in style. Oh, and you are taking your tote bag along, right?
10. White Oversized Button Up Shirt With Denim
Wearing oversized clothes is a thing, and that's been established for a while now. In fact, a plain white oversized shirt or T-shirt is a real charmer. You can match it with anything, depending on your vibe. Like shorts when you are at the beach or in summers, jeans when you are meeting friends, or a skater skirt if you are headed for lunch. Accessorize, or not, depending on what you are doing that day. Make sure your look adds up to a hundred because it's one of the most comfortable ways to do it.
With fashion changing at lightning speed, lines are getting quite blurry. So if you can pull off a slightly more formal shirt (like a button down) in an informal set-up or the other way around, feel free to do so. Do you love white shirts and how they look? What is your go-to style for dealing with this shirt? Let us know by dropping a text in the comments section below!
The following two tabs change content below.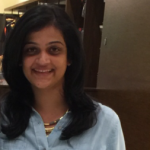 After working in Marketing and Business Development for a few years, Pratima Ati jumped ship to pursue two things she loved – fashion and writing. She's now a full-time Fashion & Lifestyle writer and has never looked back ever since. She sleeps early, reads often, and when she can't, she finally gives a closure to all the characters living in her drafts. Sometimes, they pass off as poetry too! That, and her training in Indian classical music and playing (learning) the veena keep her sane, civil, and bearable.