Fenugreek Seeds For Weight Loss – Benefits + 4 Ways To Include Them In Your Diet
Shed those pounds and improve your metabolism with this powerful herb.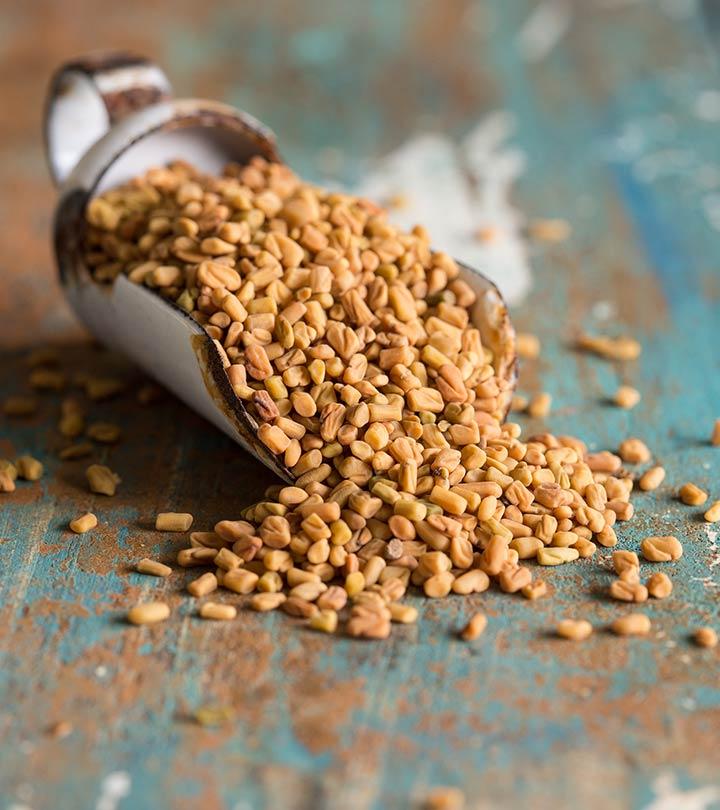 Fenugreek seeds are excellent for weight loss. Also known as methi in Hindi (Trigonella foenum-graecum), they help lower blood sugar, increase insulin sensitivity, and reduce inflammation. This powerful, natural, nutrition-rich weight loss remedy must be included in your diet if you want to lose weight.
Fenugreek seeds contain galactomannan, a water-soluble heteropolysaccharidei  X It contains different varieties of monosaccharides (sugars). Hyaluronic acid, often used for skin treatments, is an example. . It reduces fat accumulation and curbs hunger by increasing satietyi  XA sense of fullness and satisfaction marked by the absence of hunger or need and/or desire to consume more food. (1).
This post discusses how fenugreek seeds aid weight loss, their benefits, and how to use them. Scroll down!
Benefits Of Fenugreek Seeds For Weight Loss
Fenugreek seeds aid weight loss by reducing fat accumulation, suppressing appetite, improving metabolic rate, and enhancing digestion.
1. Rich In Fiber
Fenugreek seeds are highly nutritious and have a high fiber content. One teaspoon (3.7 g) of fenugreek seeds provides 0.9 g of protein and 1 g of fiber (2). The main dietary fiber present in fenugreek (methi) seeds is galactomannan, which was shown to inhibit fat accumulation in rat studies (1).
2. Suppress Appetite
Drinking fenugreek tea can help curb hunger by suppressing your appetite. A study on overweight Korean women showed that drinking fenugreek tea before lunch helped reduce their food intake and hunger (3).
Another Malaysian study showed that the addition of 5.5 g of fenugreek seeds powder to rice or bread significantly increased satiety in overweight and obese individuals (4). Hence, incorporating fenugreek in the daily diet may help with weight management.
3. Improve Digestion
Drinking fenugreek water after meals can help improve digestion by accelerating the secretion of digestive juices. An eight-week study on animals showed that a spice diet (with 2% fenugreek) increased pancreatic lipasei  X An enzyme secreted by the pancreas to help the digestion of fats, fat soluble vitamins, and cholesteryl ester. activity and stimulated digestion (5).
4. Improve Metabolic Health
Fenugreek supplementation can improve metabolic parameters and aid weight loss. In a study, 25 adult individuals with type 2 diabetes were given fenugreek seeds extract and assessed for insulin sensitivity and lipid biomarkersi  XShort for biological markers, they are measures of events occurring within cells or organisms. . It was found that fenugreek reduced insulin resistance, improved HDL cholesterol levels, and decreased triglyceridei  X A type of fat found beneath the skin that stores energy from excess calories the body doesn't need to perform crucial functions. levels (6). All these parameters need to be checked if your BMI is more than 25 kg/m2.
Note: Fenugreek seeds powder or methi water can aid weight loss if balanced with other holistic approaches. Drinking methi water does not help in spot weight reduction, but it can help improve the metabolic rate and aid digestion. This, in turn, can help reduce internal inflammation and bloating. Hence, start exercising, eat healthy (with proper portion control), and drink methi water to lose weight.
How To Use Fenugreek Seeds For Weight Loss
Given below are a few recipes that can help you lose weight:
1. Water-soaked Fenugreek Seeds
What You Need
1 tablespoon of fenugreek seeds
2 glasses of water
How To Prepare
Soak one tablespoon of fenugreek seeds in two glasses of water and leave them overnight.
Filter the seeds from the water in the morning.
Chew on the wet seeds on an empty stomach or drink 250-500 mL of fenugreek water to lose weight.
2. Fenugreek Tea
What You Need
1 teaspoon of fenugreek seeds
1 cup of water
Cinnamon or ginger (for taste)
How To Prepare
Grind the fenugreek seeds in a mortar or grinder with a little water until you obtain a fine paste.
Boil water in a pan.
Add the paste to the boiling water.
Add other herbs (cinnamon or ginger) for taste.
Cover the lid of the pan and lower the flame.
Allow the tea to simmer for 5 minutes.
Sip on the fenugreek tea on an empty stomach.

Quick Tip
Fenugreek seed tea has a slight maple syrup flavor if you do not add cinnamon or ginger to it. You may also add honey, agave, or cane syrup to sweeten it.
3. Sprouted Fenugreek Seeds
What You Need
Fenugreek seeds
Moist cloth for sprouting
How To Prepare
Soak fenugreek seeds in water.
Place them on a moist cloth and press with a stone/heavy utensil.
Keep it aside for three nights.
Remove the stone/heavy utensil.
Let the sprouts grow to a decent length before you consume them.

Quick Tip
If the room you are growing sprouts in is too hot or too humid, rinse the sprouts more frequently and thoroughly with cold water. Otherwise, it may lead to mold growth or smelly sprouts.
4. Fenugreek And Honey Drink
What You Need
Fenugreek seeds
Organic honey
How To Prepare
Make a coarse paste of fenugreek seeds with a stone mortar.
Boil water in a pan and add the crushed seeds to it. Allow the mixture to cool down and rest for three hours in the pan.
Strain the water into a cup.
Add honey and lemon juice to the cup of herbal tea.
Drink this every morning for best results.
Fenugreek Weight Loss Dosage
The dosage of fenugreek seeds varies according to the condition. For effective weight loss, you can take 2-5 g of whole fenugreek seeds. However, there is no scientific evidence to establish the right dosage. Hence, consult your dietitian or doctor if you want to incorporate fenugreek into your diet.
Infographic: How To Use Fenugreek Seeds For Weight Loss
Fenugreek seeds are high in fiber and contain active ingredients that help reduce fat accumulation. Incorporating them into your diet can facilitate weight loss and improve digestion, and there are many easy ways to do that. Check out the infographic below to learn about some of the effective ways to use fenugreek seeds for weight loss.


Fenugreek seeds are rich in fiber, minerals, and vitamins A, B1, B2, and C, and contain a water-soluble compound called galactomannan, which has been shown to act as a natural appetite suppressant and a fat burner (7). In addition, there is scientific evidence to suggest that fenugreek seeds may improve digestion and metabolism. You may take fenugreek seeds for weight loss in a variety of ways, like drinking fenugreek tea, eating fenugreek sprouts, and adding fenugreek powder to meals. However, for long-term weight loss, simply consuming fenugreek tea or seeds is not enough. If you exercise, eat a balanced diet, and use other lifestyle management techniques, fenugreek seeds can facilitate your weight loss.
Frequently Asked Questions
How much fenugreek should I take for weight loss?
There is no proven scientific evidence regarding the safe dosage of fenugreek seeds for weight loss. But you can include 2-5 g of whole seeds in your diet or soak them in water to make a cup of fenugreek tea.
Can I drink fenugreek water every day?
Yes, you can. But ensure you consult your dietitian or doctor before using fenugreek for weight loss purposes.
Can I take fenugreek at night?
You may take fenugreek at night, especially after a carb-rich meal. However, it is commonly recommended that you take fenugreek seeds (that have been soaked overnight) early in the morning on an empty stomach for weight loss benefits.
Key Takeaways
Fenugreek seeds are rich in fiber and may promote digestion
These seeds may improve your metabolism and insulin resistance,
They may reduce fat accumulation, and suppress appetite.
You can consume water-soaked fenugreek seeds or make fenugreek tea.
Sources
Articles on StyleCraze are backed by verified information from peer-reviewed and academic research papers, reputed organizations, research institutions, and medical associations to ensure accuracy and relevance. Check out our
editorial policy
for further details.