How To Wear A Crop Top – 20 Different Ways
You can style this versatile piece of clothing differently to suit almost all occasions.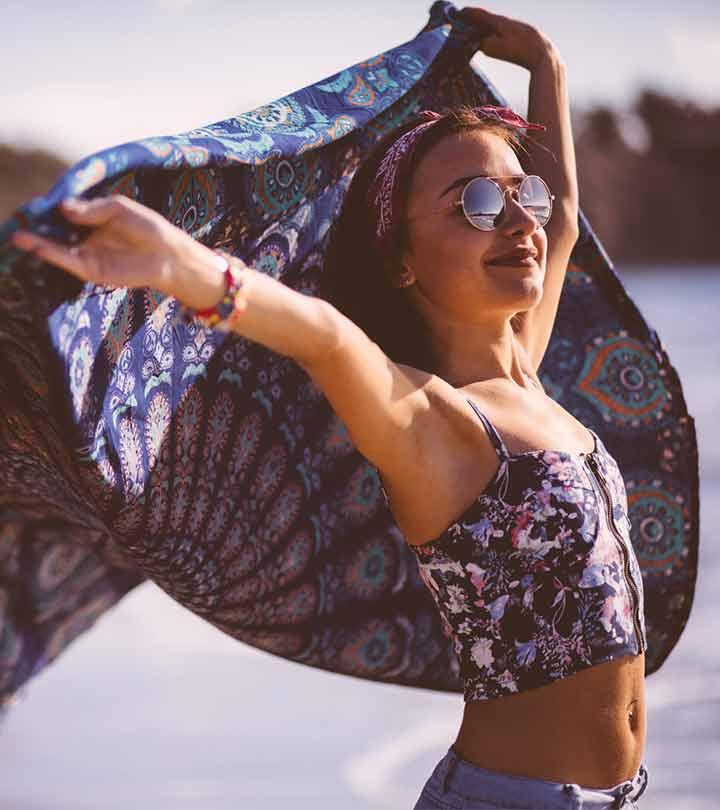 Thanks to the Spice Girls and Britney Spears, who gave us some major fashion trends and inspiration for styling crop tops. So if you want to learn the very many ways to wear a crop top because you cannot stop going gaga over it, then you will be super excited to know that you have landed yourself perfectly in the right place. These tops were a thing during the 90s, and today they are trendy among many too. So knowing how to style them the right way is highly recommended. Now with one scroll at a time, go and give this article a read. Come on!
Ace The Look
Weather: A crop top may not be the best choice for colder weather. Hence, consider the weather before you wear one.
Bra: A crop top may show your bra off. So, choose one that is appropriate for the top and that you feel comfortable wearing.
Maintenance: Wash your crop tops in cold water to avoid shrinkage and color fading.
Storage: Fold the crop top neatly or hang it up properly. Avoid crumpling it or leaving it in a messy pile, as this can cause wrinkles or creases.
How To Wear A Crop Top – 20 Different Ways
1. Crop Top With A Long Skirt
Long skirts with T-shirts, shirts or flowing tops are a thing of the past. Now, it's all about those crop tops. You can pair your long skirt with a flared or off-shoulder crop top and use accessories for layering and amping your look.
2. Crop Top With Lehenga
Combine the best of both the worlds by pairing a crop top with a lehenga or a long ethnic skirt. And, the best part about this is that your crop top can double up as a choli on more than one lehenga or worn with jeans, trousers, etc.

Quick Tip
You can flaunt the Indo-Western style with traditional accessories like kundan earrings, thick sets of bangles, stone necklaces, and comfortable heels or embroidered jooties.
3. Crop Top With Denim Skirt
It is established that crop tops with midi, denim or maxi skirts are considered extremely modish and stylish. So, don't fret too much the next time you have a sudden weekend plan. Just go for a denim skirt, a flowy top, and a statement neckpiece.
4. Crop Top With Jeans
One of the easiest ways of wearing your crop top is to just slide on a pair of jeans and pair it with it. You have absolutely nothing to worry about since it goes with all kinds of jeans – be it high waisted, mommy pants, flared or bootcut.
5. Crop Top With Palazzo
Palazzos with crop tops are fun, airy, and elegant. You could dress up or down with your palazzo bottoms. Go for regular plain or printed palazzos with simple crop tops for everyday wear or a heavy silk palazzo with a chiffon crop top for a special event or a party.
6. Crop Top Blouse With A Saree
Have an event to attend and do not have a blouse ready? No problem! Just pick up your plain white or black crop top (depending on the color of your saree) and thank us later. Off-shoulder and ruffled crop tops with sarees are the fad right now. All of this without the pain of getting a blouse stitched. Why not?
7. Crop Top With Shorts
Just go with this look blindly because it's the perfect outfit for just about anything you have planned – a day at the mall, a beach vacation or dinner with friends. Matching shorts and crop top sets are a thing. Further, loose crop tops for women can be paired with shorts for a boho chic look.
8. Crop Top With A Pencil Skirt
Wondering what to get for date night summer wear? Pencil skirt and crop top it is! And, it does not have to be anything fancy, just a usual pencil skirt from Forever 21 or H&M with a cute crop top are all you need.


Quick Tip
A bell-sleeved crop top looks excellent with a high-waisted pencil skirt. It enhances the body contour and makes you look sleek and confident.
9. Crop Top Indo Western Style – Dhoti/Harem Pants
After everything, if you are still looking for interesting ways to style your crop top – pair them with dhoti or harem pants. Bring out that inner hippie. Also, this makes for a fun yoga costume.
10. Crop Top With A Jacket
Love the idea of crop top, but you are not very thrilled with all of the skin show? Join the club. Add another layer to it in a way that it does not take away anything from the crop top yet looks stylish. A leather jacket, denim shirt or a long jacket will do. A perfect monochrome outfit idea.
11. Crop Top With Peplum Skirt
A peplum skirt and a crop top are one of the most fashionable ways of styling. The peplum skirt adds an interesting definition to the outfit and makes you look urbane chic.
12. Crop Top With Flared Skirt
Another version of the peplum skirt is the flared skirt. A well-fitted crop top with a knee-length flared or A-line skirt is the perfect casual wear you need to spruce up your dinner plans with friends or that someone special. Add a long neck piece and a pair of wedges or platform heels – you are sorted for the perfect streetwear style.
13. Flared Crop Top
Flared crop tops can instantly bump up your style quotient without actually doing much. These tops go perfectly well with shorts, jeans, and linen shirts. If you have not tried this style – add this to your Pinterest board already!
14. Crop Top As A Formal Shirt
Crop tops swing both ways and can be worn for a formal set-up if styled the right way. Go with a pair of straight cut formal trousers, silk or chiffon well-fitted crop top, a statement neckpiece, stilettos, and a leather handbag. You could also layer it with a blazer or wear a formal shirt (crop top style) to take your look to the next level.
15. Crop Top With High Waisted Shorts Or Trousers
High waisted skirts, trousers, and palazzos with crop tops are so in right now. High waisted formalwear pants with a shirt can make for a formal attire; a pair of printed palazzos with a crop top can pass off as party wear; and just a plain high waisted jeans or skirt with a ruffled chiffon top, peep toes, and a cute tote or sling bag can be the perfect outfit for a get together.
16. Crop Top With Suspenders
Play peek-a-boo with suspenders – be it full length or half. Gone are the days where suspenders were worn with regular T-shirts – now it's all about crop tops. Also, it is an attractive style for those of us who love this style but are not ok with the idea of revealing too much skin. Again, it can just be as simple as pairing your suspenders with a plain black or white crop top or one with an off-shoulder style.
17. Crop Top With A Maxi Skirt
A maxi skirt and a crop top are perfect for the spring. You can go with a printed skirt like this one and a plain crop top, or the other way around. But keep one of them plain unless you want to flaunt the crop top matching set look. The crop top can be off-shoulder, full sleeves, loose or flared – just about anything will seal the deal for you.
18. Crop Top With A Flannel Shirt
Flannel shirts are everywhere, just like crop tops. So, might as well bring them both together. If you are conscious about showing off your midriff, layer up your plain crop top with a shirt or tie it around your waist, just like how we usually do with flannel shirts anyway.
Delaney, a YouTuber, shared her personal experience and experimented with styling crop tops on her YouTube video. She states, "I love styling crop tops with like a flannel, a button up, or an overshirt. So, this can be taken two ways; you can either have a cropped flannel or overshirt button-up, or you can wear a crop top under a full-length flannel or button-up overshirt. So I love doing both (i)."
19. Off-Shoulder Crop Top
Is off-shoulder your favorite style? That makes two of us! Pair your off-shoulder crop top with your regular jeans, high waisted trousers, palazzo pants or even a maxi skirt. And, they all make for stylish options. Just add a choker neckpiece to complete this look.
20. Denim Shirt As A Crop Top Tie Up
Or, just use your denim or plaid shirt and tie it up as a crop top. It works like a charm!
Infographic: Smart Ways To Wear A Crop Top
Crop tops are truly a blessing. You can literally pair them with almost anything and yet look like a gorgeous diva. Want to discover how? Then scroll down and read the infographic below to learn how to style a crop top smartly!



Thanks to the major comeback of crop tops, our chances to look chic and cute have increased tremendously. And now that you are aware of all the different ways to wear a crop top, what are you waiting for? Get ready for a shopping spree and buy yourself some cute crop tops in your most flattering colors. There are also so many designs and patterns available when it comes to summer crop tops. Whether you wear them with a maxi skirt, a pair of jeans/shorts, or any other bottom wear, make sure you have given your comfort the utmost importance. Wear your favorite footwear to decorate your final confident look. Also, go for soft fabrics that allow your skin to breathe.
Frequently Asked Questions
Are crop tops inappropriate?
Although crop tops are a fashion trend, they may be considered inappropriate for professional wear. However, pairing them with high-waisted pants and skirts makes them suitable for most events.
Can I wear crop tops if I'm fat?
Yes, crop tops are suitable for people with chubby body types. Pair a crop top with a skirt or high-waist jeans.
Is 30 too old for a crop top?
No, 30 is not too old to wear a crop top. Crop tops can be worn at any age.
Can you wear a crop top with leggings?
Yes, crop tops can be worn with leggings. But make sure it's a loose crop top and the leggings are thick.
Key Takeaways
Crop tops can be styled with a saree as a blouse, which definitely changes the look of the outfit.
They can be paired with different varieties of skirts, such as maxi skirts, flared skirts, peplum skirts, pencil skirts, denim skirts, or even lehengas.
Crop tops can look fancy with high-waisted jeans, shorts, and pants.
Crop tops with anything Indo-Western can create an iconic look that is both stylish and comfortable.
Looking for ways to rock cropped blazers? Check out this video for stylish outfit ideas. From casual to chic, there's a look for every occasion!
Personal Experience: Source
i. HOW TO STYLE CROP TOPS | SKIRTS, JEANS, LOUNGEWEAR
https://www.youtube.com/watch?v=JABT9RHT4dU
The following two tabs change content below.