5 Unique Ways Of Using Your Old Mascara Wand
Don't throw away these multipurpose makeup tools before repurposing them in all these ways.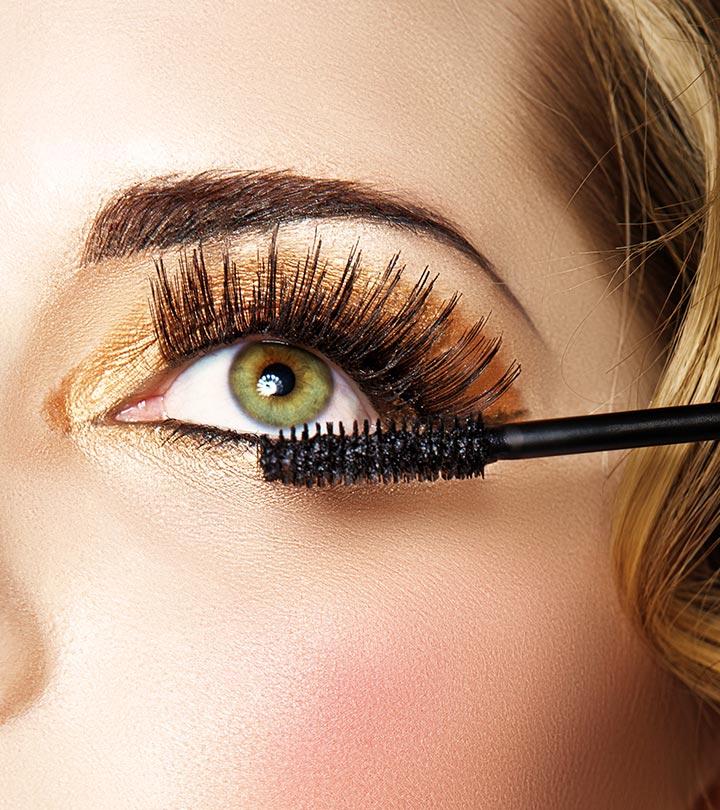 Whether you are a beginner in makeup, a college- or office-goer, or a party animal, you need to have some essential beauty products in your makeup kit. One of the products that you must possess is a mascara. If your mascara is all used up, don't throw it away. There are some unique ways of using your old mascara wand. Also, remember the environmental adage to reuse and recycle? So, clean the mascara wand and reuse it. In this article, we have discussed some unique ways of using an old mascara wand. Keep reading!
Quick Tip
An unusual recommendation is to thoroughly clean out the mascara bottle and wand and use it as a travel-friendly perfume container. The mascara wand can be used to dab a bit of the fragrance when needed.
Five Best Ways To Use Old Mascara Wands:
Read on to find out how to use these little makeup buggers!
1. Brush Your Eyebrows:
Sanitize your old mascara wand with a detergent solution or spray some rubbing alcohol on it to instantly disinfect it. Sanitize the mascara wand to prevent bacterial infection. Load up the clean mascara wand with Vaseline or your favorite brow gel and gently brush your eyebrows after you are done with the makeup. Whether you like to use a brow gel or just brush back your eyebrows to make them appear neat and tidy, these mascara wands will be the perfect inexpensive tool for you. You can also fill your eyebrows with a dark brow powder or a dark brown eyeshadow. Then you run the clean mascara wand over it. This trick will soften the harsh edges and lines of the eyeshadow and give a natural look to your eyebrows.
2. Exfoliate Your Lips:
Exfoliating lips with the mascara wand? Yes, you heard it right. Traditionally, many of us use toothbrushes or fingers to use a lip scrub to exfoliate our lips. But, a clean mascara wand is more effective than a toothbrush. Load your old clean mascara wand with Vaseline or lip scrub or even olive oil mixed with sugar granules and create swift circular motions to remove all the chapped bits on your lips. Mascara wands are effective, yet don't feel harsh on the lips.
3. Tame Hair Flyways:
Whether you are going for a super-sleek pony or a fancy tie up bun, flyways are quite annoying and can pose a serious problem when it comes to creating those pinned-up hair styles. Now, all you need to do is to apply a pea size bit of Vaseline in your mascara wand to smoothen and tame the flyways and keep them in place. The jelly formula of the Vaseline keeps all the dry and frizzy hair in place, giving you that gorgeous sleek and polished hair style. The mascara wand is the perfect size to coat the tinniest of the hair. But remember—a little Vaseline goes a long way, so don't over do it! You can also apply hair spray to the mascara wand and then push the flyways in place. It works more effectively than a big paddle brush.
4. Removing Cuticles:
Start by applying a bit of a hydrating cuticle remover cream, or you can even replace it with just a bit of organic extra virgin olive oil and allow it to sit for 2 to 3 minutes to soak up and soften the cuticles. Then, take a clean mascara wand and start gently buffing the base of your nails to get rid of any ugly bits.
5. Hydrating Eyelashes:
Dip the clean mascara wand in a mixture of Vitamin E-rich castor oil and almond oil. Apply it at night to your upper as well as bottom eye lashes after removing all the eye makeup. Allow the mixture to sit for the whole night and wash it off the next day. You will start noticing fuller and thicker eyelashes within one week of application.
Quick Tip
You and your friends can also donate your old mascara wands to a wildlife organization called
Wands For Wildlife
. They use it for wildlife caregiver resources and to make art for charity.
Infographic: Easy Ways To Use Your Old Mascara Wand
Did you know that you can use your mascara wand again instead of throwing it away? If you are wondering how to do so, you have come to the right place. We have compiled five unique and easy ways to use your old mascara wand. Check the infographic below to know more.


Not all makeup products can be reused, but things like mascara wands can be used again. The next time you see your mascara is finished, do not throw it away. But, you can use it to do other makeup and skin care things, including brushing your eyebrows, exfoliating your eyebrows, taming hair flyways, removing cuticles, and hydrating your eyelashes. The article here explains five unique ways to use your old mascara wands. Following the instructions and ways mentioned above may help you reuse the wand in the best possible way.
Frequently Asked Questions
Should you use disposable mascara wands?
Disposable mascara wands are primarily used by makeup artists or as testers. However, you can use disposable mascara wands if you are sharing mascara with someone else or for other purposes including as a spoolie, an exfoliator, or a cleaning tool.
Should I clean my mascara brush?
Yes, you should clean your mascara brush or disinfect it every 7 to 10 days. You can clean a mascara brush by wiping it down with tissue or cotton ball, with baby shampoo or by putting it in a glass of rubbing alcohol.
Key Takeaways
Use the old mascara wand to brush your eyebrows.
You can use it to exfoliate your lips.
The mascara wands may come in handy to apply castor oil and almond oil mix on your eyelashes.
Use them to remove dirt from your cuticles.
The following two tabs change content below.