Can You Wear Black To A Wedding?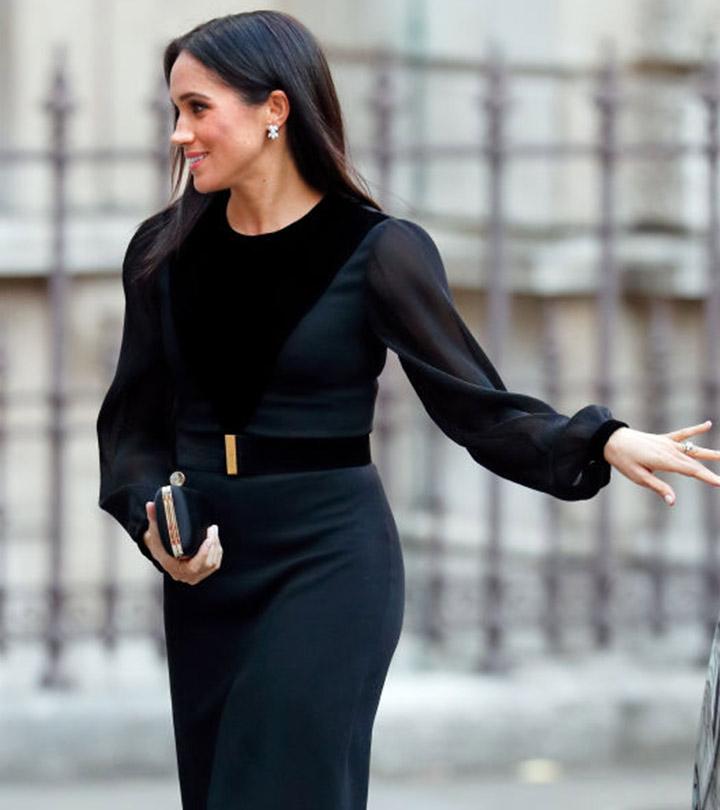 When in doubt, wear black! You can never really go wrong with this classic color. From your basic everyday outfits to all-out partywear, black works flawlessly on every occasion. It looks elegant, and its charisma lies in its dark, romantic, and sensual appeal.
So, the question remains – can you wear black to a wedding?
Yes! You most definitely can wear black to a wedding. From black maxi dresses and jumpsuits to gowns and little black dresses – there are a ton of options to choose from! Read on to find out how you can rock your black outfit at a wedding and look nothing but stunning.
1. Black And White Dress
People usually go for bright or pastel colors to play it safe at weddings. But adding black to your outfit works wonders. This chic black and white dress paired with a long black blazer and white stilettos looks super classy. It can be carried off with grace and ease at a wedding.
2. Black Dress For A Summer Wedding
Finding a dress for a wedding can be quite a task even when you are not the bride. For a summer wedding, go for a plain black flowy dress paired with stilettos and simple accessories. You will feel super comfortable in this outfit, which will only enhance its beauty.
3. Black Dress For A Winter Wedding
Bella Hadid wore this gorgeous black dress to the Met Gala in 2016. Everything about this black beauty screams 'GOALS!' The faux fur skirt and thigh-high mules make this the perfect black outfit to wear to a winter wedding. You can pair a black dress with a high slit with black see-through stockings and pumps to recreate this look.
4. Black Dress For A Spring Wedding
How cute is this little black dress worn by Kate Hudson? It is definitely one of our favorites. It does not look too extra, and since it falls mid-thigh, it looks hot yet graceful. The high neck and peep-toe heels are the cherry on top. A dress like this is just what you need for a spring wedding.
5. Black Dress For A Beach Wedding
Beach weddings are to kill for. Imagine getting married by the sea, under the sun, sharing margaritas with your best pals… Sounds like bliss, doesn't it? There are many options for black dresses to wear to a beach wedding. This floral black maxi dress will look dreamy at the beach. Throw on a pair of wedges and style your hair in beachy waves to finish off the look.
6. Little Black Dress
This may come as a shocker, but you actually can wear a little black dress to a wedding. The key is, of course, to not go too sensual. Go for an LBD that is simple yet elegant with modest sleeves and neckline. You can accessorize with bold makeup, strappy heels, and a gold clutch to finish off the look.
7. Long Black Dress
Long black dresses exude confidence and an aura of maturity. Many people opt for this look at weddings, but only a few can pull it off. This signature high-slit gown worn by Angelina Jolie blew everyone away. You can go for a similar long black dress and go easy with the accessories to avoid looking over the top.
8. Tailored Black Pant Suit
Nothing looks better than a custom-made pantsuit. A tailored black suit looks effortlessly classy and graceful. You can pull off this look at a daytime wedding. Style it with a pair of black stilettos, and you are good to go!
9. Black High-Collared Maxi Dress
This pretty black maxi dress could turn heads at a wedding. Its high-neck collar looks interesting and attractive. The belt at the waist enhances the look of this outfit and will flatter your body. If you are tall, a pair of cute ballerinas will look amazing with this dress. If not, you can opt for bold black pumps.
10. Mini Black Floral Dress
A mini black floral dress looks feminine and stylish. It is perfect to wear to a wedding. Pair it with a bunch of statement accessories like gold hoops, a smart wristwatch, and chunky bracelets to go for that pretty look. You can also wear a nice pair of suede boots with this dress to create a chic appeal.
11. Black Polka Dot Dress
There is something about polka dots that will always have our hearts. They look super cute yet sophisticated. A black polka dot dress is the perfect thing to wear to a wedding. Besides being uber feminine, the black and white combination pops out and looks gorgeous. Pair this dress with accessories, such as pearl-studded earrings, a few rings, and a bracelet. You can wear a hat for a more vintage appeal and depending on the setting of the wedding. For shoes, boots or black pumps are a good way to go.
12. Black Blazer Dress With Leggings
You can never go wrong with black on black. If you are in the mood to keep it low key yet classy, this is the outfit you need — a black velvet or suede long overcoat over a pair of black leggings. This outfit keeps it simple while still managing to make quite a statement. Straighten your hair and wear it down. Black statement shades and a chain-sling bag will look terrific with this black-on-black outfit. Put on a pair of ankle-length boots, and you are ready to turn heads!
13. Midi Skirt And Mesh Blouse
A skirt and blouse can look stunning when worn right. You can wear a black mesh blouse with a bralette under it. Add a midi skirt to the mix, and you will look downright marvelous. This outfit looks feminine, dressy, and pretty. You can curl your hair to give a more laid-back vibe to this outfit. Wear a cute necklace and some silver hoop earrings. A pair of cute stilettos will finish off this look perfectly.
14. Backless Black Dress
A backless black dress is an evergreen look. Its flowy silhouette looks fantastic and adds tons of character to your look. The red waistband creates a striking contrast with the black of the dress. Pair this dress with black kitten heels to finish off the look with aplomb!
15. Black Slit Gown
This one is a keeper. You just cannot say 'no' to a black gown that hugs your curves. The thigh-high slit and cut-outs at the sides look super gorgeous and exude style. You can carry off this outfit off at a wedding with immense grace. A pair of stilettos, diamond-studded earrings, and a charm bracelet are all you need to rock this outfit.
16. Off-Shoulder Sheer Black Dress
Just because you are going to a wedding does not mean you can't flaunt your style. It is completely okay to go a little extra, provided you don't outshine the bride. This sheer black dress is all things exotic and sexy. Its off-shoulder sleeve adds a sexy touch to the look. Keep your accessories simple with a pair of gold earrings and a gold necklace. A bold pair of black velvet pumps will complete this outfit perfectly.
17. Black Ruffle Sleeves Dress
A real fashionista can never say 'no' to ruffle sleeves. They are vintage and a beloved classic. Wear this ruffle-sleeved dress to a wedding, and you will look nothing less than stunning. Its sleeves add a majestic appeal to the outfit, and the body-hugging fabric will accentuate your curves. A pair of black or gold stilettos and a pair of statement earrings are all you need to accessorize this look.
Dressing up for a wedding can be fun, but make sure you don't get too carried away and offend the bride or the groom in the process. Check out the next section to find out what you need to keep in mind when dressing for a wedding.
Dos And Don'ts Of Dressing For A Wedding
As long as you are comfortable and carry your outfit with elegance, you can dress any way you want for a wedding. Make sure to avoid wardrobe malfunctions and, no matter what, DO NOT WEAR WHITE. In fact, don't wear anything that can steal the bride's thunder.
Dress according to the location and climate of the wedding venue. Wear comfortable shoes and carry a cardigan or a shawl if there is any chance of it getting chilly at the wedding. Most importantly, stick to the dress code (if there is one set by the couple). After all, it is the most important day of their lives.
Now, here's a question that often comes to people's minds when they are invited to a wedding.
What Colors Can You Not Wear To A Wedding?
Unless there is a dress or color code specified on the invite, you can wear any color you want. From yellow to violet to red to blue, you can rock them all. However, avoid white at all costs as it is the bride's color. And if you do plan on wearing black, try to ask the bride beforehand if she is okay with it.
We hope you liked our ideas on how to pull off a black dress at a wedding. How would you style a black dress for a wedding? Comment below to let us know!
Frequently Asked Questions
How to accessorize a black dress for a summer wedding?
Black dresses are fun to accessorize. You can pair one up with gold earrings, a chunky bracelet, and black stilettos. If you want to keep it simple and classic, opt for a rose gold watch, a gold clutch, and gold earrings with black velvet ballerinas.
What are the best brands to shop for bridesmaids?
The best brands to shop for bridesmaids are Sherri Hill, Dior, Ted Baker, Zimmermann, and Alice McCall.
The following two tabs change content below.

Latest posts by Nooraine Firdouse (see all)