Creative Wedding Games To Fill Your Reception With Fun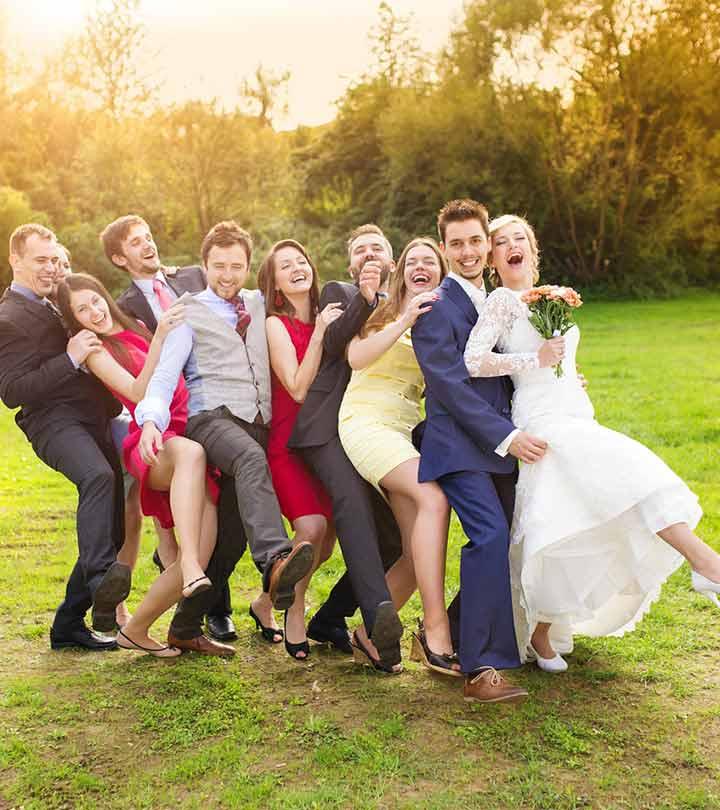 Hosting for a wedding reception, and you want to do all which keeps your guests engaging and entertaining? You have to pick some creative wedding game ideas because massive expectations come with so many people attending the function. Indeed, it is not a simple task to meet everyone's expectations.
Worry not! You have to follow a few steps to keep the wedding fun and entertaining throughout the day. Think of a creative and unique game for your guests to participate in and win some goodies. We agree that finding a game or activity to engage the guests while managing the venue and theme becomes very difficult.
If you are finding it hard to narrow down the list, your search ends now. In this article, we have listed the unique games for weddings and receptions along with some fun activities for children. Have a look.
Entertaining Outdoor Games And Activities For Your Wedding
1. Hula Hoop Relay
Separate your guests into two teams and give each team a hula hoop. The game begins with the first person on Team A hula hooping. When the hoop falls off, they then tag the second person on their team who continues from where they left off. This goes on until the last person. The team with the longest running time wins.
2. Wedding Piñata
Filla piñata with wedding party favors or chocolates and suspend it from a height. Divide guests into teams of 2-5 people and give them piñata busters to break it open. You can also blindfold participants and swing the piñata to make it difficult for them to burst it.
3. Wedding Limbo
Separate your guests into two teams. Make two persons hold the limbo stick at both the ends at a certain height (mostly shoulder high) to begin with. Let the teams pass under the stick. Keep lowering the stick after every successful passage by the teams. The team that goes under the bar the lowest takes the honors.
4. Water Balloon Toss
This game is guaranteed to get guests riled up on the day! If you are not worried about messing up the venue, this is a must! Make teams of two and form two lines, with one guest facing the other (of the same team). Fill up water balloons and give one to each team. The guest holding the balloon should toss it to their teammate. If the person pops it, the team gets eliminated. Upon every successful catch, both the guests should move one step back and toss it again. The team that keeps the balloon intact wins the game.
5. Bunny Hop (Potato Sack Race)
This fun wedding reception activity is a great way to get people moving around and having fun. Draw a starting line. Have 4-5 teams of two people put on a sack and hop down to the finish line. Whichever team finishes first wins! If you want to mix things up, you can also try "blindfolded" bunny hop.
6. Scavenger Hunt
Divide your guests into teams of 4-5 people to uncover all the wedding favors or gifts that you have hidden around the venue. Have them take pictures of them with their prizes/favors to win. This is a great way to get your guests mingling and exploring!
7. Name That Tune
This is a fun game for all the music lovers out there! Gather up some wedding reception songs (could include DJ or a band). Get your guests to guess what song it is. The person who guesses correctly wins.
Kids will need to stay occupied while their parents are busy with the festivities and socializing. Here are some activities that will not only keep your little guests entertained but also make them feel included.
Wedding Reception Games And Activities That Kids Will Love
1. Pin The Tail
Who doesn't love a good game of 'Pin the Tail on the Donkey'? This awesome activity is perfect for kids and will get them excited about your wedding. You can also create fun rules with the winner earning a special prize.
2. Guess How Many
If you have many little guests at your wedding, give them something fun to do. Ask them to guess how many jellybeans are in the jar. Give a prize to whoever guesses the closest.
3. Balloon Fun
If you have a dance floor, get some balloons and let the kids pop them! Kids will love chasing each other around while trying to pop balloons. You can make this game competitive by seeing who can pop the most in a given time and pick a winner.
4. A Magic Show
It is not a bad idea to hire a magician for your wedding party. Ask them to perform fascinating yet straightforward tricks for the kids. All of your guests will love watching the show, and it will keep the little ones entertained throughout.
5. Coloring Station
If the kids are not feeling like dancing, set up a fun coloring station for them! Give them some crayons and paper, so they can create their fun wedding drawings or sketches.
6. Bubbles
Blow bubbles and let the little ones go at it! You can also get creative by creating different rules for each guest. For example, you could say whoever has the longest bubble chain wins a prize, or whoever blows the biggest bubble wins.
7. Giant Tic-Tac-Toe
A classic Tic-Tac-Toe is always fun, be it at parties or home. Why not make it giant for the special occasion? Use a chalkboard wall on your wedding day to let your little guests enjoy this game! You can do traditional tic-tac-toe or create rules like whoever gets three in a row wins a special prize.
8. Apple Bobbing
Get creative and make an apple bobbing station! You will need apples and a tub filled with water. The kid who gets the most apples out of the tub with their teeth wins the contest. Each kid gets 2-5 minutes, depending on the headcount.
Best Wedding Reception Activities For When It's Late At Night
1. Wedding Party Dance-Off
This reception activity is a great way to see who has the best moves! The couple will pick out their top five favorites and let them battle it out to be crowned the best dancer. This game will surely get your guests all excited on the dance floor.
2. Karaoke Contest
Everyone loves karaoke! If you are having some trouble getting your elderly guests on the dance floor, have your best singers take the stage. Give awards to the guests who have the most fun singing or give a ridiculous award for "Worst Singer."
3. Spin The Bottle
Are you ready to spice things up? If your guests are feeling a little bold, allow them to play 'Spin the Bottle' at your wedding. It's probably best if you do not have any children around.
4. The Newlywed Game
Find out which guests know each other the best by playing this fun wedding game. Choose multiple couples to play with or just have one couple answer as many questions as they can correctly. The host will ask the lovebirds multiple questions about their lives, childhoods, first kisses, etc. The couple with the most correct answers wins.
5. Memories Game
This game involves your guests writing down memories they have shared with you and the groom. Before the wedding, write down three to five prompts on separate pieces of paper (e.g., "the time we went to Spain," "the day I met you," etc.). Put each piece of paper in a different envelope and seal it. Have the guests write down as many memories as they can in 10 minutes or less.
6. If You Had Met Five Years Ago
This activity is perfect for couples who have been together for a while. Ask your guests to write down what they would have told you if they "had met" five years ago and the kind of future they imagined about you two. What advice would they give? This can be fun to read together as a couple, especially if they did not expect to be where you are now!
7. Groom Game
This game is mainly for the groom's friends. It is perfect for the end of the night when all of your guests are tired and ready to go home! You can create fun questions for your groom or just ask the men in the audience to shout out their favorite.
8. Fireworks/Light Shows
Have fancy fireworks prepared to go off at your wedding's grand finale – yes, you deserve to have one! Have a friend who is good at wicked pyrotechnics stage an amazing light show that will get everyone out on the dance floor. It might even bring tears to some eyes!
Your wedding is one of the most important events in your life, and you want all of your friends and people close to you to be there. They will greatly appreciate having some fun wedding activities to do at their table while still being able to mingle with other guests. These activities should be more than just "pass the plate around". You can entice your guests to stay longer by organizing these activities for them.
Perfect Wedding Reception Activities For Big Groups
1. DJ Dance Competition
This activity is perfect for guests of all ages and will bring the party to life. You will need to set up a playlist of favorite songs that is sure to get people out on the dance floor. Play it between courses and at open-dance times. Allow other guests to choose their favorite dancers or have people vote on their own. This activity is sure to be a hit at your reception and will be remembered for long.
2. Dumb Charades (Guess The Movie)
Games that require acting and guessing are always great ways to get people laughing. You can play this game before dinner as a table activity or during dinner or just at any open-dance time.
3. Photo Booth
Who says photo booths are only for weddings? Your guests have been mingling with each other all night, so this will be the perfect time to get everyone involved! The guests can dress up in goofy clothing or use quirky props and take a ton of pictures.
4. Marriage Advice Cards
Before the wedding, prepare a set of cards with advice for newlyweds. Everyone likes to show how much they know, so why not hand out cards with questions? Have them answer the questions in front of the group – whether they are right or wrong. They make for a good read on the days following your wedding. You might even get some valuable tips.
5. Slideshow of Memories
Have someone take pictures throughout the night and compile them into a slideshow for everyone to enjoy at the end.
Hosting a wedding reception and keeping your guests engaged is no easy feat. Coming up with fun and creative wedding games can keep your guests entertained. If you are hosting your wedding outside, you can go for exciting games such as hula hoop, wedding limbo, or a scavenger hunt. Since you don't want the kids to miss out on the fun, you can host a magic show or create a coloring station for them. Remember to select games that will include everyone and make it a memorable event!
Key Takeaways
Organize some creative wedding games to keep your guests entertained at your wedding.
If it is an outdoor wedding, you can organize a hula hoop relay, limbo, or a scavenger hunt.
The Newlywed Game or a dance-off are also great ways to have fun at the reception.
The following two tabs change content below.