Best Wedding Reception Ideas For Perfect Celebrations
Take a hint from these amazing ideas and plan a memorable wedding reception effortlessly!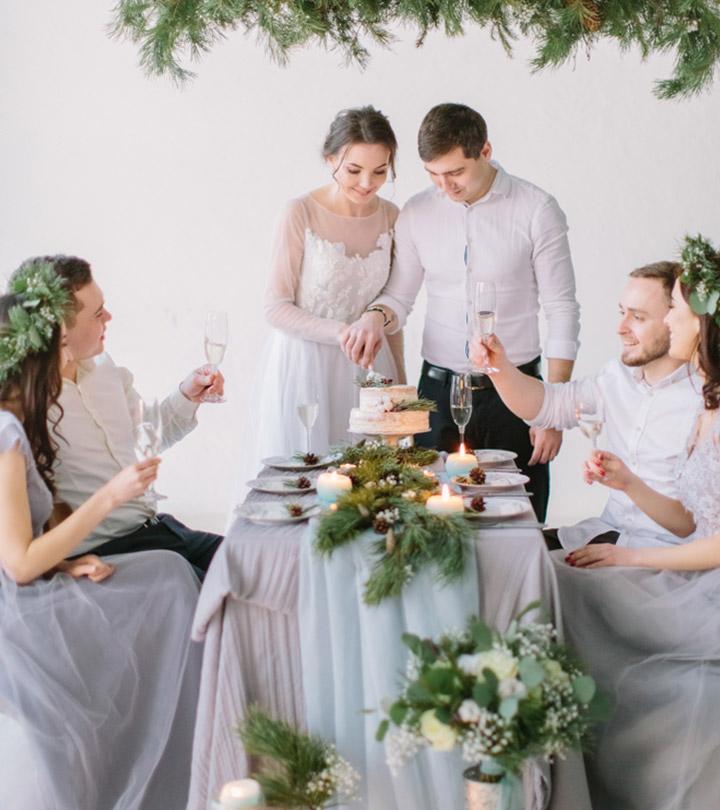 The wedding reception is a special event for every couple – they cherish it for a lifetime. So, they take no chances and start looking out for the best wedding reception ideas several weeks or months before the big day. A perfectly organized reception demands lot of attention and coordination with a long list of things to take care of. The menu, venue, guest list, theme and décor, and what not! It requires great effort to tick all these boxes and make the event memorable. In this article, we have listed some of the best ideas for your wedding reception to make your work easy. Take a look!
Wedding Reception Decoration Ideas
The venue décor is a deciding factor for the mood you want to create for the reception. It sets the tone and theme for the entire event and helps you create the perfect spectacle that you had always dreamed of. From out-there opulence to minimalist décor, the possibilities are endless. Below is a list of a few options you can consider:
Some unique and trendy ideas that would up the décor game are floral archways with greens of choice, classic red and gold with lights and drapes, the stately white look with pastel accents, a backyard aesthetic with linen, bistro lights, taper candles, and a raw wooden décor.
Planning a statement wall is a great addition to the reception décor. For an outdoor event, you can either design a wall with neon signage in eye-popping colors or a green wall with thick foliage.
For a dreamy beige and cream outdoor vibe, set up paper lanterns.
Blossom trees reaching up to the ceiling can be another soft romantic touch to the décor.
Turn to drapes to quickly upgrade the space to a decadent appeal.
A statement object can be placed to draw attention to itself as the unique focal point of the entire space. A floral installation, a panel with pictures, or an oversized fountain will be some great stand-out elements to add to the venue.
Once you have finalized the look of the reception, next on the checklist is the taste factor. No one wants their guests to go home disappointed or hungry. So, having a menu with a balanced palate is crucial. The next section has a few pointers to help you ace the food game. Read on.
While caterers offer expertise and elaborate menus, choosing a unique experience with a customized menu will make the event a grand success.
You can set up a buffet for appetizers like a Western charcuterie board station with meats and cheeses.
A salad bar and a vegan food station will also be great options for the wedding reception.
Serving comfort food in bite-sized pieces is another innovative idea. Food items like sliders, bruschetta, chicken cheese bites, tater-tots with tomatillo salsa, and small skillet pizzas, are top choices for such amuse-bouche.
For the main course, you can either go for different cuisines or just one. Prime rib, seasonal fish, beef tenderloin, chicken, or salmon, each with a side dish, are crowd favorites.
A beverage corner with mocktails, fruit punches, kombucha, and sparkling water would be a great addition to a modern stately reception. A selection of wines, beer, soft drinks, and basic spirits, mixers, and ice will keep everyone happy in the drink department. In addition, it is a good idea to set up a tea and coffee station.
If you want to ditch the traditional indoor reception and want something closer to nature, an outdoor wedding reception can be a great idea. What's more? If the venue has the backdrop of nature, most of your décor needs are taken care of.
Outdoor Wedding Reception Ideas
When planning an outdoor wedding, look for options that boost the natural scenic setting. Listed below are a few ideas you can choose from:
Rustic Scandinavian décor with a neutral palette, earthy accents, and elegant foliage is all the charm you need for an elegant yet unique outdoor wedding reception. Opt for neutral colors for your clothes to match the setting of the venue.
Add a lounge setting for an evening function to host your guests to a cozy evening with cocktails and snacks. You can create a laid-back space designated for guests to socialize.
Light up the venue with bistro lights, fancy LEDs, and patio string lights. It will help give a magical, golden touch to the event and make up for the lack of lighting in an outdoor setting.
Try adding stellar pieces that draw attention in the vast space of an outdoor setting.
Signboards, photo booths, wooden arch pieces, prop pillars, and more such options are also great for an outdoor wedding reception.
Install an open bar or a mocktail station to serve the guests.
You can amp up the glam quotient by creating a trendy-looking space with crates serving as shelves or other unique setups.
Designing the entry walkway with a pinch of uniqueness is sure to make the event shine even more. As the guests waltz through the beautiful walkway, they would be drawn into the grand event for the evening.
Wedding Reception Entrance Ideas
Think of this as a prelude to what is to come. Let us look at some ideas for a unique entrance that is sure to set the mood for the evening and give your big day the perfect opener:
A canopy of floral string hangings is a wonderful option for entry. You can customize it with lights and flowers of different colors and varieties.
Floral archways are another interesting entrance décor idea. Lining archways one behind the other with flowers and leaves will create an elegant passage for the guests without being too OTT. One can opt for softer hues of flowers for a charming and elegant vibe.
Nothing screams opulence than a pathway with drapes and chandeliers. A grand design with intricate drapes, glass-bead hangings, and stunning chandelier pieces arranged over the ceiling has an unparalleled charm.
Using abstract frames with unique designs and textures and combining them with elements like drapes and flowers can make for state-of-the-art décor at the reception entry. Unique shapes will bring out the beauty of an entryway and make it a lot more magical.
Once the guests have arrived, it is time to bring in the entertainment to keep them engaged. Head to the next section for some unique activities you can plan for your wedding reception.
Wedding Reception Entertainment Ideas
Entertainment ideas can help you elevate the whole vibe of the event and make it memorable for everyone. Below are a few ideas you can take a cue from:
One can add live music to make their reception day memorable. For those who want to shake a leg at the celebration, a live DJ and a dance floor are perfect for dancing the night away. You can even take song requests to make your guests feel involved.
You can plan games like couple's trivia and set up a photo booth to create an interactive event where everyone has fun.
Lighting can really drive the mood for the whole event. Set up some stage lighting that plays with the music to create a visual feast for the guests.
You can also choose to get some interactive centerpieces that inspire conversations, can be played with, or even eaten! And while we are on the subject of centerpieces, let us see what more we can do with them.
Wedding Reception Centerpiece Ideas
Planning the tablescape can take some mental heavy-lifting, but a good tip is to choose your wedding theme first and build the centerpiece around it. A few suggestions:
An opulent wedding reception can have a centerpiece with ivory blooms of roses and bashful pinks of peonies filling out a banquet.
One can also choose crystal candle holders to make for a modern and sleek centerpiece.
For an outdoor fall reception, a centerpiece of garden roses, hellebores, tulips, and scabiosa flower is a perfect choice.
Copper vases with red roses look equal parts bold and chic.
Lanterns are another great option to bring out the venue's charm and add a sprinkle of votive magic to an outdoor evening reception.
Using terrariums with greens is another innovative and classy idea for a centerpiece. The key is to offset one color and texture with another and accent the pieces with complementary things. Like a wildflower arrangement with bright hues can still be classy with sheer runners or a pale bloom in the mix.
Draping the green foliage on tall wooden staffs can make for a very trendy rustic vibe. While a low height for a centerpiece will allow guests to mingle more freely, giving the setting a minimalist appeal.
With a plethora of options claiming to be perfect for a wedding reception, it is only natural to feel confused. But getting there is not as hard as it looks. Just tackle one small step at a time, and you will be done planning the big event in a jiffy. Follow the tips and advice curated for your inspiration to help you plan the perfect wedding reception.
The wedding reception is a once-in-a-lifetime event that every couple will remember for the rest of their lives. A properly prepared reception demands attention and organization, as there is a long list of items to attend to. Everything from the cuisine to the venue, the guest list, the theme, and the décor need careful consideration. Getting there, though, is not as difficult as it appears. If you do one small step at a time, you will be finished with the huge event. Follow the wedding reception ideas and advice in this post to help you arrange the celebration.
Frequently Asked Questions
How do I plan a cheap wedding reception?
You can do the wedding reception at home or in a clubhouse if you are on a budget. You can also follow simple tips such as limiting your guest list and finger foods to keep your wedding reception intimate and memorable.
Do you change clothes between the wedding ceremony and reception?
Yes, that is completely your choice. You can change into a more relaxed and semi-formal attire for your wedding reception in the evening.
How much time should there be between a wedding ceremony and reception?
Ideally, there should be a gap of one to one and half hours maximum between a wedding ceremony and reception.
How do you entertain guests between ceremony and reception?
In the time between the two events, you can host multiple games or live music to keep the guests entertained. If you want to go one step further, you can book an afternoon experience, hold a dance-off, or send your guests on a treasure hunt.
Key Takeaways
You can set up a buffet for appetizers like a Western charcuterie board station with meats and cheeses.
Rustic Scandinavian décor with a neutral palette, earthy accents, and elegant foliage is all the charm you need for an elegant yet unique outdoor wedding reception.
A canopy of floral string hangings is a wonderful option for entry. You can customize it with lights and flowers of different colors and varieties.
The following two tabs change content below.
Shivani Chandel is a postgraduate in English literature from Panjab University, Chandigarh and a certified relationship coach. She has over...
more