17 Best Wedding Shoes For Brides That Are Comfy And Stylish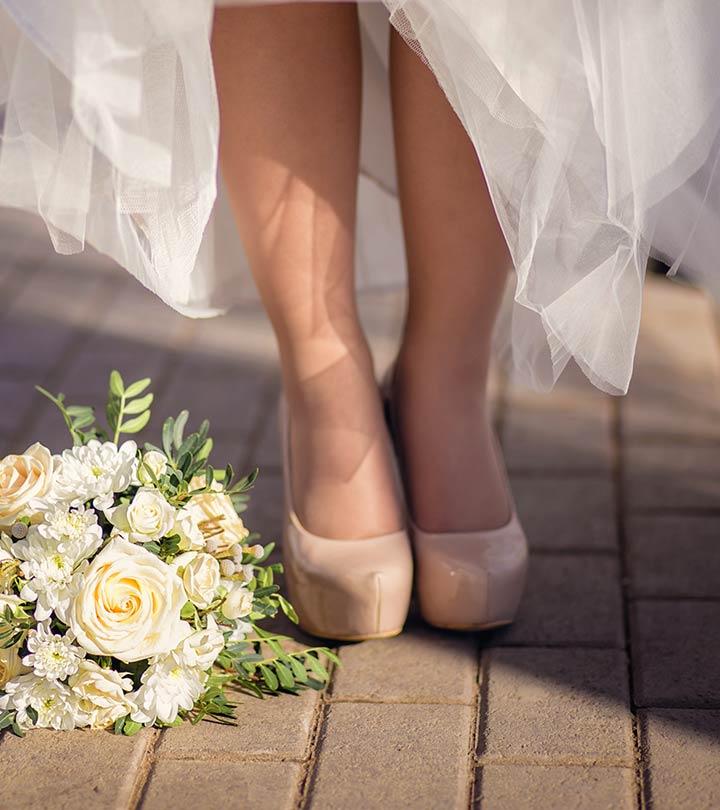 If you have been ransacking the internet for the best wedding shoes for the bride, we have just what you need. A wedding is a day nothing can go wrong. Everything has to be as perfect as it looks in the wedding pictures, from your hairstyle to shoes. While we concentrate more on looks and less on comfort, the bride often becomes a Bridezilla, with shoes pinching the soles out of her. To make sure the bride can enjoy her day as much as the others, you need to let your toes do the talking. If you are unsure what shoes will help you feel relaxed through all the walking, standing, and dancing, we have exactly what you need. Here are 17 highly rated wedding shoes that will make you look like Cinderella without hurting your feet!
17 Best Bridal Wedding Shoes
Honestly, elevated footwear looks best with bridal gowns that leave long trails – the higher, the better. However, if heels are not your thing, it's not the end of the world. Opt for smaller heels like these swanky silver shoes that are just as ravishing. The zipper closure gives you better grip and is easy on your heels too. If your dress stops at the ankle, is asymmetrical or short – these are an excellent choice.
Do you have a color coordinated theme? And, if that happens to be blue, which is a very sought after wedding color anyway, here are shoes that will fit right in. Block heels are finally catching up because they are stylish and people are starting to put comfort over just style. Since these give you both, give them a shot.
If you do not want to go totally low on your heels – try something along these lines. These breathtaking transparent white shoes scream bride, beautiful, and wedding.
These pastel colored beauties go perfectly with your off-white dress or other pastel undertones. These will look particularly great with a slightly shorter hemline or asymmetrical dresses, if you want to show off the embellishments. Even otherwise, these are comfortable, easy on your feet, and beautiful.
Have wedges on your mind? So be it, but let's go with something special, different, and wedding-like. And, these low heel wedges with a satin bow and embellishments are something you can't say no to.
Flat ballerinas or peep-toes are unassuming as wedding sandals, aren't they? But, hey, look at what's out there, and you will be pleasantly surprised. The colossal accent on these peep-toes should be something you should consider if you have ballerinas on your mind.
If you think heels are non-negotiable, and you cannot go back on that, go for wedges. These are considered extremely stylish and have caught on to the bridal shoe shelves too. Brands like David's Bridal, DSW, etc., which cater to wedding shoes, have a tonne of options.
Enthralling is the first thing that comes to my mind when I look at these, and now cannot take my eyes off of these beauties. The illusion lace meshes for the front part of the shoes and the bow-tie at the rear look just amazing. Among all these, did you even realize that these are kitten heels? It doesn't matter!
Here is yet another beautiful pair of wedges – for the love of high heels. These are elevated, but unlike those six inchers, give better grip to your feet and do not hurt even when you wear them for extended periods. The ankle strap adds to the comfort while the heavily embellished rear takes care of the aesthetic.
Are you picking up a lace dress? Or, slightly inching away from white? Pick these off-white block heels that will complement your dress and keep you comfortable.
We need everything that glitters and more for our wedding. Add sparkle to these low toe-pointed heels and leave no stone unturned. These shoes come to prove that it's always not about the heels.
Black and gold is not the most obvious choice of color for wedding themes, except it is. Look up Pinterest, and you will realize that this color combo is a hot favorite of a lot of couples. Anyway, if this happens to be your theme, how about picking up these block heels to go with your white bridal gown and sweeping everyone off their feet?
[ Read: Unique Plus Size Wedding Dresses ]
Ivory colored kitten heels with leather straps provide full coverage and protect your feet without taking away one bit of the elegance.
Whoa! Who would have thought, right? Red pumps for the wedding! Don't be surprised, but a lot of brides who choose offbeat colored wedding gowns also prefer shoes that stand out. And, what better color than red for the celebration? Do all of it with these kitten heels that come with a satin bow and steal the show.
Go all out with these sequin peep-toes that have relatively smaller heels. Add shimmer and sparkle, and bring it on.
If you want a splash of gold sequins on your footwear and need them elevated, here are the perfect gold wedges. If you have vintage Victorian or Bohemian on your mind, you know you need these.
If you have been wanting to steer away from heels, look at these – you will have no issues. They are sparkly, high-heeled, and everything bridal shoes should be. Go for them – don't have any second thoughts.
Your wedding day will remain a memorable one in your life. To stay stylish while taking your vows and spend the rest of the days in equal comfort, you must invest in a pair of the best wedding shoes for the bride. From block heels to pumps, wedges to flats, and open toes to peep toes, there is a pair for all style preferences. These are all very comfortable, stylish, elegant, and you can re-wear them for other occasions too!
Why Trust StyleCraze?
The author, Pratima Ati, is a fashion enthusiast and writes well-researched product reviews for StyleCraze. She has put her research lens on to curate a list of the best wedding shoes for brides and reviewed loads of feedback from the users. The shoes shortlisted in this article are highly rated and look elegant and ravishing. Moreover, they are easy and comfortable on the feet.
Recommended Articles:
The following two tabs change content below.