Vitamin C For Skin: Benefits, How To Use, And Side Effects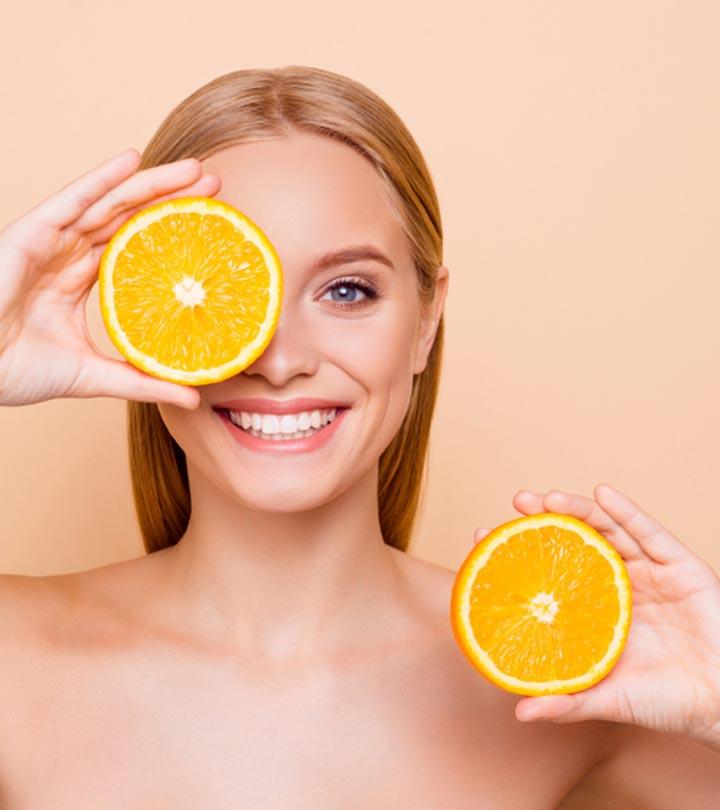 Our skin needs constant care as it faces challenges like wrinkles, sun damage, stress, and signs of aging. All these issues can impact the overall skin appearance. The good news is, you may use vitamin C for skin-related issues. This antioxidant brightens the skin, prevents free radical damage, protects your skin, and improves overall skin health. Read on to know the benefits of vitamin C and how you can use it.
Benefits Of Using Vitamin C For Your Skin
| Type of Skin Damage | Cause | Skin Structure Affected | Evidence of Protection by Vitamin C |
| --- | --- | --- | --- |
| Sunburn | Acute and excessive UV exposure. | Cell death of all skin cells, with associated inflammation. | Improving skin vitamin C and vitamin E levels can improve resistance to UV exposure. |
| Photoaging, oxidant-induced damage | Chronic UV overexposure, cigarette smoking. | Damaged collagen and elastin matrix, thinning of the epidermal layer. | Decreased signs of aging with higher fruit and vegetable intake. Protection inferred from studies with acute UV exposure. |
| Hyperpigmentation | Chronic UV exposure and environmental stresses. | Excessive pigment formation and propagation of melanocytes in the epidermis. | Nutrition studies showing improved skin color with higher fruit and vegetable intake. |
| Wrinkle formation | Natural aging, oxidative stress, UV exposure, smoking, medical treatments. | Dermal layer changes, deterioration of collagen, and elastic fibers. | Lessening of wrinkle depth following vitamin C supplementation. Increased collagen formation by fibroblasts in cell culture. |
| Skin sagging | Natural aging, oxidative stress damage, extreme weight loss. | Loss of elastin and collagen fibers, thinning of skin layers, loss of muscle tone. | Improved skin tightness in individuals with higher fruit and vegetable intake. |
| Loss of color | Natural aging, UV exposure, illness. | Thinning of skin layers, loss of melanocytes or decreased melanin formation, loss of vasculature in dermis. | Improved skin tone with high fruit and vegetable intake. |
| Surface roughness | Chemical and UV exposure, physical abrasion, allergy, and inflammation. | Stratum corneum, loss of skin moisture barrier function. | Vitamin C enhances production of barrier lipids in cell culture. |
| Dry skin | Medications, illness, extreme temperature, low humidity, and wind exposure. | Stratum corneum, loss of skin barrier lipids, and natural moisturizing factor. | Vitamin C enhances production of barrier lipids in cell culture. |
| Excessive scar formation, generation of keloids | Ineffective wound healing. | Fibroblast function, collagen, and elastin formation. | Supplementation improves wound healing, prevents keloid formation in vivo, enhances collagen formation by fibroblasts in vitro. |
| Poor wound healing, thickening rough skin | Vitamin C deficiency. | All skin cell functions, collagen formation. | Direct association Vitamin C deficiency prevents wound healing. |
| Inflammatory skin lesions | Allergic and auto-inflammation. | Skin barrier integrity, underlying inflammation, and swelling. | Nutrition support, decreased levels associated with loss of barrier lipid ceramide. |
The skin acts as a barrier against dirt, pollution, harsh weather, etc. It has two layers – the outer epidermis layer and the inner dermal layer. The epidermal layer offers barrier function while the dermal layer takes care of skin strength and elasticity. The dermal layer provides nutrition to the epidermis. Skin contains high concentrations of vitamin C, which stimulates collagen synthesis and offers antioxidant protection against UV rays (1). Here are the many benefits of vitamin C for your skin.
Dry Skin: Dry skin can be caused due to an improper or indequate skin care regimen age, illness, certain medications, environmental changes, and humidity. The skin's barrier layer contains about 40-50% of lipids, and their deficiency may lead to dry skin. Vitamin C may increase the production of lipids.
Roughness: Creams containing vitamin C may decrease skin roughness.
Wrinkles: Wrinkles are a result of skin aging. They may be caused prematurely by oxidants from smoking, UV exposure, and other factors. Vitamin C can help counter these.
May Reduce Skin Inflammation: Skin inflammation occurs in conditions like atopic dermatitis, psoriasis, and acne. Its symptoms are pain, dryness, and itching. Research indicates that vitamin C has anti-inflammatory properties and may help manage acne and rosacea (2), (3). It prevents post-inflammatory hyperpigmentation.
You can apply topical creams and serums that contain vitamin C or add vitamin C-rich fruits and vegetables to your diet. Consuming vitamin C supplements may also help improve skin health.
Effects Of Vitamin C Deficiency
Vitamin C deficiency is called scurvy, which is characterized by fragile skin and impaired wound healing. Excess exposure to pollutants or UV rays may lead to low levels of vitamin C in the epidermal layer (4). Research shows that people with aged or photo-damaged skin have low vitamin C levels (1). Its deficiency may hamper wound healing, thicken the outermost layer of the skin, and cause subcutaneous bleeding.
How To Use Vitamin C For The Skin
The vitamin C levels in the skin can be balanced by applying topical creams, serums, and patches. But the effectiveness of vitamin C topical creams depends on their pH level (which should be below 3.5 to 4). Vitamin C should be added in the form of ascorbic acid for effective skin penetration (1), (2). Most serums contain active vitamin C and are colorless, but they can get oxidized upon exposure to light. Apply topical creams in regular 8-hour gaps for best results.
The most stable forms of vitamin C include:
Magnesium Ascorbyl Phosphate (MAP): It reduces water loss in the skin. It is photoprotective and stimulates collagen production.
Ascorbyl 6 Palmitate: It is a free-radical scavenger that forms (or breaks down to) vitamin C.
Disodium Isostearyl2-0 L-ascorbyl Phosphate (VCP-IS-Na): It enhances permeability in the epidermal layer.
Ascorbic acid sulfate and Tetraisopalmitoyl ascorbic acid are two other stable forms of vitamin C that are currently under research.
However, the effectiveness of topical vitamin C creams depends on the amount of vitamin C in the skin. If there is a balanced amount of vitamin C in the skin, it may not absorb the same from topical creams. Hence, intake of vitamin C foods and supplements may be more effective. This may prevent certain skin diseases like atopic dermatitis and herpes zoster (5).
While vitamin C is clearly beneficial to the skin, it also may cause certain side effects.
Side Effects Of Vitamin C
Vitamin C topical creams are mostly considered safe. But they also may cause stinging, erythema, or dryness in some cases. These issues can be remedied with a moisturizer. Consult a dermatologist if any irritation occurs. Be careful while applying vitamin C around your eyes as it may cause burning.
As with any nutritional supplement, there is a recommended dosage for vitamin C intake. Scroll on to know in detail.
Dosage For Vitamin C
The German, Austrian, and Swiss nutrition societies recommend an intake of about 95 mg/day of vitamin C for adult women (6). Similarly, 105 mg/day is recommended for pregnant women from the fourth month and 125 mg/day for lactating women. Girls aged 1 to under 15 years have increasing requirements ranging from 20 to 85 mg/day. Female adolescents aged 15 to 19 years are advised to take 90 mg/day.
Vitamin C is an antioxidant that provides many benefits to your skin. Incorporating vitamin C into your skincare routine may boost collagen production, slow down skin aging, reduce inflammation, and combat dryness. Research suggests that low levels of vitamin C may lead to scurvy, a disorder characterized by skin issues. To ensure this does not happen, you can use vitamin C for your skin in the form of topical creams or through diet. However, vitamin C creams may cause dryness or stinging. Consult a doctor if irritated skin develops.
Key Takeaways
Vitamin C has numerous skin advantages. It helps increase collagen, inhibits hyperpigmentation, improves wound healing, and reduces premature skin aging.
Scurvy is a vitamin C deficiency condition characterized by fragile skin and impaired wound healing. It can also thicken the skin's outer layer and induce subcutaneous bleeding.
Applying topical creams, serums, and patches to the skin can help balance the vitamin C levels.
However, vitamin C might cause stinging, erythema, or dryness in some cases.
References:
Articles on StyleCraze are backed by verified information from peer-reviewed and academic research papers, reputed organizations, research institutions, and medical associations to ensure accuracy and relevance. Read our editorial policy to learn more.
The following two tabs change content below.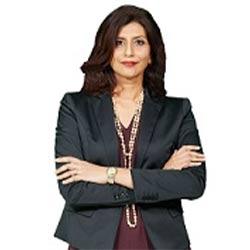 Dr. Priya Gill
(MBBCH, MRCP)

Dr. Priya Gill is a consultant dermatologist in Klang, Malaysia. She specializes in the management of all medical and surgical...

more