What Is A Micro Wedding And How To Plan It?
Plan an intimate wedding surrounded by love with just your loved ones.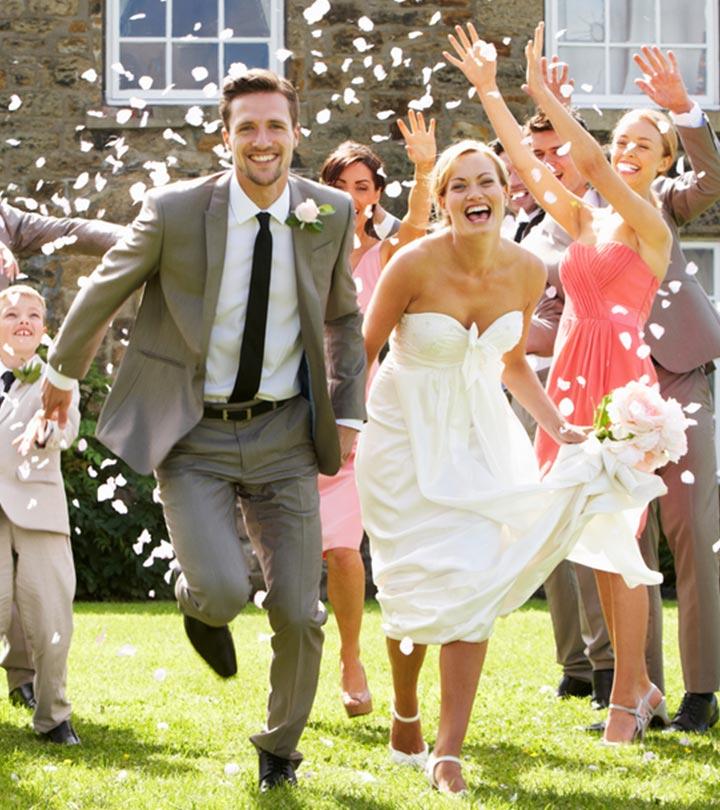 Yes, many people dream about having massive fairytale weddings. But then there is that group of people who only want their closest family and friends at the wedding to maintain that intimate vibe. These are the people who have popularized micro weddings. With the rising cost of weddings, the concept of micro weddings is gaining more traction to avoid spending big bucks on just a single day.
Read on to learn more about micro weddings and how you can plan one.
What Is A Micro Wedding?
Do not confuse a micro wedding with an elopement. The micro-wedding culture lies somewhere between an elopement and an extravagant wedding. It is a well-planned, proper wedding with friends and family, with a guest count of 30-50 people.
However, it does not mean getting hitched in your track pants in your backyard, as cutting corners might not be the intention in all cases. Some couples who opt for intimate weddings choose to host a detailed event with fewer guests. Even though saving on the expense is a big benefit of micro weddings, people look to spend their budget on better services for the refined number of guests.
Small weddings can be grander than big weddings. After all, beauty is in the eye of the beholder. While they may seem like an unconventional idea, they are more meaningful, romantic, cozy, and (not to forget!) budget-friendly as well. If you are looking for some tips and ideas about micro weddings, scroll on to learn how you can plan a dreamy small wedding for yourself.
What To Consider When Planning A Micro Wedding
If you and your fiancé have decided on a simple and small wedding, let nothing else come in your way. Just move ahead and plan your special day. People might feel hurt for not making it to your guest list, so be courteous while explaining the guest limitations. There are also other elements to consider while planning your micro-wedding, such as the following.
1. Limiting The Invitee List
The average guest count at a regular wedding in the US and UK is about 200, and bringing this down to 50 can be a struggle. What makes it more difficult is that 50 is the total count, lowering the number to 25 from each side. Thus, the guest list will only contain a close circle of family, including grandparents, siblings, and best friends. If you have a few more seats to spare, include one person from a close family without whom you can't imagine your big day. The point is, be ready to make some crucial decisions.
2. Pay Attention To Every Guest
With a smaller guest list, you get the time and space to mingle with everyone at the wedding. Chart out the seating arrangements and place cards so that everyone is comfortable in their seats and at their tables. Make the guests feel special with well-laid tables. They are the selected 50 people in your life, so go ahead and make their day as comfortable and enjoyable as possible.
3. Include More Guests With A Reception Party
One way to include more guests is to host a reception party. Keep the wedding to your close family connections and invite your friends over for the reception.
4. Splurge And Save On The Budget
Spend on the top priority things like your dream wedding dress or floral wedding décor. Several costs can be cut down with a small wedding plan, like guest accommodation, transportation arrangements, etc. Figure out the things that matter to you and things that you don't mind cutting back on when planning your wedding budget.
5. Ditch The Rule Book
Dump the set rules and regulations on the wedding day and create your own timeline. Replace the wedding cake with a cupcake tower, or skip the band. Instead, hire a local singer and other local businesses to support them and enjoy quality experiences on a budget. It is totally up to you and your fiancé, so ensure that every detail is discussed and decided together. Figure out which traditions you want to follow for your wedding, like the first kiss or the bouquet toss. There are no judgments or pressure, and you can plan it your way, as you see fit.
6. Keep The Celebration Meter High
An intimate wedding does not mean a dip in celebrations. The wedding is a special moment and has to be made memorable. Call in a live band and turn up the music. Include fun interactive activities to keep the party alive. Or, you could make it a destination wedding! Travel to your favorite holiday town and celebrate the vows at the charming, local church, or go on top of a ski mountain. A summer wedding at a stunning garden or lakeside with chairs and a simple arch adorned with flowers to wed under sounds delightful too!
7. Include More Guests With Live Streaming
Although you may be hosting a minimal wedding, your extended family and friends might want to witness this special day. Send out invites for a live stream or a Zoom call. Most venues provide high-quality streaming services from different angles, making it possible for everyone to be there virtually on the wedding day.


Quick Tip
Music, food, and alcohol are the bare necessities of any wedding event. Splurge on the dinner, keep the wine flowing, and let everyone loosen up on the dance floor.
Pros And Cons Of Micro Weddings
A non-conventional wedding plan will inevitably have some drawbacks. But, on the other hand, it is becoming a trend because people love it. Let us help you understand the pros and cons of a small wedding and how to tackle them.
Pros
1. Low Cost
The cost of a wedding is a big consideration for the couple getting married. While you can host an admirable micro wedding at a low price, there are also intimate weddings with a high budget and extravagant décor as well as destination weddings with indulgent celebrations. Effectively, micro weddings can be planned at the lowest or highest cost, depending on what you want.
2. Flexibility
Isn't it fun to make your own rules for your wedding? Small weddings come with a lot of freedom. You do not have to do something because everyone else is doing it. Be as creative and informal as you want.
3. Feel At Ease
Over 200 pairs of eyes may stare at you at a regular wedding event. While some enjoy the attention, introverts may feel uneasy. Micro weddings can save you from the dread and anxiety of a full-fledged wedding event. Realizing that only the closest people are there for your wedding can help ease your nerves.
4. Less Planning = Less Stress
First, there is a smaller number of invitations to be sent out. Second, budget planning becomes more manageable with fewer things on the to-do list. You need to plan only the necessary details, such as considering the weather for an outdoor wedding, acquiring a marriage license, and finding the best vendors. You could hire a wedding planner to manage these details for you while you look forward to the celebrations with minimal stress.
5. Enjoy The Day
A wedding is a memory that people want to keep very special. Micro weddings pave the way for creating joyous personal moments. It is a unique feeling to be able to spend time with the guests rather than posing with countless people for photographs and not being able to even chat with them. You get to enjoy your day in a relaxed atmosphere.
Cons
1. Limited Invitees
Shortlisting the guests to the lowest number is one of the major concerns. Choosing people to invite can be more stressful than you think. You need to be prepared with a straightforward vision and convey the same when addressing uninvited acquaintances. There is no need to be apologetic; just be clear with your reasons.
2. The Missing Pomp And Show
More people means greater celebration. Hence, the grandness of the ceremony might feel toned down with a limited crowd.
3. Cajoling Parents And Elders
The concept might seem like pure denial of culture and tradition, making it challenging to explain the vision to conservative parents and elders.
4. The Terror Of Empty Seats
The absence of a couple of people does not make a big difference in a large gathering. But it is different at a small wedding. Be prepared to handle the situation of vacant chairs by removing them to prevent it from being evident.
5. The Drama
Every wedding comes with drama, especially the family kind. You can't just invite Mr. X because Aunt Y wants you to. You should explain the situation and why you are cutting down the guest list. And remember, this is your day. Do not let friends and family guilt you into doing things differently from what you have in mind.
6. The Struggle To Keep The Party Going
When there are many people, the place gets buzzing on its own. With only a small group, you need to plan the party to be exciting and engaging.
So, let's talk about how to actually plan a micro wedding!
How To Plan A Micro Wedding
Planning a micro wedding does not mean throwing the checklist out the window. Plan things ahead of time so that you can relax and spend quality time with your near and dear ones.
1. Shortlisting The Guests
As it is a personal and emotional affair, feel free to shortlist the guests. Jot down all your closest people. If your list becomes too long, cut it down further by deciding how badly you want the person to be there for the wedding. The total cost is based on the headcount, so make sure there are no last-minute add-ons.
2. Plan The Budget
As with any other event, micro-wedding planning also requires a budget plan. It is a realization of the amount you should spend on the event without it weighing on the wallet. Do understand that things cost what they cost. In some cases you might have to choose between the budget and your vision. However, with only a limited number of guests, you can work out the budget according to your priorities.
3. Pick A Venue
Finding a venue is easier when you are hosting a mini wedding ceremony and working with a simplistic mindset, as you do not have to accommodate 150 guests in a room. So, think outside the box! A library garden, a friend's backyard, a rented space at the public park, or a cute spot on your favorite hiking trail are some unique and affordable options.
4. Get Help From The Pros
Even though wedding planning is a cherished journey by itself for the couple, one can always take help from friends, family, or a wedding planner. Hire a coordinator who can handle arrangements on the wedding day, ensuring that things proceed as planned.
5. Set The Priorities
Sit over a cup of coffee and decide the necessities and things you can scrimp on. Make a list according to the priority level and note the cost involved. Tally it with your budgeting and make decisions favorable to both partners.
6. Choose Your Attire
The attire is always the core of any wedding. Say "yes" to the dream ball gown and pick a matching dream outfit for your partner. Search for something chic and minimalist at the same time. And as it is a small event, it should be easy to even implement a dress code for the guests.
Related:24 Most Expensive Wedding Dresses That Were Ever Worn
7. Pick A Photographer
The wedding is unique due to the memories linked to it. Capture all those special moments with a camera team. Go ahead and surf social media for inspiration and ideas and discuss these with your camera team and make all the arrangements required to get those dream shots. Do remember to check references and portfolios of the team you are working with.
8. Prep Your Vows
A small event will give you enough time to say all those short, sweet words of appreciation and present your heartfelt emotions. Personal vows can be made more intimate in a simple boutique wedding.
9. Create The Timeline
Create a well-planned timeline to ensure a good flow of events throughout the day. You can also have a host who gives brief introductions and makes the event entertaining. Fill the event gaps with quick games, music, and dance. Do leave room for flexibility and spontaneity, allowing yourself and your guests a relaxed and fun celebratory vibe.
10. Personalize The Event
Customizing everything from invitation cards to return gifts is accessible when it's a personal event. Plan for custom return gifts and personalized handwritten notes with place cards to show off the super close connection you or your fiancé have with each and every guest.

Quick Tip
Extend the celebrations of your micro wedding for more than a day. These are the people who will meet each other at every milestone in your life. So, rent a house and host pre- and post-wedding functions.
Infographic: Top 5 Tips To Make Your Micro Wedding Interesting
Micro weddings involve a tiny group of people, and adding extra attention will save the embarrassment of having guests checking their watches. A little attention to detail, a proper timeline, and organized activities can keep the yawns at bay. Check out the infographic below to get some ideas on how to make your micro wedding enjoyable.


The Bottom Line
A wedding is a personal affair, so do not let anything or anyone make decisions for you. You don't have to jump on the bandwagon and plan a micro wedding for your big day. Weigh the pros and cons of a small wedding, and rethink if this is what you really want. The ultimate goal is to plan a wedding that is a reflection of your relationship. Think outside the box and get creative. Let the day be about you and all the things you want to do on your big day. While it may be considered an offbeat style of wedding planning, micro weddings have actually gained popularity after COVID and can be a great alternative to high-end celebrations or destination weddings. So, if you have set your mind on it then don't hesitate to go ahead with it!
Frequently Asked Questions
How much should I spend on a micro wedding?
You can budget a micro wedding for as low as $5000 to as high as $50,000. Depending on how much you want to spend, you can host a budget wedding or an extravagant one. With a reduced guest count, you can always cut down on expenses.
How many bridesmaids are there in a micro wedding?
There are no definite rules, but old-school wedding experts say one bridesmaid for every 50 people. However, with one bridesmaid, you do not want to feel lonely on your wedding day. Hence, 3 to 4 bridesmaids should be perfect and make for a merry bridal party.
Are micro weddings boring?
Micro weddings are intimate affairs, but they can be entertaining with proper planning. Include games and dancing to keep the guests engaged.
Do you dance at a micro wedding?
Even if the guest count is low, a micro wedding has all the elements of a traditional one. It includes regular wedding celebrations like a wedding ceremony, vows, cocktail hour, dancing, dinner, and flowers. But there are no compulsions, and the couple can make their own plans.
Key Takeaways
A micro wedding has as low as 20-50 guests, with the list confined to close relatives and friends.
You can host a micro wedding on a low or a big budget. It depends on how much you are willing to spend on your wedding.
Proper planning will make the guests feel special and keep them entertained.
Large weddings also contribute to food wastage and have a heavy impact on the environment, thus micro weddings are considered a more eco-friendly option.
Micro weddings are the perfect way to celebrate with your closest friends and family. Get inspired by the ideas listed in this video. Check it out!