Silk Press Hair: Everything You Need To Know About It
Your guide to a chemical-free technique for transforming curly, frizzy hair into a sleek mane.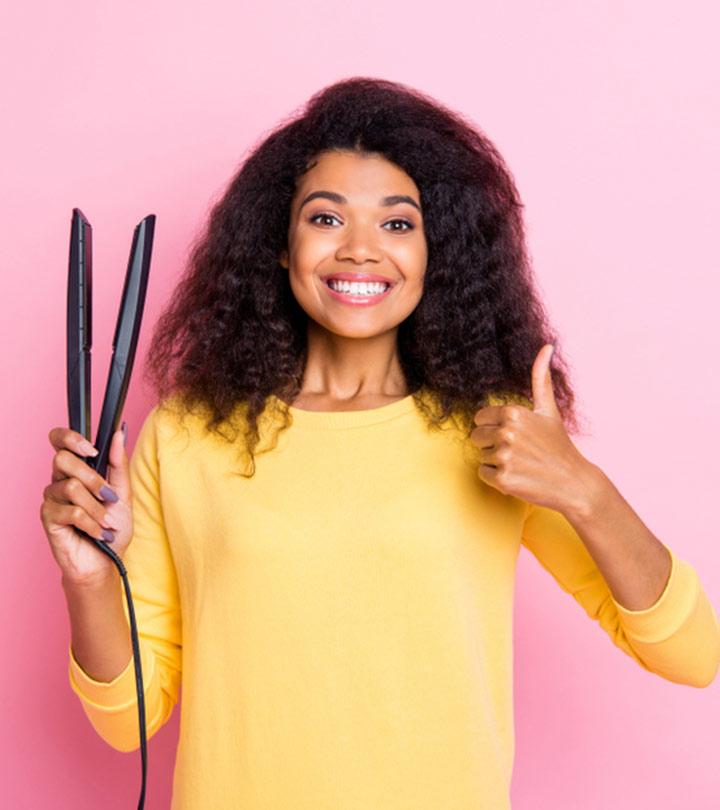 A silk press is one specific temporary hair straightening technique for natural, Afro-textured hair. It is the safest way to straighten your hair without using any chemical products. It is the new and improvised version of the press and curl technique. This technique is all about using the right tools at the right temperature with suitable products.
If you want to achieve shiny and sleek hair without causing any damage, you must try this technique. This article explores the benefits of the silk press, how it works, and how you can do it. Keep reading.
What Is A Silk Press?
Silk pressing involves hair straightening with a hot iron and oils. The process also includes using heat protectants and deep conditioning products to minimize damage and give you sleek and shiny hair that looks natural and relaxed. Silk press focuses more on adding body to type 3 and 4 hair types without damaging the natural curl pattern.
Did You Know?
The silk press technique dates back to the early 1900s, when women started using metal combs heated on a stove to straighten their hair.
There are many reasons to ditch the chemical relaxers and switch to silk pressing. They are discussed in the next section.
The Benefits Of Getting A Silk Press
With a silk press, all the curly-haired folks out there can live their dream of trying out a straight hair look that falls ever so perfectly without actually damaging their curls permanently. It offers the following benefits:
No Chemical Damage: Silk pressing does not involve using any chemicals and relaxers. It uses only natural oils, deep conditioners, and protective hair serums for smoothening the hair.
Ensures Healthy Hair: Permanent straightening may damage the hair and affect the natural curl pattern. However, silk pressing does not cause permanent damage to the hair structure.
Change Of Look: Silk pressing is the easiest way to change your look. It is not as time-consuming as permanent straightening. Also, it can act as a trial period before you permanently straighten the hair.
Low Maintenance: There is no rigorous aftercare process for a silk press. The only primary "maintenance" you have to do is avoid water as the hair will revert to its original form. Wrapping your hair in a silk cloth during bedtime helps the result stay longer.
Easy To Style: All curly and frizzy-haired people know the struggle of finding different ways to style their hair and not just tie it all up in a bun. After silk pressing, the hair becomes manageable and shiny.
Every time you see someone running their hands through their smooth flowing hair, you cannot help but wish you could do that too. So, waste no time and silk press your hair. Scroll down to know more about the steps involved in silk pressing.
How To Do A Silk Press
Cleanse With A Shampoo: Cleanse your hair and scalp with a clarifying or deep cleansing shampoo to remove product buildup, dirt, grease, and gunk.
Deep Conditioning: Protecting the hair is key in the process of silk press. Apply a deep conditioner to hydrate your hair.
Smoothing Heat Protectant: To prevent heat damage, apply a heat protectant to the hair. It will help protect your hair up to 450 degrees of heat.
Blow Dry The Hair: Blow drying helps straighten the hair before ironing, reducing the possibility of heat damage. To make the process easier, use a blow dryer with a brush attachment.
Use A Light Serum Or Oil: Apply a lightweight serum or a thin layer of any lightweight oil to the hair to lock in hydration. This step also adds shine to the hair and shields it from heat damage.
Trim Your Hair: Trim all the split ends so that your hair looks healthy.
Straighten The Hair: Section your hair and straighten each section with a flat iron or a hot pressing comb. You may make smaller sections to avoid running the hot comb or iron through it more than once.
Knowing how long a silk press will last is essential. Since it is easy for all this hard work to be ruined, it is better to have the following days planned.
How Long Does A Silk Press Last?
It depends on how you maintain your hair and scalp. Ideally, a silk press can last for around 2-3 weeks. However, the time may vary, depending on aftercare, sweat accumulation, humidity, and other factors.
Active people who work out regularly should not let the sweat stay on their scalps more than a day. The salts and toxins in sweat can be bad for the scalp and hair growth.
When exposed to water, the straightened hair regains its natural pattern within minutes. Even excess grease and sweat accumulation on the scalp may alter the silky texture after a silk press. If you have an oily scalp, the oil accumulation will start affecting the hair texture sooner than a dry scalp.
While silk pressing is relatively safer than chemical straightening, it may cause damage. Read on to understand how.
Is Silk Press Damaging To The Hair?
It depends on the technique and how heat is applied to the hair. Silk pressing is the least damaging process for natural hair. However, to prevent damage, following the right technique is crucial.
It is better to consult an experienced hairstylist for better results. If you are doing it at home, protect the hair before the procedure.
Avoid holding the hot comb or iron on the hair section for long to prevent burns and breakage. Also, maintain a good interval between sessions to prevent permanent damage.
Since silk pressing is a process with the least amount of damage, you must be wondering if it will suit your hair type. Find out in the next section.
Who Can Have A Silk Press?
Silk press is suitable for Afro-textured, type 4 and 3 hair types. However, those with thick, coarse, and frizzy hair can also try silk pressing for smoother and manageable hair.
Now that you know your untamable hair can be tamed with a silk press, we bet you cannot wait to give it a try. Before you do that, find out the best products you will need for the ultimate result.
What Are The Best Silk Press Products?
Clarifying Shampoo: A clarifying shampoo cleanses all the product buildup and dirt out of the scalp and hair.
Deep Conditioner: Opt for deep conditioners containing nourishing oils and plant butter for extra hydration.
Heat Protectant and Serum: Pick a lightweight serum or heat protectant according to your hair type.
Blow Dryer and Hot Iron: The kind of blow dryer and hot iron you have does not matter as long as it works. It will be ideal if you have ones with temperature control to help maintain even heating.
If you are doing silk pressing at home, you will need some help. And there is always a chance of something going wrong. Hence, it is better to consult a hairstylist and get it done at a salon. Find out the cost of a silk press in the next section.
What Is The Cost Of A Silk Press?
It can cost anywhere between 50$ and 100$, depending on the salon you visit and the expertise they offer.
Even if you decide to go the easy way and visit a professional, the silk press process needs thorough aftercare.
Maintaining A Silk Press: A Few Tips
Keep your hair away from water as much as possible. The minute your hair comes in contact with water, it all goes away.
Avoid getting the scalp oily or sweaty. If you like working out, you might want to take some extra precautions to keep the scalp dry.
Wrap your hair with a silk cloth when sleeping. Cover it to protect it from sunlight and other pollutants.
Use hair styling products sparingly to avoid product scalp buildup and weighing your hair down.
Avoid using straighteners and heat styling tools to prevent heat damage.
Quick Tip
Sleep on a silk pillowcase to limit friction and prevent damage to your silk-pressed hair.
Since you now know all the good things that could come out of a silk press, you should also be aware of any side effects it may cause.
Side Effects Of Silk Pressing The Hair
Heat Damage: Heat damage is not really a concern in silk pressing. However, frequent silk pressing and wrong techniques while using hot tools may cause heat damage and hair breakage.
Grease Buildup: Doing a silk press means not washing your hair for a week. During this time, your scalp will produce natural oils. The hair will also be subjected to pollution, which adds to the dirt buildup.
Could Increase Split Ends: Frequent silk pressing may cause split ends.
A silk press is a hair straightening technique that involves using a hot iron, heat protectants, and deep conditioning products to give your natural hair a smooth and shiny look. The benefits of using a silk press include no chemical damage, low maintenance, and is easy to style. However, make sure you use the right products and follow our in-depth guide to do a silk press effectively and safely. While the silk press is safe, it may result in greasiness and split ends. If you are not sure about the process, consult a professional hairstylist.
Frequently Asked Questions
Is a silk press like a perm?
No, silk press and perm are not the same. While silk pressing is a temporary hair straightening technique, perming is a chemical treatment done to alter the natural texture of hair.
Why is my silk-pressed hair puffy?
Moisture or humidity in the hair may cause your silk-pressed hair to appear puffy.
Key Takeaways
Silk press is a hair straightening technique, especially beneficial for Afro-American hair types.
Without the use of any chemicals, this technique is an improvised form of press and curl technique.
It gives you sleek smooth hair without damaging your hair strands or affecting your scalp.