Dermaplaning: Benefits, What To Expect, And Aftercare Tips
Before trying, know before and after care and how safe this skin procedure is for you.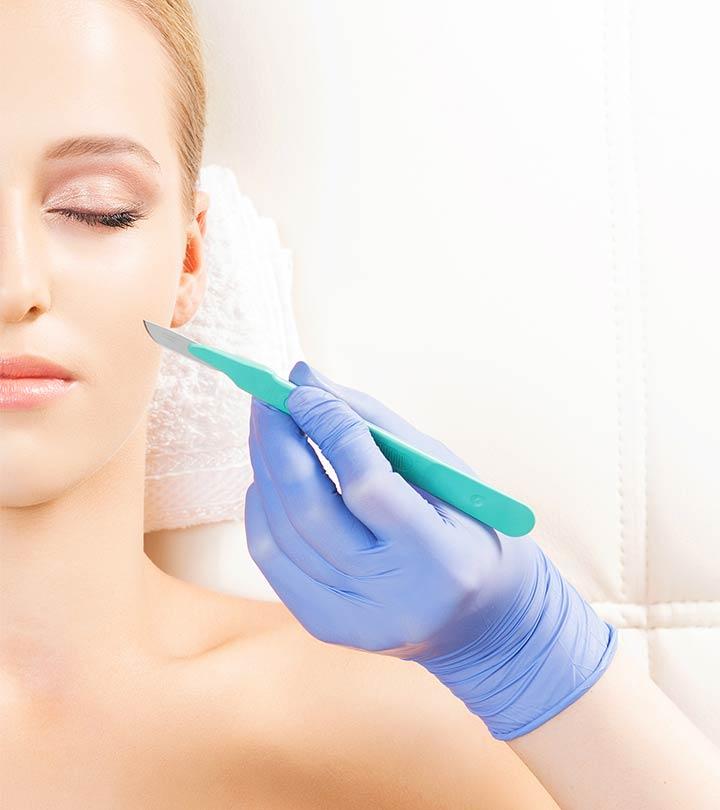 Dermaplanning is more than just shaving the face to remove the peach fuzz. This exfoliating treatment involves scraping the top layer of the skin with a dermaplaning tool or scalpel.
Don't worry. This procedure is safe for the skin and is usually performed by a dermatologist or an esthetician. It improves your skin texture, brightens the face, and makes it baby smooth. This also helps the skin care products penetrate the skin better and improve their efficacy. Keep reading to know more about dermaplaning and how it may benefit your skin.
What Is Dermaplaning Treatment?
Dermaplaning is more than just shaving your face. It is a skincare treatment in which the aesthetician uses a small scalpel to slough off the dead skin cells along with the facial hair from your face. This gives you smooth skin and improves the skin texture, and brightens the face.


Did You Know?
Dermaplaning was invented in the 1970s as a method to get rid of acne.
This is a superficial method, and you will not shed a single drop of blood. Right after the procedure, you can see the brightening effect it has on your skin. It hardly takes 15 minutes to complete the procedure.
Let's check out how it is performed.
What To Expect During The Dermaplaning Procedure
Here's a step-by-step guide to what goes on during the procedure.
Preparing Your Skin For The Treatment
Before the treatment starts, the dermatologist will clean your skin thoroughly. They either use local anesthesia or apply lidocaine (a medicine used to numb the area) to your face. This works for around 30 minutes. This is to make you feel comfortable during the procedure. Once your face is numb, it is cleaned again.
The dermatologist uses a scalpel for shaving your skin. The doctor then gently smooths the topmost layer of the skin. You have the option to customize the procedure. You can either perform it on the entire face or a specific area. It takes 15 to 30 minutes, depending on your needs. Some people undergo dermaplaning in stages. This depends on your skin condition and your treatment needs.
If you want, you may try dermaplaning at home. Dermaplaning kits are available online. However, if you ask a doctor whether you can try it at home or not, they would suggest you to be cautious. Why? It's not because you have a chance of hurting yourself in this process. It is because you will not get the same results (a no-brainer, indeed). However, if you want to go ahead and try it at home, get the kit and follow these steps.
Dermaplaning At Home: How To Do It
Get good quality disposable razors. You can buy the blades or the entire kit online.
Ensure that the blades are clean and sharp before using them.
Clean your face with a gentle cleanser. Let it dry completely.
Apply a bit of apricot or jojoba oil or any oil on your face.
Stretch your skin tightly using one hand and hold it. Now, dip the blade in warm water and place the blade at an angle of 45 degrees to your skin.
Make short strokes, starting from your hairline towards the center of your face (use downward strokes). Avoid the hairline.
Do not apply pressure. The strokes should be feather-light and towards the hair growth.
Once done, repeat the process, but this time, move the blades against your hair growth.
Keep cleaning the blade in between.
Once done, splash cold water on your face.
Apply a light and hydrating moisturizer or a face mask. Finish with your favorite serum.
Whether you do it at home or the doctor's clinic, after dermaplaning, you need to take care of your skin. Here's how you can do so.
Dermaplaning: Aftercare
After dermaplaning, your skin will be a bit sensitive. Here is a complete skin care plan that you can start 24 hours after the procedure:
Use a non-soap and gentle cleanser to clean your face.
Apply moisturizer twice a day. Do it religiously for at least 7 days post dermaplaning.
Your skin will be sensitive, and the natural barrier is compromised. So, limit your sun exposure. Sunscreen is a must whenever you are going outside. Use an umbrella or a wide-brimmed hat.
Avoid any activity (just for 3 days) that makes you sweat a lot, such as steam rooms and heavy workouts.
Avoid contact with chlorine (stay away from swimming pools).
Avoid any other face treatment for at least a week.
Avoid scratching the skin.
Apply skin serums, especially those with hyaluronic acid, after the procedure.
The skin might tingle for a few days. This will subside eventually.
If you are wondering whether it is worth your time or not, here are a few benefits of dermaplaning that will help you decide.
Benefits Of Dermaplaning
1. It Exfoliates Your Skin
It removes dead skin cells from your face – and that too, better than chemical peels. It is non-abrasive, which is why it is an excellent option for those with sensitive skin. It enhances your skin's beauty by making it smooth and naturally flawless (1).
2. It Removes Facial Hair
If done under the surveillance of a dermatologist or a professional aesthetician, you will get better results in terms of hair removal. It is because the blade used by them is a special one and much sharper than the store-bought ones.
3. It Makes Your Skin Look Fresher And Younger
Though we cannot claim that it has anti-aging effects, it can make your face appear brighter by removing the top dead layer of skin (2).
4. It Has No Down Time
Unlike other skin treatments, dermaplaning doesn't have any downtime. Your face will not turn red, and you don't need to stay inside the house all the time. But yes, you need to follow a proper skin maintenance process after dermaplaning.
5. Smooth Application Of Makeup
This is a bonus you get with dermaplaning. Your skin becomes so smooth that makeup glides like butter on it.


Trivia
Dermaplaning is considered one of the most cost-effective skin treatments with instant results.
Thinking of trying it or booking an appointment with a professional aesthetician? Wait a bit. Go through these points before trying dermaplaning.
Things You Should Know Before Trying Dermaplaning
Dermaplaning is suitable for all skin types. But, if you have acne or inflamed pimples, you shouldn't go for this method.
Dermaplaning is not going to make your hair grow thicker. It's a misconception. Even when your hair grows back, you will not feel any difference as it is cut straight across. The texture of the new hair will be the same.
You have to stay committed to the sunscreen and take sun protection seriously.
The result will last a month, so you do not need to go under the scalpel quite often.
Stay away from any other skin treatment or skin procedure to ensure the best results.
Infographic: Dermaplaning Vs. Shaving
Dermaplaning and shaving may appear to be similar procedures aimed at getting rid of unwanted facial hair, but they have some key differences. Check out the infographic below to learn what differentiates one process from the other and determine which one is most suitable for you.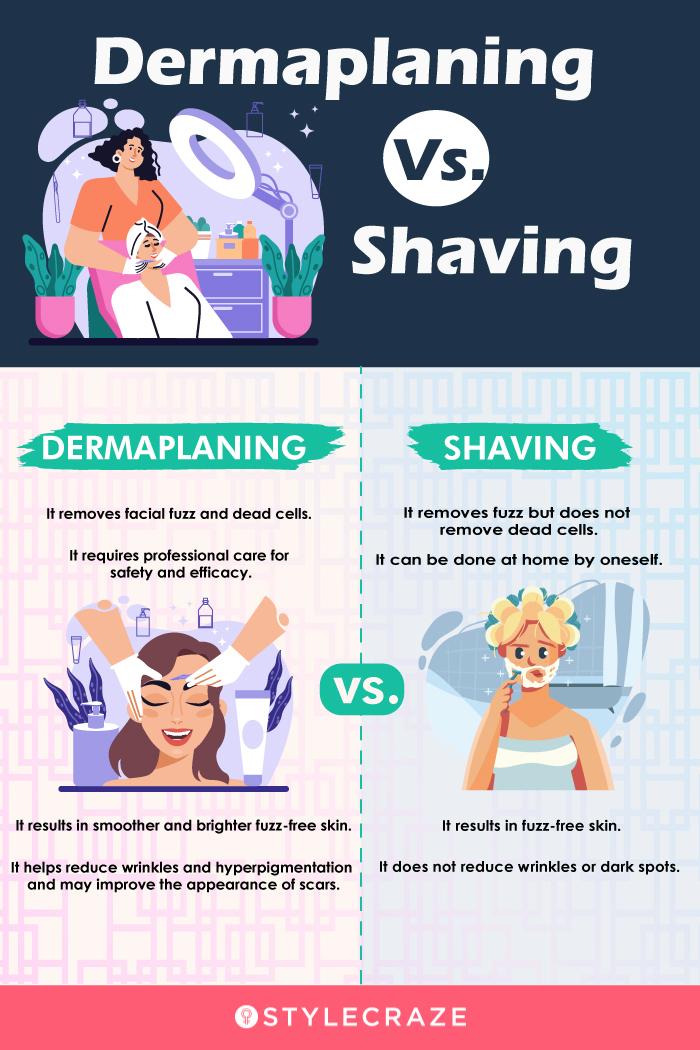 Dermaplaning is a cosmetic treatment in which a dermatologist uses a scalpel to exfoliate dead skin and grime from the top layer of your skin, the epidermis, exposing the dermis. A few sessions of dermaplaning improves the texture of your skin, removes facial hair, and allows you to put on makeup smoothly. What's more, dermaplaning is safe and suitable for all skin types. You may combine dermaplaning with microdermabrasion for enhanced skin texture and anti-aging effects. While you can try dermaplaning at home, it is safer to have it done at the hands of a dermatologist to avoid hurting yourself. Remember to avoid chlorine, sunlight, and to apply moisturizer to keep your skin hydrated.
Frequently Asked Questions
What is the cost of dermaplaning?
It varies from place to place. However, it should be somewhere between $75 and $150.
How often should you get dermaplaning done?
Once a month.
Can I wear makeup after dermaplaning?
Yes, you can.
How long does it take to recover from dermaplaning?
It doesn't have any downtime. You only need to take care of your skin.
Is there a downside to dermaplaning?
According to anecdotal reports, dermaplaning may sometimes cause breakouts, skin irritation, redness, hyperpigmentation, and an increased risk of infection.
Will dermaplaning give me stubble?
No. The regrowing hair may feel a bit coarse. That's because of the angle of how the hair was removed. Dermaplaning doesn't affect hair texture or thickness.
Is it OK to Dermaplane your upper lip?
Yes, dermaplaning is a safe and effective way of removing upper lip hair at home.
What's the difference between dermaplaning and Dermablading?
Both are the same. Dermaplaning is also known as dermablading or microplaning.
Does your skin purge after dermaplaning?
Dermaplaning doesn't cause purging. However, you may experience minor breakouts for two reasons – first, if the scalpel wasn't appropriately sterilized, and second, the deep exfoliation may expose the breakouts that were beginning underneath the skin.
Does dermaplaning cause ingrown hairs?
You may observe ingrown hair as your facial hair regrows. Use a gentle exfoliator to prevent ingrown hair.
Key Takeaways
Dermaplaning involves using a small scalpel to exfoliate the skin and help get smooth, clear, and youthful skin.
The dermatologist may use local anesthesia to keep your face numb during the procedure.
One should use a gentle cleanser after the procedure to keep your skin clean and healthy.
People with acne or inflamed pimples should avoid doing this procedure.

Learn how you can get glowing skin with dermaplaning. Check out this video to discover the amazing skin benefits of this simple, safe, and effective treatment.

Sources
The following two tabs change content below.