Zumba For Weight Loss And Fitness- Burn 500 Calories In A Day
Do you dread going to the gym? Or feel bored and exhausted lifting weights? Well, I felt the same until I was introduced to Zumba. This routine offers excellent full-body workout. It is creative, fun, burns about 500 calories in a 60-minute session, and helps shed at least 2-3 pounds in a month (I lost 16 pounds in 7 months!). Apart from improving your strength, stamina, and flexibility, Zumba boosts your brain function, lowers stress, and increases your productivity. So, tone up and become strong. Here's what you need to know about zumba for weight loss. Swipe up!
What Is Zumba?
Zumba is a Latin dance form, a form of cardio that burns up to 500 calories per session. However, it is not limited to Latin dance moves. Trainers always fuse Zumba dance with hip-hop, Bollywood, contemporary, freestyle, samba, cumbia, merengue, soca, flamenco, reggaeton, salsa, cha-cha, mambo, tango, and strength training (bodyweight training) to help burn more calories and tone the body.
The best part about Zumba is that the dance moves are simple and easy and target every muscle in your body. Plus, the catchy songs and beats help you let down your guard and dance to the music without inhibitions.
Working out in a group always helps as it keeps you motivated. The participants can inspire each other to keep going and push the boundaries. Dancing to good music releases "feel good" hormones and helps get rid of all the stress and worry.
Bottom Line: Anyone can join Zumba and lose weight and improve fitness. It will help you live a stress-free and happy life.
Now, let us see why you must do Zumba to lose weight. Scroll down.
Zumba For Weight Loss – Is It Any Good?
Zumba incorporates various dance forms plus bodyweight training. Therefore, you will do cardio as well as build muscle. Depending on your current weight, height, and age, you can burn anywhere between 300-500 calories. So, if you just avoid all junk food and go for Zumba 4-5 days a week, you will burn anywhere between 1500-2500 calories per week! This is way more than what you can burn by running on the treadmill for 30 minutes straight at a medium pace.
A study conducted by the American Journal of Health Behavior showed that women with type-2 diabetes were able to lose about 2.5 pounds and had 1% lower body fat percent by doing Zumba for 16 weeks (1). And most of the participants continued going to the classes even after the study was complete. This shows that Zumba is very appealing to people. Just the idea of dancing with a group of people can be a strong motivator. In fact, I get more excited about my Zumba session than my time at the gym!
So, how does zumba for weight loss work? Find out in the next section. How about a fabulous Zumba video before we go further? Check this video out.
I am sure it was very difficult for you to stay still. And the Zumba instructor, Meta Nagode was slaying it. Wasn't she? Now, let's find out how to lose weight with Zumba.
How To Lose Weight With Zumba
Here are the steps you must take to lose weight with Zumba:
1. Make Your Mind Up
Acknowledge the fact that you need to lose weight and become active and fit. This will be your best motivation for joining and keep going to the Zumba sessions. So, don't think, do it. Make your mind up that you are going to take up this challenge and improve the quality of your life.
2. Set A Weight Loss Goal
Check your weight and get your body composition analysis done. This will give you an idea of how much weight you need to lose, and how much percent body fat you have to shed. Set a weight loss goal for every two weeks. Write down the plan, say, "I want to lose 1 pound in a week" or "I want to shed 1% fat by the end of this month." Writing it down on paper will give your "dream" a true meaning, and the deadline will keep you on your toes.
3. Plan Your Zumba Schedule
Join a Zumba class and plan your life accordingly. Go in the morning or evening depending on your work or school schedule. Make it a point to do Zumba every alternate day in the beginning. Let your body get used to the strain and help it recover. As you advance, you must do 5-6 hours of Zumba per week.
Tip: Do not be irregular to your Zumba classes. Your batchmates will move on to advanced levels, and it can be really demotivating for you. Learn together and help each other to go to the next level. This way of learning is more fulfilling and motivating.
4. Follow A Good Lifestyle
Just doing Zumba will not help you lose weight. You need to follow a good lifestyle as well to notice results. Consume 4-5 types of veggies (3 servings), 3 types of fruits (2-3 servings), healthy fats like olive oil, nuts, seeds, and rice bran oil, protein with every meal (fish, chicken breast, tofu, legumes, beans, mushroom, etc.), and dairy. Toss the junk and high-sodium and high-sugar foods out of your fridge and kitchen. Avoid alcohol and smoking, take the stairs instead of the elevator, walk a lot, go on bike rides, and meditate.
5. Stay Hydrated
Water plays an important role when it comes to losing weight. It helps maintain the internal pH, keeps your colon clean and metabolism running, and flushes out toxins. Drink at least 3-4 liters of water every day. Have a cup of water with the juice of half a lime first thing in the morning on an empty stomach.
Now, let me answer the most frequently asked question about the most common problem – belly fat. Scroll down.
Can Zumba Help Shed Belly Fat?
Yes, Zumba is an excellent cardio that helps shed fat from every part of your body. I reduced my waist size from 34 to 30 by doing 6 hours of Zumba per week and eating right.
You will be able to lose the belly fat quicker because the amount of exertion you will be able to take by dancing is way more than what you can endure in the gym. And that's because this fitness regimen intelligently integrates bodyweight training and cardio, and 60 minutes will pass in a blink of an eye. However, remember, you are dealing with tummy fat, so be patient.
Tip: Make sure you also eat clean to lose belly fat.
Here are a few facts about Zumba.
Where Did Zumba Come From?
Alberto "Beto" Perez, the famous dancer, choreographer, and celebrity personal trainer from Cali, Colombia came up with the concept of Zumba in 1990. One day, Perez had to teach an aerobics class using meringue and salsa music as his record, consisting of conventional aerobics music, was left behind at one of his classes. However, the improvisation was loved by his students, and soon, it gained immense popularity in Colombia. In 2001, Perez reached the US to take his initiative ahead with Alberto Perlman and Alberto Aghion. Finally, they got the license for running marketing campaigns and launching videos from a company named 'Fitness Quest'.
What Do Zumba Classes Include?
There are around 14 million people in more than 150 nations across the globe who attend weekly Zumba classes, and the number is still growing. Usually, the duration of each Zumba session is 1 hour and is conducted by licensed experts. During the workout session, trainees can practice resistance training with different types of rhythms. However, depending on the age and capacity of the person, Zumba classes can be divided into eight categories:
Zumba Fitness – A regular Zumba class (as mentioned before).
Zumba Gold – Resembles regular Zumba Fitness party classes, but the exercises are intended for aged people.
Zumba Toning – Includes cardio and entire body sculpting by working on the muscles of the arms, abdomen, and thighs with the help of toning sticks.
Zumba Gold–Toning – Another initiative for seniors to help them tone their bodies and enhance their posture, movements, potency, and coordination.
Aqua Zumba – A regular Zumba class that is practiced in a swimming pool.
Zumba in the Circuit – A 30-minute session that blends dance moves with strength exercises like circuit training.
Zumbatomic – Resembles a regular Zumba Fitness class, but the regimen is designed exclusively for kids between 4 to 12 years of age.
Zumba Sentao – A unique chair workout for body toning. It also makes use of the bodyweight of the exercisers to make them stronger.
Who Can Do Zumba?
Anyone who intends to. Your fitness level, age, size, and shape do not matter. If you want to shed some weight or/and become fit but tend to get bored of doing the same exercises in the gym, you must turn to Zumba.
In fact, celebrities love Zumba, and the list of star Zumba-lovers is quite interesting. Jennifer Lopez, Jackie Chan, Natalie Portman, Kirstie Alley, Emma Watson, Shakira, Victoria Beckham, and Halle Berry – well, do you really need more?
What Should You Wear While Doing Zumba?
Wear comfortable clothes. You can either wear your regular gym outfit, like compression leggings and a t-shirt, or racerback tees with Zumba (dhoti) pants.
Wear shoes that are right for training and dancing. Do not wear running shoes to your Zumba session. If possible, buy gel padded shoes to help absorb the shock.
If you have pain in your knees, wear knee support.
[ Read: 4 Types Of Aerobic Dances And Their Benefits ]
What Are The Benefits Of Zumba?
The benefits of Zumba are as listed below:
Aids weight loss.
Tones the body.
Reduces fat percent.
Increases flexibility, mobility, and reaction time.
Improves social skills.
Lowers stress and increases serotonin (feel good hormone).
Helps you stick to a new and better lifestyle.
Your dancing skills get better.
Improves stamina and endurance.
Gives your confidence levels a solid boost.
Helps fight depression and anxiety.
Tip: Take it slow. You will not be able to dance like a pro and lose the weight in just a week. Give yourself and your body time to learn the correct form of the moves and follow the instructor. You can also watch videos on YouTube to learn a few basic Zumba steps.
Zumba can be life-changing if you give it your 100%. Eating good, being patient, and staying motivated will also help you in the long run. So, why waste time in the gym when you can dance your way to losing weight? Join a Zumba class today bring the zing back to your life. Cheers!
Recommended Articles:

The following two tabs change content below.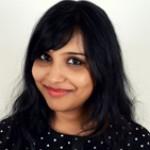 Latest posts by Charushila Biswas (see all)