What Makes A Man Fall Deeply In Love With A Woman?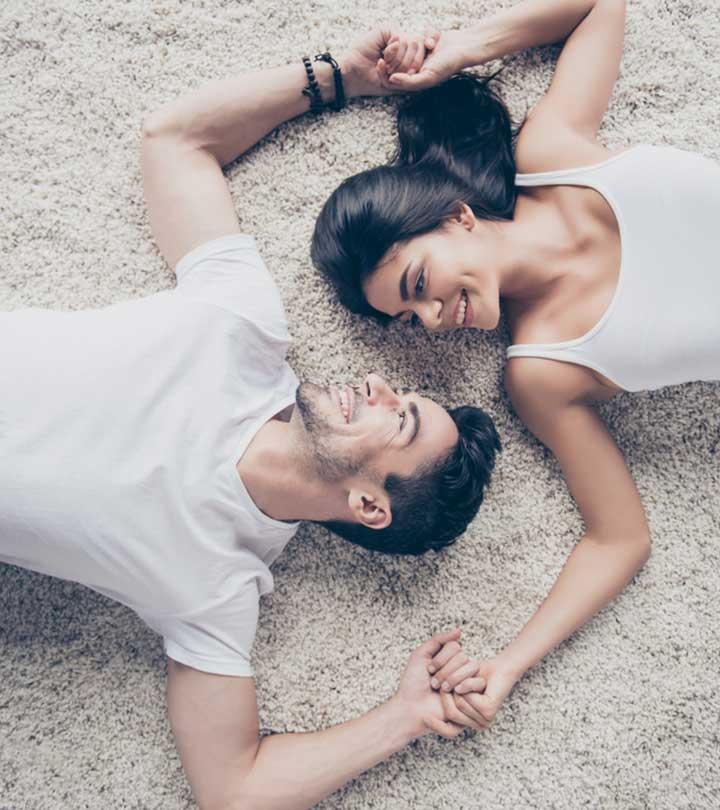 "I fell in love with her courage, her sincerity, and her flaming self respect. And it's these things I'd believe in, even if the whole world indulged in wild suspicions that she wasn't all she should be. I love her and it is the beginning of everything."
These are the words of the famous 19th century American novelist, F. Scott Fitzgerald for Zelda Fitzgerald, his lover, and wife. How eloquently pens what he loves about her in his love letters! Not everyone can be that expressive, but there are a few qualities that men find attractive universally. Read on to understand what makes a man fall deeply in love with a woman.
Love And Relationships
According to Sternberg's Triangular Theory of Love, we can broadly divide love and relationships into three components – intimacy, passion, and commitment (1). Let us dive deeper and explore how these factors affect a man's love towards a woman.
Intimacy: Intimacy between a man and a woman gives rise to a strong sense of attachment and deep love.
Feeling Of Closeness: We all crave intimacy and cherish the feeling of closeness. Everyone wants someone with whom we can share most of our thoughts, emotions, and feeling as we navigate through the uncertainties of life. Understanding, trust, and transparency between a man and a woman develop intimacy.
Connection: Sharing common interests and hobbies helps you build a rapport, which makes life more meaningful and interesting.
Feeling Loved: The sense of fulfillment and happiness we experience when someone loves us genuinely and appreciates us is inexplicable. It creates deep intimacy between the partners.
Passion: Attraction, whether physical or emotional, depends on several factors, such as gender, age, sex drive, and individual preferences.
Physical Attraction: It is speculated that men tend to have physical attraction as a higher priority for falling in love. This is driven by both an evolutionary and cultural bias to find the "best" mate.
Romantic Attraction: We develop romantic attraction or attachment towards a particular person to focus our attention and energies on winning them over for successful mating. It is instrumental in developing exclusivity and commitment in a relationship.
Sexual Compatibility: Physical attraction might not always translate into sexual compatibility. It depends on sexual drive, desire, and emotional compatibility.
Commitment: It is a conscious decision to stay in the relationship. It can be short or long-term, depending on various factors, such as common goals and core values.
The next section lists a few qualities that make a man fall deeply in love with a woman. Take a peek!
Qualities That Make A Man Fall Deeply In Love With A Woman
1. Authenticity
This is an attractive characteristic that helps develop strong, long-term relationships. Honesty, trust, and transparency are the cornerstones for a successful partnership. Respecting each other's differences is vital for developing a powerful bond.
2. Support
Irrespective of gender roles, we must support our partners in all our endeavors. Traditionally men have been discouraged from showing emotions and undergo intense social pressure to be prosperous and financially secure. Thus, it is vital they have someone who understands and supports their dreams and goals.
3. Emotional Connection
When a man feels understood, appreciated, and loved by a woman, the chances of him reciprocating these feelings are higher. This is essential for a happy and deep relationship. Spending quality time together can help develop these feelings.
4. Physical Attraction
Woodraw Wyatt, a famous journalist of the post-modern era says " A man falls in love through his eyes, a woman through her ears". A heartwarming and genuine smile is an attractive feature that will draw men to you. Similarly, a good sense of dressing reflects good hygiene and boosts your attractiveness.  Also, a warm, friendly gesture is desirable for knowing each other in the initial phases.
5. Sharing Core Values
 Intelligence, sense of humor, compassion, kindnesses, and loyalty are few universally appealing qualities. Men feel deeply attracted to women who have the traits they appreciate and cherish. Having a common ground when it comes to financial decisions, upbringing children, or any social, political, and religious beliefs is necessary.
6. See A Future Together
Men tend to invest their time, energy, and resources when they want to have a long-term relationship. So, when a man sees a future with a woman, he is sure to pursue his feelings.
7. Independence
It is important to spend time together, but your partner also has their own life and passions. Find a way to support each other's goals and prioritize their dreams. This generates a positive self-image and a sense of worth for a healthy relationship. Such couples inspire each other to lead a better life.
Although we can not measure the depth of a person's love, their actions show their intentions. Once a man passes the initial stages of attraction and gets attached to the woman, we can assume he is deeply in love with her. Physical attraction, empathy, sexual compatibility, and emotional connection play a key role in making a man fall deeply in love with a woman. Shared passions, core values, and a possibility of a future together further cement his love for the woman.
Recommended Articles
Sources
The following two tabs change content below.