9 Essential Items You Absolutely Need To Pack For A Trip
Ultimate packing hacks to help you organize your luggage without missing out on the necessities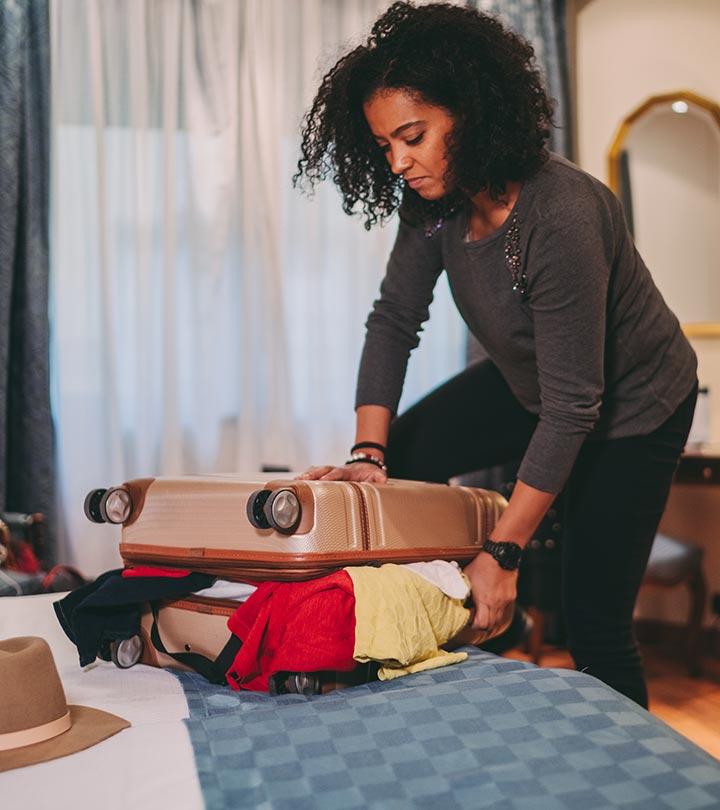 Going on a trip is not only fun but essential for clearing your mind when life begins to look dull. So if you have planned a trip too, then this post is just for you. In this article, we will help you learn what to pack for a trip. Yes, You need to make a list of all the things you would need to carry for the trip without a doubt. You would not want your dream about wearing a certain dress or pulling off a kind of hairdo to get messed with for not carrying the essentials. Worry not, for this article will help you. So go ahead and give this piece a read.
What To Pack For A Trip
1. List Of Clothes To Pack
Do a lot of research about the weather of the place you are traveling to. It all starts there.
Pack track pants, shorts, and comfortable T-shirts if you will be doing lots of outdoor activities.
Start from basics like bold T-shirts, intimates, trousers, jeans, and shorts. Do a dry run with clothes you wear every day and work your way through.
Capsule wardrobe! Mix-and-match should be your way to go. Pack smart, so you can play around with just a few pieces.
For winter holidays, pack enough innerwear and outerwear to layer up. You can experiment with everything that goes in between.
If you are a first-time backpacker, remember to carry clothes that are easy to wash, dry quickly, and need no maintenance.
Comfort is key during month-long trips across Europe. Again, pack according to the weather. The same goes for trips across North America too.
One-piece dresses are a great option for a summer vacation. They take up minimal space in your bag and don't require too many garments or styling.
Innerwear is a crucial part of your packing. Pack just enough – neither too many nor too little. Tank tops, nude bras, sports bras, slips, camisoles, and panties – go over each of them and carry the most comfortable ones.
2. Shoes
This is where most of us go wrong. Don't get too carried away here. Carry one pair of extremely comfortable footwear for traveling, walking around, and everywhere else.
If you have a fancy dinner planned or are going to be partying a lot, carry a pair of party footwear that is functional and comfortable, like a pair of black pumps or nude platforms.
Flip-flops or beach sandals for a beach vacation are a no-brainer. But, make sure you have used them for some time before going on a vacation because new flip-flops can be uncomfortable.
Pack hiking, running, or walking shoes depending on where you are going.
Closed footwear, in general, is always a great idea.
3. Makeup And Accessories
You can transform any outfit with the right accessories and makeup. Talk about smart dressing!
Remember the whole idea of a capsule wardrobe? Makeup and accessories complete that puzzle.
Scarves, shrugs, half-jackets, sweaters, or any layers you can add or shave off are a great idea.
Earrings, statement necklaces, finger rings, side body bag, shades, or anything that can pop and spruce up your outfit can be good additions to your bag.
Hair ties, tweezers, clips, and bobby pins for your hair are essential.
4. Toiletries
If you can hack this part of your travel, you are sorted. Drop the idea of full-blown bottles of products and go for travel sizes.
Pack your essentials like facewash, shampoo, conditioner, toothbrush, toothpaste, razor, lotion, sunblock, deodorant, and perfume (8 oz or lesser) first.
Hotels usually provide some of them, so you can skip things like shampoo and soap.
Stuff like hair styling tools, toilet paper, and wet pipes are optional.
5. Electronics
Do you know what the new travel mantra is? Just carry your phone, charger, wallet, and other electronics you need. Everything else can be managed.
If you are traveling to another country, a universal adapter will come in handy. If the voltage capacity is different in the place you are traveling to, you will need a voltage converter for your chargers and heat styling tools.
Don't forget to pack a memory card, power bank, and USB sticks.
Quick Tip
Get an electronic organizer or pouch to store USB chargers and wires and keep them from getting tangled and damaged.
6. Medicines And First Aid
If you are on any medication, don't forget to carry them — even the ones you take occasionally.
Carry general medicine like paracetamol, diarrhea medicine, painkillers, motion sickness pills, and allergy medication.
Band-aids, bandage, sanitizer, and mosquito and insect repellents are also essential.
7. Travel Documents
Get your travel documents in order, especially if you are traveling abroad.
Don't forget your medical and travel insurance, identity proof, and immunization records.
Make some emergency contact information sheets.
Documents to declare at the port of entry (if any).
Language guide and maps are always helpful.
Quick Tip
Carry a copy of the hotel reservation receipt or any invitation from the host as accommodation proof.
8. Travel Gear
If you are going to the beach, a beach bag, shades, flip-flops, sunglasses, and a ton of sunblock are a must. Read up on the weather and plan your gear.
Camera bags, a comfortable backpack, a side body bag, shoes, water bottles, and stuff that makes your trip convenient falls under this category.
Rain jackets, winter parkas, gloves, socks, and leg warmers when visiting a cold place are essentials.
Rent extra-thick track pants, jackets, or shoes if you are going skiing.
Take a backpack that fits all your travel gear. You can even rent out such heavy-duty bags.
Having an itinerary of all the activities you will be doing will help you chalk out the things you need. You can carry some from home and get others at the destination.
9. Trip Itinerary – Printout
Have a detailed itinerary and figure out which parts of the city you are going to explore.
Maintain an excel sheet and print it at the end. Compile information like the nearest train or bus stations and phone numbers on it and pin it on your map.
Remember, there's only so much you can cover in each place in a single trip. So, narrow down your interests and make a note of them.
Have a short shot plan for every day and some flexible soft spots.
Make reservations in advance, pay online to avoid queues, and carry whatever you might need to save money.
Finalize the checklists with the names of the hotels, phone numbers, and everything else that might come in handy during your trip.
Infographic: The Ultimate Tips To Organize Your Travel Packing
You may have thought making sure you have packed everything you need is the only concern while getting ready for a trip, but think again. Imagine having to open your luggage at the security checkpoint and everything just spills out of your bag, making an epic mess! We don't want that! As much as carrying all necessities is important, organizing your luggage for convenience and space will take some burden off your shoulders while traveling. If you are unsure how to organize your luggage, we can help you with another checklist. Scroll down for an infographic on useful tips for organizing your travel bags.


It is always important to be aware of the climatic conditions of the place you will visit before even thinking about what to pack for a trip. Also, make a list of places you would like to see there and pack your essentials accordingly. Always wear comfortable clothes to enjoy your trip and not bother about anything else. The lesser you carry, the better. Get your hands on the travel-sized products that are widely available today. Most importantly, make sure that your travel bags are in good condition. You would not want to break a strap while you are hiking.
Frequently Asked Questions
How many clothes should I pack for a week's trip?
It depends on where you are headed and why. If it is a regular trip, you will need at least a couple of trousers, skirts, and dresses, depending on the choice of your clothing. Carry blazers if your work requires it, and play around with the remaining outfits. Take two or three pairs of nightwear and repeat them if you want, but never repeat your daytime outfits. When it comes to inner garments, always pack extra.
How do you roll clothes for packing?
Compact packing is a boon and an important life hack to learn. There are many ways to do it. Watch this video to learn how to do it. Practice it a few times until you master it.
How do you pack a suitcase for 7 days?
It is easy to pack your suitcase for a week, you just have to limit yourself. You can include a maximum of four tops, five sets of underwear, and three bottoms with a pair of shoes and a first-aid or utility bag.
What should you not pack for a trip?
You should not pack any unnecessary items such as heavy electronic gadgets, jewelry, excessive denims, bedsheets, and multiple sharp objects.
Key Takeaways
Make a checklist of the essential things you are planning to take on the trip.
While packing for a trip, remember to take all the travel documents like id proofs, travel insurance, and itinerary. Also, pack a first aid kit and toiletries.
Try to pack clothes, shoes, skin-care products, makeup, and accessories considering the weather and destination, and avoid over-packing.
You can also pack books, magazines, or earphones to listen to music as entertainment options to pass time during the trip.