What To Wear When You're Hiking – The Essentials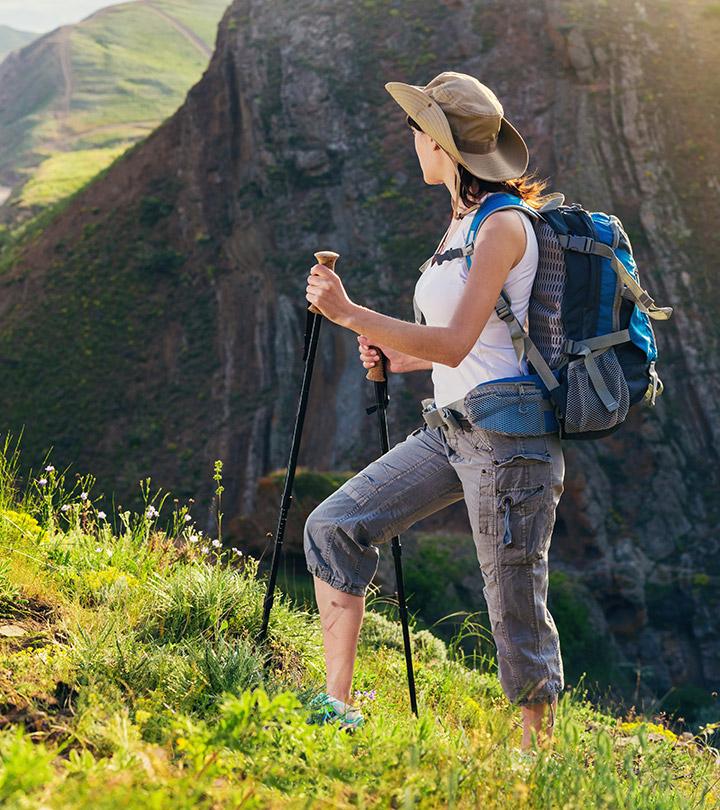 Hiking doesn't require much, other than a few basic essentials. If you are going on small adventure hiking trips, all you need are a sturdy pair of denim shorts, a water bottle, and a first-aid kit.
But this is just for an hour-long hike. Most often, it's good to be stocked and prepared for your journey. It also is important to check the weather forecast before you hit the hills. Well, there's more to do.
We have put together some of the essentials a hiker would need during each season. If you are planning on heading out for a hike soon, read this article to know just what you might need!
Important Factors To Keep In Mind While Picking Out Hiking Outfits
1. Safety
It is of key importance that you are aware of the environment you are about to explore. Keep in mind to check the weather forecast, so you have an idea of what it will be like. It's easy to pick out clothes if you know the weather you'd be facing. If it's winter, a warm sweater, boots, and gloves will work. During summer, a cap, a pair of denim shorts, and shades are preferable. Never neglect your safety.
2. Comfort Level
Comfort is important when it comes to hiking. Hence, anything cotton is preferable. Hiking is something that will eventually make you sweat with all the moving around. You need something that will absorb moisture and sweat while still keeping you cool. Though you want to look pretty good on your hike, try not to opt for tight-fitting clothes. They will only make you feel super hot and itchy.
3. Clothing Versatility
If you are out buying clothes for a hiking trip, keep in mind and think if you can also wear them elsewhere. For example, shorts can be worn on multiple occasions, and so is the case with loose fit tank tops. Clothing items like these are versatile and can be worn on more than one occasion.
These are the basics. In the following sections, we will look at what you need to wear while going for a hike in different seasons.
What You Can Wear For Winter Hikes
Hiking during winter can be so much fun. The cold air and the snow and the chilling breeze can really make you feel physically and mentally alive. Here are some winter essentials you'd need to go on that winter hike.
Hardshell jackets will not only keep you warm but also protect you from drizzle and snowfall. Their water-repellent factor proves very handy during winter hikes. Hardshell jackets are available in multiple colors and look quite sporty. They are perfect for a cold hiking day during the winter season.
Hardshell pants, just like hardshell jackets, are protective during the harsh weather. They are water-repellent and keep you safe and well covered. It's essential to carry them or wear them during the cold, harsh weather.
These pants can be quite useful during winter hikes. They are often loose-fitted and allow your skin to breathe while keeping you warm. These pants come with pockets on either side and can be used to stock small essentials.
Who doesn't want a hooded jacket? It's cozy, warm, and efficient. The hood acts as a protective covering for your head during the cold, and the jacket with pockets can be useful during the hike. Hooded jackets come in different styles and colors. Pick your favorite and hike around with it.
Gloves are not just essential but can be worn to make a style statement. They keep your palms warm, and during winter hikes, these are really a basic essential. A warm pair of gloves is a must-have for these kinds of adventures.
Hats don't do much to protect you during winter hikes, but they sure do look super adorable and stylish. You can pair them with any of your hiking outfits and look effortlessly great!
Warm socks are an absolute essential to wear during hikes. The feet heat your entire body when kept warm. A warm pair of socks is something you need to always carry and wear during hikes.
Winter boots are a great choice of footwear during hikes. They are stylish, sturdy, and just apt for the weather. These boots are apt for walking in bushes or the snow. Winter boots come in many styles and sizes, so pick your favorite shoe and ace it!
What To Wear When Hiking During Rainy Days
Hiking during the rainy season can be quite refreshing. There are puddles everywhere, with faint dewdrops and the earthy smell of rain. This kind of a hike sure sounds like nature's best moments, doesn't it? We have put together a few clothing essentials you'll need to hike during the rains. Take a look!
Layering clothes during the rainy season is a smart idea. You can layer your clothes with a cotton tank top with a sheeter jacket, and if the weather is too cold or rainy, you can opt for another jacket. Raincoat would be your best option during this time.
Lightweight hoodies can be quite handy during the rainy season. As they are light, they allow your skin to breathe without leaving you to shiver in the cold. During rainy day hikes, lightweight hoodies are your best bet after raincoats. They not only act as a protective sheath but also look really cute.
Polyester jackets, unlike lightweight hoodies, are water- and moisture-repellent. They not only keep the water at bay but also help in keeping you warm. They are available in multiple colors, and you get some with hoodies, and some without them.
It is important to wear hiking pants during hiking trips. They are tough and sturdy and protect your skin. These pants are perfect to wear while traveling during the rains as they are heavy and keep your skin dry. They come with multiple pockets in case you want to keep small essentials in them (like your phone or a snack bar).
It is easy for water to slip inside your shoes when you are hiking during the rains. Stepping in puddles or ponds can cause water to enter your shoes. In such cases, you will need waterproof socks to help keep your feet dry and warm.
Gaiters are a protective covering that are worn over your shoes to keep them dry during the rain or any other water-related activity. Gaiters will not only keep your shoes from getting wet but also keep them clean from the slush and muddy waters.
It is a given that when you are out hiking, you need to be wearing hiking boots. These are most preferred by hikers all over the world as they are strong, sturdy, and keep your legs protected during the adventure that awaits you. The journey could be rough when you have to climb rocks or steep slopes. These hiking boots have an amazingly strong grip and prevent you from slipping.
Caps are cool accessories. They are casual, stylish, and can even protect your eyes and head in some ways. For people who don't have hoods on their jackets, wearing a cap can be quite sufficient.
What To Wear For Summer Hikes
Most often, the warm sunny days seem to be the best time to step out for hikes. The weather is pleasant, warm, and bright. However, it can get quite hot and humid. To deal with this, you'll need the right kind of clothing. We have put together some clothing essentials you'll need for summer hiking adventures. Read on to know more!
Loose Breathable Hiking Tops
You'll never know how important loose fitted breathable tops are unless you're on a hill, sweating away and feeling hot as ever. These tops allow your skin to breathe and keep it cool during the hot summer hike.
For that summer hike, opt for shorts rather than full-length pants. They allow your skin to take in all that vitamin D as well as help it breathe. Hiking shorts make it easier to climb rocks, hills, etc. as compared to pants. You can wear a belt to up the style quotient.
Hiking pants are fun, protective, and efficient. They come with multiple pockets at the front and back. Hiking pants can be worn to protect your legs from getting tanned. They are a fairly good option for summer hikes.
For summer hikes, hiking shoes are the best option. They are strong, sturdy, and have an amazing grip. Hiking shoes help a great deal in climbing rocks, hills, and other muddy slopes. They are also super comfortable, and most of them have a cushiony layer on the inside to prevent your feet from getting sore.
Hiking socks are comfortable to wear as they absorb moisture and sweat from your feet and keep them dry. During summer days, hiking socks are needed as they keep germs away. They also add a soft layer under your hiking shoes.
Caps look cool and stylish and protect your head from the strong rays of the sun. Caps can also be used as a replacement for hoodies.
These are some of the clothing essentials you'll need when you're out hiking. Depending on the season and how the weather is, pick the right hiking outfit. Which one of the seasons do you like to step out for a hike in? Let us know by leaving a comment in the box below.
The following two tabs change content below.

Latest posts by Nooraine Firdouse (see all)