What To Wear To A Baby Shower – Outfit Ideas
First of all, congratulations! You are soon going to be an aunt, a Godmother, a guardian or part of someone's life while they welcome and embrace their little bundle of joy, that's going to enter and change everyone's life for good and best. So, getting an invite is just the tip of the iceberg. From gifting the mom-to-be to shopping for a dress, it's all about planning. Considering that you will invariably end up with a lot of pictures, you better be prim and polished.
So, what are your choices? Even though there aren't any hard-hitting rules, there are some that we better follow. After all, you don't want to stick out like a sore thumb. Don't worry; we won't let you be that. We'll talk all about it! Click away to get some fashion inspiration!
1. For The Mom-To-Be
If you are the mom-to-be or shopping for her, you always have to remind yourself that the outfit needs to be comfortable, smooth and easy. As easy as it can get. If you already have a theme in mind or know of the baby's gender, it's a great starting point for you and the guests too.
Maternity wear is a significant segment in fashion right now, and there's so much happening in there. So bring out the fashionista in you, or embrace it if there's one in you and go with slightly off-beat choices like a jump-suit, an asymmetrical dress or a straight satin gown. There's always the obvious choice like a one-piece flowing dress, that is airy and soft. Or rock that bodycon dress, and throw in a blazer or a classy pashmina to add definition to your outfit.
[ Read: 15 Latest Jumpsuits That Prove That They Are For Everyone ]
2. What To Wear To A Baby Shower Tea Party
If the invite for the baby shower says tea party, then you know it's usually in the late afternoon and early evening, so pick something accordingly. Keep it simple, semi-formal and stylish. Like a maxi skirt with a blazer, light or pastel colored lace dress. If there's a color or theme in the invite, incorporate that in your dress or little details like accessories, shoes, waist belt, blazer, etc. If it's a low-key private affair, you could even do with a pair of distressed denim or sleek trousers with a ruffled silk or linen top. Amp up the look with an attractive tote bag or shoes. Silk, satin or short floral dresses are your other stylish choices.
3. What To Wear To A Baby Shower Party In Summer?
Summers don't mean flaunting that hot bikini-body. Well, yes if you have been working towards that. But it just means no jackets, comfortable and happy pieces of clothing, or just whatever you please. So, without being too in-your-face, blend with the theme with some vibrant and happy summer colors. Add beautiful jewelry like danglers or chains. Wear wedges or pumps; you will never go wrong with them.
4. What To Wear To A Baby Shower In Spring?
The spring collection is the most awaited because it's the first time you get to shop after three long months of winter and being all covered up. If you are like me and waiting for a reason to wear a maxi, you know what to wear. Or, if you're tired of wearing too many clothes, suit yourself with a modish short dress. They are safe choices too!
[ Read: How To Wear A Maxi Skirt ]
5. What To Wear To A Baby Shower In The Fall?
Fall is your one last chance at wearing those maxi dresses and one piece gowns that we can never get enough of. Get that one dress that you absolutely love and play around with the accessories that fit the baby shower bill. Even a loose-short kaftan or shirt dress are great options if you can treat it the right way!
6. What To Wear To A Baby Shower In Winter?
Parties in winter can be tricky, but if you think about it, they can be a blessing in disguise. You ask why? Because you can just play around with layers and wear something you have used before if you are smart about it. You can be creative by dressing up in a pantsuit/jumpsuit and cover it up with a chic looking fur jacket, trench coat or a long warm shrug. Or, wear a dress with leggings, a flowing contrast sweater and a scarf that brings out the look. But one thing that will never fail you is to choose an accessory or statement piece that stands out. That and only that make your winter clothing bright and fun.
7. What To Wear To A Baby Shower Brunch Party?
Think about what you'd usually wear to your Sunday brunch at a fancy place? It's usually a little more than your casual dressing. So, consider something on similar lines like a one-piece ruffled dress, a long skirt, and a silk blouse or even white jeans and a chiffon top amongst others. If there's a dress or color code, you already have your cues, so either incorporate them into the outfit or use them proportionately. As long as your dress isn't overtly transparent, inappropriate or over the top, a brunch party is the easiest to deal with.
8. What To Wear To A Baby Shower Lunch?
A luncheon with the ladies is fun any given day, and if it's somebody's baby shower, it makes it twice as good. Whatever it is that you decide to do; keep the colors light and soothing. Pastels, yellows, powder blues, whites and grays with fine body jewelry, wedges, beach waves and some fancy sunglasses if it's an outdoor setting.
Expert's Answers For Readers' Questions
Can I wear jeans to a baby shower?
It's pretty subjective to the invite and the host. The hosts usually give you a heads-up on the dress or color code if there is one. If there isn't a mention about this, ask around and find out from the other guests just to be doubly sure. Sometimes it's a very casual setting, and the host does not mind, in that case, it should be good. Wear a white/light colored jeans with a slightly formal or chic top. Just showing up in a graphic T-shirt is never a good idea.
What to take to a baby shower ?
If it's a potluck or surprise party, ask the host what you can bring to the table or offer help with planning the event, decor, food, cake, supplies, etc. If there's none, then carrying some flowers along is always a good idea. As far as a gift is concerned, shop for something utilitarian. Get as creative as you can and leave a personal touch. The mother-to-be needs to be pampered, and she deserves it, so whatever it takes.
Choosing what to wear is hard no matter what the event is. And, events like baby showers which are usually a close-knit affair, we better be prepared. Remember, it's always best to dress up than dress down for events like these. Do you have any dress ideas? Write back to us by leaving a text in the comment section below.
Recommended Articles

The following two tabs change content below.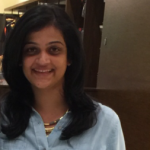 Latest posts by Pratima Ati (see all)