15 Best Fall Wedding Outfit Ideas For Women To Try In 2023
Steal the limelight in these gorgeous attires with a backdrop of riveting fall colors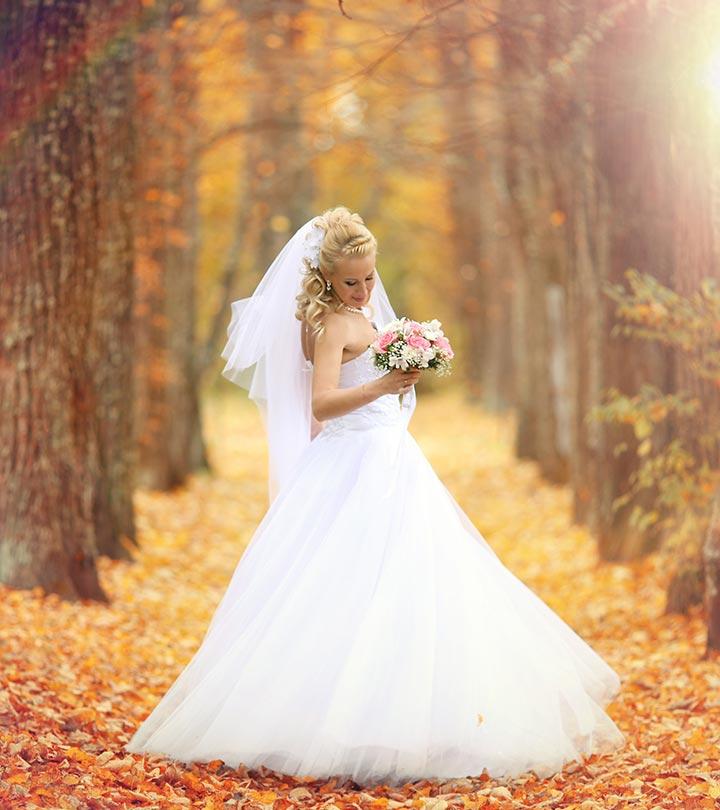 If there is that one perfect time to get married or get invited to a wedding, then it is fall. Fall weddings are totally a thing as they just let you the beauty of colors like no other. So if you want to stand out in the crowd at a wedding, then you are in the right place, for we are here to help you with some must-try fall wedding outfit ideas and fall wedding guest outfits. You already have the perfect setting to flaunt your outfit – beautiful fall leaves, decor based on fall colors, and a finger-licking menu that give you the fall vibe. All you have to do is, scroll down and pick the one look your heart desires. Now, before it is too late, go ahead and get started.


Ace The Look
Body Type: Opt for a fitted wrap dress with a V-neck or a knee-length A-line dress if you have an hourglass body, a fit-and-flare dress if you have a petite body, and a peplum top paired with a pencil skirt or a bodycon if you have a rectangular body.
Bag: A structured clutch or a small top-handle bag in a neutral or complementary color goes well with fall wedding outfits. You may also opt for a small crossbody bag with a chain strap or a mini-clutch with metallic accents or embellishments.
Accessories: Add a statement necklace or earrings or layered necklaces with small stud earrings and a cuff bracelet to your outfit to amp up your look.
Footwear: Pair your outfit with strappy heels or pumps, open-toe heels, ankle boots, or pointed-toe flats in a coordinating color to give it an elegant touch.
What Color Dress To Wear To A Fall Wedding?
Take cues from the season for a perfect fall wedding dress. Choose a color that complements the colors outside and play along with it. For instance, if you decide to go with a burnt orange maxi, select accessories that are slightly mellow. If you think pastels define you, opt for a floral or fun foliage print shoe to complement the pastel hues or gold earrings. You get the drift?
15 Latest Fall Wedding Outfit Ideas – 2019 New Collections
1. Asymmetrical Fall Guest Wedding Dress
We are often stuck between polarizing choices – bright or black, short or long, minimal or over the top. Sometimes (if not always), we have solutions. How about a high-low party dress that combines the best of both worlds? Here's a dress that is formal but also very relaxed. The illusion neckline, waist belt, and sleeveless pattern in burgundy are a perfect match for this weather. So, if you are headed to an outdoor wedding, click pictures – a lot of them.
2. Olive Green Off-Shoulder Ruffle Dress
I'm not sure if you have gotten the memo yet, but olive green is the new color everyone is raving about. Suddenly, everyone is showing up in olive green denims too. It's an interesting choice of color – it's bold yet elegant and camouflages those curves, and all of it by breaking the typical little black dress stereotype. Go with this one-sided, rustic off-shoulder dress with ruffles that create definition and steer the attention away. Carry a silver clutch and pumps of the same color.

Quick Tip
Alternatively, you can also select a velvet olive green dress with meticulous detailing and tie-waist pants as the fall wedding outfit.
3. Yellow Lace Dress For A Fall Evening Wedding
Look out of your window in fall, and you'll realize that all those colors are all about their darkest shades – burnt oranges, flaming reds, deep purples, and bright yellows. But you can pick any of these shades and go with a pastel hue to look like a daisy yourself. This yellow lace dress with halter neck and overlay knit work is just the outfit you will need. Style your hair in beachy waves, a rose gold watch, and nude pumps to complete this ensemble.
4. Burgundy Short Dress And OTK Boots For Outdoor Fall Wedding
Deep purple or burgundy is one of the most beautiful shades, and it fits the fall bill. Instead of going floral, choose a plain knee-length dress with full sleeves. A little detail, like the ruffled hemline, is enough to define the dress. If the theme and location permit, don't shy away from wearing OTK boots because it's become a huge thing now and will also keep you cozy and warm. You can also style your outfit with leather boots and wrap a scarf around your neck to complete your look. Wear a small sling bag and silver earrings and put on some smokey makeup.
5. Magenta Wrap Style Cocktail Lace Dress For Fall Wedding
Cocktail dresses do not necessarily mean over the top jazzy and blingy dresses. They can be elegant and minimalistic, yet charming. A magenta or crimson red lace dress in a wrap-around style accentuates your assets and lifts them at the right places. It creates a beautiful V-neckline that helps show off your beauty bones too. Red lipstick and nude makeup could be an interesting idea here and can add to the romantic allure.
6. Full Sleeves Fall Guest Wedding Dress
Are you headed to an evening wedding in fall? Here's an evening dress that is fit for the occasion. The satin fabric adds sheen to the outfit while the elastic detailing at the lower waist and the sleeves makes it look like a dress that is not your typical knee length dress. You can also top it off with a plaid blazer to make the look more interesting. Finish the look with animal print accessories like a clutch and/or pumps to look like a total diva.
7. Red Off Shoulder Lace Dress
There's nothing more appropriate than a flaming hot red dress for a fall wedding. Go with an off-shoulder full sleeved dress with a curved neckline and knitwork for the bodice that adds charm to the outfit. Accessorize with minimalistic accessories or something that will make everything pop for the right reasons.
8. Collar Style Floral Dress For An Afternoon Fall Wedding
Have an invite for an afternoon wedding in fall? Choose something floral or pastel because everything else will be super bright. Subtle florals and muted pastels have a calming effect while details like the collar neckline take care of the style. You can also amp up your look by a tweed jacket over this dress if there is a nip in the air. Finish with nude pumps and a low-profile purse with a metallic chain strap to elevate the looking
9. Royal Blue Crepe Dress For A Fall Beach Wedding
Beach wedding in fall? The setting could not get better, so make use of the beautiful canvas and show off your style. Go with a royal blue crepe dress, which is a unique yet elegant color. The layers and asymmetrical design element make this a beautiful silhouette.
10. Pastel Lace Formal Dress For A Fall Wedding
When the dress code on the invite says formal, it doesn't necessarily mean that you dress like you're going to a business meeting. Go with dresses that are elegant and stylish but also look formal, like this pastel-colored lace maxi gown. The fit, flare, and every little detail make this dress look like a dream, and so will you. You can also wear lace gloves that complement the attire and add to its charm.
11. Magenta Gown With Flap Sleeves And Embellishments
If you love gowns and are always looking for reasons to shop and wear them, here's a dress that will impress you while still being apt for fall. The cape-like flap sleeves are the show-stopper of this gown, and the embellished neckline is like icing on this beautiful cake.
12. Long Sleeves Kaftan Style Semi-Formal Fall Wedding Dress
If the fall wedding invite says formal dressing, or you think the venue inches towards formal or semi-formal dressing, go with dresses that are not just formal but stylish too. A white flowing kaftan-style maxi dress with subtle gold embellishments at the waist is a discerning choice. You can also sport hats with this one.
13. Floral Maxi Dress For Guests
A mustard floral maxi dress with a side slit, balloon sleeves, and plunge V-neckline that cinches at the waist is what fall wedding dress dreams are made of. Simple and stunning! Style this look with a chignon updo, red lipstick, tan bag, and an elegant suede pump in a rich colors to complete this look.


Quick Tip
Alternatively, you can also wear formal yet fancy, semi-formal yet sleek, or casual yet fun printed maxi gowns to a fall wedding.
14. Halter Style High-Low Fall Wedding Guest Dress
There is something about floral that instantly brightens up your outfit. And when it is a dress like this one, you can't refuse it. The slender halter neck with a tapered bodice and waistline cascading into loose pleats and a high-low hemline is a visual masterpiece and just perfect. Wear ankle strap heels to complement this outfit.
15. Blush Pink Cold Shoulder Maxi Dress For A Beach Wedding
A cold shoulder wrap maxi dress is what you need to try at the next beach wedding. This blush pink dress is subtle yet exquisite, thanks to its flattering bodice, tieable waist accent, front slit, and flowing hemline. Choose pastel pumps and dull gold accessories to match the vibe.
Infographic: Gorgeous Accessories For Fall Weddings
The best thing about seasonal weddings is the endless creative possibilities when it comes to your outfit. And autumn just happens to arrive with the prettiest shades of reds and browns! If you have been invited to a fall wedding and need some accessorizing inspiration, check out the infographic below!



With the above fall wedding outfit ideas, you can now be well assured of making a style statement on your big day. These outfits make you stand apart in the crowd without appearing too loud or flashy. With various options for different body types, you can choose the color, fabric, and style as per your comfort, fit, and preference. Be it a morning wedding or an evening after-wedding party, pick any of the above-listed outfits to steal the limelight and make your special day memorable.
Frequently Asked Questions
Can you wear pink to a fall wedding?
While fall colors like bronze, gold, orange, burgandy and reds are more common choices for a fall wedding, pink is also acceptable and can act as a great neutral or an accent.
Can you wear pants to a fall wedding?
Yes, you can go with tailored pants and a showy blouse for a fall wedding.
Can you wear a jumpsuit to a fall wedding?
Jumpsuits are a great outfit choice for weddings and other special occasions. Be sure to accessorize it well and choose colors that suit the occasion and your skin tone.
Can you wear black pants to a fall wedding?
Though traditionally black is considered a color for mourning, black at weddings is acceptable these days. So you can wear black pants as part of a suit to a fall wedding and elevate your look with accents of fall appropriate colors.
Key Takeaways
Choose an outfit that is inspired by fall colors such as shades of deep purple, burnt orange, and red.
Look for fabrics that are suitable for this weather such as ones with lace and knitwork.
If the event requires formal wear you can pick a floor-length gown.
If the wedding is a casual or semi-casual one, you can choose a less formal outfit like a maxi dress.

Looking for some wedding guest outfit ideas for a fall wedding? Take inspiration from this video showing 3 stylish and cozy outfits that you can style on the upcoming occasion.

The following two tabs change content below.