What To Wear To A Party – Best Outfit Ideas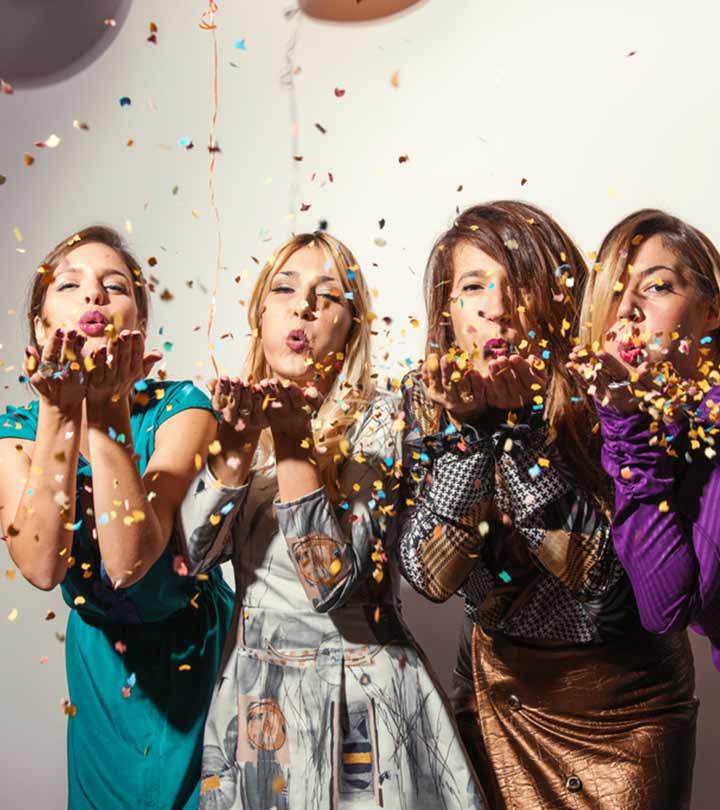 Back in the day, we would all wait for Halloween, Thanksgiving, and Christmas parties to dress up. Then there were summer, backyard, and BBQ parties – and, of course, the kitty parties. Cut to the present scenario – we just need a reason to party, dress up, drink, and dance. There are all sorts of parties, some that we are almost clueless about. I have had so many such invites just over the last few months – and I always drew a blank on what to wear to these parties! I have a feeling…it's not just me. And so, that's what I decided to talk about. If you have an invite and not sure what to wear to it, or, you're just generally looking for party wear outfit ideas, you've come to the right place.
Now, get ready to rock that party because you have nothing to worry about. Let's do this!
Best Party Wear Outfit Ideas
1. 90s Themed Party
If you look closely at the 90s fashion trends, they were all about those big hoops, mommy pants, dungarees, plaid shirts, rock band T-shirts, matching separates, round glasses, chokers, and not to forget our current favorite – crop tops. If you are headed to a 90s themed party, this is what is usually expected of you. You can easily incorporate a combination of these – and you are sorted. Plus, most of these are making a comeback, so, I'm sure they are already a part of your closet. You don't have to do much here, just dress up, show up, and groove to some retro music.
2. Christmas Party
Christmas is around the corner, and I'm guessing that you are already flooded with invitations, or you have a vague list of the parties you have to attend. It's that time of the year we all want to unwind, party, and forget the stress of the whole year. So, go all out, look your best. The obvious choices are a little black dress, a red dress, or a blue lace dress – or anything on those lines. However, this time around, try pantsuits, matching separates or monochromes. Accessorize with fine body jewelry to complete the look.
3. House Party
If you are looking for house party ideas, it either means that the party is moving indoors because 'Winter is coming' (see what I did there?), or it is a house party in the most real sense. It implies that there will be beer pong, charades, sticker stalker, and other activities. So unless there is a theme mentioned in the invite, you can wear just about anything – from a maxi to distressed jeans, a shirt dress to leather pants. Keep your makeup low key because it is an indoor setup, but let that one accessory or lipstick pop to look effortless and chic.
4. Masquerade Party
Are you attending a masquerade party or a ball? While the former is a more relaxed event at an informal environment, a masquerade ball is quite a serious affair, so you need to know what it is going to be like. The next thing to take into account would be your mask – choose that first, it makes your life so much easier. Choose a dress that complements your mask, meaning, it can either be in the same color or in a contrasting one, but overall makes a complete outfit. You could choose a corset or an A-line dress, pencil skirts with a formal top, etc. Make sure you wear heels because they look elegant and lift your entire look almost instantly. Don't put in too many colors in your outfit; it can end up looking loud and gaudy.
5. Birthday Party
Honestly, birthday parties are the easiest to dress up for, because more often than not there is a theme. The only thing you probably have to remember is that it is not your birthday and so you don't have to steal the thunder. A crop top and skirt, ripped jeans and shirt, one piece boho dress, hot pants or skinny jeans with a leather jacket, etc. are interesting choices.
6. Cocktail Party
If you have to follow the norms of a cocktail party to the 'T", then it is a formal setup, and so, you are expected to show up in dresses that are formal, yet celebratory. You would have heard this before, but we will say it anyway – if you don't want your boss to see you in a dress, simply don't wear that to a cocktail party. There's always a thin line between being stylish and sleazy, and a pretty slim one, so tread carefully. A-line dresses are your best bet, or anything long and defining is good too. Pantsuits, sleek trousers or palazzo sets are also okay if you can pull them off. Carry a clutch, wear elevated footwear if you can't manage stilettos, wear a statement accessory that stands out and is elegant – and you are well on your way to rocking the party in elegance and style.
7. Pool Party
There are a couple of ways to approach this look, and no right way to do. Even if the party is by the pool and not in the pool, or you decide to stay dry and outside the wet zone, it's good to be dressed to match the party theme. Wear a floral one piece, fedora, shades, and platform heels or flats; or shorts with a cold-shoulder top, bohemian style maxi, etc. However, if the party is all about music, drinks, and the guests decide to take a deep dive, you need to be more functional. Choose a bikini or a swimsuit of your choice that is both stylish and comfortable. Top it up with a pair of shorts, a strapless playsuit, a cover up dress, etc. that you can yank off just before you jump in. Choose clothes that quickly dry off. You might want to always carry an extra pair because you never know when you get pushed. So, talk to the host or your friends so that you know what to expect. As for me, I can't wait to jump right in.
8. College Party
College parties are more often than not going to be about drinking, dancing, fun activities, etc., so wear something comfortable, chic, and well put together – it does not have to be couture. You are just students, and anything is acceptable. Layering up and adding leather jackets and accessories like a choker, body bag, and white converse shoes is a smart approach. Work your way through your existing wardrobe and be smart about it.
9. Bachelorette Party
Bachelorette parties are one of the easiest to dress up for because if you are invited to one, I'm assuming you are in the innermost friends' circle of the bride, and you guys have a solid plan. Even otherwise, just wear something fun, casual, yet decent without stealing the attention from the bride-to-be. You can wear that LBD, a lace dress, jumpsuit, or a satin dress as long as you go with the flow. Bachelorette parties will invariably have a lot of props, so show your best side, and get some groupfies to reminisce later (and stories you definitely don't want to).
10. Dinner Party
Dinner parties are not like cocktail parties or ceremonies, but they need you to be dressed in something elegant while being casual. So, even if it is an in-house party, it's never really a good idea to wear your grunge 90s attire. Let the shades of whatever it is that you choose to wear be subdued and subtle, or at least not as flashy as it would be on a summer afternoon. Powdered colors, pastels, sequins, etc. are exciting choices you can play around with.
11. Beach Party
Flowy, floral, and fun is your answer. Pull out all the airy outfits in your closet like those maxis, playsuits, kaftan one-piece dresses, ponchos, shorts, crop tops, and cowl pants. Whatever makes you happy, girl! Skip those stilettos for obvious reasons and resort to wearing gladiators, pom-pom sandals, platform flip-flops or just everyday ballerinas. Go all out with funky accessories and get those beach curls that will never fail you – thank us later. Remember that it's always a good idea to choose colors that complement the sea like corals, teal, turquoise, yellow, grey, etc.
12. Foam Party
Just wear clothes that you do not mind getting spoiled. There is going to be a lot of foam, and you are going to get wet, so for obvious reasons you should wear a bikini, swimsuit, basketball or running shorts with a waterproof tank or a jersey. Keep your makeup minimal, and most importantly, waterproof. Tie up your hair in a bandana and revamp your look instantly.
13. Boat Party
Whether it is a private yacht party you are attending, a party on a cruise vacation, or dinner on the cruise ship in your city, keep the outfit on-point and polished. If you are tired of wearing formal and one-piece dresses, you can also wear denim with a chiffon, off-shoulder top; a side slit maxi with pumps; a striped dress; a pantsuit, etc. Classy is the way to go!
14. Party In Winter
Winters are gloomy, cold, and dark, but that does not mean you stop partying or dressing up for them. Since it is all about layers, add definition to your outfit. Wear a woolen dress with stockings, cinch it at the waist with a broad belt, and put on a long jacket; or wear white jeans and knee length boots with a trench coat. You could also go for a monochrome look with s pashmina and a fur coat, and break the color with a statement neckpiece. Tie the scarf in a sleek way and even that can amp up your look. You will be surprised at how much fun winter dressing can be!
No matter what men say about girls and their madness for clothes, these things are more important than anybody realizes. And, it's okay if they are not onboard with this idea because being dressed appropriately and presentable is THE most important thing about attending a party, regardless of where you are going and who you are going with. Hope this was fun. Let me know if I missed something. Drop in a text in the comment section below.
The following two tabs change content below.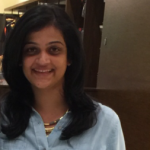 After working in Marketing and Business Development for a few years, Pratima Ati jumped ship to pursue two things she loved – fashion and writing. She's now a full-time Fashion & Lifestyle writer and has never looked back ever since. She sleeps early, reads often, and when she can't, she finally gives a closure to all the characters living in her drafts. Sometimes, they pass off as poetry too! That, and her training in Indian classical music and playing (learning) the veena keep her sane, civil, and bearable.