What To Wear To A Party – Best Outfit Ideas
Stand out from the crowd effortlessly at any themed party you go to with help from our guide!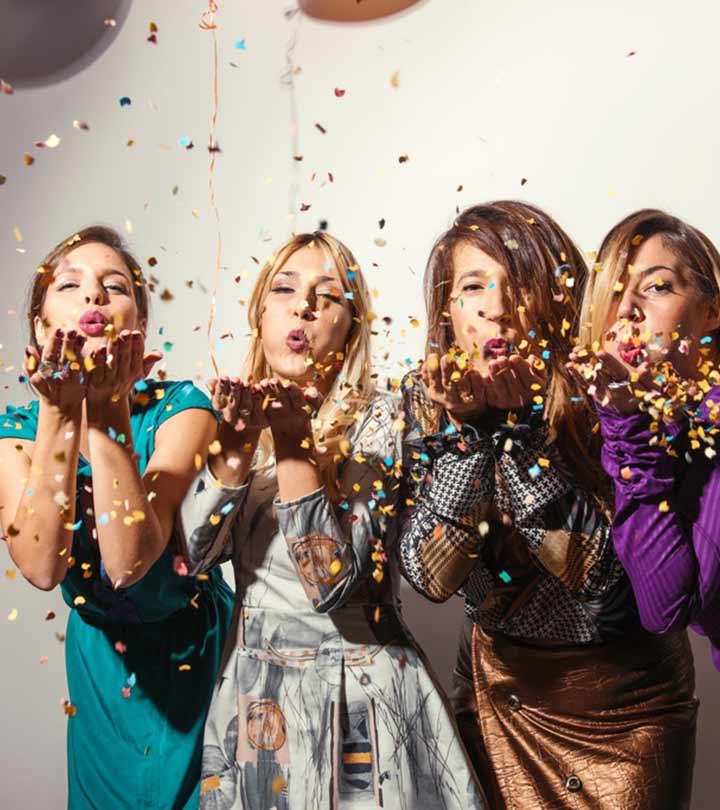 If you are on the lookout for some excellent party outfit ideas, then you will be happy to know that you have landed at the right place because we are here to help. Today, in this article, we will provide you with some worth trying ideas because we understand how significant these dresses are in today's day and age. We do not even wait for any occasion to dress up for now. Apart from Thanksgiving, Christmas, Halloween parties, and other parties like BBQ, backyard, kitty, birthday, promotion, engagement, and more, there are so many get-togethers we cannot wait to attend. Sometimes, we organize parties to dress up and look gorgeous. So, it is time for you to make that most crucial list of party attires that you can refer to while doing your shopping. For that, all you have to do is, scroll down and find the options that your heart desires to get a perfect party look. Now go on!


Ace The Look
Wearing Glitter: Sequins and sparkles work for both formal and informal party wear. Use less glitter and sequins for formal parties and more for less formal such as college parties.
Skin Tone: Choose party colors based on your skin tone. Warmer colors like orange, red, and yellow work best with warm skin tones. Colors like green, blue, and purple can be very flattering for cool skin tones.
Footwear: Style on-trend boots, ballet flats, and knee-length boots with solid-colored dresses or top-skirt combinations for a bold but not-there-yet look.
Classic Twist: Dress up a simple white shirt and jeans with a stunning pair of gold or brightly colored shoes to make a statement at any party.
Best Party Wear Outfit Ideas
1. 90s Themed Party
If you look closely at the 90s fashion trends, they were all about those big hoops, mom jeans, dad sneakers, dungarees, colorful knit sweaters and windbreakers, cut-up band T-shirts, matching sets with fun prints, small glasses, chokers, and not to forget our current favorite – crop tops. If you are headed to a 90s themed party, this is what is usually expected of you. You can easily incorporate a combination of these, or try to recreate looks from 90s' shows and movies like The Fresh Prince of Bel Air and Clueless. I'd suggest also looking to red carpet moments for inspiration. Plus, most of these are making a comeback, so, I'm sure they are already a part of your closet. You don't have to do much here, just dress up, show up, and groove to some retro music.


Quick Tip
Try these combinations: crop tee + denim dungarees, mom fit jeans + cropped blouse, rock band t-shirt + cropped jacket + flared jeans, or plaid shirt + ripped denim.
2. Christmas Party
Christmas is around the corner, and I'm guessing that you are already flooded with invitations, or you have a vague list of the parties you have to attend. It's that time of the year we all want to unwind, party, and forget the stress of the whole year. So, go all out, look your best. The obvious choices are a little black dress, a red dress, or a blue lace dress – or anything on those lines. However, this time around, try forest green pantsuits, a dark red cropped sweater with a matching midi skirt, a black off-the-shoulder mini dress, or a festive sequined slip dress. Accessorize with delicate gold or silver (depending on your warm or cool skin tone) to complete the look.
3. House Party
If you are looking for house party ideas, it either means that the party is moving indoors because 'Winter is coming' (see what I did there?), or it is a house party in the most real sense. It implies that there will be beer pong, charades, sticker stalker, and other activities. So unless there is a theme mentioned in the invite, you can wear just about anything – like a casual long sleeve dress or a white knit sweater with black leather pants. Keep your makeup low key because it is an indoor setup, but let that one accessory or lipstick pop to look effortless and chic.
4. Masquerade Party
Are you attending a masquerade party or a ball? While the former is a more relaxed event at an informal environment, a masquerade ball is quite a serious affair, so you need to know what it is going to be like. The next thing to take into account would be your mask – choose that first, it makes your life so much easier. Choose a dress that complements your mask, meaning, it can either be in the same color or in a contrasting one, but overall makes a complete outfit. Pick out a jewel-tone from your mask to match with, like ruby red, emerald green, or sapphire blue, and stick with it. Limit the number of colors you introduce to your outfit, because they otherwise can easily end up looking loud and gaudy. Make sure you wear heels or a pair of dressy pointed mules because they look elegant and lift your entire look almost instantly.


Quick Tip
Avoid dresses that have prints, patterns, or stripes. Opt for laces, ruffles, embroidery, or mirror work on a solid color instead.
5. Birthday Party
Honestly, birthday parties are the easiest to dress up for, because more often than not there is a theme. The only thing you probably have to remember is that it is not your birthday and so you don't have to steal the thunder. A crop top and skirt, ripped jeans and shirt, one piece boho dress, hot pants or skinny jeans with a leather jacket, etc. are interesting choices.
6. Cocktail Party
If you have to follow the norms of a cocktail party to the 'T", then it is a formal setup, and so, you are expected to show up in dresses that are formal, yet celebratory. You may have heard this before, but we will say it anyway – if you don't want your boss to see you in a cocktail dress, simply don't wear that to a party. There's always a thin line between being stylish and sleazy, so tread carefully. A-line or mock-neck dresses are your best bet, or anything long and defining is good too. If you want to stand out, consider a dress with glitter or metallic details. You can also opt for bold colors to make a statement. Pantsuits, sleek trousers or palazzo sets are also okay if you can pull them off. Carry a clutch, wear elevated footwear like heeled boots if you can't manage stilettos, wear a statement accessory that stands out and is elegant – and you are well on your way to rocking the party in elegance and style.
7. Pool Party
There are a couple of ways to approach this look, and no right way to do. Even if the party is by the pool and not in the pool, or you decide to stay dry and outside the wet zone, it's good to be dressed to match the party theme. Wear a floral one piece, a floppy hat, shades, and platform heels or flats; or shorts with a cold-shoulder top, bohemian style maxi, etc. However, if the party is all about music, drinks, and the guests decide to take a deep dive, you need to be more functional. Choose a bikini or a swimsuit of your choice that is both stylish and comfortable. Top it up with a pair of terry shorts, a strapless playsuit, a halter cover up dress, etc. that you can yank off just before you jump in. Choose clothes made of materials that quickly dry off, like polyester or nylon. You might want to always carry an extra outfit because you never know when you get pushed. So, talk to the host or your friends so that you know what to expect. As for me, I can't wait to jump right in.
8. College Party
College parties are more often than not going to be about drinking, dancing, fun activities, etc., so wear something comfortable, chic, and well put together – it does not have to be couture. You are just students, and anything is acceptable. Layering up and adding leather jackets and accessories like a choker, body bag, and white converse shoes is a smart approach. Work your way through your existing wardrobe and be smart about it.
9. Bachelorette Party
Bachelorette parties are one of the easiest to dress up for because if you are invited to one, I'm assuming you are in the innermost friends' circle of the bride, and you guys have a solid plan. Even otherwise, just wear something fun, casual, yet decent without stealing the attention from the bride-to-be. You can wear that LBD, a lace dress, jumpsuit, or a satin dress as long as you go with the flow. Also, don't forget to accessorize with jewelry. A statement necklace, a pair of earrings, or a bracelet can add some sparkle and glamor to your look. A fascinator hat can also be a great way to add some flair to your outfit. However, if you are against dresses, then you can wear a tuxedo with a bow tie or suit and tie or a blazer with dress pants. Don't forget to add some accessories like cufflinks, ties, or a stylish watch to complete the look. If you want to stand out from the crowd, you can also try wearing suspenders with your suit. Bachelorette parties will invariably have a lot of props, so show your best side, and get some groupfies to reminisce later (and make stories you definitely won't want to share).
10. Dinner Party
Dinner parties are not like cocktail parties or ceremonies, but they need you to be dressed in something elegant while being casual. So, even if it is an in-house party, it's never really a good idea to wear your grunge 90s attire. Let the shades of whatever it is that you choose to wear be subdued and subtle, or at least not as flashy as it would be on a summer afternoon. Powdered colors, pastels, sequins, etc. are exciting choices you can play around with. Don't forget your hairstyle as it can complete your dinner party look. You can choose a sleek updo or loose curls. You can also add some accessories to your hair, such as a headband or a hairpin.
11. Beach Party
Flowy, floral, and fun is your answer. Pull out all the airy outfits in your closet like those maxis, playsuits, kaftan one-piece dresses, ponchos, shorts, crop tops, and high-waisted pants or cowl pants. Whatever makes you happy, girl! Skip those stilettos for obvious reasons and resort to wearing gladiators, pom-pom sandals, platform flip-flops, or slide-on mules. Go all out with funky accessories and get those beach curls that will never fail you – thank us later. Remember that it's always a good idea to choose colors that complement the sea like corals, teal, turquoise, yellow, grey, etc.
12. Foam Party
Just wear clothes that you do not mind getting spoiled. There is going to be a lot of foam, and you are going to get wet. So, for obvious reasons, you should wear a bikini, swimsuit, basketball or running shorts with a quick-drying tank or a jersey. For a chic look, tie a silk scarf around your waist to wear as a skirt over your bikini bottoms. Keep your makeup minimal, and most importantly, waterproof. Tie up your hair in a bandana and revamp your look instantly.
13. Boat Party
Whether it is a private yacht party you are attending, a party on a cruise vacation, or dinner on the cruise ship in your city, keep the outfit on-point and polished. If you are tired of wearing formal and one-piece dresses, you can also wear denim with a chiffon, off-shoulder top; a side slit maxi with pumps; a striped dress; a pantsuit, etc. Just keep in mind that it could get windy, so tight-fitting clothes would prevent wardrobe malfunctions and unintentional peep-shows from happening. Classy is the way to go!
14. Party In Winter
Winters are gloomy, cold, and dark, but that does not mean you stop partying or dressing up for them. Since it is all about layers, add definition to your outfit. Wear a woolen dress with stockings or fishnets, cinch it at the waist with a broad belt, and put on a pair of gloves and a long jacket; or wear white jeans and knee length boots with a trench coat. You could also go for a monochrome look with a pashmina and a fur coat, and break the color with a statement neckpiece. Tie the scarf or shawl in a sleek way and even that can amp up your look. You will be surprised at how much fun winter dressing can be!
The Booming Trend Of Rental Dresses
Everyone from vloggers to film actors rent their dresses as they require them only for a short duration. With social media intervention and the rise in the popularity of fashion vlogs and the film industry, the online clothing rental market is expected to expand at a CAGR of 7.4% from 2022 to 2030.
US Online Clothing Rental Market
Source: Online Clothing Rental Market Size And Share And Trends Analysis Report By End-user (Men and Women), By Dress Code (Formal - Casual - Traditional), By Region, And Segment Forecasts during 2022 - 2030
Infographic: What You Need To Create Casual Party Outfits For Different Occasions
Different parties demand different looks, but nothing is more common than casual parties and the need for interesting outfits for those parties. You can put together a chic outfit once you know what pieces of clothing are a good fit for a particular setting and event.
Check out the infographic below to find out what to wear to create an appropriate casual look for various parties.


The options are never-ending when it comes to party outfits. While dungarees, plaid shirts, and the like look perfect for the '90s themed party, pantsuits and monochromes are a must-wear for a Christmas get-together. Casuals will never go wrong for any house party. So, take your inspiration from the party outfit ideas mentioned above and get ready to look like a showstopper. Remember, a touch of style can go a long way, so don't be afraid to add some flair with accessories like ties, fedora hats, pocket squares, cufflinks, blazers, and dress shoes. Just ensure that your dress is as comfortable as it is glamorous. It is time for you to steal the show and win endless compliments!
Frequently Asked Questions
What do you wear to a casual party?
Jeans and a lovely top are a great outfit choice for a casual party. Wear a top with a unique neckline or sleeves, accessorize with a big necklace or statement earrings, and put on a pair of heels to finish off the look.
What is smart casual for a party?
Smart casual is a pretty ambiguous dress code that requires both sophisticated and informal attire. As a result, balance is necessary to pull off this look. The best way to ace this look is to wear black slacks or formal trousers with an off-the-shoulder top in a bold color.
What do you wear to an evening party?
Wear a luxe satin dress or a slip dress with a thigh-high slit to add some oomph to your look. In addition, a red velvet dress, a ribbed bodycon dress, or a mini dress with cutouts will also make for a stylish evening party look.
Which colors are best for a day party?
Look for pastel colors such as dusky or pale pink, powder blue, and mint green. In addition, one can wear lighter shades such as beige, gray, white, and ivory. These soft hues don't look intimidating in broad daylight. They are easy on the eyes and have a delicate, elegant appeal.
What colors look best at a night party?
Wear dark colors such as reds, blacks, and darker shades of purple, green, gray, and blue. One can also wear jewel tones like emerald green, sapphire blue, and ruby red.
Key Takeaways
Choose the right fabric according to the party—lightweight materials and quick-drying fabrics are your best options.
Dress comfortably and confidently and never forget your accessories.
Layer up or go monochrome to add definition to your outfit.
Waterproof makeup is a must for beach parties as are flowy clothes.
Elegant and casual is the key to dressing for dinner parties.
Check out this video for some awesome party outfit ideas! Get ready to look your best and make a statement the next time you're letting your hair down.
The following two tabs change content below.