What To Wear With White Jeans – Outfit Ideas
Take hints from these ideas and style your white jeans in the most flattering ways.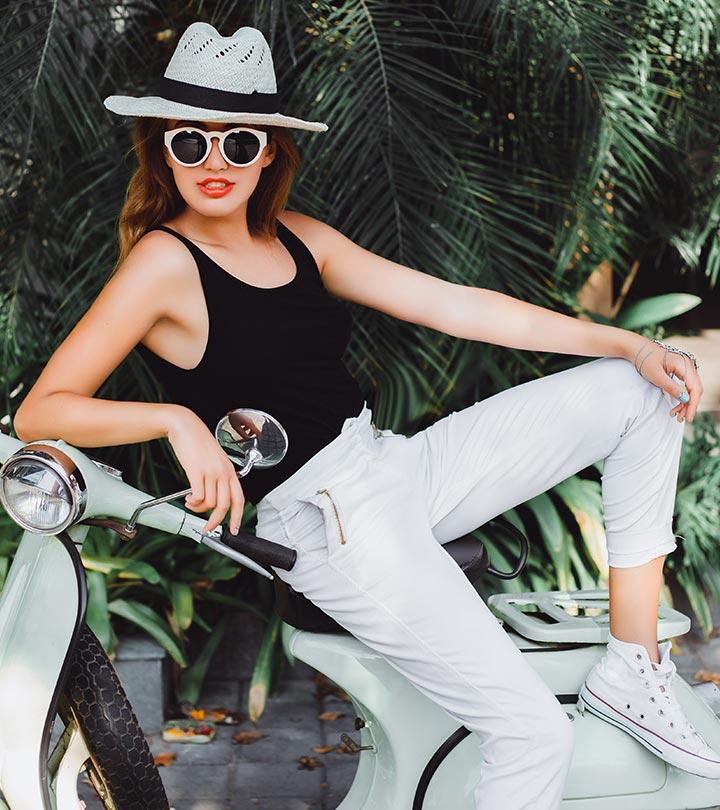 Trust us when we say this: when you know what to wear with white jeans, you are surely going to steal the show despite the fact most people are often apprehensive about putting on a white pair of jeans. So if you want to know how to style these pairs of jeans and look like a showstopper, then you should be glad to know that we are here to help. Today, in this article, we are going to provide you with some amazing and unique ideas to style a white pair of jeans. So scroll down and check out which white jeans combination best suits you. Come on!
Ace The Look
Durability: White jeans are more prone to stains due to their light color and thus may not last long.
Makeup Look: Nude or monochromatic makeup looks, instead of loud, gaudy styles, are best suitable for white jeans.
Occasion: White jeans exude sophisticated glamor that makes it suitable for all occasions, from office meetings to brunch dates.
What To Wear With White Jeans – 20 Outfit Ideas
White jeans are not that difficult to style if you have the knack for styling it. Let's look at 20 different outfits and styling ideas that prove this for you.
1. Chambray Shirt
Pairing your white jeans with anything in blue, be it denim, navy blue or anywhere in the Aqua spectrum, balances your look. And if nothing, try it with the chambray shirt which I'm sure is something we all must have in our closet. Pair it up with dull silver accessories or white colored jewelry depending on your preference and occasion.
2. White Ripped Jeans With Off-Shoulder Top
Ripped jeans and off-shoulders is everything the fashion world is raving about. So, why not bring them both together? Wear pink color pumps or wedges, and long dazzler earrings to get heads turning.
3. White Jeans With Tied-Up Shirt
White jeans alone brings in the style quotient to your outfit, so everything you play around is just above and beyond which makes it even better. So, when you're in a mood for something stylish yet comfy, team it up with a loose checkered shirt and tie it up (or not). Complete the look with a messy bun, white sneakers, sling bag and aviators maybe.
4. White Jeans With Black Top And Accessories
Or throw in a flowing spaghetti or ruffled black top that adds definition and is not just a contrast to your white jeans. With simple and elegant tops and blouses like these, the theme is "easy to pull off," yet offering a chic final look. Wear flats, make some beach waves and a nude lipstick to balance it all out.
5. White Jeans With A Nude Choker Style Top
Choker style tops and sweaters are omnipresent. And with a choker top, you would not even need any accessories. A classy hair updo, wedges, and a half-tuck is all you need.
6. Matching Sets
Matching sets, much-wow! If you are a white jeans veteran and have done basic styling, explore the matching set style, you'd love it! It's uptown, sophisticated and classy!
7. White Jeans And Brown Boots For Winters Or Spring
I know it might be a bad idea for people who live in snow-prone areas, but for the others, brown boots and white jeans are cool. A light colored tank, a shrug and brown boots with jeans are perfect for spring or winters.
8. Layer It Up
Running out of time for a sudden party plan? Just throw in a pair of white jeans, plain V-neck or tank top and layer it up with a cape or kimono. A beautiful long neck piece, tote bag, and red lipstick will make up for everything.
9. White Jeans And A Bold Red Top
Don't shy away from sporting that bright red top and red accessories. Add zing to your brunch or lunch meetings with this outfit.
10. With Neon Colored Tops
Yay! Neon colors are vibrant, zesty, and fun. Pick up that lemon yellow top and wear it above white ripped jeans. Sport the no-accessories look, tie your hair in a Dutch braid and finish it with orange lipstick.
11. Match It With Pink Undertones
You might think two subtle colors might fall flat. But if it's done well, it can stand out and makes for a poised yet elegant attire. Plain pastel or pink V-neck T-shirt with similar colored ballerinas or pumps, with fine gold jewelry, gold colored handbag, and a no-makeup look will slay it!
12. With Floral Tops For Spring
Prep it up in spring with a bright floral top. Keep the accessories simple for this one which can otherwise be loud and distasteful. A tiny body bag and nude wedges are good to go.
13. With A Plain T-shirt And Sequin Jacket
Who said you couldn't party in white jeans? Effortless, quick and fancy! That's what this statement is! Get creative with shoes, and you barely need any accessories.
14. Monochrome Look
Monochrome, a term that is buzzing in the fashion world. Instead of plain white tops or T-shirts try this ruffled top that adds definition to your monochrome look. You can break the silhouette with dark color accessories or stick to white.


Trivia
Hailey Beiber opted for a monochromatic look when she paired white jeans with a white turtleneck during the Paris Fashion Week in February 2020. She layered it with white boots, a purse, and a long white jacket.
15. With A Crop Top And Blazer
Crop top and blazer is another fun way to style your white jeans. The jacket can be leather too if you want to make it funky and cool.

Trivia
Model Sofia Richie adopted this look in Miami, where she paired a white top with a cropped blazer, during the opening of the Hard Rock Hotel in 2019.
16. White Jeans And Gray Top
Gray top is not the first thing that comes to your mind when you think of pairing with white jeans, but take another good look, and you will agree that it's actually ultra chic and modish. Shift gears with accessories and try an entirely different color like this one, you'll thank us later.
17. White Jeans And Crop Top For Summers
Keep summer dressing stylish, elegant and comfortable with a pastel colored crop top over your ripped white jeans. Go with matching wedges or gladiator sandals to keep the style quotient on point.
18. With A Contrast Top
The best part about wearing white jeans is, your options are nearly unlimited. With the bottom in white, you can go with any contrast color top and match all your accessories with it.
19. With A Striped Top
A black and white stripes top is the simplest way to style your white jeans. And with tops like these, both white and black accessories are equally good.
20. With A Formal Blazer
This is one of my favorite looks because nothing makes you look more dapper like this blazer, white pumps and the body bag combination. *I heart it*
What not to wear under white pants?
More than anything, be vigilant with your underwear when you are wearing white pants. That's a gaffe most of us make while putting together the outfit considering they are white jeans. Also, going commando is not an option! I had to put it out there. Another thing worth mentioning is to not add too many colors in the name of color blocking, it can get gaudy and flash. If you decide to try bold colors, by all means, do it but do not mix them up. Keep it tasteful and proportionate.
Which color top can go with white jeans?
There is no one best or wrong choice of color with white jeans as white belongs in the winter range of cool colors; any cool shade will look better than warm. Bolder colors will work better than softer ones as well. If you are minimalistic and elegant with your outfits, then pastel undertones, gray and stripes with similar accessories are good. If bright and vibrant defines you, then neons, florals, stripes, and contrast colored tops work perfectly for you. If you are an in-betweener then a mix of everything in proportions, stripes, and chambray shirts, etc. will suit you best.
What shoes to wear with white jeans?
There are two ways of dealing with shoes with white jeans. Either go with light and nude colored pumps, wedges or flats depending on your comfort irrespective of your top color. Or, go with matching shoes to look on point. However, wearing shoes that are slightly elevated makes a lot of difference. If you are short and conscious, wedges or pumps do the trick for you. Pom-pom flats and gladiators are also interesting choices.
Infographic: 6 Tops To Wear With White Jeans
White jeans are classic. We either own them or get a lot of recommendations from friends, family, and now influencers. But you don't always know what to wear with white jeans; you can't always show up in a black Tee or a shirt! Don't worry, we've got you covered with options for creating an outstanding outfit with your trusty white jeans.
Scroll down to see our 6 outfit ideas that look great with white jeans!

Thanks to the major comeback of white jeans, new doors leading to amazing fashion ideas have opened today. You do not have to wonder what to wear with white jeans because these bottom wears are versatile and can be worn with almost anything if you know how to style them the right way. For example, you can pull off an Indo-western look by teaming them up with a kurti or create a strictly western vibe by wearing them with tops, T-shirts, shirts, and the like. If classy is your thing, throw a blazer on the top, and you are good to go.
Frequently Asked Questions
What to wear with white jeans on a night out?
It depends on where you're headed. If it's a date night (out) then try the sequin blazer look; if it's a casual night dinner outing with friends, then a striped crop top look is perfect.
What underwear is suitable to wear under white jeans?
Wear seamless and light colored underwear, preferably skin tone-colored. You can never take a chance with anything white.
Are white jeans still in style 2022?
Yes, white jeans are a staple in summer fashion, making a comeback each year. They pair well with any color and keep you feeling cool.
How do you wear white jeans over 50?
Light colors look good on you as you age. Pair white jeans with light, pale, or pastel color tops. For a night time look, you may use dark tops with a bit of bling on them.
Can I wear black shoes with white pants?
Black and white is a classic combination. Black shoes on full-white or black and white outfits will look great. However, if your top is a brighter color, avoid black as it will stand out oddly. Instead go for nudes or shades that complement your top's color.
How do you wear white jeans in the winter?
Ideally, white jeans are not good winter outfit options. If you want to stay warm, choose darker jeans and pants. However, if your winter coats and jackets are padded and long enough to keep you warm, you can wear white jeans with all your winter tops like sweaters, turtlenecks, and layered clothes.
Key Takeaways
You can pair your white jeans with neons, floral prints, stripes, and bright-colored tops for a bold and vibrant look.
If you are minimalistic and elegant, pastels, black, gray, and striped tops will work best for you.
Choker-style, off-shoulder, neon hues, and contrast tops look amazing with ripped white jeans.
You can wear light and nude pumps, wedges, or flats with your white jeans or pair them with colors that match your top or accessories.
While going with bold colors, mixing too many colors in the name of color blocking can make your look distasteful and disproportionate.
Get tips on how to pair white jeans with sweaters, boots, and other accessories for a cozy, stylish look. Check out this video to know more.
The following two tabs change content below.