What To Wear With White Jeans – Outfit Ideas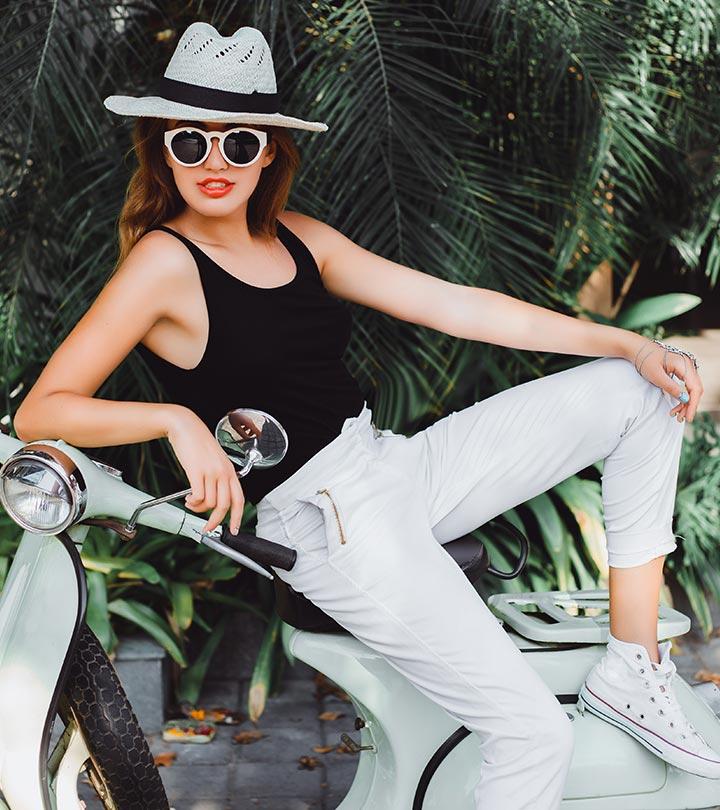 Waiting outside the fitting rooms, sees a woman come out wearing spanking new white jeans. *cringes and walks out of the store yet again.
Hashtag "storyofmyLife," hashtag "everysingleshoppingexperienceeverrr"! But, it's safe to say that it's behind me now. Before you try and convince me that white jeans are not for you, let me tell you that I've been there and done that. You need to know how to style it, and that makes all the difference, and when you do, do it with confidence. We all do not have to be size zero or petite to pull off white jeans. Don't trust me yet? Read on, and we'll talk at the end of this post.
What To Wear With White Jeans – 20 Outfit Ideas
White jeans are not that difficult to style if you have the knack for styling it. Let's look at 20 different outfits and styling ideas that prove this for you.
1. Chambray Shirt
Pairing your white jeans with anything in blue, be it denim, navy blue or anywhere in the Aqua spectrum, balances your look. And if nothing, try it with the chambray shirt which I'm sure is something we all must have in our closet. Pair it up with dull silver accessories or white colored jewelry depending on your preference and occasion.
2. White Ripped Jeans With Off-Shoulder Top
Ripped jeans and off-shoulders is everything the fashion world is raving about. So, why not bring them both together? Wear pink color pumps or wedges, and long dazzler earrings to get heads turning.
[ Read: How To Keep Off The Shoulder Top In Place ]
3. White Jeans With Tied-Up Shirt
White jeans alone brings in the style quotient to your outfit, so everything you play around is just above and beyond which makes it even better. So, when you're in a mood for something stylish yet comfy, team it up with a loose checkered shirt and tie it up (or not). Complete the look with a messy bun, white sneakers, sling bag and aviators maybe.
4. White Jeans With Black Top And Accessories
Or throw in a flowing spaghetti or ruffled black top that adds definition and is not just a contrast to your white jeans. With simple and elegant tops like these, the theme is easy to pull off yet gives it a chic final look. Wear flats, get some beach waves and a nude lipstick to balance it all out.
5. White Jeans With A Nude Choker Style Top
Choker style tops and sweaters are omnipresent. And with a choker top, you would not even need any accessories. A classy hair updo, wedges, and a half-tuck is all you need.
6. Matching Sets
Matching sets, much-wow! If you are a white jeans veteran and have done basic styling, explore the matching set style, you'd love it! It's uptown, sophisticated and classy!
7. White Jeans And Brown Boots For Winters Or Spring
I know it might be a bad idea for people who live in snow-prone areas, but for the others, brown boots and white jeans are cool. A light colored tank, a shrug and brown boots with jeans are perfect for spring or winters.
[ Read: How To Wear Ankle Boots With Different Outfits ]
8. Layer It Up
Running out of time for a sudden party plan? Just throw in a pair of white jeans, plain V-neck or tank top and layer it up with a cape or kimono. A beautiful long neck piece, tote bag, and red lipstick will make up for everything.
9. White Jeans And A Bold Red Top
Don't shy away from sporting that bright red top and red accessories. Add zing to your brunch or lunch meetings with this outfit.
10. With Neon Colored Tops
Yay! Neon colors are vibrant, zesty and fun. Pick up that lemon yellow top and wear it above white ripped jeans. Sport the no-accessories look, tie your hair in a Dutch braid and finish it with orange lipstick.
11. Match It With Pink Undertones
You might think two subtle colors might fall flat. But if it's done well, it can stand out and makes for a poised yet elegant attire. Plain pastel or pink V-neck T-shirt with similar colored ballerinas or pumps, with fine gold jewelry, gold colored handbag, and a no-makeup look will slay it!
12. With Floral Tops For Spring
Prep it up in spring with a bright floral top. Keep the accessories simple for this one which can otherwise be loud and distasteful. A tiny body bag and nude wedges are good to go.
13. With A Plain T-shirt And Sequin Jacket
Who said you couldn't party in white jeans? Effortless, quick and fancy! That's what this statement is! Get creative with shoes, and you barely need any accessories.
14. Monochrome Look
Monochrome, a term that is buzzing in the fashion world. Instead of plain white tops or T-shirts try this ruffled top that adds definition to your monochrome look. You can break the silhouette with dark color accessories or stick to white.
15. With A Crop Top And Blazer
Crop top and blazer is another fun way to style your white jeans. The jacket can be leather too if you want to make it funky and cool.
16. White Jeans And Gray Top
Gray top is not the first thing that comes to your mind when you think of pairing with white jeans, but take another good look, and you will agree that it's actually ultra chic and modish. Shift gears with accessories and try an entirely different color like this one, you'll thank us later.
17. White Jeans And Crop Top For Summers
Keep summer dressing stylish, elegant and comfortable with a pastel colored crop top over your ripped white jeans. Go with matching wedges or gladiator sandals to keep the style quotient on point.
18. With A Contrast Top
The best part about wearing white jeans is, your options are nearly unlimited. With the bottom in white, you can go with any contrast color top and match all your accessories with it.
19. With A Striped Top
A black and white stripes top is the simplest way to style your white jeans. And with tops like these, both white and black accessories are equally good.
20. With A Formal Blazer
This is one of my favorite looks because nothing makes you look more dapper like this blazer, white pumps and the body bag combination. *I heart it*
What not to wear under white pants?
More than anything, be vigilant with your underwear when you are wearing white pants. That's a gaffe most of us make while putting together the outfit considering they are white jeans. Also, going commando is not an option! I had to put it out there. Another thing worth mentioning is to not add too many colors in the name of color blocking, it can get gaudy and flash. If you decide to try bold colors, by all means, do it but do not mix them up. Keep it tasteful and proportionate.
Which color top can go with white jeans?
There is no one best or wrong choice of color with white jeans. If you are minimalistic and elegant with your outfits, then pastel undertones, gray and stripes with similar accessories are good. If bright and vibrant defines you, then neons, florals, stripes, and contrast colored tops work perfectly for you. If you are an in-betweener then a mix of everything in proportions, stripes, and chambray shirts, etc. will suit you best.
What shoes to wear with white jeans?
There are two ways of dealing with shoes with white jeans. Either go with light and nude colored pumps, wedges or flats depending on your comfort irrespective of your top color. Or, go with matching shoes to look on point. However, wearing shoes that are slightly elevated makes a lot of difference. If you are short and conscious, wedges or pumps do the trick for you. Pom-pom flats and gladiators are also interesting choices.
Frequently Asked Questions
What to wear with white jeans on a night out?
It depends on where you're headed. If it's a date night (out) then try the sequin blazer look; if it's a casual night dinner outing with friends, then striped crop top look is perfect.
What underwear is suitable to wear under white jeans?
Like we just discussed, wear a seamless and light color underwear. You can never take a chance with anything white.
Gone are the days when white jeans were meant for women with thin and perfect body types. I hope you take this plunge and try it; there will be no looking back. Do you still have any more questions that are bothering you? Shoot them by leaving a message in the comment section below. Happy Shopping!
Recommended Articles
The following two tabs change content below.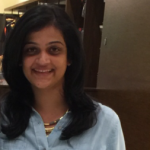 After working in Marketing and Business Development for a few years, Pratima Ati jumped ship to pursue two things she loved – fashion and writing. She's now a full-time Fashion & Lifestyle writer and has never looked back ever since. She sleeps early, reads often, and when she can't, she finally gives a closure to all the characters living in her drafts. Sometimes, they pass off as poetry too! That, and her training in Indian classical music and playing (learning) the veena keep her sane, civil, and bearable.