Top 24 Reasons Relationships Fail & How You Can Fix Them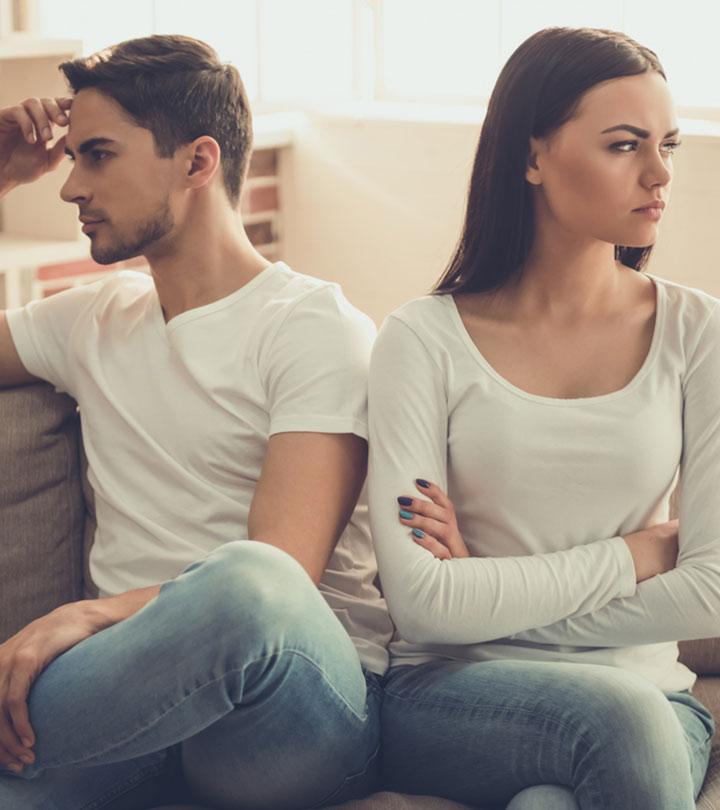 Love may come easy, but making relationships work takes time, effort, and patience. When you know the reasons why relationships fail, you can understand how to avoid some major pitfalls that can lead to a break-up. You need to be intentional in the relationship so that it does not deteriorate. Scroll down to check out the potential reasons for failure you need to work on to keep your relationship going. Fight for your love!
Reasons Relationships Fail
1. Lack Of Trust
Do you constantly check your partner's phone or social media accounts to see where they were or who they talk to? Then you have trust issues. You are keeping an eye on your partner because you don't believe them.
Trust issues are one of the main reasons a relationship falls apart. If you don't trust your partner or vice versa, it prevents any growth in the relationship. You may have trust issues because a previous partner hurt you or cheated on you. But carrying forward that hurt into your next relationship will only destroy it. You need to build trust with your partner for the relationship to blossom and grow.
2. Different Life Expectations
If you and your partner have different expectations from life, your relationship is more likely to break apart. Also, having varying expectations from your partner tends to keep you both apart. These expectations may be relationship-oriented, such as when or if you want to get married, when or if you want kids, living with parents, etc.
These expectations could also be career- or future-driven, such as taking different career paths or moving to a different state or country. If you and your partner don't have similar expectations on these lines, your relationship may be at risk.
3. Varying Levels Of Career Success
It is true that both partners in a relationship are usually happy for each other's success. But if you are succeeding at your career and your partner is going through a rough patch, you need to ensure there are no feelings of superiority creeping into your relationship.
Superiority or inferiority complexes can often cause resentment in the relationship, and your partner may start envying you. This eventually can hurt the relationship.
4. Compatibility Issues
Sometimes, you might not be compatible with someone even if you sense that spark. You often find that you both are arguing or not agreeing on things. Your interests may differ, and more importantly, your opinions about various sensitive aspects could be way different. This could lead to serious compatibility issues. Most of the time you feel you both can't exist without some rough argument – and it feels like a task to stay together.
5. Lack Of Proper Communication
Lack of proper communication is one of the major reasons many relationships don't work out. Instead of talking out your problems and trying to resolve them, many people in relationships just keep things to themselves.
You need to let your partner know how you feel and what bothers you. You also need to listen to your partner. Instead of trying to subtly send them messages, just be vocal. Your partner is not a mind-reader. Be communicative with your feelings, thoughts, and decisions.
This is also true when it comes to sex. Be communicative with what you like and dislike. Talking things out with your partner can help build your relationship. Not communicating just hinders growth in the relationship and ultimately leads to its destruction.
6. Abuse
If one or both partners are verbally, physically, or emotionally abusive, the relationship is bound to end in a bad way. First things first, if your partner is abusing you, no matter the reason, it is not a relationship you want to be in. Many women stay in these relationships thinking they can either change their partner. Some also tend to believe that abuse is common and is just a way of life. They may also have low self-esteem.
If your partner gets aggressive with you instead of trying to talk it out, it is a bad sign. No one wants to be in an abusive relationship. No one wants to be belittled, yelled at, hit, or bullied in a relationship. If you are the aggressor in the relationship, then you need to change your way of dealing with issues.
7. Bad Addictions
Drugs, alcohol, gambling, and other addictions can tear relationships apart. If you are addicted to something, it can often cloud your mind and you end up making bad decisions that can have bad repercussions on your relationship. There is only so much your partner can handle.
8. Growing Apart
Sometimes, people grow apart and that ruins their relationship. At the start, you both were probably head over heels in love with each other, but now you just don't feel the same way. You both may now want different things in/from life, or you both live away from each other, or there's no excitement in the relationship. All of these reasons can make you grow apart from your partner, hurting the relationship.
9. Money Issues
Financial disagreements tend to be a major predictor of divorce in marriages. Money issues often play into a person's deepest problems in the relationship like trust, control, and security. If partners are not honest about their spending habits or have different values about finances, their relationship can take a downturn.
10. Different Personalities
If your partner and you have completely different personalities, you may not agree on anything. At the beginning, you may find your opposite characteristics fun. But you eventually realize that you both are extremely different. He always wants to be out with friends, while you prefer sitting at home and reading books. You realize that you both can't even agree on a genre of music to listen to. Everything becomes a compromise for both of you.
11. Lack Of Acceptance
If one partner feels that the other is not accepting them totally, it may lead to a break up. Belittling a partner's opinion on a particular topic because they don't agree with your POV might translate to disrespect. If some areas of your life are hidden from your partner, they may feel they aren't completely accepted into your life.
12. Unrealistic Expectations
Getting into a relationship with unreal expectations dooms the relationship from the get-go. Both partners may have unrealistic expectations. They expect the relationship to be in a certain way, and if that doesn't happen, the relationship is spoilt.
13. Comparisons
Comparing your relationship to your friend's relationship might not be the best way to keep the relationship afloat. Every relationship needs to find the right recipe for it to work. Trying to copy-paste what others like in their relationship may not work for yours. It also leaves both you and your partner with a lot of stress to live up to the expectations of a third party relationship.
14. No Compromises
Every relationship has its compromises. But if both partners are not willing to compromise, the relationship will suffer. The relationship may also break if one person continuously compromises and the other partner gets their way all the time. A healthy relationship has both partners willing to give something up to make the other happy.
15. Emotional Unavailability
Being emotionally unavailable stunts the relationship. If one person in the relationship cannot open up, the relationship will not last. The other partner will always feel like they have to force a serious conversation or opinion out of the other. They will feel like they are constantly pursuing the emotionally unavailable partner. This may lead them to believe that their partner does not really love them.
It's a common misconception that most men are emotionally unavailable. While most men are raised with the notion that being vulnerable is weak, many are now opening up.
16. Holding Onto The Past
A relationship is bound to break if one partner is constantly thinking about their past relationships instead of focusing on their present one. The same can happen if a partner is constantly talking about their ex. Comparing your current partner to an ex could be a devastating mistake that can eventually kill a relationship.
17. Shifting the Blame
A relationship may end if one partner always thinks they're in the right and never accepts their mistakes. They constantly blame the other person for the relationship issues. Such behavior can also indicate narcissism. A narcissistic partner can think they are right and that they can do no wrong. They belittle the other person's opinion and have a superiority complex. They may manipulate the situation to get their own way. They often feel like they are entitled to things. This may break the relationship.
18. Lack Of Respect
If one partner does not respect the other, the relationship will suffer. A healthy relationship is built on mutual respect. Not respecting your partner's career or opinions can damage the relationship. If your partner makes decisions for the relationship without consulting you, it may be a sign of lack of respect.
19. Trauma
Sometimes, a life-or-death experience or experiencing a loss or other traumatic events may cause one to recalibrate their life. This may also include their relationship. They may not feel the same way towards their partner after experiencing a life changing event.
20. Lack Of Appreciation
A relationship may end if there is no mutual appreciation. Appreciating your partner when they do something for you goes a long way in building the relationship. Without appreciation, your partner may feel like they are being taken for granted.
21. Lack Of Forgiveness
All humans make mistakes. It is up to you to decide if you want to pursue the relationship when your partner makes a faux pas. But if you decide to continue with the relationship, you need to completely forgive your partner. If you keep holding your partner accountable for the past mistakes they have apologized for and learned from, you are only ruining the relationship.
22. No Dates Together
Once you and your partner settle into a rhythm in your relationship, it becomes easy to forget to go out on dates. Spending time with each other at home is undoubtedly great, but, sometimes, getting ready and going out will also enhance the relationship.
23. Physical Intimacy
Sometimes you may love the person and you both may get along amazingly well, but when you become physically intimate the sparks just die down completely. It just somehow doesn't work. Maybe it is because you both like different things in bed, or one of you is not as exploring as the other. Whatever the reason, physical intimacy is important in a relationship. And if it isn't working, neither will the relationship.
24. Cheating
A relationship most definitely would break if one person cheats. To cheat, a person needs to feel some connection to a third person either emotionally or physically. When one cheats, they could lose their partner's trust forever.
These are the reasons relationships fail. But how can you protect them?
How To Keep A Relationship From Failing
Always be open with your partner. Let them in on your secrets. Talk to them about what they do that makes you happy or angry.
Be willing to compromise for your partner. Sometimes, you are going to have to give up going to the salon or choose to watch a Manchester United match to make your partner happy. The key is not to let them feel like you compromising is a big deal. But remember that both partners need to compromise.
Without trust, your relationship will fail. You need to trust your partner and vice versa.
Be open to talking to a therapist with your partner. Therapy can help pinpoint the exact areas both of you need to work on. It can help you resolve your differences if you are willing to work at them.
If you are still hung up on an ex, don't immediately fall into a new relationship. Take time to get over your past relationship.
Talk about your problems to each other rather than your friends. Once you both lay out your issues on the table, take effort to work on them. When your partner talks to you about an issue, don't undermine their feelings. Listen to them.
Be emotionally vulnerable with your partner. If you aren't going to open up to the person you're dating and may even marry, then will you ever open up to anyone else?
Don't hold your current partner responsible for the mistakes of previous relationships. Start a relationship with a clean slate. Just because your past partner cheated doesn't mean your current one will too.
Try to resolve arguments as smoothly as possible. Avoid becoming aggressive. Don't abuse the other person.
If you are in an abusive relationship, please get out of it before something worse happens. Staying in an abusive relationship is not going to change your partner.
Relationships work on mutual understanding and trust. However, there are many reasons for relationships to fail. Loss of trust, different life expectations, poor communication, lack of respect, and compatibility issues are common reasons for failures. However, you can keep your bond stronger and alive by making some effort from your side. Always be open with your partner, willing to compromise, and honest and vocal about your feelings. These gestures may help your relationship last long.
Key Takeaways
Trust or compatibility issues, different life expectations, and lack of communication can contribute to an unsuccessful relationship.
Physical, verbal, or emotional abuse and substance addiction are common reasons for relationships to fail.
Sharing problems, establishing trust, maintaining healthy boundaries, and communicating clearly and honestly are a few ways to strengthen your relationship.
The following two tabs change content below.