7 Best Wigs For Round Faces That Are Flattering Enough To Try
Get an instant makeover anytime with this selection of natural-looking wigs.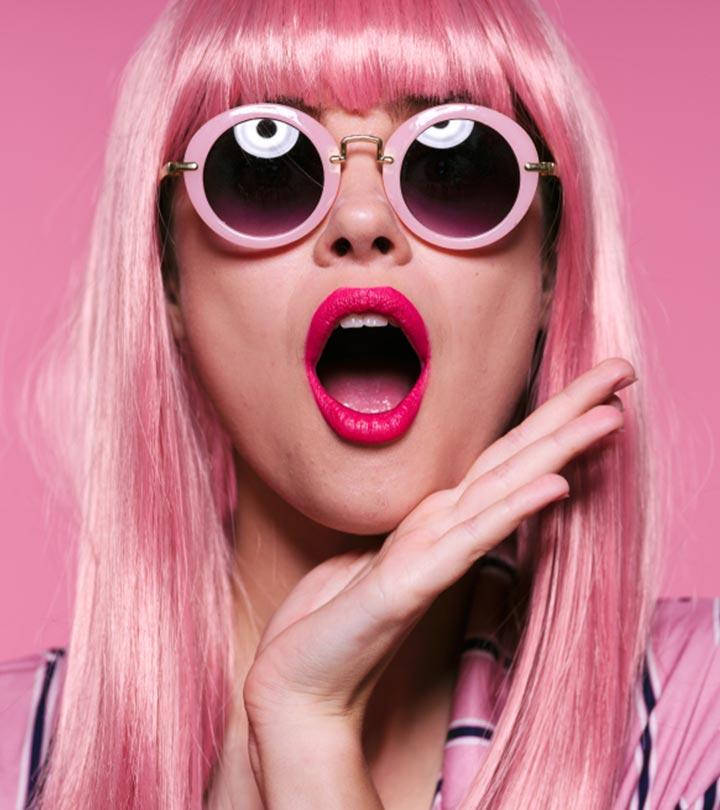 If you have been on the hunt for the best wigs for round faces, we have just what you need. Round face is ideal for experimenting with haircuts, and when it comes to wigs, it is perfect for giving yourself a new look. For those who are new to getting wigs, it might be challenging as the wrong size and cut can make your face look rounder than it is. So, until it's a costume party, everyone likes making their wig look as natural as possible. So if you are overwhelmed at the numerous choices of wigs online and don't want to mess up on your choice for a wig, we have just what you need. Go through our list of 7 wigs that will help you experiment with different looks the right way.
7 Best Wigs For Round Faces
For all those days when you'd fancy a short bob, this black wig from Generic is spot-on. Made from premium quality synthetic fiber, the fine hair looks so natural and beautiful that even you'll end up confusing it for real hair. This wig also has a hook inside the cap that makes it easy-to-use, and the rose inner net offers optimum comfort. A perfect go-to for those with a round face, it is suitable to wear in all weather conditions.
Pros
Premium quality synthetic fiber
Easy-to-use with a hook inside the cap
Comfortable to wear all-day
Easy-to-clean
Suitable for all seasons
Cons
Those with long hair might find it uncomfortable
Why put your hair through the damage caused by hot curlers when you can get yourself this beautiful kinky, curly wig? Medium-length with soft curls, it is made from high-quality fiber that has a natural-looking feel and is tangle-free. Also, it is adjustable, so you need not worry about the fit, and is heat-resistant as well. Ideal for cosplays and theme-parties, this wig has a significant volume to it, which helps balance out the roundness of the face.
Pros
Made from high-quality synthetic fiber
Adjustable and easy-to-wear
Heat-resistant, tangle-free, and long-lasting
Minimal to no shedding and does not smell
Cons
It does not have a center parting
The curls may loosen up over time
Price at the time of publication: $18.88
If you love to cosplay, then you're going dote over this reddish-brown wig! Making your dress-up game stronger, this heat-resistant, synthetic fiber wig can be styled, permed, or trimmed as you like it. Plus, it is easy to wear with two adjustable straps that can be used to fit any head size. Also, the wig is eco-friendly, which means no harmful substances or dyes were used to make it. Natural-looking with no faux shine, it beautifully outlines your facial structure and can easily pass off as natural hair too.
Pros
Heat-resistant and style-friendly
No faux shine
Natural-looking and eco-friendly
The cap is breathable
Easy-to-wear and adjustable
Cons
Price at the time of publication: $20.9
TopWigy Women Brown Wig is made of high-quality synthetic fiber, which is soft and looks natural. You can trim this wig conveniently according to your style. It comes with a breathable rose net cap along with 2 adjustment straps. The wig is heat-resistant to 150 degrees celsius – so you can easily curl or straighten the hair. It is ideal for theme parties, Halloween parties, and weddings.
Pros
Easy to use and care for
Adjustable buckle
Soft hair
Cons
Price at the time of publication: $25.99
SPEEDM Medium Long Wavy Wigs is designed for daily use. The shoulder-length wig comes 16 inches in length, and the wavy design makes the hair look natural. The wig cap comes with 2 adjustable straps for a secure fit and can be positioned to different head sizes. You can adjust the bangs as you desire. This wig is made of synthetic fiber, which is heat-resistant up to 160°C.
Pros
Adjustable straps
Heat-resistant
Soft and breathable
Cons
Maintenance may be difficult
Price at the time of publication: $18.99
The soft, shiny AKstore Fashion Wig is ideal for events, theme parties, festive parties, and daily use. It comes with a mesh-type adjustable wig cap that fits most head sizes. This handmade, high-quality synthetic fiber appears like real hair. The wig comes in a purple color and has a length of 28 inches.
Pros
Wig cap included
Synthetic fiber
Comfortable to use
Soft
Superior hair-quality
Heat-resistant
Cons
Price at the time of publication: $15.98
Let out the little pixie in you! With cute bangs, this wig is made using DMS technology at the roots and 99% simulation that makes the scalp look realistic. It can easily pass off as real human hair. Plus, the natural softness and no faux shine only make it look more authentic. Designed especially for round-shaped faces, the short bob and bangs will uplift your facial structure like no other. Comfortable to wear all day long, it is skin-friendly, odorless, and non-stuffy too!
Pros
Realistic scalp and hair design
Fluffy, soft, and no faux shine
Breathable and adjustable cap
Skin-friendly, odorless, and non-stuffy
Recommended for round faces
Cons
Price at the time of publication: $44.72
Did we miss out on a brand, or do you have feedback regarding this post? Write to us in the comments below!
Why Trust StyleCraze?
The author, Vaishnavi Kothuri, is a hair care and styling enthusiast. She is passionate about finding the best products based on facts and genuine feedback. She has come up with a list of the best wigs for round faces after conducting hours of product research and a thorough analysis of online reviews. These handpicked products are comfortable to wear, made with premium quality fibers, and shaped to perfection to give you just the look you desire.
Frequently Asked Questions
Will a bob wig suit for a round face?
Yes, a bob wig will suit a round face, but make sure it has bangs to add layers, elevate your face, and impart an arched appearance.
What is the most natural-looking synthetic wig?
Lace front, 360 lace, or full lace wigs are the most natural-looking synthetic wigs.
What kind of wigs look good on a round face?
Wigs with plenty of layers, waves, or volume add fullness and height to the crown while remaining flat at the cheeks, looking beautiful on round faces.
Should you wear a cap with a wig?
No, wearing a wig cap is optional. However, it is suggested to wear wig caps as they add a protective layer to a tender scalp and keep your wig safe during everyday wear.
What type of wig is most comfortable?
The most comfortable wig is hand-tied since it replicates the appearance of natural hair from the scalp.
How often should you change your wig?
Change your synthetic wig every 3 to 6 months and replace natural hair wigs every 2 to 3 years.
Does wearing a wig stop hair growth?
No, wearing a wig does not stop hair growth.
Recommended Articles