7 Best Wigs For Round Faces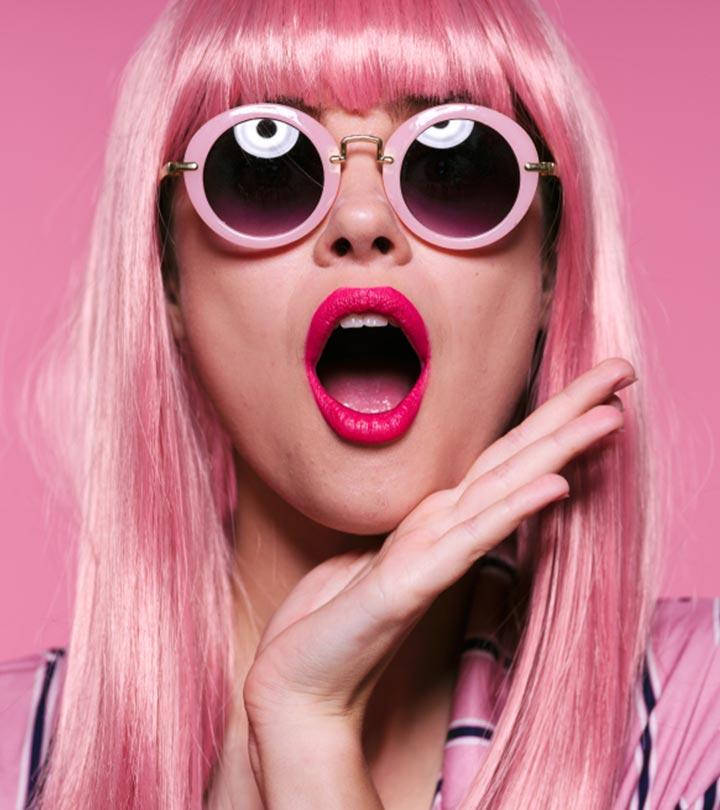 Finding the perfect wig for a round face may be a tad bit frustrating, considering there are a plethora of options available online. But then again, that doesn't mean you make peace with any wig out there. The wrong choice may end up making your face look rounder than it already is or worse, make it apparent that you're wearing a wig! Something, we bet you'd not want unless, of course, you are at a costume party. Ideally, the wig that you're looking for should accentuate your cheekbones to make your face look more angular. Also, very importantly – it should look as good as real on you! This only brings us back to square one that finding the perfect wig is no piece of cake.
But fret not, because we did some trials and filtering to make this shopping experience easier and quicker for you. Check out our list of the top 7 wigs that you must try if you have a round face!
Read on to know more!
7 Best Wigs For Round Faces
For all those days when you'd fancy a short bob, this black wig from Generic is spot-on. Made from premium quality synthetic fiber, the fine hair looks so natural and beautiful that even you'll end up confusing it for real hair. This wig also has a hook inside the cap that makes it easy-to-use, and the rose inner net offers optimum comfort. A perfect go-to for those with a round face, it is suitable to wear in all weather conditions.
Pros:
Premium quality synthetic fiber
Easy-to-use with a hook inside the cap
Comfortable to wear all-day
Easy-to-clean
Suitable for all seasons
Cons:
Those with long hair might find it uncomfortable
Why put your hair through the damage caused by hot curlers when you can get yourself this beautiful kinky, curly wig? Medium-length with soft curls, it is made from high-quality fiber that has a natural-looking feel and is tangle-free. Also, it is adjustable, so you need not worry about the fit and is heat-resistant as well. Ideal for cosplays and theme-parties, this wig has a significant volume to it, which helps balance out the roundness of the face.
Pros:
Made from high-quality synthetic fiber
Adjustable and easy-to-wear
Heat-resistant, tangle-free, and long-lasting
Minimal to no shedding and does not smell
Cons:
It does not have a center parting
The curls may loosen up over time
If you love to cosplay, then you're going dote over this reddish-brown wig! Making your dress-up game stronger, this heat-resistant, synthetic fiber wig can be styled, permed, or trimmed as you like it. Plus, it is easy to wear with two adjustable straps that can be used to fit any head size. Also, the wig is eco-friendly, which means no harmful substances or dyes were used to make it. Natural-looking with no faux shine, it beautifully outlines your facial structure and can easily pass off as natural hair too.
Pros:
Heat-resistant and style-friendly
No faux shine
Natural-looking and eco-friendly
The cap is breathable
Easy-to-wear and adjustable
Cons:
https://images-na.ssl-images-amazon.com/images/I/51zuktk9qPL.jpg
We all have, at some point, envied a celebrity for his/her perfect hairdo, not realizing it could be a wig! Here's one from Wig Mine that will add a touch of star power to your crown. Wear it to a party or don it for a date, it's high-quality Japanese Kanekalon fiber makes it every bit worth flaunting. Naturally shiny and soft, this pale orange wig is a great substitute for those who hate putting their hair through the flat iron frequently. Also, did we mention the wig sort of makes your face look angular? Two words – win-win!
Pros:
High-quality Japanese Kanekalon fiber
Soft and naturally shine
Poker straight hair
Adjustable
Easy-to-wear and wash
Cons:
Not styling-friendly
Combing by hand only
Whether you are a fan of anime or not, this gorgeous purple-pink ombre wig will transform you into a real-life webtoon character. Perfect for role-playing or flaunt it at parties, it will pop up your look instantly. It is style-friendly, soft, easy-to-use, adjustable, and provides optimum comfort. Made using imported Korean glossy synthetic fibers, the drooping appearance only adds a touch of authenticity to it and will also accentuate your cheekbones!
Pros:
Made using Korean glossy synthetic fibers
Style-friendly and soft
Easy-to-use and adjustable
Breathable net
Cons:
Not suitable for everyday wear
Missing your long tresses, or are you in the mood to try those incredible hair flips? Here's a wig that won't disappoint you when it comes to flaunting natural-looking, long hair. Comfortable, breathable, and easy-to-style, the realistic look and feel will not only amp up your outfit but will make your face look leaner too. Easy-to-tie and care, there's no better way to let your hair down than with this long hair wig from Jia Jia.
Pros:
Has a natural look and matte finish
Comfortable and breathable
Easy to style and tie
Washable
Cons:
Let out the little pixie in you! With cute bangs, this wig is made using DMS technology at the roots and 99% simulation that makes the scalp look realistic. It can easily pass off as real human hair. Plus, the natural softness and no faux shine only make it look more authentic. Designed especially for round-shaped faces, the short bob and bangs will uplift your facial structure like no other. Comfortable to wear all day long, it is skin-friendly, odorless, and non-stuffy too!
Pros:
Realistic scalp and hair design
Fluffy, soft, and no faux shine
Breathable and adjustable cap
Skin-friendly, odorless, and non-stuffy
Recommended for round faces
Cons:
Making a bad hair day great again to let women satiate their hair mood swings, wigs are totally winning 2020, and how! We hope our list of the top 7 wigs for round faces has that perfect wig you are looking for to flaunt this year.
Did we miss out on a brand, or do you have feedback regarding this post? Write to us in the comments below!