Top 10 Wine Shade Lipsticks Available In India
Dark lips are the hottest trend doing rounds in the fashion world today. And when it comes to dark lip shades, wine is an all time favorite!
Wine color looks good on all types of skin tones ranging from fair to medium to dark. It is one of the easiest colors to pull off. Yes, you can sport it without worrying much. If you are ready to think out of the box and can look beyond the usual red or pink lipsticks, then wine colored lipsticks are the great options to try!
Best Wine Colored Lipsticks in India:

If you are wondering about the best wine lip shades to try, look no further! Here are the top 10 wine lipsticks available in India.
1. MAC Hang Up Lipstick:
You can't skip MAC, if you hold a true love for makeup! It is one of the most popular makeup brands in the world. With top-notch quality and variety of shades, it is no wonder that Mac holds the top position. The Mac Hang up lipstick is a beautiful mid-tone wine color. It has a hint of red undertone to it. There are no visible shimmers, which make this color a true wine shade on the lips. It is not too loud to wear every day. It is a subtle and sophisticated color, which makes it perfect for evening parties. This lipstick gives a cream finish and a good coverage in 3 swipes. It covers up lip pigmentation to a great extent. This lipstick formula feels comfortable on the lips as it has a cream-like moisturizing property. It does not make your lips dry or flaky.


2. Revlon Super Lustrous Creme Black Cherry:

The Revlon Super Lustrous lipstick in Black Cherry appears very dark on the lips. The formula being lustrous, as the name suggests, moisturizes the lips. It glides smoothly and doesn't cause any dryness or stickiness. This lipstick works well on most skin tones ranging from light to dark.


3. Revlon Super Lustrous Matte Wine Not:

The Revlon Super Lustrous Lip Color in Wine Not is a soft wine shade. It is wearable and anyone can carry it easily. If you are looking for a soft wine shade, then this lipstick is perfect for you. The formula is hydrating and light on the lips. The color pay off is richly pigmented. It provides a soft and glossy finish to the lips. The color being slightly berry-toned will suit dusky and dark skin complexions well.


[ Read: Best Red Revlon Lipsticks in India ]
4. Maybelline Superstay 14 Hrs Lipstick-Wine And Forever: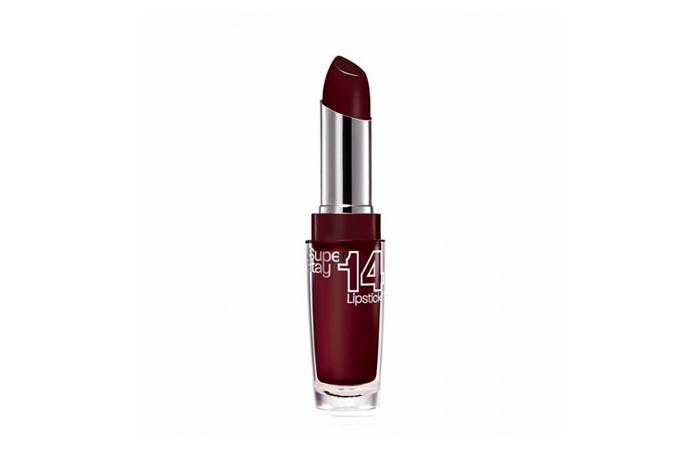 This lipstick is a wine color with soft plum tones to it. It gives a complete matte finish to the lips. It is best to apply a lip balm prior to the application of this lipstick. This color looks flattering on fair, dusky and dark skin tones. Though the brand claims that the lipstick can last for 14 hours, it lasts only for 5 to 6 hours maximum and later leaves a subtle maroon stain on the lips. In any case, who needs lipstick to stay on for 14 hours?


5. Maybelline ColorSensational Jewels Refined Wine Lipstick:

This lip color is perfect if you are looking for a subtle wine shade. It is a great choice for pigmented lips as it gives a good color payoff. It complements most Indian skin tones. This lipstick shade has soft pinkish berry undertones, which makes it bright. It works well on dusky to deep skin complexions. The formula feels extremely hydrating and lasts only for 3 to 4 hours. It comes in a budget-friendly tag though!


6. Revlon ColorStay Ultimate Suede Backstage: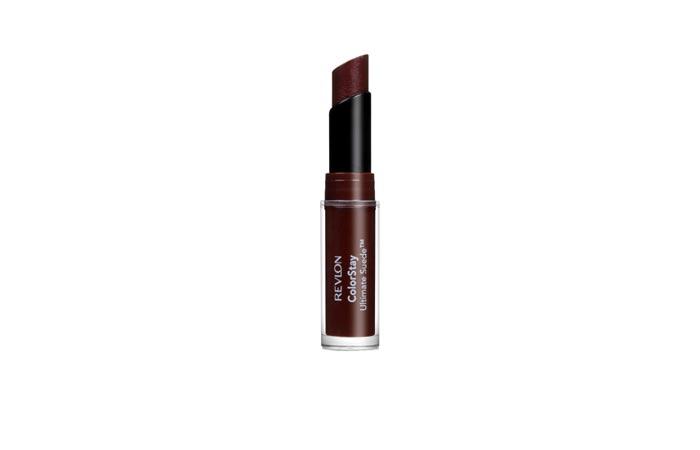 The Revlon ColorStay Suede lipsticks are popular for the velvety feel they leave on the lips. The lipstick feels moisturizing and provides a gorgeous lustrous sheen to the lips. Backstage is a true wine shade and stays for 5 to 6 hours on the lips. The shade is perfect for most Indian skin tones.


7. YSL Lipstick Pourpre Intouchable: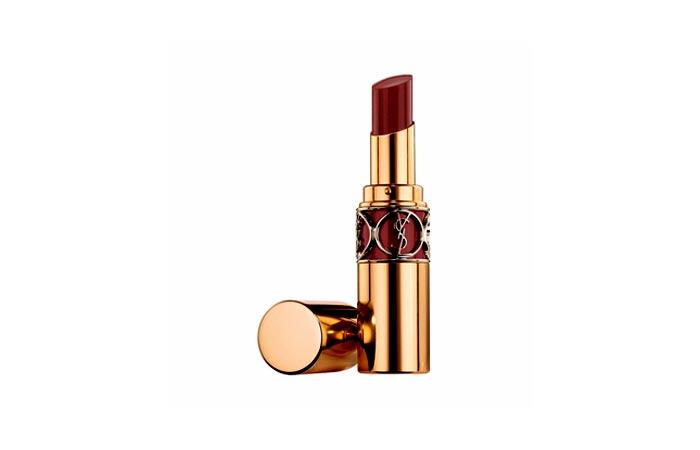 The YSL lipstick is the most expensive one on our list but worth a try for its moisturizing and creamy texture. The color of this lipstick appears to be very intense but transfers to a wearable wine color on the lips. It is a beautiful color with fine shimmer particles. It provides decent lasting power of 4 to 5 hours. Try this one, if money is not an issue.


8. MAC Media Lipstick:
MAC Media lipstick is a stunning dark wine shade. It is definitely not for the faint hearted! It is the darkest wine shade on the list. It has red undertones to it. So it appears very warm and powerful. This lipstick gives a semi satin finish with good coverage in 2 swipes itself. It easily covers pigmentation on the lips.


9. Lakme 9 To 5 Lip Color Wine Play: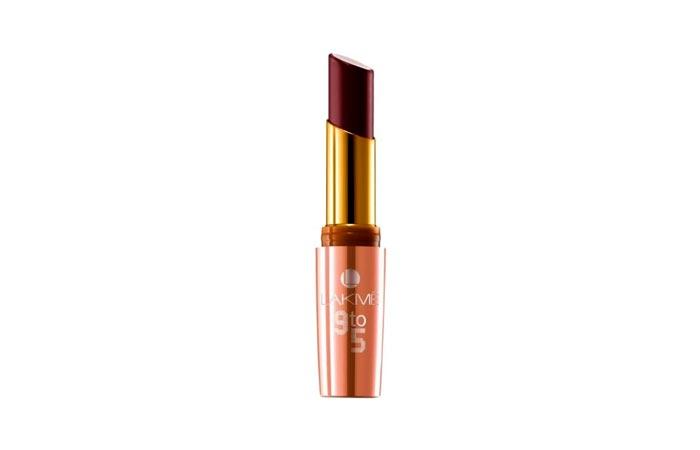 Lakme 9 to 5 lipsticks became popular for their quality and affordable price range. Wine Play is a gorgeous soft wine hue with faint mauve undertones to it. It is the perfect shade for the Indian skin tone. The lipstick provides a rich powder matte finish, so it doesn't make the lips chapped or dry.


10. Colorbar Velvet Matte Lipstick Grape Wine:

Grape wine is a deep purple-toned wine shade. It is a great option for people who like wearing dark colors. It also comes in a pocket-friendly price tag. The formula provides a matte finish with a decent color pay off.


From the most affordable to the most exotic – this list gives you the best picks when it comes to wine colored lipsticks. So, check your budget and buy the one that works best for you!
*Subject to Availability
Which is your favorite wine shade lipstick? Share your views with us in the comments section below.
Recommended Articles:

The following two tabs change content below.