40 Hair Colors For Winter That Are Trending In 2023
Take cues from our list to pick the best hair colors you'll want to show off this winter.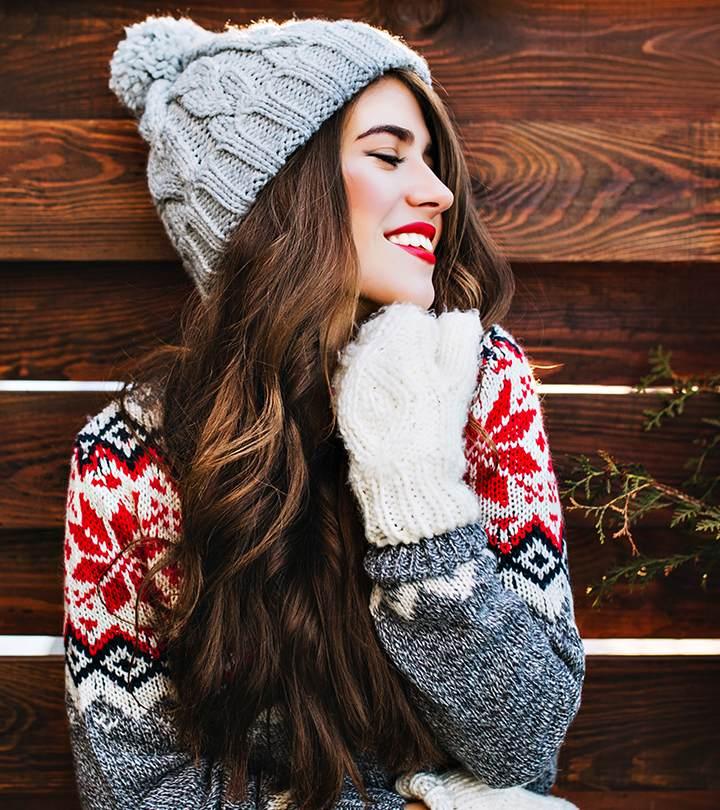 It is the season to be jolly! Winter is here, and apart from those new boots and that coveted jacket, you are thinking of sprucing up your hair. May we suggest some amazing winter hair colors that will warm up your day? Blonde, white, blue, brown, silver, auburn, pink, and purple – we have a shade for all the colors, even a unicorn blend! We have curated a list of 40 truly captivating hair colors you will want to flaunt this snowy season!
So scroll down, pick your favorite hair color, and get a-coloring!
40 Perfect Hair Colors For Winter
1. Winter Blonde
I'm starting off this list with a bang! Most women tend to go too warm or too cold with their hair colors during this time of the year. While that does look good, nothing looks better than this an understated sandy blonde shade. It has just the right amount of warmth to brighten up your winter.
2. Ash Blonde Balayage
Ash blonde is one of the best hair colors to welcome the winter with. This ashy beige mix goes well with the snow. You can also get some flawless pictures of this gorgeous blend to flood Instagram with!
3. Winter White
Do you feel particularly inspired by Queen Elsa this winter? Do you want to "let it go"? Embrace your inner snow queen with this surreal winter white shade. It accentuates all eye colors beautifully.
4. Brown Balayage
Brown hair is sure to be a winner this winter. This brown dimensional balayage will make your fireplace snaps look stunning.
5. Frosted Blue
Pastel colors have been trending for a while now, so it's only fair that I found a pretty shade of blue to please your pastel senses. This frosted blue is muted while still looking vibrant in its own way. It is the perfect color to flaunt this winter.
6. Silver Fir
Wood has inspired many hair colors like mahogany, walnut, and pine. So, it's only appropriate that the season with the most wood usage (thanks to the ever warming fireplace) would inspire one as well. I like to call this bright blonde shade silver fir since it has a subtle woody tint.
7. Brown Dimension With Blonde Highlights
Sit by the fireplace with some hot chocolate topped with marshmallows and watch the fire burn bright. This brown balayage with blonde highlights will make you feel that warmth even on those extra cold nights.
8. Golden Brown
Winter is the season of snow. You'll see your car, house, yard, and practically everything covered in it. Add a hint of gold to your brown locks to add some warmth to your landscape! It will look stunning when paired with any winter coat.
9. Brown With Hints Of Auburn
This is one of the warmest hair color blends out there. These earthy brown and auburn shades are perfect for battling the cold of winter. String out some fairy lights and get ready to click some seriously stunning pictures with this hair look.
10. Toasty Brown
Browns go really well with all winter color palettes. Opt for this toasty brown shade that will look beautiful with all your oversized sweaters! Style your hair in waves to add a relaxed vibe to this look.
11. Winter Unicorn
The unicorn color blend is the exact opposite of the summer phoenix color blend. This lilac hair look ends in a wonderful pastel palette to satisfy your colorful needs.
12. Brown Dimension
A brown dimension is a great way to make your hair look flawless for those countless Instagram pictures you'll be taking during the winter. It adds texture and dimension to your hair, making it look thicker than it is.
13. Deep Chestnut
Deep chestnut is a lovely, deep shade. It creates a great contrast against the white snow. A deep and luxurious color like chestnut looks amazing with oversized sweaters in gray and beige shades.
14. Bright Blonde
Winter is the season when blonde hair blossoms. It is a subtle color that blends well with the cold theme while also creating a sense of warmth. Keep the roots of your bright blonde hair dark to add dimension to your hair look.
15. Bronde
Blonde and brown come together to create this heavenly blend. This gorgeous bronde look is best described as a marriage between chocolate and caramel meet. It is perfect for the season of frost.
16. Red Highlights
Get fiery this winter with some stunning red highlights. The key is to not go over the top with the highlights but to blend them in seamlessly. Opt for a red shade that is close to your natural hair color. I'm sure you'll love it.
17. Silver Blonde
Gray is one of the trendiest hair colors right now, so it feels only right to include it in this list. Depending on your skin tone, it can accentuate your facial contours or soften them. If you have fair skin, it will soften your face. If you have a dark skin tone, it will define its outline.
18. Cool-Toned Brunette
Brown is a warm color. It makes me think of hot chocolate, brownies, and espresso. So, naturally, it looks great during the colder months. If your skin has a cool undertone, opt for a cool-toned brown and keep your roots a tad darker than the rest of your hair to add dimension.
19. Dark Roots With Blonde Hair
If you have wide cheeks and want to slim them down, try this hair color blend. The dark roots make your face look longer while the blonde locks will soften your face shape.
20. Brown-To-Blonde Ombre
Brown and blonde come together to create a gorgeous color blend for winter. You can experiment with warm- and cool-toned shades of these colors to find a hair look that matches your personality. Go for an ombre style to make your hair look flowy and beautiful.
21. Winter Lowlights
Lowlights are streaks of a darker color that are used to accentuate your natural hair color. Opt for lowlights that are two tones darker than your natural color. You can also add hints of white to give it a nice winter twist.
22. Caramel Highlights
The goodness of caramel is beyond measure. It makes everything look better. Just take a look at those lovely caramel highlights. They add not only warmth but also a nice sun-kissed touch to the hair.
23. Intense Pastel Pink
Yes, in the battle between brown and blonde, pastel pink takes its stand this winter. If you want to bring some color to this snow-laden season, go for this surreal pastel pink shade. Instead of going for a just a pop of color, opt for a more intense dark and light balayage blend.
24. Red-To-Blonde Ombre
Instead of opting for a bright shade of red, go for a more muted auburn. Fade it into a lovely sandy blonde hue to create this stunning contrast look. The red will give the blonde a pretty strawberry-blonde touch.
25. Dimensional Blonde Balayage
If you're a natural brunette and want to amp things up a few notches, try this blonde dimensional balayage. The balayage makes the blonde blend seamlessly into the brown hair.
26. Frozen Peekaboo Highlights
What would this winter-themed list be if I didn't add the primary cool color to it? Yes, I'm talking about blue! Go for blue highlights instead of coloring all your entire hair. Add some white highlights to really bring out the Frozen vibe.
27. Pastel Purple
This winter, win everyone over with this stunning pastel purple shade. If you are craving a drastic makeover, cut your hair in a short bob and curl it to showcase your purple locks.
28. Lilac
This muted lilac shade makes the sun's rays appear warmer. It is perfect for those cold winter nights. On the whole, it looks pretty surreal. If you have brown or hazel eyes, this shade will make them stand out.
29. Lavender
Lavender symbolizes grace, elegance, and mature femininity. Opt for a nice pleasant lavender hair color this winter. It will go well with the snowy, woodsy theme of winter. It will also look great under the soft light of the fireplace and fairy lights.
30. Frozen Blue
Some women love going all out with their hair color. They do it to show off their vibrant personality. Try out this lovely powder blue shade with subtle hints of white. It'll give you ice queen feels. Add some dimension to it by keeping the roots and ends darker and the mid-section more frosty.
31. Icy Blonde Balayage
In my opinion, this is one of the best winter hair color blends ever. Golden blonde blends with this lovely silver ash shade to create this icy blonde balayage. Opt for a balayage over highlights or streaks as it gives your hair a more natural look.
32. Mauve Hair
Mauve is a brilliant color that is great for accentuating your wavy tresses. It looks like a mix of burgundy and purple with hints of pink. On the whole, it is a warm color that will look spectacular in the winter.
33. Smoky Purple Ombre
Smoky hues look mysterious and intriguing. Go theatrical with this flawless smoky purple blend. Keep your roots dark and lighten the color into an ashy silver-purple as you reach the ends.
34. Gray Ombre
Gray is that one color that is all during winter but never on display. Think about it. When fireplaces are lit, gray smoke flies out of the chimney. Once the fire is out, the wood is ashy gray. Though never in the spotlight, gray is one color that really stands during winter. Steal the spotlight by coloring your hair in a steamy gray shade.
35. Intense Smoky Shades
Smoky colors are the chicest to sport this winter. Colors like deep blue, soft lilac, and deep gray really shine in the cold season. They match the cool-themed vibe of winter.
36. Dark Blonde
Dark blonde is a versatile hair color. It suits all seasons and all skin tones. This winter, opt for a dark blonde shade to take your hair to another level. Blend in some more shades of blonde to add dimension, texture, and depth to your hair.
37. Rose Brown Balayage
Rose brown has taken the world by storm – so much that even blondes want to go brunette to color their hair this shade. This playful color will bring warmth to your cold environment.
38. Rose Gold
Another color that works well in all seasons: rose gold. It is a warm-toned color that is light but still vibrant. Keep your hair more on the rosy side than gold. It creates a kickass feminine look.
39. Silver Blend
Silver hair goes well with the winter snow. But, instead of going plain silver, opt for a dimensional silver. You can also add in some smoky blue to add dimension to this look. The dimensional silver hair color will also make your hair look thicker.
40. Copper Balayage
Copper is the color of fire. It symbolizes warmth, which is something we all need in the cold winter. Splurge that warmth onto your hair with this copper balayage, and you won't be sorry. Your hair will look fabulous!
Winter hair colors are a perfect way to flaunt your style in the season. They warm up your day and give a stylish look to you in this snowy season. Winter blonde, ash blonde balayage, winter white, frosted blue, brown dimension with blonde highlights, brown with hints of auburn, winter unicorn, bright blonde, cool-toned brunette, dark roots with blonde hair, intense pastel pink, dimensional blonde balayage, frozen peekaboo highlights, frozen blue, smoky purple ombre, and dark blonde are some of the hair colors you can try this winter.
Frequently Asked Questions
Does hair color change in winter?
No. The sun, because of its UV rays, does bleach the hair slightly. However, since the days are not sunny during winters, the chances of one's hair color getting affected naturally during winter are low.
Why do people dye their hair darker in the winter?
Using darker hair dyes in winter is a trend because the sun does not bleach it, therefore it lasts longer and is easy to maintain. During summers people prefer lighter shades because the sun is bleaching the hair anyway so it gets conveniently camouflaged because of the lighter shade.
Key Takeaways
Winter is a fun-filled season, and applying colors like blonde, white, silver, blue, auburn, brown, pink, or purple to your tresses can add that extra charm.
You can also opt for unicorn colors for the right winter vibe.
Balayage or highlights complement the winter season quite well.
The following two tabs change content below.