23 Winter Wedding Ideas That Are Classy And Romantic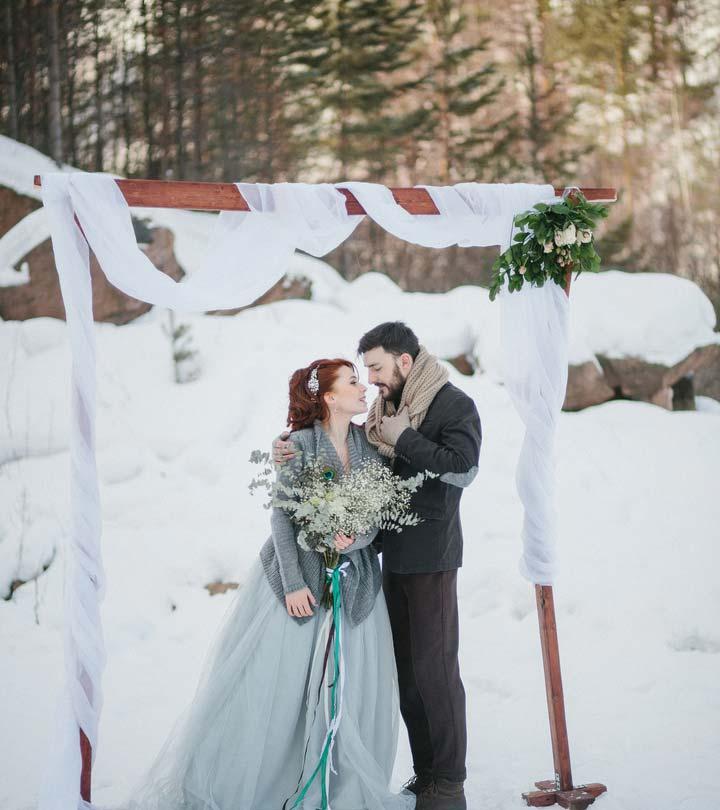 Winter is the most wonderful time of the year to get hitched. This magical season has a lot to offer, from cold weather and glamorous color schemes to festive entertainment and more. Planning your nuptials in the cold weather brings unique opportunities, ranging from snow-filled photoshoots and themed details to glittering decor. In addition, the light holiday music and wintry florals add charm and warmth to even the frostiest of days.
If you are planning to get married this winter, we have rounded off several winter wedding ideas to get you inspired. Discover all the trends and find the best inspiration for your D-Day. Just scroll down and get ready for your guests to admire the rustic and whimsical spectacle that will be your wedding!
6 Winter Wedding Ideas On A Budget
There are several winter wedding ideas that will help you marry in style without burning a hole in your pocket. Below is a list of some ideas for an economical affair:
1. Go Small
The easiest way to minimize the cost is to cut down the guest list. Invite your near and dear ones and take vows with your better half while pampering your guests in gourmet style.
2. Decorate With Pine Cones
A pretty pine cone looks elegant as a cardholder. You can also opt for garlands for the tables and wedding cake decorations. Don't forget to sprinkle some glitters to add a festive appeal.
Other inexpensive yet classic decoration ideas include gold-sprayed leaves, natural greenery, and cinnamon. Instead of spending on individual centerpieces, drape vines of greenery across the dinner tables. Pair it up with the tea lights to add some cozy and romantic effects.
3. Take Pictures In The Snow
Free of charge, magical portraits in the snow are the biggest perk of winter weddings. Schedule the photoshoot for after the ceremony to preserve your makeup and hairstyle for your grand debut.
4. Serve Mulled Wine
It is no wonder that batch cocktails and punches are more pocket-friendly than preparing every drink fresh from scratch. If you are looking forward to saving a few bucks, serve mulled wine and wow your guests on the go. This wine is served warm with lip-smacking spices and can be the ultimate way to kick off the cocktail hour.
5. Take Advantage Of Holiday Decor
If you are planning to get hitched around the holidays, chances are there will be a wreath or evergreen tree already adorning your event space. Leaning into the decor is the easiest way to fit into the festive mood without spending extra bucks.
6. Embellish Your Cake With Natural Ascents
There is no secret that sugar flower makes for a beautiful wedding cake embellishment, but it is a costly addition. To keep things in budget yet pretty, include some natural elements of winter, such as pine cones, tree branches, etc.
Décor opportunities for the winter months are endless. The next section lists some of our favorite ways to decorate a rustic, vintage, classic, or modern winter wedding that speaks to any style.
7 Winter Wedding Decoration Ideas
1. Go For Blue Velvet
Shades of blue lend themselves to weddings at any time of the year but wrapping them in rich, luxe velvet multiples their beauty manifold. This tone works double duty — as a pop of color in its deeper tones and as a neutral shade when it goes softer. Don't forget to mix them with metallics to make the vibe more hibernal.
2. Simplify Your Color Palette
Winter weddings usually translate to an intimate, gourmet dinner. For a fresh take, focus on the monochromatic color scheme. You can opt for the bright shades of the West Coast or think jewel tones of fireplaces, citrine, etc. Consider applying these ideas with your favorite shades: winter whites, soft blues, neutrals, or deep shades like emerald, eggplant, and burgundy.
3. Embrace Fireplaces
Fireplaces can add warmth and cozy vibes to any winter wedding venue. You can also use the mantlepieces as the base for the romantic floral display intertwined with candles. Deep red flowers add a gothic vibe to your wedding venue. You can also opt for pure white flowers to keep things elegant.
4. Decorate With Fairy Lights
A fairy light wall makes a romantic backdrop for wedding pictures. Light up the room with fairy lights, market lights, and taper candles to make the space look classic. You can wrap these lights around banisters and beams. Put them inside lantern centerpieces or use them to highlight paths.
5. Winter-Inspired Arch
Don't forget to add an arch to your wedding ceremony and click some beautiful photographs to cherish for a lifetime. With flowers, leaves, and fabric drapes, it is a perfect addition to any winter wedding and can serve as a DIY photo booth.
6. Use Warm Jewel Tones
While the pure-white color scheme looks chic and royal, warming jewel tones are ideal if you want something more intimate, snug, and relaxed. These jewel tones add warmth, richness, and coziness to the space. Try looking for jewel-colored glassware, velvet table runners, candles, and tissues to spark up the table settings.
7. Hang A Neon Sign
With dark and frosty weather outside, you should focus on keeping your interiors as warm and intimate as possible. A custom neon sign is a perfect way to add some warming tone to the overall décor. It also looks fascinating.
Once you have sorted the wedding decorations, head to the next section to unwrap some of the best reception ideas to inspire your seasonal soiree.
5 Winter Wedding Reception Ideas
1. Embrace The Weather
Find a picture-perfect snowy landscape to host a memorable wedding reception. Skip the humidity and sweltering heat, and trust us, your hairdo and makeup will thank you.
2. Bring On The Branches
Use fallen leaves and branches as the primary source of floral inspiration rather than getting discouraged. Stay seasonal when it comes to decor, and keep in mind that winter wedding reception should feel festive, not overly flowery.
3. Opt For Low-Lying Centerpieces
Carry that family-oriented and communal vibe throughout your wedding reception. Opting for a low-lying centerpiece creates a more intimate dining experience where everyone can interact without any hassle.
4. Create Seasonal Tablescapes
Add a festive feel to your winter wonderland reception by adding creative and seasonal tablescapes, including cinnamon sticks, log slices, fir foliage, pine cones, and more. These items create a jaw-dropping woodland ambiance.
5. Add Festive Accessories
While your wedding attire might be a major attraction, the accessories amplify its overall appeal. You can dazzle your bridal look with a sparkling patchwork cape or a faux fur stole if you plan an outdoor reception.
An outdoor winter wedding might seem like a challenge, but it brings many opportunities to add seasonal touches to the décor. Read on to find out how you can make an outdoor winter wedding a thumping success.
5 Outdoor Winter Wedding Ideas
1. Tented Wedding With Checkerboard Dance Floor
If you envision an outdoor winter wedding but want to save yourself and the guests from a sudden snowfall, a tent is your best bet. Makeshift ceilings blend the beauty of indoors and outdoors.
2. Illuminated Tent Legs
Wrap fairy lights around the tent legs to add a wintery twinkle to the setup. Lights add grace to any venue and provide your guests with a view to behold.
3. Wedding Wreaths
Decorate your outdoor winter wedding space with lush wreaths made of cascading wines and cream-colored foliage to add a whimsical touch to your winter affair.
4. Aisle Of Candles
Since the winter season is all about cozy and snug vibes, try decorating the aisle with candles instead of flowers. Use pillar candles to offer a warm and inviting setting at your outdoor winter wedding ceremony.
5. Statement Foliage Displays
A hanging foliage display looks theatrical and adds a regal touch to your wedding. However, remember that you need to make a virtual ceiling or makeshift ceiling to hang foliage. It will make the space feel much cozier and intimate.
The winter weather outside may be frightful, but it is still possible for you to host a delightful wedding. Although everything in the atmosphere is dull, dry, cold, and lifeless during winters, you can work it up to your advantage and experiment with themes and colors that will bring more brightness, color, warmth, and life to your celebrations. You can play around with lighting arrangements, popping tones, florals, and textures that make the venue feel cozy. These winter wedding ideas will fast-track your preparations and take the festivities up a notch. So, grab yourself a piping hot mug of cocoa and take charge of the wedding of your dreams!
Key Takeaways
Winter is the perfect time for weddings. Think of using colors that work with the wintery theme and add decorations that bring warmth to the room.
Enhance the wintery theme for your reception by recreating the natural snowy wonderland landscape.
Having a winter wedding outdoors lets you use creative ideas like fairy lights and a dance floor.
Recommended Articles
The following two tabs change content below.