Everything You Need To Know About Wispy Bangs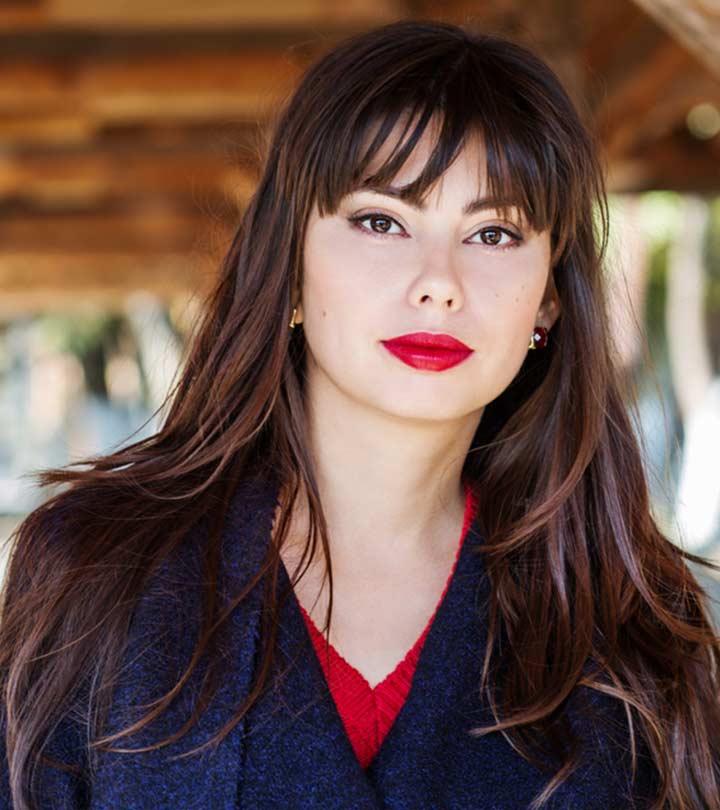 Wispy bangs are those lightly feathered, soft bangs that the whole world seems to be obsessed with right now. They are those slightly parted, flawless French bangs you've always wanted. They are known to be the perfect fringe type since their wispiness allows them to blend in with your hair when needed for those fringeless hairstyles.
Want to know how to cut your own wispy bangs? Keep reading!
How To Cut Wispy Bangs – Step-By-Step Tutorial
What You Need
Rat-tailed comb
Hair cutting scissors
Hair clip
Flat iron
How To Do
Blow dry your hair before you start to give your hair the needed texture and lightness for wispy bangs.
Gather hair from the mohawk section and straighten it in thin sections.
Comb down this section of hair, allowing it to fall on your face. Arrange it as you would like the bangs. Keep in mind that wispy bangs are parted and light bangs.
Pick up a thin section of hair at the center of the bangs. Hold it close to your face, so it's cut at the right length.
Take your scissors and point them downwards. Open your scissors so that the hair is almost at the end. Open and close your scissors lightly as you move them down your hair, making sure never to close them completely. This will give your bangs a feathered look.
Similarly, cut the rest of your bangs, keeping them shorter in the middle and longer at the sides.
Comb the bangs as you'd like.
Wasn't that super easy? Now, let's check out some chic ways you can style your wispy bangs!
25 Chic Wispy Bangs To Change Up Your Hairstyles
1. Face-Framing Bangs
Though wispy bangs are light, they can frame your face beautifully. If you have a large forehead, they can cover it up and balance out your look. If you have wide cheeks, opt for wispy bangs that are short at the center but get longer as they reach the sides. A blunt wispy bangs cut draws attention to the jawline.
2. Classic Wispy Bangs
Wispy bangs are slightly parted from midway down. They are thick at the roots but feathered as they get to the end. Classic wispy bangs are cut at the eyebrows.
3. Long Wispy Bangs
If you have a long face or a large forehead, long wispy bangs will be perfect for you. They cover up your forehead, showing only parts of it. This makes your face look smaller and draws attention to your facial features.
4. Wispy Side Bangs
Instead of styling your bangs in small sections, try this look. Brush your wispy bangs down and part them with the pointed end of your comb. The feathered bangs will form subtle layers on the side bangs.
5. Messy Wispy Bangs
Messy hair is all the rage right now, and I'm on board! Tousle your bangs with your fingers, and you've got yourself a stunning new look. This messy bangs look works with any hairstyle.
6. Slight Feathered Bangs
If you have thin hair and want bangs, wispy is the way to go. Thanks to the subtle partings in wispy bangs, they will look perfect with your fine hair. Instead of parting your bangs midway down, part them right at the roots. These wispy bangs will also make the rest of your hair look thicker.
7. Long Layered Side Bangs
If you are not big on front and center fringes but still want the wispy look, try this style. Part your hair in the middle and take a little hair from the front on both sides. Both sections need to be equal since they are going to be your bangs. Clip up the rest of your hair and cut your bangs following the tutorial mentioned above, but a bit longer. Part the bangs down the middle, and you are good to go.
8. Sharp Tapered Wispy Bangs
This is for all thin-haired women out there looking for ways to make their look thicker. When you get wispy bangs, make sure to get the ends cut sharp. Whatever hairstyle you choose, cutting the ends sharp and uneven will make the rest of your hair look thicker.
9. Inward Wispy Bangs
If you thought you couldn't add some style to your bangs, think again! Take a round brush and place it underneath your bangs. Brush then inward while blow drying them. This is a great way to style bangs that are starting to grow out.
10. Dark Rooted Wispy Bangs
Leaving your roots dark helps in framing your face and adds dimension and depth to your hair. Pair them with a shaggy lob like Reese Witherspoon to create a chic look.
11. Long Sides-Swept Wispy Bangs
These wispy bangs are for women with thick hair. If you want to showcase your bangs, opt for this side-swept wispy bangs cut. You can see the bangs have layers to flaunt the thickness of your hair. These bangs also accentuate your jawline.
12. Wispy Layers Bangs
A good layered cut can transform you! The ends of these wispy bangs are layered in small sections. They start small and end long and are cut pointed. This type of fringe works well on oval faces.
13. Short Wispy Bangs
Wispy bangs look great even on a small forehead. Cut them just above your eyebrows, so they flow better. If you cut them at eye level, they might make your jawline look broad and hefty.
14. Heavy Wispy Bangs
Take a page out of Taylor Swift's lookbook this season! Heavy wispy bangs can make your short hair look thick and slim down your face. This look works especially well with a shag cut or a layered cut.
15. Blunt Wispy Bangs
If sleek is your thing, look no further. Blunt wispy bangs are here to make all your hairstyles look sleek. It is the perfect hairstyle for the boss lady that you are!
16. Thick Wispy Bangs
Thick wispy bangs may sound like an oxymoron, but they actually look great. They are great for framing your face and draw attention to your jawline by streamlining it. Get wispy bangs that are mostly cut blunt, but get the ends cut a little longer.
17. Wispy Fringe Bangs
The full frontal fringe is a classic look, but you can play around with it to add some style. Try parting your bangs near your eyebrows in three sections: two side sections and a middle one. Make sure the roots of the sections are brushed together, so they look more natural.
18. Layered Side Swept Bangs
Tapering layered bangs can add that extra oomph to your hairstyle. If you have a wide forehead, this style of bangs will help add symmetry by covering one part of your forehead partially.
19. Thin Long Side Bangs
Have your bangs grown out? Are you dilly-dallying between getting them trimmed or letting them grow? I have the perfect solution: long side bangs! Part your hair in the middle and let a small section of hair hang loose from each side.
20. Tapered Wispy Bangs
Tapered bangs work well on all face shapes. This is because the flow of tapered bangs is seamless and natural. The center is cut short, and the bangs get longer towards the ends.
21. Light Fringe Bangs
If you have fine hair, you know the struggle of trying to make your hair look voluminous. The problem with fine hair is that it tends to look dull and lifeless. Adding light wispy bangs to your hairstyle will make all the difference.
22. French Wispy Bangs
Wispy bangs are part of that classic romantic French girl look we all love. The bangs are cut blunt with lightly feathered ends. Put on a beret and a long jacket, and you are good to go!
23. Deep Side-Swept Bangs
If you don't like layers or bangs that fall in your eyes, this look is for you. These deep side-swept bangs draw the eye sideways. They accentuate your eyes and make your face look slimmer.
24. Choppy Wispy Bangs
If you want to be as happy as Rihanna looks here, get these bangs! These bangs look uber stylish and edgy. They also draw attention to your eye makeup. Put on a leather jacket, go for a dramatic eye look, and flaunt your choppy wispy bangs like the badass you are!
25. Long Romantic Side Bangs
If you've been contemplating between getting bangs or letting your hair be, this is a great compromise. You don't need to cut your bangs short to have wispy bangs. Opt for long side wispy bangs. The length of these bangs are up to you, and you can curl them to add a romantic touch. They also blend in with the rest of your hair to give you an incredible layered look for when you don't feel like having bangs.
Wispy bangs are a godsend! They can transform any hairstyle, so don't pass up on them. Which of these wispy bangs are you planning on getting? Comment below to let us know!
The following two tabs change content below.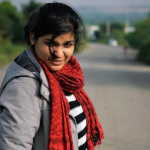 Anjali Sayee is a writer and an introvert. From studying Aeronautical Engineering and wanting to design her own airplane to writing articles on hairstyles, she has been on quite a journey. She believes that hair is one of the key factors that define a woman's personality. To quote her, "What's the first thing they do in the movies to show a personality change? Change the hair – because it has a life of its own." She's here to help you find the hairstyle you need. This bookworm is a self-professed Wholocker, a talented drummer, and an amateur photographer.