Witch Hazel For Hair: Benefits, How To Use, & Side Effects
Soothe your scalp and protect your hair from further damage with this ancient plant.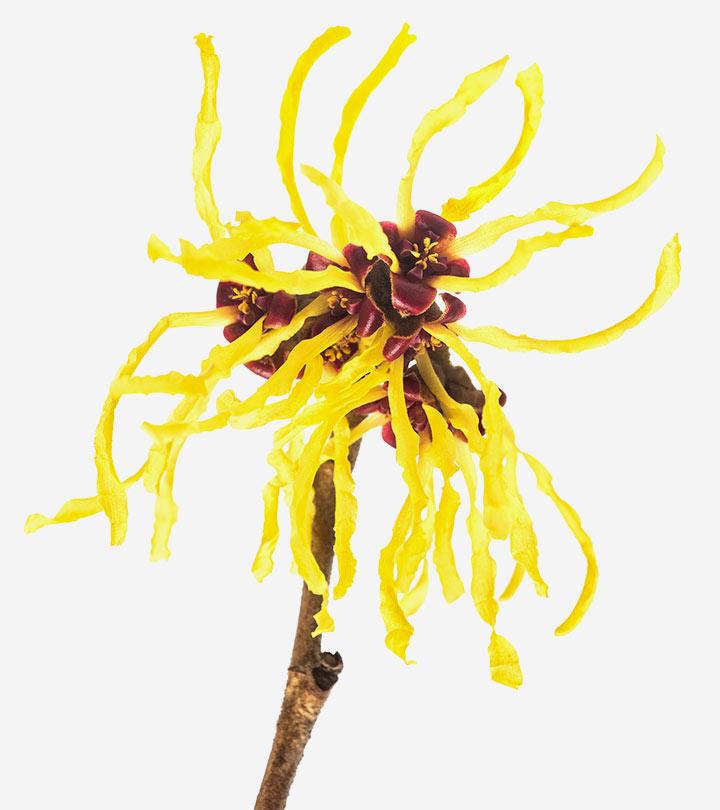 Witch hazel, scientifically called Hamamelis virginiana, can be found in many hair care products. It has many therapeutic and medicinal benefits that boost hair health. But how advantageous exactly is using witch hazel for hair? It stimulates hair growth, boosts hair shine, and protects hair strands from damage. But what does science say? Continue reading to understand the different ways witch hazel can improve hair health.

Know Your Ingredient: Witch Hazel
What Is It?
A deciduous shrub that is available in various colors.
What Are Its Benefits?
Witch hazel helps treat scalp psoriasis and eczema, cleans the scalp and removes excess oils, and balances pH levels of the scalp.
Who Can Use It?
People with oily scalps.
How Often?
2-3 times a week.
Caution
Choose pure and nonalcoholic witch hazel products for your hair as the alcoholic variants may render your scalp too dry.
Benefits Of Witch Hazel For Hair
Witch hazel contains tannins, gallic acid, catechinsi  XNatural polyphenolic phytochemicals that exist in food and medicinal plants, such as tea and legumes. , proanthocyanidinsi  XChemical compounds which give fruits or flowers a red, blue, or purple hue and are known to help prevent cancer. , flavonoids, essential oils, cholinei  XA necessary nutrient and an organic, water-soluble substance essential for liver function, brain development, and metabolism. , and saponinsi  X A naturally occurring compound with the ability to create stable, soap-like foams in aqueous solutions. . It was used as a natural astringenti  XA chemical that tightens soft organic tissues and skin cells, often used in skincare to control excessive oiliness in the skin. and antioxidant to treat acne, psoriasisi  XA skin condition that commonly results in a rash with itchy, scaly areas on the knees, elbows, trunk, and scalp. , and eczemai  XA medical condition in which certain skin patches develop roughness, inflammation, and blisters that bleed and itch. associated with the scalp.
Witch hazel possesses anti-inflammatory, antioxidant, and astringent properties. It may help treat scalp disorders like inflammation, irritation, and redness (1). However, it is not recommended for use on a sensitive scalp.
It is used as an astringent. It not only cleanses the scalp but also removes excess oils. Its acidic pH may also help balance the pH levels of the scalp.
Witch hazel contains flavonoids that inhibit enzymes involved in the oxidative process (2). The flavonoids are rich in antioxidants. They protect the hair color and prevent hair lightening.
Anecdotal evidence suggests that witch hazel may stimulate hair growth. The plant contains tannins, flavonoids, and cyanidins that improve blood flow (2).

Quick Tip
You can use pure witch hazel or witch hazel-based beauty products once or twice a week for soft and healthy hair.
Are you wondering how to add witch hazel to your hair care regimen? Find out below!
How To Use Witch Hazel For Hair
Apply witch hazel to your scalp with a cotton ball or pad. You can also use a dropper for application. Wash with your regular or hydrating shampoo.
Add witch hazel to your shampoo when washing your hair to cleanse your scalp thoroughly.
Add witch hazel to natural hair tonics and oils to prevent hair graying, oxidative damage, and other scalp issues.
Dilute witch hazel in water and rinse your hair with it. This may reduce dandruff flakes without leaving the scalp too dry. The witch hazel rinse may also balance your scalp pH levels.

Quick Tip
You can use witch hazel as a hydrating tonic by mixing 3 tablespoons of alcohol-free witch hazel, 1 cup of water, and 1 tablespoon of rosemary oil. Add 10 drops of peppermint or lavender oil to the mix. Pour it into a spray bottle and use it to nourish your hair.
Using witch hazel as a hair treatment is simple. However, it may cause certain adverse effects in some.
Adverse Effects Of Witch Hazel
Though rarely, witch hazel may cause contact dermatitis (4). Perform a patch test on your forearm or the back of your neck to check for any irritation, redness, or inflammation.
Alcoholic witch hazel may leave the scalp too dry. Opt for pure and non-alcoholic witch hazel products. Also, do not mix witch hazel with alcohol-based products.
Overusing witch hazel may dry your scalp out. However, a mask containing witch hazel and aloe vera can be used as a herbal remedy to hydrate your scalp.
Not everyone can use witch hazel. Read on to know more.
Who Shouldn't Use Witch Hazel
Witch hazel is ideal for people with an oily scalp. It is not recommended for individuals with a dry scalp, as the plant may dry the scalp way too much and cause itching, redness, and irritation. If you have extremely sensitive skin, it is advisable to avoid witch hazel as its acidic pH may cause irritation.
Infographic: Witch Hazel Shampoo Recipe
Witch hazel has antioxidant, antifungal, and astringent properties. If you feel hair care products containing witch hazel are too expensive, try the below recipe. Hence, it is extremely beneficial for the hair. Also, it has calming properties, which can ease scalp inflammation and may help prevent hair loss. The shampoo is highly effective and does not take too long to prepare. Scroll down to the infographic to get started.



Witch hazel is generally used to improve the scalp's health, improving the quality of your hair. It is possible that the natural skin care solution will perform miracles for your hair. Witch hazel is a relaxing ingredient that you should incorporate into your hair care routine if you have an oily, irritated, or sensitive scalp. While witch hazel might help calm an itchy scalp, it can also make it dry. As a result, proceed with caution. Before utilizing it, perform a patch test. When used correctly, it can provide you with the results you have been seeking.
Frequently Asked Questions
Can I leave witch hazel in my hair overnight?
It is not advisable to leave witch hazel on your hair overnight as it can dry out your tresses and scalp due to its astringent properties.
Is witch hazel good for curly hair?
Yes. Curly hair tends to get very oily near the roots. Witch hazel strips away the excess oils, along with any product build-up and dirt.
Is witch hazel good for dry itchy scalp?
Yes, witch hazel is a natural remedy for treating scalp inflammation and relieving itchiness and dryness. However, you should not leave it on your hair for too long.
How do you dilute witch hazel?
You can add witch hazel to your skin and hair care products like moisturizers or shampoos. You can also pair it with ingredients like aloe vera, avocado, and honey to make hair masks and face packs. Also, there are many skin and hair care products that contain witch hazel and don't need diluting.
Is witch hazel an oil?
Witch hazel can be found as an oil or solution.
Can you mix witch hazel with coconut oil?
Yes, you can mix witch hazel with coconut oil. This combination is very beneficial for skin and hair care.
Is witch hazel hydrating or drying?
Witch hazel contains tannins and has a drying effect on the scalp and hair. It may help control grease and oil when used in moderation (once or twice a week).
Key Takeaways
Witch hazel contains tannins, flavonoids, and cyanidins that help promote hair growth.
It helps clean the scalp and can be used to treat dandruff issues.
However, though safe to use, it may even dry the scalp at times. So, choose non-alcoholic and pure witch-hazel products.

Deal with common hair and scalp problems like dandruff, itchiness, and dryness with just one natural remedy. Watch this video on how to use witch hazel for a natural scalp treatment.

Sources
Articles on StyleCraze are backed by verified information from peer-reviewed and academic research papers, reputed organizations, research institutions, and medical associations to ensure accuracy and relevance. Read our editorial policy to learn more.
The following two tabs change content below.