Witch Hazel For Skin: How To Use And How It Helps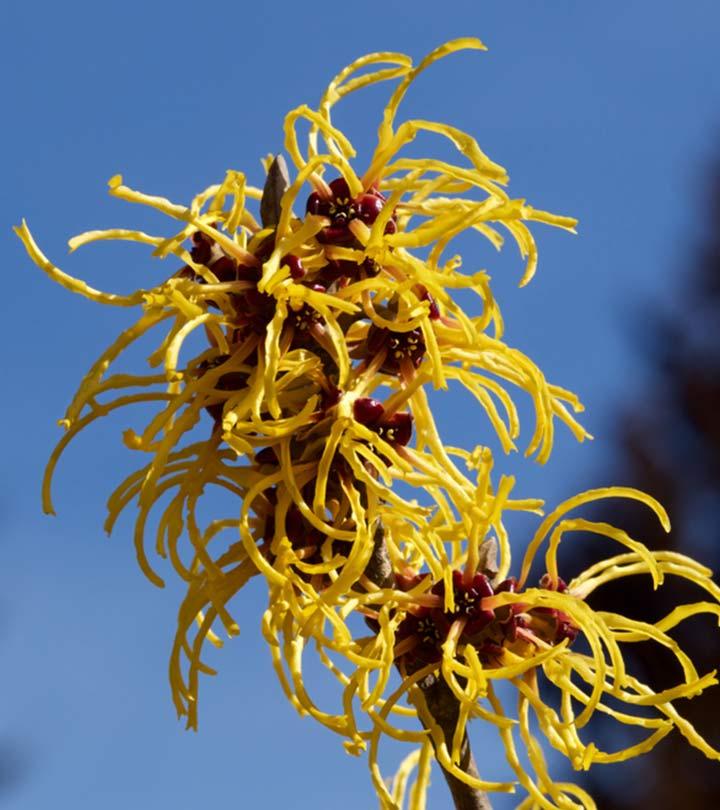 Witch hazel is becoming a popular ingredient in many skin care products. You may use witch hazel for skin care and acne issues. Witch hazel is one of the natural remedies that can do wonders on your face. While it is mostly used in toners, you will find witch hazel in products like moisturizers, lotions, and creams. This article discusses the benefits of witch hazel for your face and how to use it. Read on.
Is Witch Hazel Good For Your Skin?
Witch hazel is said to offer many benefits for your skin. Check them out below:
Witch hazel has a high polyphenolic (micronutrient) content and antioxidant properties. It may also offer anti-aging benefits by inhibiting elastase and collagenase (1). Collagenase and elastase are dermal enzymes that break down elastin and collagen, which are responsible for keeping your skin tight and firm.
Witch hazel has astringent (pore tightening) and antiseptic properties and is often used in skin care products for the same. These qualities make witch hazel an effective remedy for skin problems such as acne (1).
Witch hazel contains tannins that have many therapeutic properties for the skin. These tannins seal the external layers of the skin and make them waterproof to protect the internal layers. These tannins also heal small cuts and treat superficial burns. They improve tissue regeneration and retain hydration. Tannins also have antimicrobial and antioxidant qualities which make them ideal for anti-aging products (2).
Witch hazel can be used as an aftershave and to ingrown nails, cracked or blistered skin, and insect bites (2).
Witch hazel has been shown to have antibacterial effects on bacteria such as Candida albicans, E.coli, and Staphylococcus aureus. This suggests that it might be helpful in treating microbial skin conditions like intertrigo dermatitis and atopic dermatitis (2).
Witch hazel may also be used to treat poison ivy rash and chickenpox and heal bruises or cuts infected by viruses and bacteria (2).
Witch hazel is a wonderful herb that has a large concentration of tannins and works well as a herbal astringent. The bark and leaves are quite useful. They can protect the skin and prevent any blemishes from appearing (3).
Witch hazel water can help reduce minor skin issues such as roughness (or dryness), soreness, and irritation (4).
Wondering if witch hazel is safe to apply on the face? Find out in the next section!
Can Witch Hazel Be Used On The Face?
Yes, witch hazel can be used on the face. It is often used in astringents for its cleansing properties. It is found in many commercial astringents. It is also used in skin conditioning products.
Witch hazel is considered safe to use on the face as it cannot penetrate the deeper layers of the skin. It protects your face from skin conditions like acne. It also reduces roughness and irritation. When used on damaged and irritated skin, witch hazel was found to be safe (5). However, at higher concentrations, it may dry out the skin and cause irritation due to its astringent property.
Witch hazel is a natural product that does not change the pH level of the skin (6). (Changes in the pH level of the skin may cause dryness and irritation.)
Research also shows that witch hazel can be used to control pimple formation and as a toning solution for oily skin (7). It may also protect the skin from sun damage, though there is not enough scientific evidence to prove the same.
Much has been said about witch hazel and its benefits for acne-prone skin. Read on to find out exactly how witch hazel treats acne.
Witch Hazel And Acne: How Does It Help?
One of the causes of infection in acne is due to the presence of bacteria called Staphylococcus aureus (2). Research shows that witch hazel (at a 100 mg/ml concentration) can inhibit the growth and activity of this bacteria since it has antibacterial properties. It also works well on oily skin, which may be more susceptible to acne, due to its astringent property (3).
Apart from this, witch hazel may also help repair minor scars that may be caused by acne breakouts. Witch hazel has skin-soothing properties that can relieve acne inflammation effectively (9).
Research also shows that witch hazel can be used to treat acne-prone skin to prevent any further infection (6). It is gentle, non-irritating, and non-drying on the skin. It cleanses and tones acne-infected and acne-prone skin. It tightens the pores and reduces inflammation. It also prevents water loss and redness (6).
Here are some ways you can use witch hazel on the face.
How To Use Witch Hazel On The Face
Some witch hazel formulas may contain other ingredients like alcohol which may dry out the skin. Instead, opt for pure witch hazel solutions. Witch hazel can be directly applied to the skin.
You can use witch hazel water, which is a blend of witch hazel and water. This can help soothe the skin and treat roughness and irritation.
You can pair witch hazel with other natural herbs and oils. The additional ingredients €"with their unique skin care benefits €" can improve skin appearance, health, and texture.
You can use products that contain witch hazel such as toners, astringents, and moisturizers.
Although witch hazel has shown many benefits in skin care, its oral supplements have no recorded benefits.
It is advisable to consult a dermatologist to figure out the concentration of witch hazel that will suit your skin.
Witch hazel is used in many skin care products, but how safe is it?
Risks Of Using Witch Hazel On The Face
Witch hazel is safe to use on the skin as it does not change the pH level of the skin (6). Research shows that witch hazel does not aggravate damaged and irritated skin (5). However, it is advised to perform a patch test before you start using it on your face.
There are some witch hazel solutions that contain alcohol which can dry out the skin. If you notice any dryness on the skin after using witch hazel, you can pair it with moisturizing ingredients like aloe vera gel.
Witch hazel for skin is one of the simplest home remedies for skin issues. Its antioxidant, antiseptic, and anti-inflammatory properties reduce acne, slow down your skin's aging, hydrate the skin, and protect against infections. In low concentration, witch hazel can be used on your face safely. You can use pure witch hazel solution, mix it with essential oils or use toners and moisturizers that contain witch hazel. Ensure you conduct a patch test before using witch hazel to avoid an allergic reaction. Consult a doctor to know the appropriate concentration of witch hazel suitable for your skin.
Frequently Asked Questions
Does witch hazel remove dark spots?
Yes, regular use of witch hazel in your cleanser can help diminish dark spots and brighten your skin.
Can you leave witch hazel on your face overnight?
Yes, witch hazel contains gallic acid and tannins that help repair broken skin. So, it is safe to use overnight on your face.
Does witch hazel fade scars?
Yes, you can dab some witch hazel on the scar twice daily to fade its appearance.
Key Takeaways
Witch hazel has anti-aging, antioxidant, and anti-inflammatory properties.
When used in low concentrations, witch hazel is safe for facial skin and non-irritating. It does not affect damaged or irritated skin.
It also has antibacterial properties that inhibit the growth of Staphylococcus aureus, known to cause acne.
However, some witch hazel solutions may contain alcohol, which dries the skin. But you can use a moisturizer to combat dryness.
Sources:
Articles on StyleCraze are backed by verified information from peer-reviewed and academic research papers, reputed organizations, research institutions, and medical associations to ensure accuracy and relevance. Read our editorial policy to learn more.