21 Powerful Songs For Women's Day
Celebrate the confident and beautiful divas in your life on Women's Day with these songs.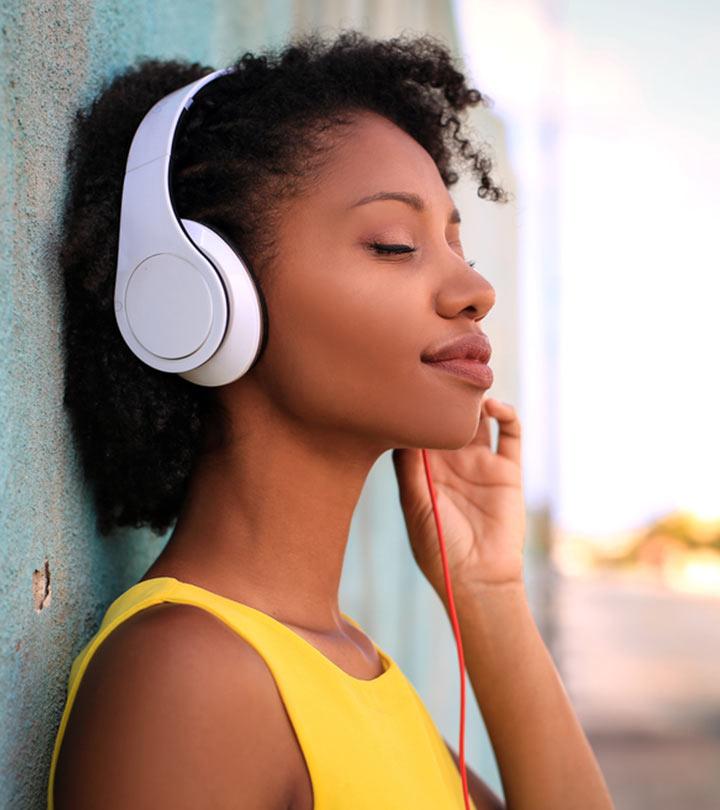 Music tugs at the heartstrings of every individual, and women especially appreciate it. Here, we have listed some empowering Women's Day songs to celebrate women and their amazing personalities.
Some songs get stuck in your mind after listening to them, while others use their lyrics to crawl into your heart. Songs, in any case, never fail to make a person feel something. So, listen to these powerful compositions and share them with all the women in your life. Keep scrolling!
1. Scars To Your Beautiful
Singer: Alessia Cara
Released: 2016
'Scars To Your Beautiful' talks about how beauty lies in the eyes of the beholder. Alessia Cara's intense voice is bound to make your knees weak with the emotions it is sure to make you feel.  She spreads the message that scars are not flaws but the spoils of war that you should be confident about.

Did You Know?

An episode of the American reality television series 'Botched' is believed to be the motivating factor behind the song 'Scars To Your Beautiful' by Alessia Cara. The song talks about struggles with body image.

2. Confident
Singer: Demi Lovato
Released: 2015
Confidence is the key to success. This Demi Lovato song will lift your confidence to a whole new level. It will make you feel confident about yourself and motivate you to do the things you have only been putting off because you are waiting for the right time.
3. Love Myself
Singer: Hailee Steinfield
Released: 2015
Hailee Steinfeld's chant of "Gotta love myself, don't need anybody else" is bound to make you prioritize yourself before anyone else. After all, we all need a dose of self-love and appreciation every once in a while.
4. Chandelier
Singer: Sia
Released: 2014
Sia is known to write songs that make your hips sway. She wrote this song at a low point in her life as a message that she has survived through the hardships and is never going to look back. She says she won't ever hit that low again. The song will motivate you to strive through the hardships and not give up.

Trivia

The song 'Chandelier' details the demoralization as well as the rationalization of alcoholism through the perspective of a party girl in the music video.

5. Brave
Singer: Sara Bareilles
Released: 2013
In this iconic song, Sara Bareilles pushes you to speak up and be brave. She urges you to talk about your oppression instead of staying quiet in an attempt to "protect" or "save" the oppressor. She provides words of encouragement to the bullied to speak up.
6. Believer
Singer: Imagine Dragons
Released: 2017
'Believer' by Imagine Dragons talks about the pain and suffering one goes through under oppression. And who can relate it to more than women?  The song tells you that no matter how much you are pushed down, you can always rise up and inspire more people to fight for a worthy cause.
7. Begin Again
Singer: Rachel Platten
Released: 2014
'Begin Again' talks about the pain one has to go through while making difficult decisions. The singer wants to break free of the expectations and her past and "begin again" to create a new life, one that she can live on her own terms.
8. Rockabye
Singer: Clean Bandit ft. Anne-Marie
Released: 2016
'Rockabye' is a song dedicated to all the single mothers in this world who are struggling but still doing an amazing job of raising their children. It talks about the love, devotion, adoration, and special bond between a mother and her child that develops as a result of the hardships that the mother faces while sheltering her child.
9. Head Above Water
Singer: Avril Levigne
Released: 2018
'Head Above Water' is a song about the hardships that Avril Levigne had to go through when she fought cancer. It symbolizes any struggle that a person has to go through in their life. You can always find your head above water even when it feels like you are drowning in the deepest depths of despair.
10. Princesses Don't Cry
Singer: Carys
Released: 2019
'Princesses Don't Cry' is a song that asks everyone who has been bottling up their feelings to open up and fight for their rights. The singer speaks to the people out there who have been suppressing themselves out of fear: "I won't cry in front of you, but I will stand up and fight for my right."
11. Fight Song
Singer: Rachel Platten
Released: 2015
'Fight Song' is an anthem created by the singer for all those who are being pushed down. The song talks about the small acts of defiance that add up to being much more than they actually seem. It talks of the fight that is still left in those who are oppressed, and how they should speak up and fight. "I may only have one match, but it can make an explosion."
12. Most Girls
Singer: Hailee Steinfield
Released: 2017
'Most Girls' is about all the different types of women. It talks about how girls dress in different styles, their quirks, and their unique characteristics. The singer sings about how she wants to be like some girls, but every single one is one of a kind and "no two are the same." Each and every one of them should be celebrated in their own way.
13. Sit Still, Look Pretty
Singer: Daya
Released: 2016
'Sit Still, Look Pretty' is shade thrown at the typical mentality that a girl is a damsel in distress who needs a knight to save her. She sings, "This queen don't need a king." She also talks about how Snow White was the epitome of a girl who lived her life right: "Snow White, She did it right, In her life, Had seven men to do the chores, 'Cause that's not what a lady's for."
14. Girl On Fire
Singer: Alicia Keys
Released: 2014
'Girl On Fire' talks about the modern, strong woman. She looks after the children and also looks after the world. She is no ordinary human, she is a woman who is on top of the world. She's got her feet on the ground and her head in the sky, and the fire in her shines brighter than the sun.
15. Who Says
Singer: Selena Gomez
Released: 2011
'Who Says' is a song asking girls all over the world to be confident and supportive of each other. Selena Gomez asks, "Who says you're not perfect?" She says that every girl is unique and the best person that she can be. She does not need to be anybody else to be accepted by others.
16. Speechless
Singer: Naomi Scott
Released: 2019
'Speechless' is a song that talks about the strength of women and their fight against maltreatment. She urges you to not go down quietly and stand up for yourself in times of misery and hardships. She says you are the only one who can help yourself. "I'll breathe when you try to suffocate me."
17. Queen Of Mean
Singer: Sarah Jeffery
Released: 2019
Not all everyone who is good gets good things in return. "Queen of Mean" is sung by a girl who has always been good, who never asked for anything that did not belong to her. Despite all that, what she deserves is stolen from her. She is heartbroken at being side-lined and demeaned. Therefore, she has decided to get what she wants by hook or by crook: "If you want a villain, I'll become the queen of them all."
18. This Is Me
Singer: Keala Settle
Released: 2018
"This Is Me" is a song of acceptance. The singer wishes to say that even if she is broken or bruised, she is who she is, and it is not something she is going to be ashamed about. She is the real deal, scars and all, and she is proud of it.
19. Titanium
Singer: David Guetta ft. Sia
Released: 2011
"Titanium" is an anthem of strength for those who feel burdened and crushed by their hardships. The singer compares herself to titanium, which is impenetrable. She says, "You shoot me down, but I won't fall, I am titanium." She is stronger than she seems, and she will "ricochet" whatever comes her way.
20. Diamond Heart
Singer: Alan Walker ft. Sophia Somajo
Released: 2018
'Diamond Heart' talks about the unbreakable quality of a diamond. The singer says that she wishes she had a heart made of diamond, which does not shatter or crumble under pressure. Diamond strong and formed into something beautiful under lots of pressure. She wishes to be capable of loving someone completely and to be able to protect them with everything in her.
21. Coming Back To Life
Singer: Tanya Godsey
Released: 2019
The singer is "coming back to life" after being pushed, buried, and "killed." She talks about "searching for a sign" that will help her escape her torment. She has now realized that all she needs to be liberated is confidence in herself and trust in her choices.
These Women's Day songs exemplify today's bold and beautiful ladies. Take a moment from your busy schedule to listen to our playlist and get inspired by the songs' catchy beats and meaningful lyrics. These encouraging songs about women's struggles and perseverance leave an unforgettable impression on all listeners. So, choose one or more that resonate with you and share them with the amazing women you know with a meaningful message to make a memorable present for them. Go ahead and dedicate these songs to brighten their day and uplift their spirits.
Frequently Asked Questions
What's a good song for a strong woman?
A good song for a strong woman is 'I Am Woman' by Helen Reddy from 1971. It is also an anthem for feminism.
What is a good female karaoke song?
'Mamma Mia' by ABBA is a good karaoke song for women. It is easy to sing and an old hit.
What is a song that represents equality?
'One Love' by Bob Marley, 'Imagine' by John Lenon, and 'Freedom' by Beyonce and Kendrick Lamar are some great songs about equality.
What are the most popular female country karaoke songs?
Some popular female country karaoke include 'Love Story' by Taylor Swift, 'I Will Always Love You' by Whitney Houston, and 'Jolene' by Dolly Parton.
The following two tabs change content below.