47 Best Encouraging Quotes And Messages To Send To Your Husband Sometimes it's hard to find words to describe the love, passion, and respect you have for your husband. However, using quotes that perfectly define your love may help you express your feelings. This will give your husband reassurance and show him he is the most special person in your life. If you are on the lookout for some encouraging quotes, you have come to the right place. Here are the best encouraging quotes and messages that you can send to your husband right away.
Words Of Encouragement
You and I are the two puzzle pieces that click together.
From the moment our eyes first met, you have never left my heart. From the moment we said, "I do", I promised I would always love you and never let go.
When I look into your eyes, I don't see a man I love despite his flaws. I see a man I love because of them. You're my perfect wreck.
My heart is a fountain of love, watering you, my husband, so you may grow and thrive forever.
My love for you transcends time and space, it's unquantifiable.
I love you as high as I can reach, as far as I can see, to infinity and beyond. From this to our final days, you are mine, and I am yours.
You've made me laugh when I was sad, picked me up when I was down, and cheered me through difficult journeys. I am eternally grateful to have such a special man in my life. I love you.
You don't complete me because I am already complete within myself. That's not why I love you. I love you because we are far greater together than either of us could ever be apart.
Just being in your presence allows me to hear whispers of peace.
You are kind but strong. You are humble but fierce. You are protective but not possessive. You are my dream come true.
I am who I am because of you. We may have our challenges, stumbles, and disagreements, but as long as we are together and love one another, nothing else matters.
I love and admire you not because you're my husband but because you are what every man should aspire to be.
I can't promise you an easy life or that I will be the perfect wife to you, but what I can promise is that I will love and cherish you every day.
Amidst all the distress, your love is a breath of fresh air.
We have reached the highest level of love. I don't need anybody in my life, and nobody can replace you.
Each day is fantastic because it starts with loving you and ends with the same.
You are my heart's epic adventure, and I love every second we spend together.
Your love is flawless, and your commitment is perfect. Nothing matters to me more than your happiness.
Every time I have felt sad and unfortunate and needed support, you have been there for me. I love and appreciate you in my life.
All the luxuries in the world mean nothing if you are not there with me.
You are the only person I can sit comfortably in silence with. Your presence is so calming.
A love poem wouldn't be enough. I'd have to write an entire epic about your love.
Loving you is everything. Your love feels like home and warms my heart.
You say you're the lucky one to find me, but I swear by everything true that luck has followed my entire life by bringing you to me. Luck led me to heaven on earth.
No war, struggle, or problem is bigger than my love for you.
When you're anxious, think about the time we laughed until our stomachs and cheeks hurt. It's sure to bring a smile to your face.
Even though years have passed, I still remember the first time you held me in your arms, and since then, you have been the reason for my happiness.
Encouraging Quotes For Your Husband
"One soulmate is enough to overcome ten thousand soul enemies." – Matshona Dhliwayo
"Like a child who saves their favorite food on the plate for last, I try to save all thoughts of you for the end of the day so I can dream with the taste of you on my tongue." – Kamand Kojouri
"I couldn't have dreamed you into existence because I didn't even know I needed you. You must have been sent to me." – Kamand Kojouri
"We would be together and have our books and at night be warm in bed together with the windows open and the stars bright." – Ernest Hemingway
"You should be kissed and often, and by someone who knows how." – Margaret Mitchell
"You and I, it's as though we have been taught to kiss in heaven and sent down to earth together, to see if we know what we were taught." – Boris Pasternak
"If you live to be a hundred, I want to live to be a hundred minus one day, so I never have to live without you." – A. A. Milne
"Grow old along with me! The best is yet to be." – Robert Browning
"You are my heart, my life, my one and only thought." – Arthur Conan Doyle
"You are my North, my South, my East and West, my working week and my Sunday rest." – W.H. Auden
"I've never had a moment's doubt. I love you. I believe in you completely. You are my dearest one. My reason for life." – Ian McEwan
"If I were to live a thousand years, I would belong to you for all of them. If we were to live a thousand lives, I would want to make you mine in each one." – Michelle Hodkin
"Why, darling, I don't live at all when I'm not with you." – Ernest Hemingway
"I like me better when I'm with you." – Lauv
"You are sunlight through a window, which I stand in, warmed. My darling." – Jessie Burton
"Every atom of your flesh is as dear to me as my own: in pain and sickness it would still be dear." – Charlotte Brontë
44. "I would love to say that you make me weak in the knees but to be quite upfront and completely truthful you make my body forget it has knees at all." – Tyler Knott Gregson
"You might not have been my first love, but you were the love that made all the other loves irrelevant." – Rupi Kaur
"Love starts as a feeling, but to continue is a choice. And I find myself choosing you, more and more every day." – Justin Wetch
"You might be one person to the world, but to me, you are my world." – Dr. Seuss
Make your husband's day a little brighter with these passionate words. Let him how much you love and appreciate him. We hope these words of love will help add some extra dash of happiness to your married life!
Recommended Articles
The following two tabs change content below.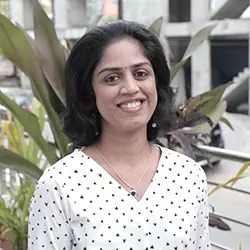 As Chief Editor, Harini sets the tone and editorial direction for StyleCraze to deliver engaging, interesting, and authentic content revolving around women's health, wellness, and beauty. She has over 14 years of experience in content writing and editing for online media. She specializes in the areas of Beauty, Lifestyle, and Health & Wellness and is proficient in Medical Sciences (Biology, Human Anatomy and Physiology, and Biochemistry). Her background in Biomedical Engineering helps her decode and interpret the finer nuances of scientific research for her team. Harini is a certified bibliophile and a closet poet. She also loves dancing and traveling to offbeat destinations.