Wrinkles Around The Mouth: Causes, Home Remedies, & Treatment
Discover the science behind using these anti-aging home remedies like coconut oil and citrus juice.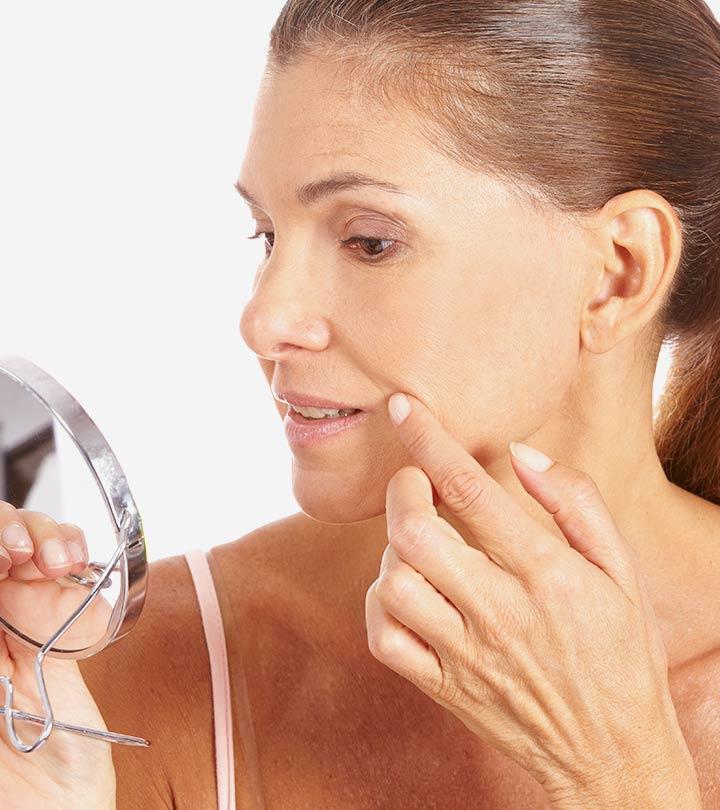 Wrinkles around the mouth or perioral wrinkles are quite common. These deep lines around our mouth mostly appear with age, when the ligaments around the mouth become loose. You may resort to medical procedures and natural remedies to reduce the appearance of wrinkles and improve the overall look of your skin. This article discusses the different causes of wrinkles, how you can manage them, and skin care tips to keep your skin youthful. Read on.
What Causes Wrinkles Around Mouth?
Wrinkles around the mouth are mainly the result of aging. In most cases, the mouth is the first place that shows any signs of aging. The skin around the lips is relatively thin and is the first to get affected. The collagen around that area is less dense when compared to other parts of the face.
In fact, after you turn 20, your skin will produce less collagen with each passing year.
Another factor that contributes to the appearance of wrinkles around your mouth is sun exposure. Exposure to the harmful UV rays from the sun may damage your skin and accelerate the aging process. The skin quality degrades over time with excess UV exposure. This could rob the volume of the skin around your lips and lead to sagging (1).
According to a study, only 15% of older adults and 8% of sun-sensitive older adults practice all five types of sun protection. 44% chose to wear clothing that covers their ankles, such as pants, and 37% opted to stay in the shade. 47% of older women prefer staying in the shade and 32% prefer using sunscreen as the most common way to protect themselves. About 13% of older adults have gotten sunburned in the past year, with sun-sensitive individuals reporting a 20% rate of sunburn.
Smoking may also contribute to facial signs of premature aging. Excess smoking can lead to the generation of free radicals, making your face look older (1). Smoking predominantly causes signs of aging around your upper lips and eyes.


Trivia
It is a misconception that waxing your upper lips, chin, or any part of your face will cause wrinkles. Experts claim that waxing or pulling of the skin doesn't cause wrinkles.
We now know what could cause wrinkles around your mouth. These wrinkles could appear in various forms. We will explore the same in the next section.
The Different Kinds Of Mouth Wrinkles
1. Smile Lines
These are formed due to excessive and repeated facial movements. Smiling, or any other facial movement could cause creases in your skin that may turn into wrinkles over time. These lines mainly occur along the sides of the mouth and are more prominent when you laugh or smile. They are also known as laugh lines or crow's feet that occur in nasolabial folds and marionette lines which are facial folds between the nose and mouth.
2. Sagging Wrinkles
These appear when your skin loses its elasticity and collagen production reduces. These wrinkles appear with age. They form vertically between the mouth and chin and can make the skin sag.
3. Lipstick Lines
These appear in people who smoke regularly. They appear on the upper lip. In some cases, they may appear directly on the lips too.
Are you curious to know how to reduce these wrinkles? The next section discusses a few remedies that can help.
Home Remedies To Reduce Wrinkles Around Mouth
1. Coconut Oil
The key to reducing wrinkles is to keep your skin moisturized. Coconut oil is known to have moisturizing properties (2). It may help reduce wrinkles.
What You Will Need
What You Have To Do
Take 2 to 3 drops of the oil on your fingertips.
Massage the oil all over your mouth and laugh lines.
Leave the oil on your skin.
How Often You Should Do This
Do this every day before going to bed.
2. Egg Whites
Anecdotal evidence suggests that egg whites may help reduce wrinkles and tighten the skin.
What You Will Need
What You Have To Do
Apply the egg whites on the skin around your mouth.
Leave them to dry for 30 minutes.
Wash your face with lukewarm water.
How Often You Should Do This
Do this 2 to 3 times a week.
3. Aloe Vera
Studies have found that aloe vera helps boost collagen production in the skin. It also has a moisturizing effect and can reduce wrinkles too (3).
What You Will Need
What You Have To Do
Tear the aloe vera leaf open and take out the gel.
Apply the gel all over your face.
Wash your face after 30 to 45 minutes.
Alternatively, you can use the aloe vera gel available on the market.
How Often You Should Do This
Do this every day.
4. Turmeric
Turmeric contains curcumin that has anti-aging benefits (4).
What You Will Need
1 tablespoon of turmeric powder
3 tablespoons of honey
What You Have To Do
Mix 1 tablespoon of turmeric powder and 3 tablespoons of honey in a bowl.
Apply the mixture all over your face and neck.
Leave the mask on for 30 minutes and wash off with lukewarm water.
How Often You Should Do This
Do this 2 to 3 times a week.
5. Citrus Juice
Studies have found that the intake and topical application of citrus juice (lemon juice, orange juice, etc.) can help reduce the signs of aging caused by oxidative stress (5).
6. Cheek Exercise
Your cheek muscles may play a pivotal role in lifting and tightening your skin. Strengthening the muscles in your cheek may help reduce the appearance of wrinkles around your mouth.
What You Have To Do
Apply pressure on your laugh lines with the help of your index finger.
Keep your index fingers in that position and smile as wide as possible.
Do this for 10 to 15 seconds.
Rest and repeat the same.
Natural remedies may take some time to show results. However, certain medical treatments can give you relatively quick results.
Medical Treatment For Wrinkles Around Mouth
1. Microneedling
Microneedling is a minimally-invasive cosmetic procedure where tiny pricks are made on the skin surface with the help of small needles. These tiny pricks encourage collagen production, which, in turn, helps reduce the appearance of wrinkles on your face. More often, you may need multiple sessions for the desired results (6).
2. Chemical Peel
Chemoexfoliation, aka chemical peeling, is one of the most popular and noninvasive procedures to reduce the signs of skin aging. The chemical peel helps remove the top layer of your skin that might be damaged. This then makes way for the radiant and smooth skin underneath (7). However, this procedure must be carried out every month.
3. Dermabrasion
Dermabrasion is a modern technique of exfoliating your skin with the help of a specialized tool. However, this procedure should be done by a professional, and the procedure also runs the risk of depigmentation.
4. Microdermabrasion
Microdermabrasion is a minimal technique that helps renew the overall skin tone and texture. This technique helps reduce the wrinkles and fine lines around your mouth. It may also help reduce any signs of sun damage or scarring.
Even though there are various remedies and medical procedures to reduce mouth wrinkles, it is always best to slow down their onset. Below are a few measures you can take.
5. Radiofrequency Tightening
This non-surgical procedure uses radiofrequency waves to heat the deeper skin layers. The waves boost collagen production, which results in firmer skin.
6. High-intensity Focused Ultrasound (HIFU)
HIFU (High-intensity focused ultrasound) is a modern and non-invasive cosmetic procedure that minimizes the appearance of wrinkles. This technique uses ultrasound energy to heat the deeper layers of your skin to stimulate collagen production.
7. Dermal Fillers
Dermal fillers are a non-surgical procedure that improves the appearance of wrinkles and adds volume to your face. This procedure uses substances like hyaluronic acid or calcium hydroxylapatite to plump the skin and smoothen your wrinkles.
8. Platelet-rich Plasma Therapy
Platelet-rich plasma or PRP therapy is a popular cosmetic technique for reducing signs of aging. The procedure involves taking platelets from another body part to boost collagen production and improve skin elasticity and texture.
Even though there are various remedies and medical procedures to reduce mouth wrinkles, it is always best to slow down their onset. Below are a few measures you can take.
Reducing The Onset Of Wrinkles Around Mouth
Dr. Anna Chacon, MD, FAAD, says, "Avoiding sun exposure is the main strategy for lowering your risk of acquiring lip wrinkles." She adds, "Stretch marks and scars on a person's skin might be less noticeable with the use of frankincense essential oil. When applied on wrinkles and fine lines, it can have the same result." Here's a list of pointers that may help reduce the onset of wrinkles around your mouth:
1. Adopt An Anti-aging Skin Care Routine
The best way to delay the onset of aging signs is by following a strict anti-aging skin care regimen. Look for products with ingredients like hyaluronic acid and retinol that are famous for their anti-aging benefits.
2. Moisturize Daily
Another important product that you should add to your skincare routine is a moisturizer. Lack of adequate hydration is one major cause of aging. Remember to moisturize your skin daily, both night and day.
3. Apply Sunscreen
Excess exposure to UV rays can also accelerate aging. Always use sunscreen even if you are spending your time inside your house. Always opt for a sunscreen with SPF 30 or above and that comes with ingredients like zinc and titanium.
4. Try A Night Cream
Your skin finds time to rest and replenish in the night. Using a night cream made of moisturizing and anti-aging ingredients can keep your skin younger and radiant.
5. Quit Smoking
Regular smoking also increases the signs of premature aging on your upper lips and around your eyes. Hence, making a lifestyle change and quitting cigarettes can help. While stopping smoking is easier said than done, many support groups can help.


Quick Tip
Adopting a healthy lifestyle by quitting alcohol, eating a healthy and balanced diet, and regularly exercising can delay the onset of wrinkles.
Infographic: 6 Treatments To Reduce Wrinkles Around The Mouth
Factors like UV rays, dirt, pollution, and smoking contribute to decreased collagen production, resulting in loose skin and wrinkles around the mouth. We have rounded up 6 treatments that can help reduce the wrinkles around your mouth. Check out the infographic below for more information.


Wrinkles around your mouth are a normal part of aging. It may, however, make you feel self-conscious. Don't let them get you down when you gaze in the mirror. You can improve their appearance and your skin health with a little effort. Try the home remedies and treatments discussed in the article. It may take some time for natural remedies to show results. Certain medical treatments, on the other hand, can produce immediate results. Preventative actions can also help to keep wrinkles around the mouth at bay. Remember to consult a dermatologist to determine what treatment options are appropriate for you.
Frequently Asked Questions
Does a facelift get rid of wrinkles around the mouth?
According to Dr. Chacon, "You may get rid of drooping skin, wrinkles, fine lines, and other unattractive traits with a facelift. You may be able to achieve the youthful appearance you formerly had with the aid of the procedure."
Does laser skin resurfacing remove wrinkles around the mouth?
Dr. Chacon says that in laser resurfacing treatment using a fractional CO2 laser is the most efficient and durable procedure to turn back the hands of time around the lips. She adds, "This laser works well to minimize lines and wrinkles when used by a qualified medical professional with aesthetic sensibility."
Does botox get rid of wrinkles around the mouth?
Dr. Chacon opines that botulinum toxin can be utilized to reduce wrinkles and rejuvenate the region around the mouth.
Can you use Preparation H on your face for wrinkles?
No. Preparation H is used to relieve hemorrhoids and has no effect on reducing wrinkles and fine facial lines.
What is better for wrinkles, retinol or hyaluronic acid?
Depends on your needs. Hyaluronic acid is best for moisturizing dry skin, while retinol boosts collagen and elastin production and rejuvenates your skin.
Does toothpaste work on wrinkles?
Possibly. Anecdotal evidence suggests that applying toothpaste may help reduce wrinkles due to its zinc content. However, it is advised to conduct a patch test before applying it.
Key Takeaways
Coconut oil, aloe vera, or egg whites may help improve skin texture and elasticity to help reduce fine lines and wrinkles around the mouth.
Avoiding smoking and sun exposure may go a long way in delaying the appearance of perioral wrinkles.
Certain cheek exercises and procedures like microneedling may help reduce the appearance of these wrinkles.
Learn how to make 3 easy, natural remedies to reduce wrinkles around the mouth. Get rid of those pesky lines and look younger! Watch this video to know more!
Sources
Articles on StyleCraze are backed by verified information from peer-reviewed and academic research papers, reputed organizations, research institutions, and medical associations to ensure accuracy and relevance. Read our editorial policy to learn more.
The following two tabs change content below.