Benefits Of Yellow Squash, Nutrition Facts, Recipes, & Storage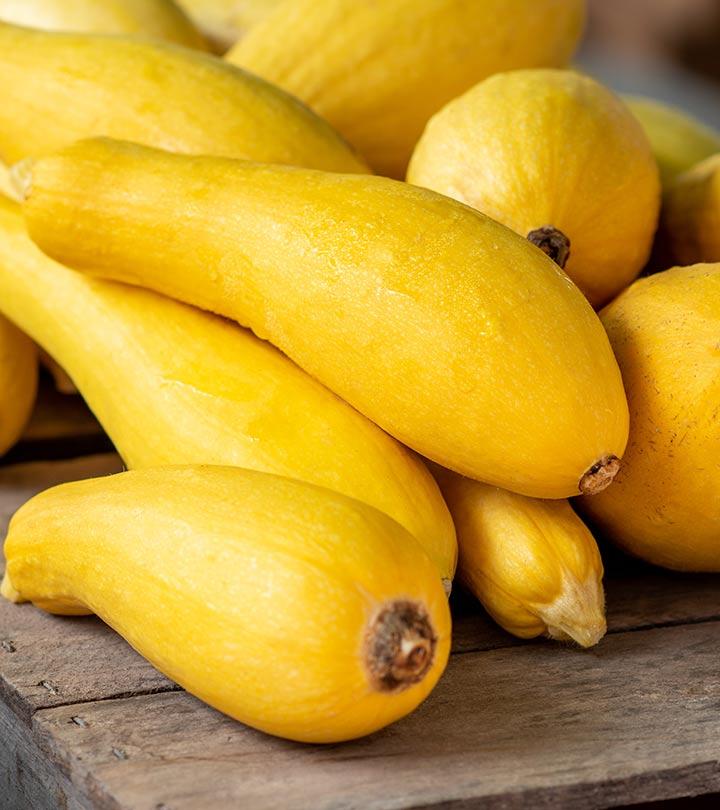 Have you come across yellow zucchini? Are you sure it's not yellow squash instead? Yellow squash is a close cousin of zucchini in taste and appearance. While it is less popular than zucchini, it is equally nutritious. The benefits of yellow squash are numerous. With its thin edible skin and seeds, it makes for a versatile addition to your diet. If you're wondering how to differentiate yellow squash from zucchini, and why you should add this colorful vegetable to your meals, read on.
Types Of Yellow Squash
Yellow squash is a type of summer squash. It is the fruit of the plant Cucurbita pepo and a member of the Cucurbitaceae family. Unlike its winter counterpart that has a hard shell and seeds that need to be removed, the summer squash is completely edible. There are about 10 varieties of summer squash, the most common being yellow squash and zucchini. Yellow squashes are of two particular types based on their shape.
Straightneck Yellow Squash
This variety of yellow squash grows straight in the shape of a bottle, with a thicker base tapering towards the other end. They look like a bottle or a club and are straight all through which is why they're often known as the straightneck variety.
As the name suggests, the crookneck squash has a thin, slightly crooked, or bent neck, while the base remains bulbous.
Both types of yellow squash can be harvested within 40-50 days of planting.
Leaving aside the difference in their physical appearances, both the types of yellow squash provide you with the same type and amount of nutrients. Let's have a look in detail.
Yellow Squash Nutrition Facts
Yellow squash can be eaten cooked or raw and provides you with lots of nutrition either way. According to the USDA, 1 cup of raw yellow squash provides you with the below nutrients (1).
| | |
| --- | --- |
| Energy | 19 kcal |
| Protein | 1.01 g |
| Total lipid (fat) | 0.27 g |
| Carbohydrate | 3.88 g |
| Fiber | 1 g |
| Calcium, Ca | 21 mg |
| Iron, Fe | 0.44 mg |
| Magnesium, Mg | 20 mg |
| Phosphorus, P | 32 mg |
| Potassium, K | 222 mg |
| Sodium, Na | 2 mg |
| Zinc, Zn | 0.29 mg |
| Copper, Cu | 0.092 mg |
| Selenium, Se | 0.2 µg |
| Vitamin C | 19.3 mg |
| Vitamin A, RAE | 8 µg |
| Carotene, beta | 90 µg |
| Vitamin E (alpha-tocopherol) | 0.13 mg |
| Vitamin K (phylloquinone) | 3.2 µg |
| Vitamin B-6 | 0.104 mg |
| Folate, total | 19 µg |
| Choline, total | 7.1 mg |
| Zinc, Zn | 0.18 mg |
| Copper, Cu | 0.21mg |
By looking at its nutrition details, you can get a fair idea that yellow squash could be a great addition to your diet for several reasons. Let's see what these are in the next section.
Health Benefits Of Yellow Squash
Including yellow squash in your diet may provide you with a host of health benefits as discussed below.
Yellow squash makes for a good food choice for weight loss since it is fat-free, low in calories, loaded with fiber, and can make you feel full faster (2). A cup of yellow squash is cholesterol-free, contains only 1 gram of protein, less than 1 gram of fat, 7 grams of carbohydrates, and only 36 calories(1). Most of its calories come from its carbohydrate content which is also quite low. If you are looking to lose weight, you can substitute high-calorie veggies like corn and potatoes with yellow squash. It is also naturally low in fat, so you won't have to worry about adding too much of this veggie into your diet plan.
The fiber in yellow squash helps improve digestion and regularize bowel movement while preventing constipation and other gastrointestinal problems (2). With its high water content, it also helps you feel full without any bloating or discomfort. One cup of yellow squash can provide you with about half of your daily requirement of fiber.
Good Source Of Immunity-boosting Vitamins
One cup of yellow squash can provide you with 19% vitamin C and 22% of required vitamin K (1). These vitamins in yellow squash are essential for building good immunity, strength, and proper functioning of your muscles and blood vessels (3).
May Help Improve Your Eye Health
Vitamin A is important for healthy eyesight and vision and one serving of yellow squash has about 11% of the RDA of vitamin A (recommended daily allowance). Beta-carotene, the carotenoid which gives the vibrant yellow color in yellow squash, is also a primary source of vitamin A in your body (4). Not only does it regulate the light receptors in your eyes, but it also keeps the mucous membranes of your eyes strong and protected against infections (5), (6).
Has Anti-inflammatory Properties
Yellow squash, just like other members of the Cucurbitaceae family, is rich in anti-inflammatory compounds called cucurbitacin (7). Research suggests their potential in reducing inflammation, preventing cancer, and relieving pain associated with arthritis and other inflammatory disorders (8).
May Help Prevent Birth Defects
Folate and choline are important in the proper neural development of the fetus during pregnancy. This helps protect children from birth defects like spina bifida and brain abnormalities (9). One cup of yellow squash can provide you with 7.1 mg of choline and 19 µg of folate (1).
Having understood the benefits of yellow squash, you might look forward to including it in your diet. But, chances are you might confuse yellow squash with zucchini, especially the yellow kind. Let us first help you differentiate between the two so you can pick the right vegetable for your dish.
Difference Between Yellow Squash And Zucchini
The main differences between zucchini and yellow squash lie in their shape and color.
While the yellow variety is available as well, zucchini is more commonly found in its traditional green variant. Yellow squash is available only in one color.
Zucchini is usually long, slender, and evenly shaped, whereas yellow squash is bigger at the bottom with a shorter, straight, or slightly crooked neck.
Both these can be swapped in recipes, or even cooked together to add some color variations to your dishes, especially when making grilled vegetables, spiral noodles, or even simple stir-fries.
How To Store Yellow Squash
Yellow squash has thin edible skin and tends to get dehydrated or bruised easily. You need to take proper care while storing them to make sure that they stay fresh and nutritious for a long time.
Ensure there are no wet or bruised patches on the squash, especially near the stem, as wet surfaces may encourage bacterial growth.
You can store the squash as a whole in your fridge's crisper drawer in a plastic bag or container with some amount of air circulation. While they can stay fresh for up to two-three weeks this way, it is always best to cook them fresh.
You can otherwise cut the squash into small pieces and store them tightly wrapped in aluminum foil or plastic wrap in the fridge. That may help prevent oxidation and change of any color and texture.
You should keep the yellow squash away from other fruits and vegetables that emit ethylene gas as that could make it rot faster.
You may want to keep them covered as they are susceptible to dehydration.
You can cut and freeze the squash for later use as well. Spread the cut pieces on a baking sheet and place them in the freezer until they become firm. Next, transfer these into airtight freezer bags or containers and store them in the freezer. You can keep them prepped like this for use for up to six months without worrying about freezer burn. When you thaw the frozen squash, make sure to drain off the excess liquid before cooking,
One of the advantages of yellow squash is that they are entirely edible. Yellow squash can be roasted, pureed, grilled, or spiralized into spaghetti-like strands in place of pasta noodles. They are non-starchy vegetables with fewer diet restrictions.
Preparations And Recipes Of Yellow Squash
Yellow squashes have a mild flavor and a creamy taste, which makes them easier to add to a variety of dishes. Make sure to wash and clean the yellow squash properly under running water. Trim both the ends. You do not peel or deseed the yellow squash, as these are soft, edible, and nutrient-rich. You can eat them raw or cooked as per your preference. Let's have a look at the various ways of including it in your diet.
A fresh and firm yellow squash can be eaten raw along with its edible skin. You can slice it into thin carrot-sized sticks and enjoy them with hummus, low-calorie yogurt dips, or add them to salads and low-fat salsa.
You can also enjoy their color and texture by braising them lightly to create a smothered dish with seasoning. Oregano, basil, and dill tend to go well with braised yellow squash.
Roasting yellow squash enhances its natural flavors to give a sweet, nutty taste. Make sure to cut the squash into equal slices to get them roasted evenly. Heat your oven to 400 degrees, drizzle some olive oil, mix in your favorite spices, and roast for about 10 to 12 minutes or until the bottoms are slightly browned.
Like zucchini noodles, you can spiralize yellow squash to make these healthy vegetable noodles perfect for pasta, salads, or stir-fries. You can top them with other vegetables or shrimp as per your preference.
Grilling yellow squash is one of the healthiest ways to have it. Slice the squash into thick meatier chunks to get that right bite and texture. Add in your favorite oil, spices, and seasonings before tossing them on the grill for five minutes on either side.
Yellow squash can easily combine with a variety of green squashes and other vegetables to give you a fascinating medley of colors. Let's have a look at a few popular recipes:
Sautéed Yellow Squash With Garlic
Ingredients
Olive oil – 5 tablespoons
Garlic (minced) – 1/4 teaspoon
Yellow squash (sliced) – 2
Salt and pepper- to taste
Instructions
Heat the olive oil in a heavy skillet over medium-high heat.
Add the garlic and sauté until lightly browned.
Add in the yellow squash, salt, and pepper.
Continue cooking for about 15 minutes or until tender.
Serve hot.
Squash Soup
Ingredients
Canola oil -1 tablespoon
Yellow squash (chopped) – 4 cups
Onion (finely chopped) – 1 cup
Chicken broth (low sodium, fat-free) – 5 cups
Parsley leaves (fresh, finely chopped ) – 2 tbsp
Salt – to taste
Black pepper – to taste
Instructions
Take a heavy saucepan and heat the canola oil over medium-high heat.
Add in the squash and onion.
Sauté for about 10 minutes or until tender.
Add in the chicken broth and parsley.
Simmer for about 20 minutes.
Puree the soup in batches in a blender until smooth.
Season with salt and pepper.
Serve hot
Yellow squash grows during the summer and is closely related to zucchini. It is featured in many savory dishes like soups or salads. Yellow squash's nutritional benefits are attributed to its rich vitamin and mineral content. It has low carbohydrate and fat content and high dietary fiber, which may aid digestion and weight loss. Yellow squash may boost immunity and eye health as well. However, excessive consumption can lead to a few side effects. If you experience any adverse effects, limit its use and seek medical advice.
Frequently Asked Questions
Which is better for you, yellow squash or zucchini?
Both are equally beneficial for you. Squash contains more beta-carotene and alpha-carotene than zucchini, while zucchini has a higher concentration of lutein and zeaxanthin. Calcium is abundant in squash. Squash is a fantastic source of dietary fiber, and vitamin A. Squash has 58 percent more calories than zucchini.
Is yellow squash good for your kidneys?
Squash is high in potassium but low in sodium and phosphorus. The quantity of potassium you can consume daily can vary depending on your kidney disease stage or the type of medication you take. Therefore, it is better to consume squash in moderation if you have kidney issues.
Key Takeaways
Yellow squash is fat-free, low in calories, loaded with fiber, and can make you feel full faster. Therefore, it is good for weight loss.
The anti-inflammatory properties of yellow squash can prevent cancer and relieve pain associated with arthritis and other disorders.
Yellow squashes have a mild flavor and a creamy taste, making them easier to add to various dishes.
Sources
Articles on StyleCraze are backed by verified information from peer-reviewed and academic research papers, reputed organizations, research institutions, and medical associations to ensure accuracy and relevance. Read our editorial policy to learn more.
The following two tabs change content below.