9 Best Zero Waste Skin Care Products (Environment-Friendly)
See the best results while taking care of your skin as well as the environment.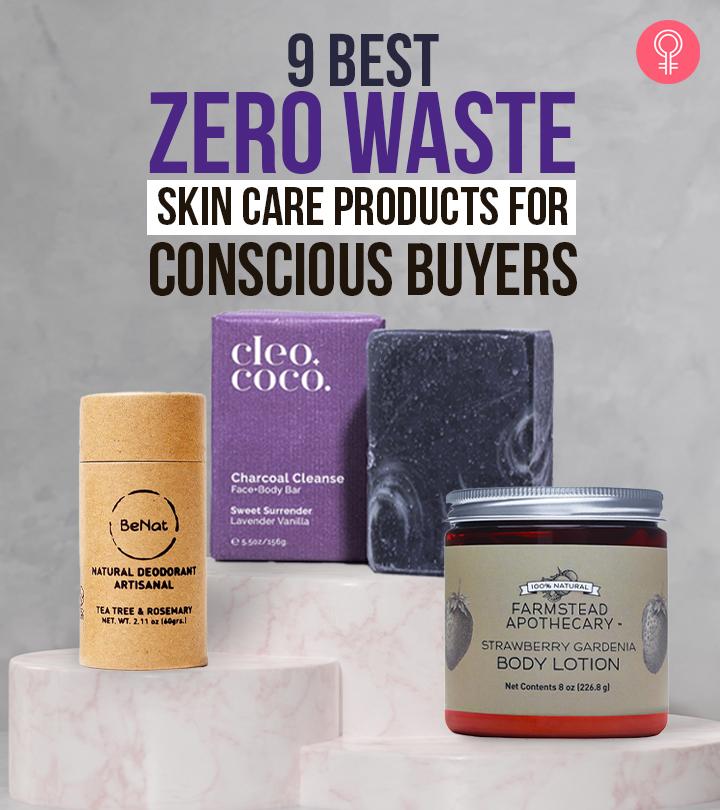 Having flawless and healthy skin is a dream for many. But using tons of products to achieve it is not ideal. Moreover, it can generate more plastic waste (used products) on your shelves. So, add the best zero waste skincare products to your skincare routine, which can cut wastage. Many companies have started doing their bit in this zero waste product challenge. They are manufacturing more sustainable and environment-friendly skincare products that are reusable and biodegradable. In this article, we have listed the 9 best zero waste skincare products for ethically-conscious buyers. Scroll down and treat yourself to all the products you like!
9 Best Zero Waste Skin Care Products
The Bambaw reusable makeup remover pads are a perfect alternative to disposable wipes. They are soft, durable, and less abrasive on the skin and effectively remove even minute traces of makeup. This set contains two types of pads – scrub terry pads for stubborn waterproof makeup and soft velvet pads for regular cleansing and for the under-eye area. The terry pads are great for exfoliating the skin. The two layers stitching gives this pad a longer shelf life, unlike other disposable cotton rounds. The pads come in a transparent cotton laundry bag.
Pros
Washable
Plastic-free packing
Removes waterproof makeup
Easy to hold
Travel-friendly
Cons
Cannot absorb micellar water
Price at the time of publication: $15.29
The Zen Me dry brush is a premium quality exfoliant made from natural boar bristles. This brush removes dry, flaky skin, unclogs pores, and improves lymphatic drainage to reduce cellulite. The scrub also minimizes signs of aging, removes toxins, and reduces inflammations, while also targeting ingrown hair . This soft but firm bristled brush helps you to achieve younger-looking skin by promoting skin renewal. medium-firm bristles Its fourteen-inch handles are made of polished lotus wood making it easier to scrub the lower back region. If you need more convincing, feel free to take a look at this YouTuber's video on the merits and demerits of the product.
Pros
Sturdy
Easy to use
Detachable handle
Cruelty-free
Value for money
Cons
None
Price at the time of publication: $14.99
Say goodbye to nylon and synthetic fiber loofahs and pick up these soap bags made from natural sisal fibers. These textured bags work great as a cleanser-cum-exfoliator. These soap nets are durable and double-sewn to prevent tearing around the seams. The tightly woven soap nets are perfect for soaping and scrubbing at one go and keep the soap securely in the bag without slipping out. Each pack comes with four long-lasting bags.
Pros
Durable
Easy-to-use
Gentle
Reduces soap wastage
Value for money
Cons
May irritate sensitive skin
Price at the time of publication: $7.99
Reap the double benefits of a shampoo and conditioner with Bamboearth's natural shampoo bars that come in a pack of four. These sustainable, natural, and organic hair treatment bars come in four attractive essences – lavender, honey, seaweed, and chamomile. The set is formulated with cold-pressed organic cocoa butter, shea butter, cocoa oil, and olive oil that restore health to damaged hair and deeply conditions the tresses for softness and shine. The bars also have essential plant extracts that help in treating dandruff and itchy scalp, while protecting them from sun damage. They create a gentle foam that does not strip the hair of its natural nutrients and oils.
Pros
Organic
Cold-pressed
Handmade
Palm-oil free
Preservative-free
Vegan
Cruelty-free
Cons
Price at the time of publication: $24.97
The Raw Elements tinted moisturizer has a 95% organic formula infused with SPF that gives broad-spectrum coverage from UVA and UVB rays. It hydrates the skin and its medium tint matches all skin tones. The formula is packed with nourishing antioxidants, minerals, and vitamins that protect the skin from external stressors. This water-resistant reef-safe moisturizer is made with non-nano zinc oxide. The all-natural sun protector does not burn your eyes and lasts up to 80 minutes under water. If you want a detailed review of the product, make sure to take a look at this video.
Pros
Organic
Has SPF 30
Easy applicability
Non-GMO
Oxybenzone-free
Soy-free
Gluten-free
Nut-free
Octanoate-free
Cruelty-free
Cons
Price at the time of publication: $31.98
Farmstead Apothecary brings you a 100% natural body lotion blended with pure, nourishing oils. It is a quick-absorbing lotion, which leaves your skin hydrated and soft without any residue. The natural product uses antioxidant-rich fruit extracts and vitamin A and C that protects your skin against free radical damage and helps in cell regeneration. The lotion, scented with real fruit extracts, gives you healthy, supple, and vibrant skin.
Pros
100% plant-based
Organic
Quick absorbing
Artificial fragrance-free
Phthalate-free
Sulfate-free
Paraben-free
Talc-free
Vegan
Gluten-free
Cruelty-free
Cons
Price at the time of publication: $16.98
This rose gold razor from War On Plastic is a premium quality, reusable shaver with a single blade mechanism. It offers a smooth, nick-free shave with minimal irritation to sensitive skin. The real bamboo handle and zinc alloy body give you the utmost comfort during the shave. This zero-plastic razor is gentle and gives you soft and smooth skin, avoiding unnecessary abrasions.
Pros
Reusable
Hydrophobic outer body
Non-slip grip
Cons
Price at the time of publication: $5
BeNat natural deodorant has an eco-friendly formula that neutralizes body odor all day. This body fragrance is made with a blend of beeswax, avocado seed oil, rosemary oil, tea tree oil, coconut oil, and vegetable emulsifiers. This glide-on formula is smooth to use and does not feel sticky, greasy, or leave any residue. Tea tree oil in this deo acts as a natural treatment for infection prevention and promotes healing. Rosemary is a super-power ingredient with calming, antiseptic, astringent, and disinfectant properties. BeNat Artisanal is packed in biodegradable and renewable paperboard tubes. This solid deodorant is easy to carry and lasts about six weeks.
Pros
Natural ingredients
Paraben-free
Phthalate-free
Gluten-free
Sulfate-free
BPA-free
GMO-free
Alcohol-free
Aluminum-free
Paraben-free
Travel-friendly
Cons
May feel rough on the skin
Price at the time of publication: $12.59
The Cleo+Coco face and body bar is an all-natural face and body cleanser powered with activated charcoal. Activated charcoal can remove impurities from deep within the skin's pores, providing gentle detoxification. The soap is infused with shea butter and honey, which offer deep nourishment and moisturization to the skin, making it soft and supple. The blend of organic palm oil, coconut oil, olive oil, lavender oil, and vanilla hydrates the skin and refreshes the senses. Its mild formula suits eczema and acne-prone skin too.
Pros
100% Natural
Non-drying
Cold-pressed
Paraben-free
Aluminum-free
Phthalate-free
Synthetic fragrance-free
Cruelty-free
Cons
None
Price at the time of publication: $9.99
Why Trust StyleCraze?
The author, Shiboli Chakraborti, is a certified skin care coach who highly recommends using products that do not adversely affect the planet. The best zero-waste skin care products enlisted by her have been tried and tested by users worldwide and have several positive reviews and great feedback. These high-quality products offer flawless results and are environment-friendly, making them a great find for ethically-conscious buyers.
Recommended Articles