SPONSORED
Benefits Of The Miracle Plant Aloe Vera On Hair And Skin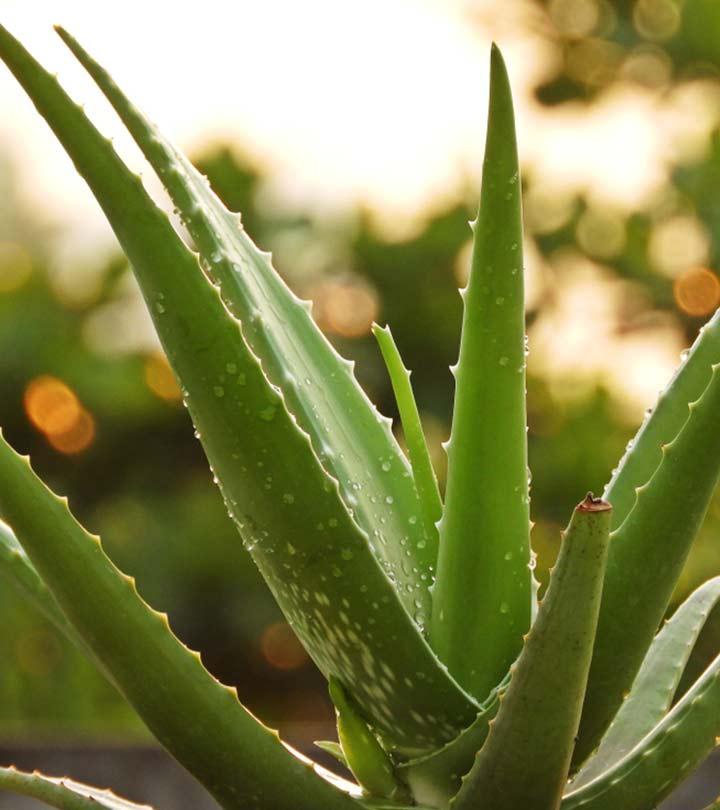 Ever wanted a "miracle" product that would act as a one-stop solution for all your skin and hair problems? We, humans, tend to find the most complex solutions for our concerns and often neglect the simplest ones. We spend hours browsing the internet for the perfect product that would suit our skin-type, only to find it to be way over our budget. But don't worry, we have a solution which won't require you to spend thousands and would take care of your skin and hair efficiently.
Today, we bring you the benefits of the most modest houseplant – Aloe Vera, which works wonders as a remedy for hair and skincare. Let's have a look at the countless perks of aloe vera gel.
Aloe Vera For Skincare
1. Suitable For All Skin Types
Owing to its water-based property, aloe vera gel is suitable for all skin types. Bio-Organic Aloe Vera Gel with green tea extract by Indus Valley is rich in proteins, vitamins, and minerals which replenish the skin. Unlike moisturizers that tend to be too oily, Bio-organic Aloe Vera Gel is light-weight and gets absorbed even by the deepest layers of the skin like magic, whilst giving you naturally younger-looking skin. It penetrates into the epidermis faster than water and suits the skin in every weather condition.
2. Fights Acne And Blemishes
Bio-organic Aloe Vera Gel with Green Tea Extract by Indus Valley works wonders when it comes to fighting acne and skin blemishes. The anti-bacterial properties of aloe vera gel combined with the goodness of green tea and help fight germs caused by pollutants in the air.
You can also use Bio-Organic Aloe Vera as an astringent to reduce the size of your pores, and flush out any dirt settled on the skin. If you are struggling with sensitive skin, then aloe vera gel can be your best solution as it reduces redness and fights inflammation.
You can apply aloe vera gel on your skin as a night-time routine as well. Wash your face, pat dry, and apply Bio-Organic Aloe Vera Gel with green tea extract and massage gently. Keep it overnight, and wake up to glowing, even-toned skin.
3. Reduces Dark Circles Under The Eyes
In this world of hustle and bustle, it isn't possible for us to get 7-8 hours of sleep every night. In our rat race, we often compromise with our sleeping habits. But does that mean that you should show up for work with baggy eyes?
Bio-Organic Aloe Vera Gel by Indus Valley with green tea extract comprises calming ingredients such as green tea, rosewater, and wheat germ, which help lighten the bagginess under the eyes caused by insufficient sleep. Apply a generous amount of the gel under your eyes and massage well until it gets completely absorbed and wake up to a radiant-looking skin.
4. Helps Reverse Skin Damage
Aloe vera is known as a miracle plant. It is highly beneficial in healing sunburns, tan, cuts, and other injuries. The natural components of Bio-Organic Aloe Vera Gel with green tea extract boost the healing of wounds and can be used to treat skin burns. Due to its high penetration properties, it speeds up skin cell reproduction. It is best suited for summer days to soothe sunburns.
5. Unisex Product
Having anti-microbial properties, Bio-Organic Aloe Vera Gel by Indus Valley with green tea extract can be used to soothe irritations caused by waxing or threading. It can also be used as men's after-shave gel as it reduces skin inflammation caused by razor blades. Being light-weight, it soothes the skin and makes it look soft and moisturized.
Aloe Vera For Hair Care 
Aloe vera is effective when it comes to hair care as well. Everyday styling can lead to heat damage. You may also end up with a lot of split ends, forcing you to trim your hair every once in a while. Apply the gel on your split ends and leave it overnight, and wake up to guaranteed positive results. Bio-Organic Aloe Vera Gel by Indus Valley with green tea extract helps induce hair growth by increasing blood circulation in the scalp.
Acts As Hair Conditioner And Reduces Dandruff
Indus Valley Bio-Organic Aloe Vera Gel with green tea extract moisturizes the hair making it soft and shiny. The non-greasy gel fights dandruff by healing fungal infections and reduces the secretion of sebum which causes oily scalp.
Bio-Organic Aloe Vera Gel With Green Tea Extract by Indus Valley is budget-friendly and saves you from splurging on expensive beauty products that may not even suit your skin.
If you would like to add to this discussion, do contribute via the comments section below.
The following two tabs change content below.