SPONSORED
Brilliant Ways To D-Tan And Flaunt Your Glowing Skin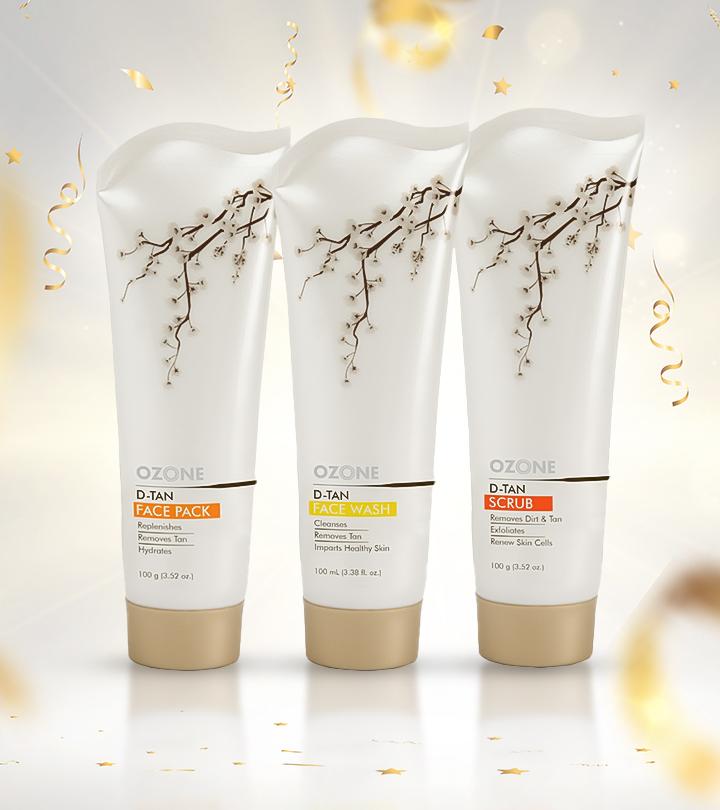 Self-tanning trends are all over the internet, with beauty enthusiasts embracing self-tanning lotions, sprays, wipes, and so on. To be able to achieve that bronze glow without exposing yourself to the harmful effects of the sun? Sign me up, please! However, as exciting as it seems, tans are only welcome as long as we want them. Whether you want a golden glow before an event, or fell victim to a day out in the sun, removing tan from the skin usually takes time, and if we are unaware of which methods to use, the hours spent applying different products are in vain. After a while, when the uniform tan starts fading and leaves behind uneven patches of tanned skin, we wish we could get rid of it ASAP! That's why it is essential to look for a d-tan process that will help remove that tan without causing any adverse side effects.
Choosing The Right D-Tan Process
Our skin is delicate, and we need to treat it with care. We often lose patience and think if we scrub our skin or use strong chemical-based ingredients, it will help us get rid of that tan sooner. However, it only leaves us with rough, irritated skin. The d-tan method you choose should suit your skin. Instead of causing redness and itchiness, it should leave behind smooth and supple skin. To make it a little easier, we have compiled a list of some of the best ways to d-tan your skin and flaunt that glow!
1. Lightening Actives
Lightening actives are chemical ingredients that fight tanned skin and help achieve a lighter complexion. They work on the skin to reduce melanin production and provide a natural glow. Niacinamide, Licorice, Kojic Acid, and Vitamin C are commonly-used lightening actives. Having a product that has Niacinamide in it on rotation in your skincare is always an A+. Ozone has a great variety of products like Glo Radiance Replenishing Face Pack, Glo Radiance Night Cream, Perfect Skin Tone Hydrant & Youth Restoring Hydrant which include Niacinamide.
2. Exfoliation
Exfoliating your skin helps remove the pigmented dead cells from the skin's surface. However, you need to choose your products carefully. Many face scrubs contain harsh chemicals that cause dryness. It's best to choose one with natural ingredients that work gently on your skin to diminish dullness and smoothen skin texture. Look for a scrub that deeply cleanses your skin, getting rid of stubborn tan, dirt, and excess oils to give it a supple bounce!
3. Bleaching
Bleaching is another effective tan removal method that helps remove dead skin cells and lightens facial hair, thus providing a vibrant skin tone. However, it would be best not to bleach your face frequently since it has harsh chemicals.
4. Face Packs
The upper layers of the skin accumulate pigmented dead cells, dirt, and excess oils. After a day out in the sun, treat your skin to a soothing d-tan treatment that will help cleanse the skin and give it a plump and bouncy freshness! You can look for a face pack that reinvigorates the damaged skin cells. Face packs with ingredients like Shea Butter deeply nourishes the skin for a soft and supple appearance. Cucumbers and aloe vera are also essential ingredients that help energize and replenish the skin while removing the dullness and fatigue that put a damper on your glow.
5. Facial Cleanser
Facial cleansers come in handy when you do not have the time to apply a face pack or try out DIY remedies. They permeate your skin and remove tan effectively. The dull, fatigued skin gives way to an instant shot of vibrance. While choosing your facial cleanser, look for one with organic activators and herbs so that your skin receives a gentle yet effective treatment without being exposed to chemical-based products. It should work to enhance blood circulation while helping remove tan to restore youthful shine and resilience.
6. DIY Remedies
We have chosen some of the most effective DIY remedies for those who want to resort to homemade tan removal methods. Check them out below!
The soothing effects of aloe vera are widely known. Readily available, it helps remove tan and hydrates the skin. Apply aloe vera gel directly on your skin or mix it with lime juice. Rinse it off with cold water after ten minutes.
Ascorbic acid is a powerful d-tanning agent present in lemon. To tone down its harsh effects, add a tablespoon of honey with a few drops of lemon juice and apply it. Rinse off with cold water once it dries.
Tomatoes have lycopene which acts as a natural sunscreen. They are also rich in antioxidants that help reduce skin inflammation and cellular damage on the skin's surface. Apply tomato paste on your skin and leave it on for ten minutes before rinsing it off with cold water.
Peel a potato and slice it before blending it with some water and lime juice. Apply this paste on the skin and rinse it off after twenty minutes.
Mash a chunk of papaya and apply it to your skin to get that radiant glow. Rinse it off with cold water after ten minutes.
7. Face Wash
Along with the methods mentioned above, you should also apply face wash regularly. It helps cleanse the skin, and its mild effects are perfect for daily use. Choose a d-tan face wash that gives you a pearly shine while scraping off dead skin cells.
While looking for your preferred d-tan process, choose products with natural ingredients. A skincare range that does not contain sulfates, parabens, or silicones and treats your skin with gentle care is what you need. The Ozone Ayurvedics D-TAN Range has products free from harsh chemicals that irritate the skin and make it dry. Their range of d-tan products like cleansers, scrubs, face packs, and face washes work effectively to penetrate the layers of the skin and do away with stubborn tans while leaving behind a fresh, youthful glow! So, the next time you're out in the sun or want to get a self-tan, don't hesitate, because you will have premium d-tan products waiting for you back home!
The following two tabs change content below.